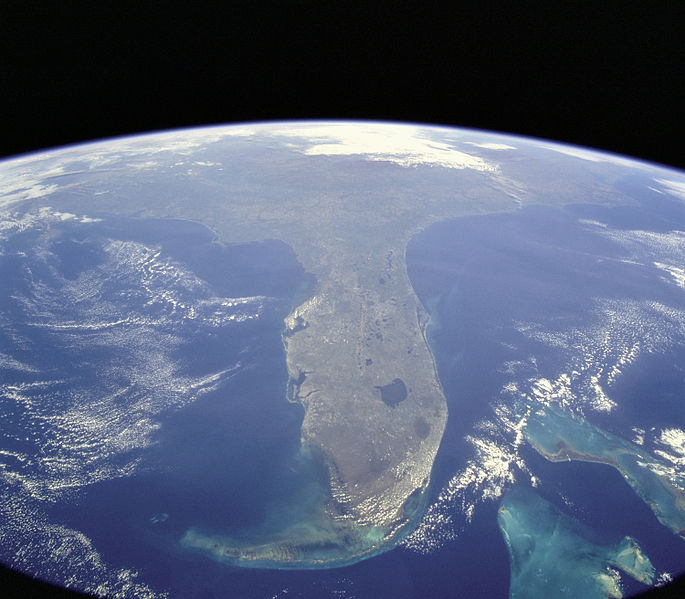 World pays attention to Miami for first presidential debate.
Throughout the 2016 debate season, there were no questions about climate change at any of the presidential debates.
Zero.
Nada.
The only person who came close to posing a question was briefly notorious town hall-goer Ken Bone. He framed his query around energy policy.
So it won't take much to place more attention on the environment at debates in Miami on Wednesday and Thursday.
"We're going to get over that bar, I'd bet a fair amount of coins," said Pete Maysmith, senior vice president of campaigns for the League of Conservation Voters.
The environmentally focused group wants more than one question, though. The organization this year wants the Democratic nominee to lay out a serious, detailed agenda when it comes to climate change.
Candidates shouldn't just do that to satiate a special interest, Mayfield said. It's also smart politics.
New polling released by the League this week shows that particularly in always swing-y Florida, climate issues resonate with voters.
That survey shows 57 percent of all Florida voters consider environmental and climate issues as "important." Moreover, 58 percent of the state's electorate supports moving to a completely clean energy economy by 2050.
Meanwhile, Maysmith notes a United Nations report indicating serious consequence if the U.S. can't curb carbon emissions in 12 years.
"That requires action immediately," Maysmith said.
Earth Agenda
Even if moderators don't ask any questions about climate change, environmental activists will raise the issue.
EDF Action announced it will hold a rally Wednesday outside the Adrienne Arsht Center in advance of the first 2020 Democratic primary debate. The political group spent $9 million in the 2018 election cycle ramping up focus on environmental issues.
This week, EDF action launched a $90,000 billboard, transit and digital ad campaign seeking to increase interest in a clean energy economy. For the group, Miami – a city impacted by sunny day flooding – serves as a perfect backdrop.
"We're already seeing the impact that the climate crisis is having on our economy, our health, and our environment," said EDF Action Senior Political Director Jack Pratt.
"That's why we need bold action – transitioning to a 100-percent clean energy economy."
The messaging closely echoes that of the LCV, that climate change won't be dismissed by voters living with the impacts of environmental disaster.
Sea-level rise. Extreme hurricanes. The literal atmospheric changes have altered awareness among voters about the need for proactive policy.
"EDF Action works to elevate the issue of climate change. That's why we've launched an ad campaign, and are working with our local Members and partners to raise the visibility of environment and public health in Miami during the debates," Pratt said.
"Addressing climate change is important to voters in Miami and across the country, and we need to hear every candidate's bold policy solution to combat the climate crisis and transition to a 100 clean energy economy.
"Our next president must be prepared to tackle this challenge on day one. And I look forward to attending the Thursday night debate to listen first hand to the robust climate discussion taking place on a national debate stage."
Blooming Issue
Maysmith expects Floridians know better than most the consequence of ignoring the environment.
LCV polling shows voters, including independents, highly receptive to messaging about pollution and weather events. In Florida specifically, discussing the consequences of algal blooms struck a nerve.
"With the toxic blooms in Florida, businesses were hit, revenues went down and tourists didn't come visit," he said.
But will the same messaging work for candidates running nationwide? Maysmith admits every region of the country faces different threats.
"But keeping our water clean and addressing water-related issues has over the decades polled really well," he said.
That's no secret for Florida politicians. Gov. Ron DeSantis, after coming into office on a razor-thin margin of victory, saw job approval ratings spike as he prioritized water quality.
But while DeSantis and other Florida Republicans have built some environmental trust with voters, polling shows President Donald Trump has not.
That's all the more reason Maysmith said candidates hoping to unseat the President must articulate a strong environmental message of their own.
The debate stage makes a good place to do so.
"It has all eyes on it," Maysmith said of the Miami debate. "The world is watching, so to speak, and if candidates give answers that address climate change, it's going to be noticed."