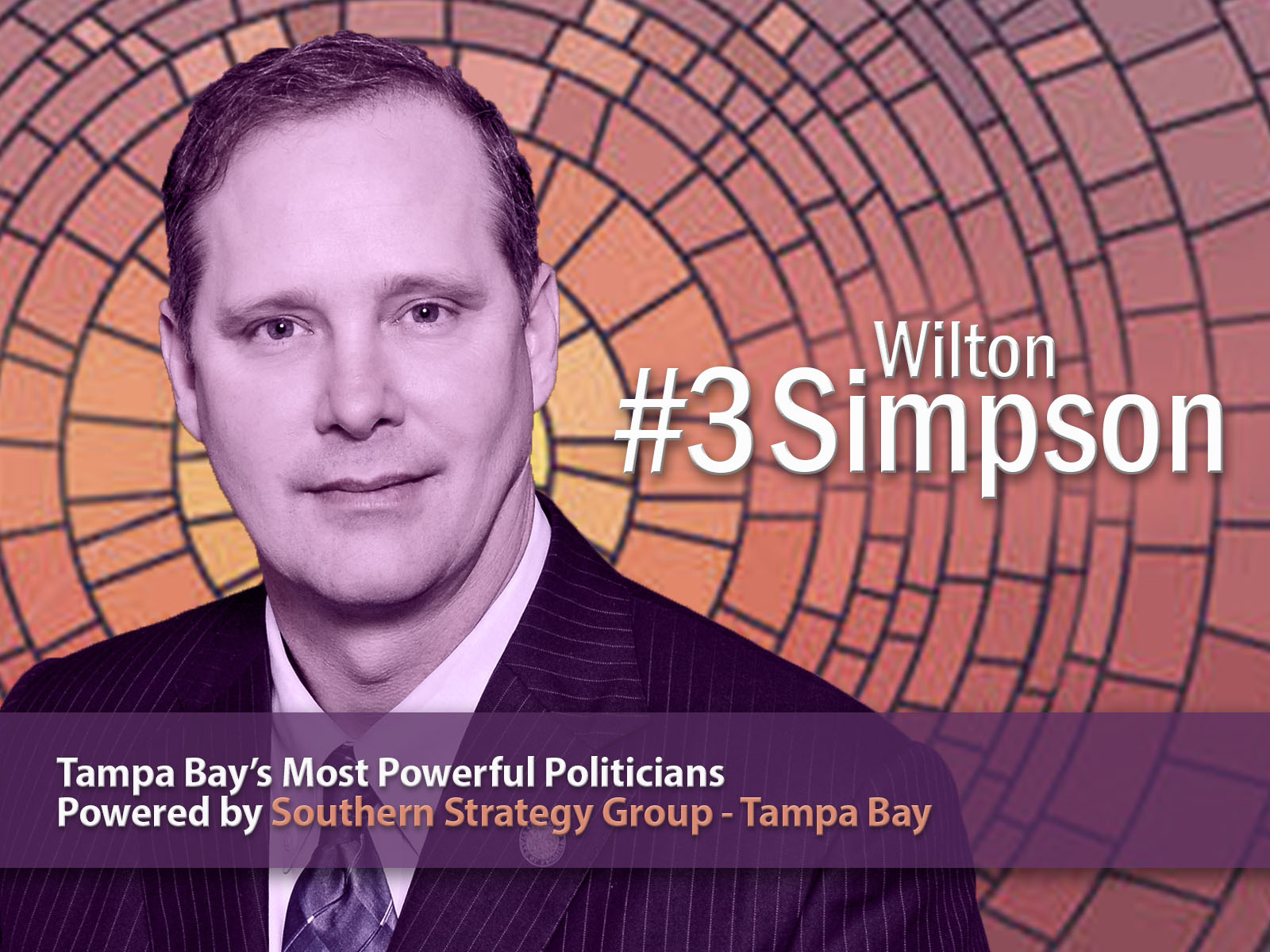 As the top Senate Republican, Simpson will be able to ensure the region is accessing funds.
Florida Sen. Wilton Simpson climbed two places on this year's list of Tampa Bay's Most Powerful Politicians for good reason. As incoming Senate President in 2021, Simpson will have a top leadership role in driving legislative priorities and the state budget.
As a top Senate Republican, the Pasco County egg farmer will be able to ensure the region is accessing funds for local projects.
Earlier this year, Simpson was part of a large Florida delegation accompanying Gov. Ron DeSantis on a historic trip to Israel where Simpson lauded the journey as an "experience of a lifetime." 
He said he took away important lessons on school safety from the Israeli government where they experience "cooperation among different layers of government."
"Wilton Simpson is a servant leader – a successful businessman who saw a need for public service in our region and stepped up to the plate to fill it.  He leads with keen savvy and acumen, quickly grasps the challenges our state faces and meets them with polite, but impactful decisiveness," said Southern Strategy Group's Sydney Ridley.
While Simpson has been a steward of conservative policymaking, backing bills protecting or expanding gun rights in Florida, he has also been a friend to pro-environment Democrats by supporting water quality improvements and funding in the state.
"His impact as another legislative leader from Tampa Bay is already being felt. Simpson is a smart, direct and loyal legislator, who has continually proven he takes care of his community and region," said Republican strategist Anthony Pedicini. "Simpson, not a flashy legislator, has mastered working behind the scenes quietly to get policies created and made into law. As his star rises, he ensures Tampa Bay will remain in the driver's seat in the Legislature." 
Simpson helped secure $2 million to clean up the Homosassa River and another $10 million to restore the Kings Bay habitat. Simpson also supported record funding for restoration funding in the Florida Everglades and voted in favor of restoration projects for all of Florida's natural springs. 
He also supported bans on offshore drilling. 
Simpson's pro-business voting record in the Senate also landed him a 100 percent score from the Associated Industries of Florida, which represents diversified business members and advocates for pro-business policy and fights against proposals seen as harmful to its members.
Through all of his legislative work, Simpson is also maintaining a strong local small business. His net worth has grown $10 million since his first election in 2010, most of that attributable to his egg farm in Trilby. Simpson's business successes came as Florida experienced an overall wave of growth as the state recovered from the Great Recession.
Joe Henderson's take: The incoming Senate President is a reliable conservative but can cross the aisle and work with Democrats, as he does on environmental issues.
Follow the entire list here, on Facebook, and on Twitter with #Top25InTB.