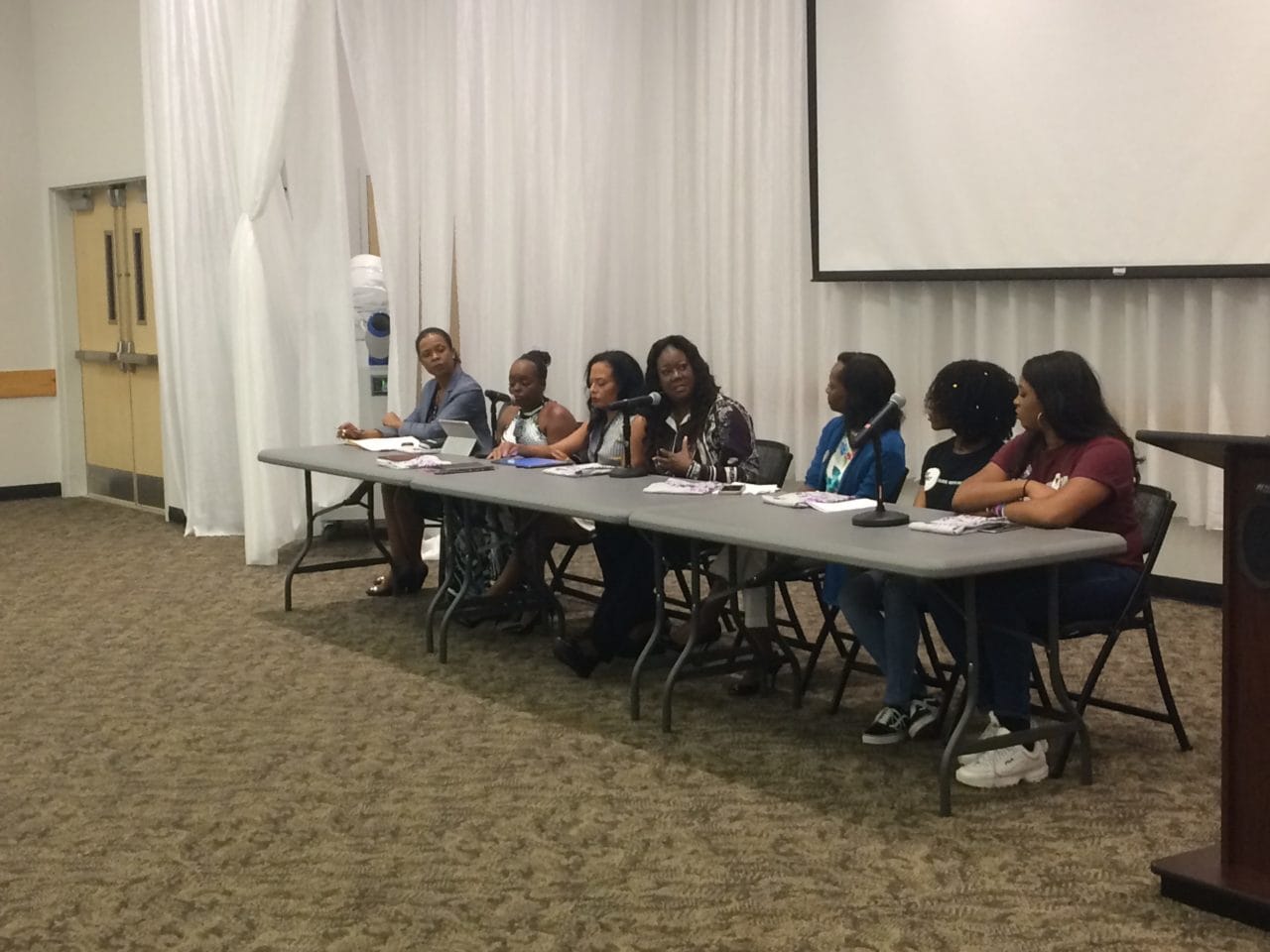 "We can't have a national conversation if we're not talking about us first."
As Democratic candidates gathered in South Florida for their first set of primary debates, the Democratic National Committee held a town hall in Miami Gardens inviting black women to discuss the effect of gun violence on their community.
The event was dubbed the "Seat at the Table Gun Violence Conversation."
Among the panelists invited to the event were Sybrina Fulton, the mother of Trayvon Martin. She is now running for a Miami-Dade County Commission seat.
Also, Tyah-Amoy Roberts and Mei-Ling Ho-Shing, two survivors of the 2018 Parkland shooting.
"If you wrote a book about Sybrina Fulton, you can't leave out chapter 5 where I lost my son. That's a part of me," Fulton told the audience. "But the most important thing to me is what I did after chapter 5."
She detailed her work starting Circle of Mothers, a group designed to help moms who have lost family members to gun violence.
Fulton also touched on her decision to run for the District 1 seat on the County Commission in 2020, arguing it's an extension of her community work.
"I feel like it's time for me to move to my next level," Fulton said.
"And not only do I need to represent myself and the Trayvon Martin Foundation, but I'm going to be representing my community as well."
Roberts, one of the two Parkland survivors present Wednesday, also discussed the push for gun control that stemmed out of that shooting. Roberts argued those larger efforts need to start with fixing violence in black communities.
"We can't have a national conversation if we're not talking about us first," Roberts said.
Karen Andre, an activist and attorney, branched out on that discussion, pushing for the black community to get more involved.
"We need to be as incensed about what's happening in Liberty City and in "Chiraq" as we are about what's happening in Parkland, Ferguson or anywhere else," Andre said.
"We need to be as incensed about our own killing ourselves as we are about the officer or the neighbor."
Dr. Cheryl Holder of the National Medical Association, another panelist at Wednesday's event, added that gun control can't be the sole solution to bring down rates of gun violence in the black community, or elsewhere.
"This is a public health crisis that we have to bring research, we have to bring the community a comprehensive approach to look at the factors that are leading to this violence," Holder argued.
"It's not simply a Nikolas Cruz, it's not simply gangs. There's something even more that we as a society have to deal with. And the answer is not arming out teachers."
The event also featured cameos from a pair of presidential campaigns. Representatives from Bernie Sanders' team were on hand, as was a member of Amy Klobuchar's campaign.
Miami Gardens Mayor Oliver Gilbert, who's also running for the District 1 seat on the County Commission, also gave some brief remarks during the Seat at the Table event.
"I think that we do need a seat of the table," Gilbert said.
"In a lot of ways we kind of need a new table. We have to actually redefine what power looks like and what policy looks like" with regard to gun violence.
He argued that while instances of gun violence generate headlines and soundbites from candidates during election years, those concerned with the issue need to engage year-round.
"We can all find a way to put somebody in the White House that respects every part of us, and not just on election day," Gilbert said.
"We need to pay attention more than every four years," Andre added. "We need to pay attention to our local races. We need to pay attention to who is going to Tallahassee."