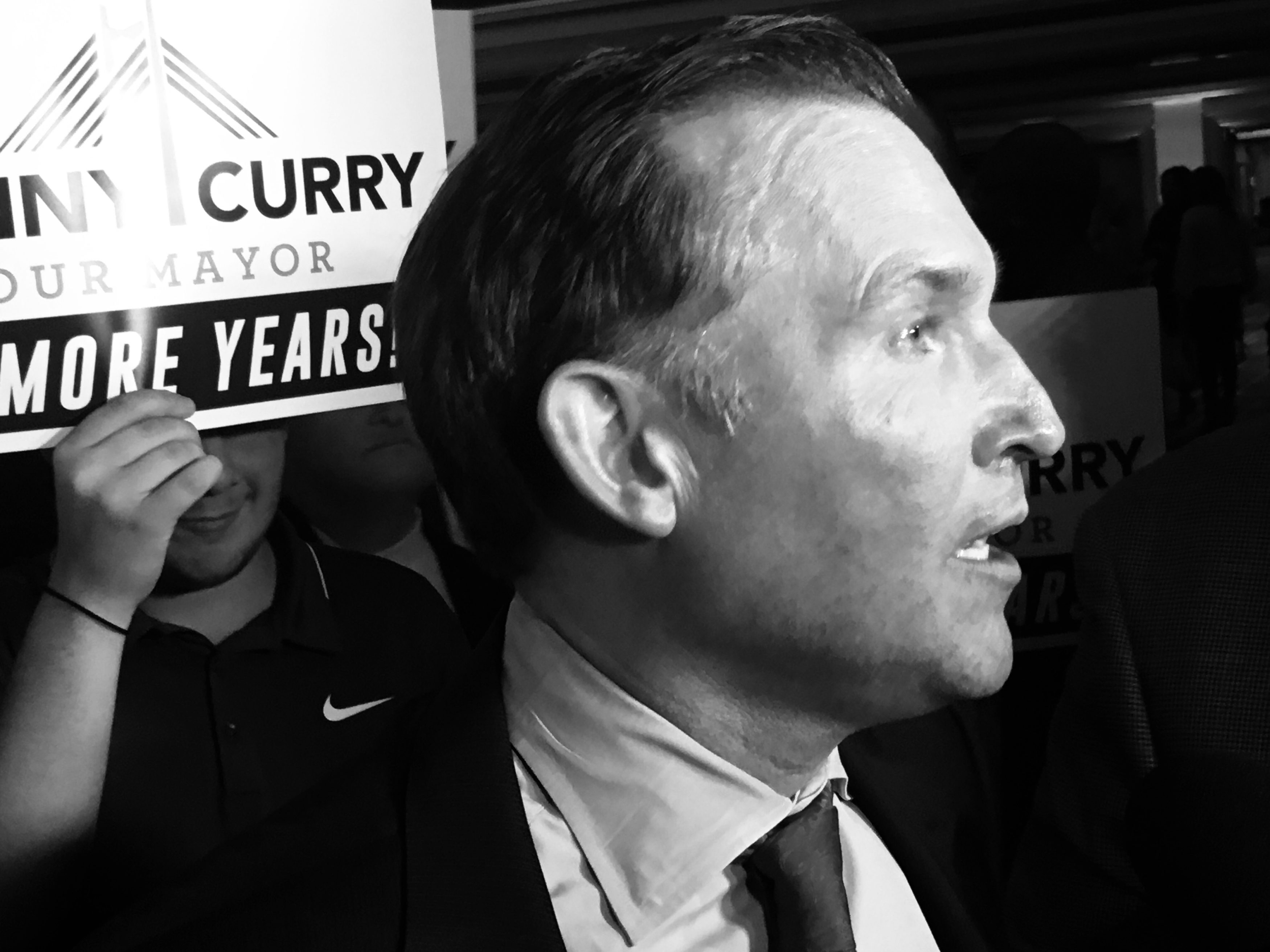 "Why the constant combativeness?"
It's halftime for Jacksonville Mayor Lenny Curry after a consequential first term (Pension Reform, and the Kids Hope Alliance among the major accomplishments, with the Human Rights Ordinance also becoming settled law).
However, it wasn't a blemish-free first term.
The attempt to have a "mature conversation" about privatizing JEA devolved into accusations that the mayor wanted to "sell" JEA and an all-invective-all-the-time re-election campaign.
Curry won, scoring 57 percent against two rogue Republicans and an independent candidate. But turnout, at 24 percent (though higher with Republicans), was anemic.
Ahead of his second term, President George W. Bush asked rhetorically, 'what good is political capital if you can't use it'."
Curry's last couple of weeks have observers questioning his political capital period, a remarkable position to be in given having won (almost) every political battle in the last few years. The Mayor has sparred with local media, especially the city's daily paper, at multiple points over the years.
A recent poll from the University of North Florida saw Curry at +9, with a mere 46 percent approval. (For his part, Curry and his consultant Tim Baker discount this poll's methodology]. The very suggestion of that number represents a narrative change.
Curry also has dealt with a tax-ready Duval County School Board, which wants a vote this year on a half-cent sales surtax to handle $1.9 billion in needed capital maintenance and construction. Optics in the press have been brutal, with Curry (skeptical of the mechanics of the proposal) framed as standing between kids and facilities that meet 21st century standards.
Curry has said he's "ready to work together," but after weeks of pitched rhetoric, the mood in some quarters far away from the "One City One Jacksonville" paradigm the Mayor promulgated four years prior.
Protesters are expected at Monday's inauguration.
On Thursday, he assessed the current situation, noting that the 1C1J paradigm is a "fragile thing."
However, he thinks the overall trajectory is in that direction, differentiating between insider chatter and what average people care about.
"The political battles that are reported in this city … in any city, I would guess, are largely inside baseball stuff," Curry said.
"The average person in the average neighborhood, they're not engaged in this stuff," Curry added. "They're not caught up in this narrative that appears to be constant infighting.
That extends to the squabble with the School Board over the timing and process on the school tax. We noted that vocal segments of the community doubt his sincerity in finding a solution, despite statements saying just that.
"That's just nonsense," Curry said. "I've said with great clarity I'll lead the charge for a 2020 referendum."
"I'll bring every political skill, talent, winning strategy … to pass that referendum, if they put together a plan with the clear things that are needed," Curry said.
He would even work with them on that plan, which would need to address debt service and  priorities.
Curry noted that a plan must include how the money is to be spent, lest the district be left like Manatee County, which he said has a tax but is unable to figure out how to allocate the funds.
"They're fighting about where to spend it," Curry said, noting that plans, including architectural schematics and permitting paths, take a while to come to fruition.
"You can't spend without a plan," Curry said. "They can get it right, I'll work with them, lead the charge. The schools need help, no doubt about it."
Regarding the precise cut charter schools should get, Curry said "that would have to be negotiated with the people who care about that issue deeply … I do think charter schools should be part of the equation."
"I believe they're serious about getting this done," Curry said. "But why the constant combativeness?"
"I've said on the record: Let's Go! Let's do this! I'm in!"
Curry noted that a "my way or the highway" approach is not how he does business, citing pension reform and "collaboration" at all levels of state and local government and public unions that made that a reality.
"If you think the earned media is going to bully people into a decision," Curry said, "that's not how it works."
Moving on to JEA, another flashpoint, Curry noted that the conversation he wanted to have last year is happening anew, with the utility exploring new revenue streams.
"What they're doing now … a very tough, realistic conversation about the strategic challenges, which is what I wanted to do a year ago," Curry said. "They're going to have to face these challenges down and come up with solutions."
"They can't do nothing. They have to act," Curry said.
Curry also addressed a key veto from Gov. Ron DeSantis, $8 million for a Vestcor workforce housing project that would have come from the Sadowsky Fund: a change in process that was too far for the first-year Governor.
"I respect his decision," Curry said. "Nobody knew where he'd land on it. He vetoed it for a philosophical reason. I respect that."
Curry hopes to "pursue those dollars" in future terms, via a mechanism the Governor can support.
The Mayor was reluctant to look past his term, saying he's "not a lame duck yet."
"The strong mayor form of government is important. Whoever sits in this office should be decisive and action oriented … utilize the strength of this office to get things done."
"There's been a lot of talk in Jacksonville … [topics] we task force and committee until we're blue in the face," Curry said. "My four years have been about action."
He has no plans for a future election.
"I'm not going to rule something out, but if I were leaving office today, I'd be back in the private sector," Curry said.  "I don't wake up in the morning thinking about what my next office could be."