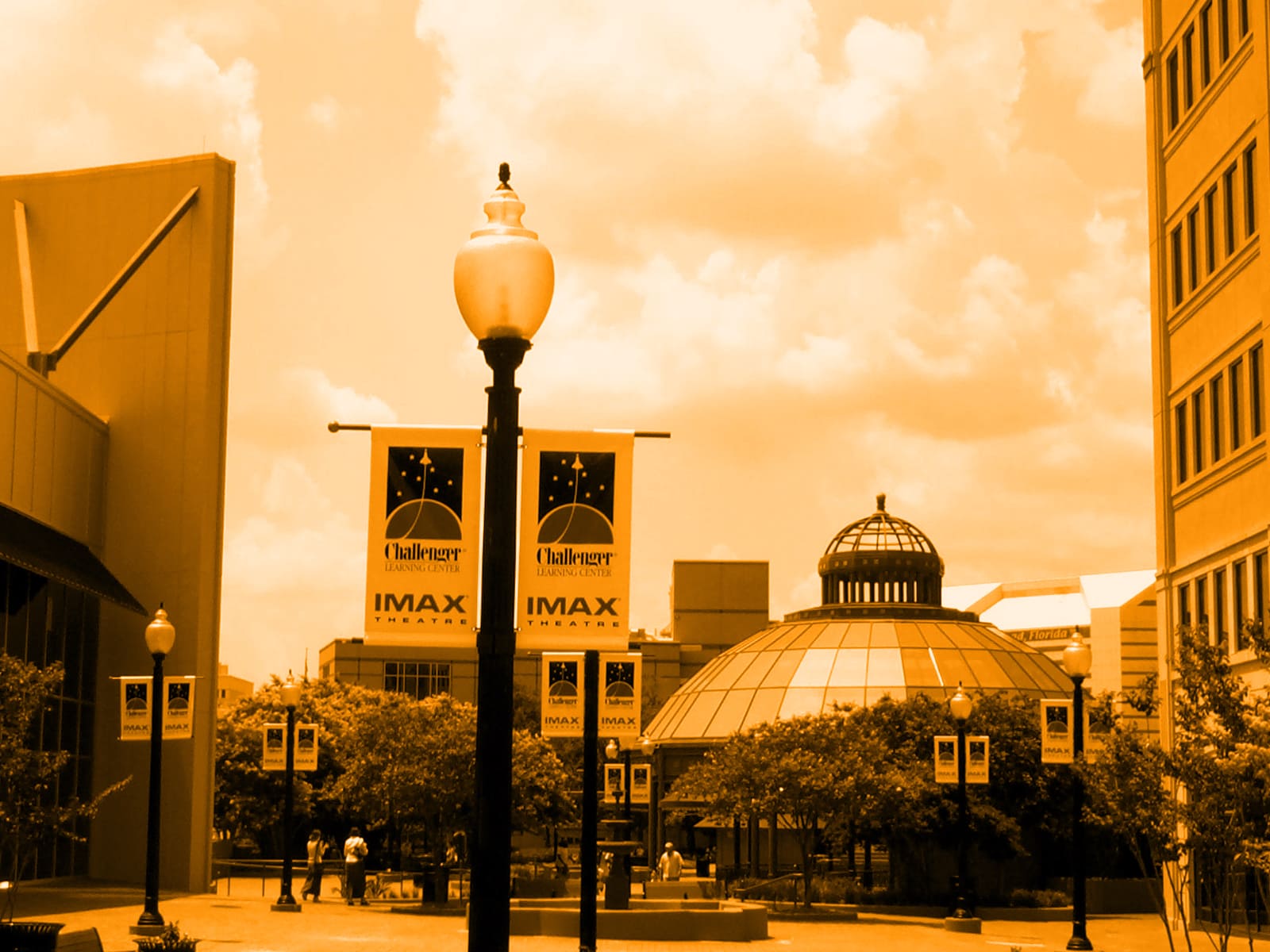 Always a great time for a Sunburn.
Call it: "Mr. Smith Departs from Washington."
Now that Gov. Ron DeSantis has officially called for a statue of Mary McLeod Bethune to replace that of Confederate General Edmund Kirby Smith in the U.S. Capitol, where will Smith go?
Why, to Lake County, of course. The Lake County Historical Museum, to be precise. 
Last year, the state's Statue Location Selection Committee decided to allow the Tavares museum to take ownership and responsibility of the no-longer-wanted statue.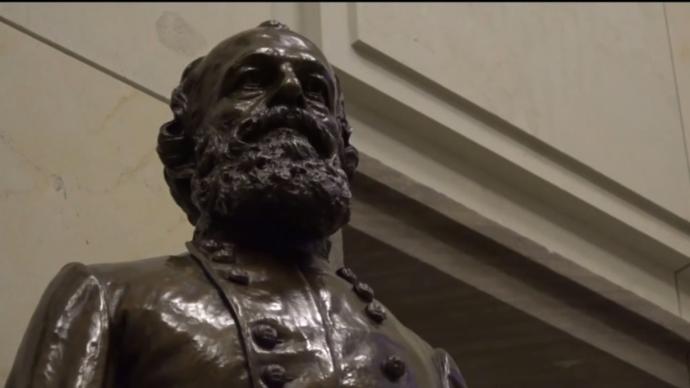 Smith is one of two statues representing Florida in the Capitol's National Statuary Hall. (The other, of scientist-inventor Dr. John Gorrie of Apalachicola — a pivotal figure in the invention of air conditioning — is staying put.)
The Legislature in 2016 approved a bill seeking to remove the general, then decided in 2018 to replace him with Bethune, the late civil-rights activist and education leader.
The committee, led by Department of State Historical Resources Director Timothy Parsons, received three proposals from curators looking to bring the statue back to the Sunshine State. 
After hearing two interested parties make pitches, taking public comment and scoring each proposal based on viability, the panel overwhelmingly agreed that the Lake County museum was a match. 
In making his successful pitch, former Disney engineer and Lake County Historical Museum curator Bob Grenier suggested the Tavares location — just south of Ocala and northeast from Orlando — meant that tourists from surrounding areas might be motivated to make a pit stop to see the old general.
We'll find out if he's right sometime next year, or soon after that. The statue of Bethune is expected to be ready by then, occasioning Smith's eviction and relocation. 
— SITUATIONAL AWARENESS —
—@GovRonDeSantis: Today Florida is proud to commemorate the 144th anniversary of Dr. Mary McLeod Bethune's birthday by sending our state's formal request to place her statue in National Statuary Hall @uscapitol, making her the first African American to have a state-commissioned statue.
—@MitchPerry18: @SenRickScott actually signed the bill authorizing this to happen more than a year ago, but failed to send the letter to the Architect of the Capitol.
—@Annette_Taddeo: Finally! Florida Transportation Secretary [Kevin] Thibault made the right decision here. @MyFDOT shouldn't renew its contract with Conduit after the company's disastrous takeover of the #SunPass tolling system last year. #FlPol #SunPassGate
—@Fineout: Is it normal to let someone spend six months negotiating whether or not they go to jail?
—@Rob_Bradley: Obviously, there are several deeply troubling aspects to this matter. If, in fact, this man's superiors knew of this email and did nothing until it became news, that is an issue that also must be dealt with in addition to dealing with the email's author.
—@JoeGruters: I agree with Senator Scott and @VoteRandyFine. He needs to be fired and the school board should show some backbone and make this happen.
Tweet, tweet:
Now he blames a parent for making a "false statement" about his remarks? His offensive comments were obtained via public email records. 🤦‍♂️

Please just fire him already.

Signed,
Spanish River HS Alumnus 🦈
Class of 1999 https://t.co/6nrMPB2Os0

— Rep. Carlos G Smith (@CarlosGSmith) July 10, 2019
—@EvanAxelbank: Have any politicians anywhere unblocked people after the court decision re POTUS blocking people?
—@AnnaForFlorida: Another effort to make voting for difficult for young people was tucked away in the omnibus election reform bill, the same bill that also makes rights restoration more difficult. SMH.
—@Scott_Maxwell: I don't follow most nail-salon news. But the hubbub over one that's allowed to serve wine w/manicures — but not sell it — is a good reminder this state generally has too many booze laws. Blue laws, distributor schemes, growler-size limits. Archaic stuff.
— DAYS UNTIL —
Robert Mueller testifies to Congress — 6; Donald Trump's next campaign rally in Greenville, North Carolina — 6; 50th anniversary of Apollo 11 moon landing — 9; "Once Upon a Time … in Hollywood" premieres — 15; Second Democratic presidential debates in Detroit — 19; "Beverly Hills 90210" reboot premieres — 26; Taylor Swift's new album, 'Lover,' released — 43; Florida Gators opens vs. Miami football — 44; St. Petersburg primary election — 47; UCF Knights football opens vs. Florida A&M — 49; USF Bulls football opens vs. Wisconsin Badgers — 50; FSU Seminoles football opens vs. Boise State — 51; Labor Day — 53; First Interim Committee Week for 2020 Session — 67; "Morning" Joe Scarborough releases "This Ends Badly: How Donald Trump Conned America" — 68; "Joker" opens — 85; Florida Chamber Future of Florida Forum begins — 109; Scott Maddox trial begins — 116; 2019 General Election — 117; 3rd Annual Florida Internet and Television FITCon starts — 119; 2020 Session begins — 187; Iowa Caucuses — 207; New Hampshire Primaries — 215; Florida's presidential primary — 250; 2020 General Election — 481.

— TOP STORY —
"Gulf Coast could feel tropical storm or hurricane force-winds from system" via Kimberly Miller of the Sarasota Herald-Tribune — The National Hurricane Center said tropical storm or hurricane-force winds are possible in the next few days as the atmosphere musters up a disturbance that some models show approaching Category 1 strength. The so-called Invest 92L was given a 90 percent chance of development over the next 48 hours with the possibility of a tropical depression forming. It is expected to move west before making landfall in Louisiana or Texas. Coastal communities from Upper Texas to Louisiana should prepare for high wind and heavy rainfall, NHC meteorologists said.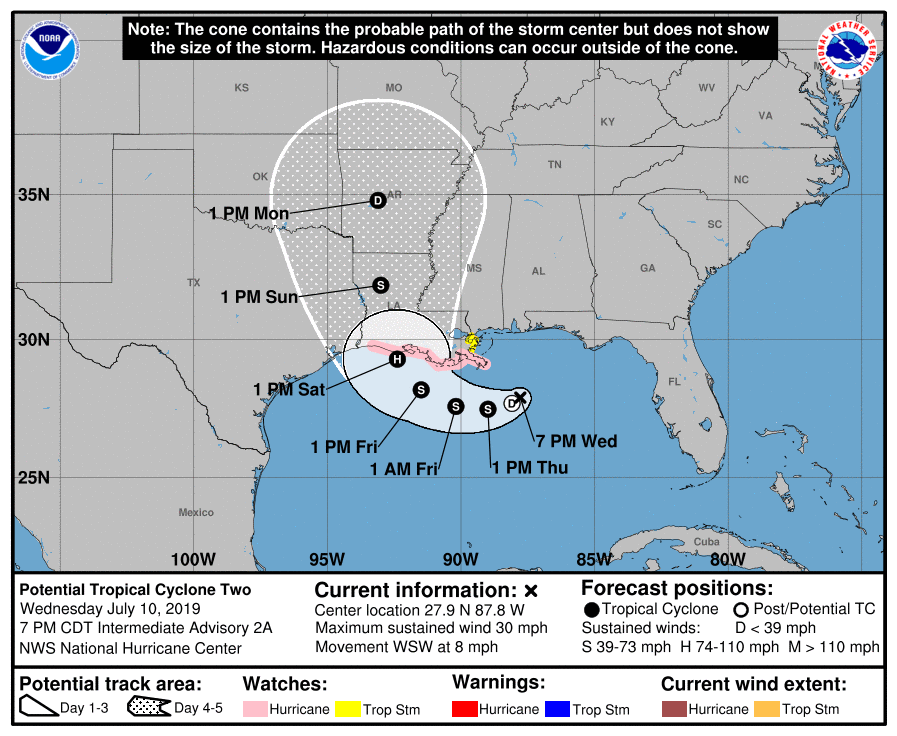 "Forecasters expect Hurricane Barry to strike Louisiana or possibly Texas this weekend as heavy rain floods New Orleans" via Brett Clarkson and Tonya Alanez of the South Florida Sun-Sentinel — The storm, which would be named Barry as soon as it intensifies to tropical storm status, is on a path to make landfall somewhere between the mouth of the Mississippi River and eastern Texas, according to the hurricane center's latest forecast and cone graphic. A tropical storm watch, meaning that at the very least tropical storm conditions were likely, was also issued for the stretch of coastline between those two points. "On the forecast track, the system is expected to approach the central U.S. Gulf Coast this weekend," forecaster Stacy Stewart posted in the update. No impacts were expected in South Florida.
"Flooding swamps New Orleans streets as potential tropical storm churns in Gulf of Mexico" via CBS News — Lines of thunderstorms associated with the system ranged far out in into the Gulf and battered New Orleans, where as much as 7 inches of rain fell over three hours Wednesday morning, forecasters said. Mississippi and Texas were also at risk of torrential rains. In New Orleans, streets turned into small, swift rivers that overturned garbage cans and picked up pieces of floating wood. Water was up to the doors of many cars. Other vehicles were abandoned. Kayakers paddled their way down some streets. Alexandra Cranford, a meteorologist with CBS affiliate WWL-TV, said the worst of the rain was over for Wednesday. She said some scattered rain is expected across the city.
"As new storm passes Panhandle, fear returns amid Michael flashbacks" via Elizabeth Koh of the Tampa Bay Times — It is hurricane season again in the Panhandle, but most residents will tell you that in Bay County, it never really stopped being hurricane season. And as a soon-to-be-named Barry passes by the Panhandle's doorstep, just its specter is causing Michael flashbacks. Many residents are still living in tents or ruined homes, waiting for contractors or government funds to help them rebuild. Some fear heavier rains attracting black mold, with roofs covered still by tarps that can leak even with a typical summer's afternoon thunderstorm. Others are wary about water damage from flooding, as the state and municipalities still work to clear debris, or about weakened trees from Michael that might topple in a weaker storm. This is a familiar feeling to the Floridians who weathered Andrew and Charley, Ivan and Wilma, Matthew and Irma. It doesn't make it any less traumatic for those struggling to piece their homes and lives back together in the Panhandle.
— DATELINE: TALLY —
DeSantis speaks at 2019 International Convention of Allied Sportfishing Trades — DeSantis delivered remarks and participated in the 2019 International Convention of Allied Sportfishing Trades (ICAST) in Orlando. The Governor also issued a proclamation designating July as "Keep Florida Fishing Month." "The protection of our vital water resources is one of the most pressing issues facing our state, and it is one that our state's over-four million licensed anglers know all too well," DeSantis said. "While we have accomplished a lot, there is still much to be done." The Governor was joined by Department of Environmental Protection Secretary Noah Valenstein, Everglades Foundation CEO Eric Eikenberg, Captains for Clean Water Executive Director Daniel Andrews, American Sportfishing Association President Glenn Hughes and Fish and Wildlife Conservation Commission Executive Director Eric Sutton.
Tweet, tweet:
The protection of our water resources is one of the most pressing issues facing our state and it is one that FL's over-four million licensed anglers know all too well. By working together, we can help protect and restore our environment so this industry can continue to thrive. pic.twitter.com/YrDAaN9dYG

— Ron DeSantis (@GovRonDeSantis) July 10, 2019
Richard Corcoran condemns Holocaust remarks — Florida's Education Commissioner is the latest to condemn a former Boca Raton high school principal's refusal to say that the Holocaust was "factual." He joined other critics as the backlash against the Palm Beach County school official continues to intensify. "Be assured that I will use every tool at my disposal to ensure that this type of behavior is not tolerated in any school in Florida," Corcoran, a former House Speaker, said in a news release. Corcoran urged Palm Beach County Superintendent Donald Fennoy to investigate "discriminatory behavior." Palm Beach County school officials on Monday stripped William Latson from his post as principal of Spanish River High School and reassigned him to a district position. Fennoy on Wednesday said Latson's contract would not be renewed. 
"Kevin Rader, Tina Polsky call on South Florida principal to resign after Holocaust comments" via Ryan Nicol of Florida Politics — After Spanish River High School Principal Latson disputed reports he questioned the historical accuracy of the Holocaust, another pair of Florida lawmakers is calling on Latson to resign. Latson faced intense blowback after the Palm Beach Post reported on his original comments Friday. Latson had been asked by a student's parent in 2018 about the school's curriculum on the Holocaust. According to that report, Latson told the parent in April 2018, "Not everyone believes the Holocaust happened." He added, "I can't say the Holocaust is a factual, historical event because I am not in a position to do so as a school district employee."
— STATEWIDE —
"Florida won't renew SunPass contract with troubled contractor, transportation secretary says" via Lawrence Mower of the Tampa Bay Times — Florida's transportation department won't renew its contract with the company that botched its takeover of the SunPass tolling system last year, Transportation Secretary Kevin Thibault said. State officials will instead re-bid the second half of what had been a 14-year deal with Conduent after the New Jersey company's failures led to customers getting overbilled and suffering long wait times at the tolls. "It is not our intent to renew it," Thibault said, though he didn't elaborate on the reasons behind the decision. "I've already told the team, 'Let's start talking about the next procurement.'"
Sean Shaw's 'People over Profits' starts 'new initiative to help ex-cons navigate voter registration process' — The new group headed by Shaw, a former state lawmaker and Democratic candidate for Attorney General, says it produced a voter registration guide for ex-offenders, and is putting together a legal aid network of volunteer attorneys. "Ex-offenders who need help can call our hotline at (727) 900-6678, or go to ThePeopleOverProfits.org to ask an expert for legal advice," Shaw said. "And if you're an attorney, I hope you'll join our legal aid network." Florida voters passed Amendment 4 last year to allow certain felons to have their voting rights restored after completing their sentence. But lawmakers later required payments of all fines, fees and restitution to do so.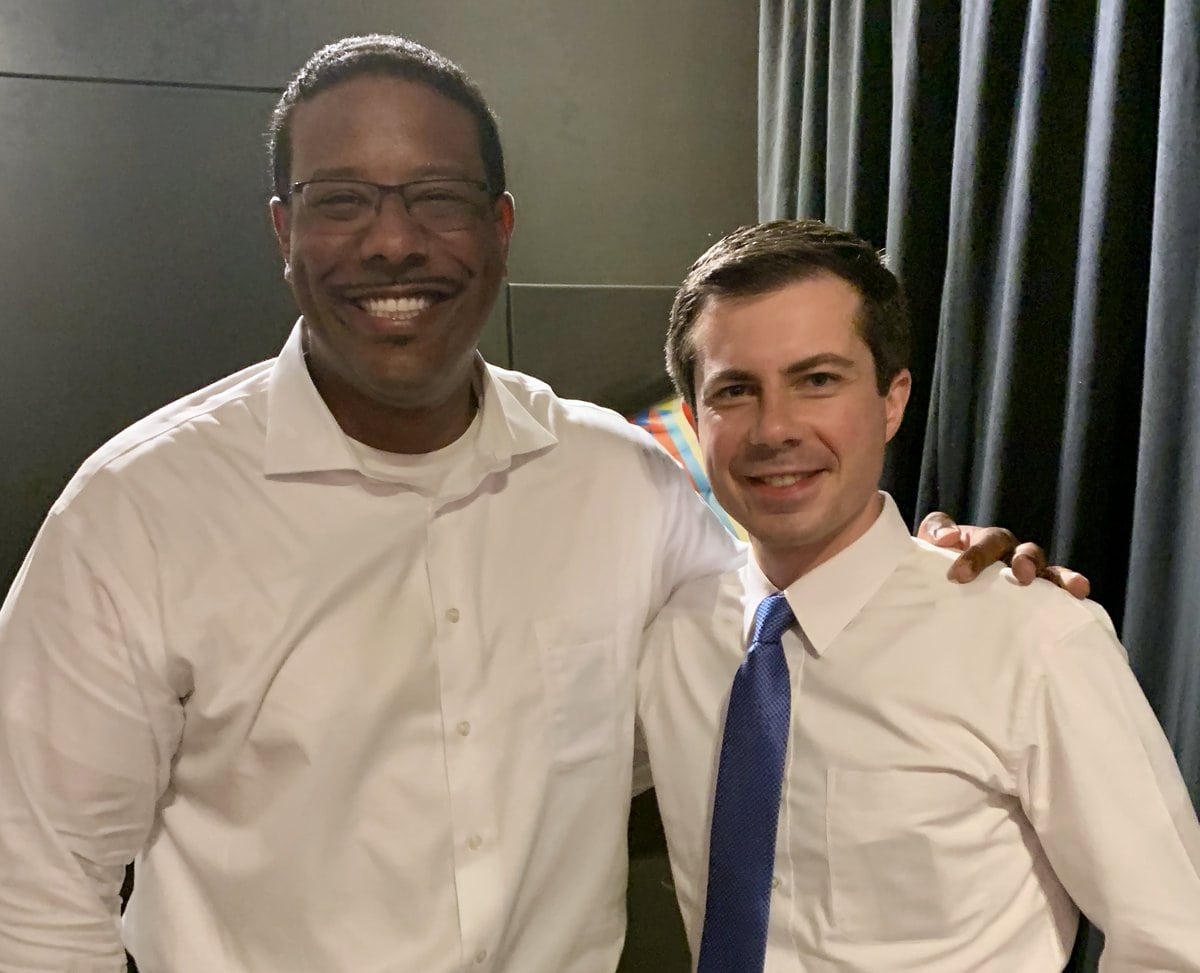 What the Florida State Association of Supervisors of Elections is reading — "Feds don't regulate election equipment, so states are on their own" via PEW Stateline — Since 2017, the federal government has considered election systems to be critical infrastructure, just like nuclear facilities and public utilities. While there are no federal mandates for election vendors, many states require vendors to follow voluntary guidelines from the U.S. Election Assistance Commission. States can set security requirements during contract talks for new equipment … At the federal level, Republicans have resisted more stringent regulations.
"Duke solar projects get go-ahead" via the News Service of Florida — The Florida Public Service Commission signed off on the plan, with a 74.9-megawatt facility in Gilchrist County and a 45-megawatt facility in Highlands County slated to begin operating in December and a 74.5-megawatt facility in Volusia County expected to start generating power during the first quarter of 2020. Duke will be able to recoup the costs for the projects from customers, with the amount expected to be about $32 million a year, according to the commission. The approval was an outgrowth of a 2017 base-rate settlement that allows Duke to recover solar-project costs, though the utility has to show that the projects are reasonable and cost-effective.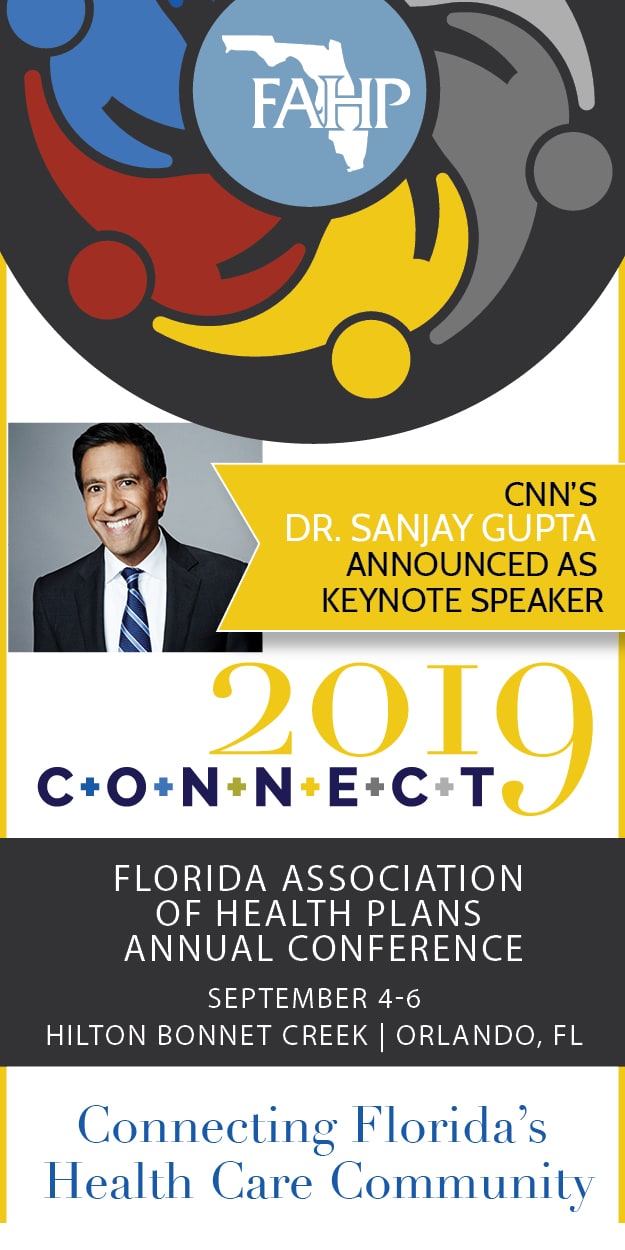 — D.C. MATTERS —
"Donald Trump looks to rally controversial online allies at White House social media summit" via Tony Romm, Michael Scherer and Amy Wang of The Washington Post — Trump has summoned Republican lawmakers, political strategists and social media stars to the White House to discuss the "opportunities and challenges" of the Web — but his upcoming summit, critics say, could end up empowering online provocateurs who have adopted controversial political tactics entering the 2020 election campaign. The high-profile gathering follows months of attacks from Trump claiming that Facebook, Google and Twitter secretly censor right-leaning users, websites and other content online, a charge of political bias that the tech giants strongly deny. Among the expected attendees are James O'Keefe, the founder of Project Veritas, which has released secretly recorded videos of subjects, including a Google executive, in an attempt to paint them as politically biased.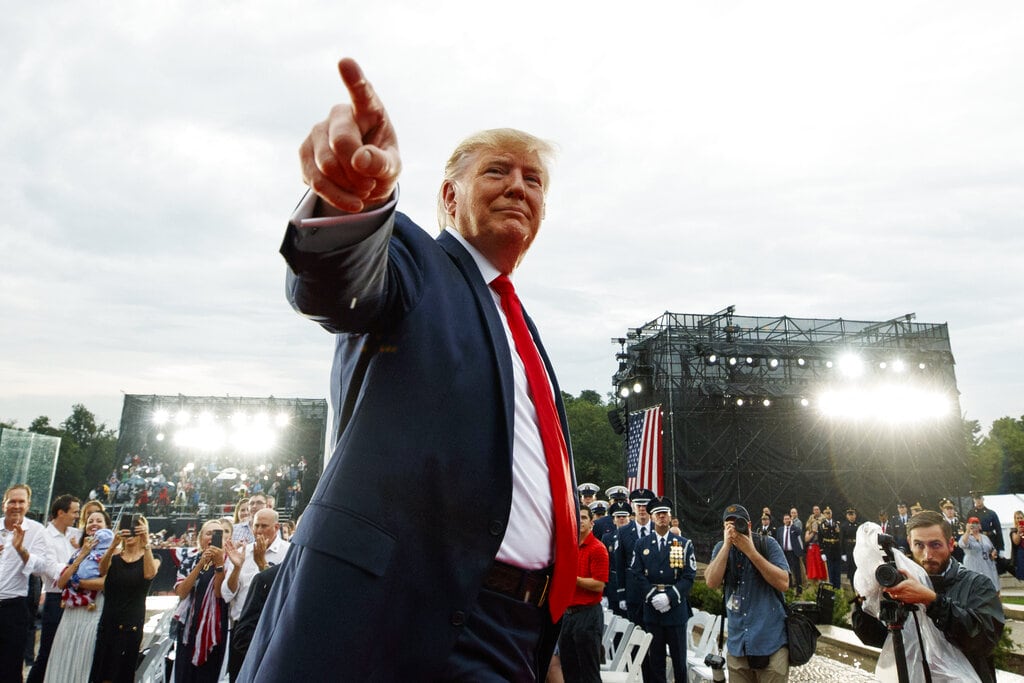 "Brian Mast, Matt Gaetz join new GOP conservation caucus" via Ryan Nicol of Florida Politics — U.S. Reps. Mast and Gaetz have announced the creation of the Roosevelt Conservation Caucus (RCC), a new group that will focus on environmental issues. "As Republicans across the breadth of this country, we represent beautiful, lush, green, park-filled districts that we care about," Mast said at a news conference. "The No. 1 thing I work on every day is water back home, because it's what people care about — where they can swim, where they can fish …" Among the priorities listed by the group are cutting down on water pollution, reducing ocean plastic pollution and increasing access to America's public lands and waters for outdoor recreation, hunting and fishing.
"Michael Waltz, Stephanie Murphy introduce election hack notification bill" via Scott Powers of Florida Politics — Republican U.S. Rep. Waltz and Democratic U.S. Rep. Murphy have introduced a bill that would require state, local, and voter notifications in cases where election and voter databases have been hacked. Their House Resolution 3259, the "Achieving Lasting Electoral Reforms on Transparency and Security" Act, is a response to revelations this spring that Russian hackers infiltrated the computer networks of two Florida counties before the 2016 U.S. election. Though Waltz and Murphy have been briefed on the hacks, federal authorities have kept information about the affected counties secret from state and local officials and affected voters.
"Murphy helps lead moderate wing in Congress, clashes with progressive critics" via Steven Lemongello of the Orlando Sentinel — "We were one of seven districts in the entire country with a zero partisan tilt," said Murphy in an interview. "I can assure you, that makes for a very different member [of Congress], than people who are in super safe districts, either red or blue." Murphy "right now seems to be a good fit for the district," which includes Seminole and parts of Orange County, said Aubrey Jewett, a professor of political science at the University of Central Florida. "Someone left of center but also pro-business. … The fact that she knocked off an incumbent [in GOP U.S. Rep. John Mica] and was reelected suggests that."
"Groups plan Capitol Hill protest against Alex Acosta over Jeffrey Epstein plea deal" via Ryan Nicol of Florida Politics — Several organizations say they plan to organize a protest Wednesday night, calling for U.S. Labor Secretary Acosta to be removed over a lenient plea deal given to Epstein during Acosta's time as a U.S. Attorney. Now, advocacy groups such as UltraViolet, the American Federation of Teachers, CREDO Action and MoveOn plan to project a message onto an undisclosed building in Capitol Hill that bears the message, "Acosta enables sex trafficking. Acosta must go." Epstein is now facing a pair of charges from the Southern District of New York for the alleged child trafficking that could see him spending decades in jail. Those charges stem from Epstein allegedly recruiting teenage girls into giving him massages which eventually turned sexual.
"Acosta saves his job … for now" via Ian Kullgren and Caitlin Oprysko of POLITICO — Labor Secretary Acosta's job in the Trump administration is safe for now, thanks to a live TV press conference that pleased White House officials worried about his role in a 2008 plea deal with billionaire pedophile Epstein. "I thought he did exactly what he wanted to do with the facts, laying out the facts today," acting White House chief of staff Mick Mulvaney told reporters. Trump aides were relieved by Acosta's measured, lawyerly performance. At the news conference, the embattled official said he welcomed New York prosecutors' new charges that accuse Epstein of sex trafficking young women and underage girls. Acosta made a point of not directly apologizing to Epstein's victims, a show of strength aimed at pleasing Trump.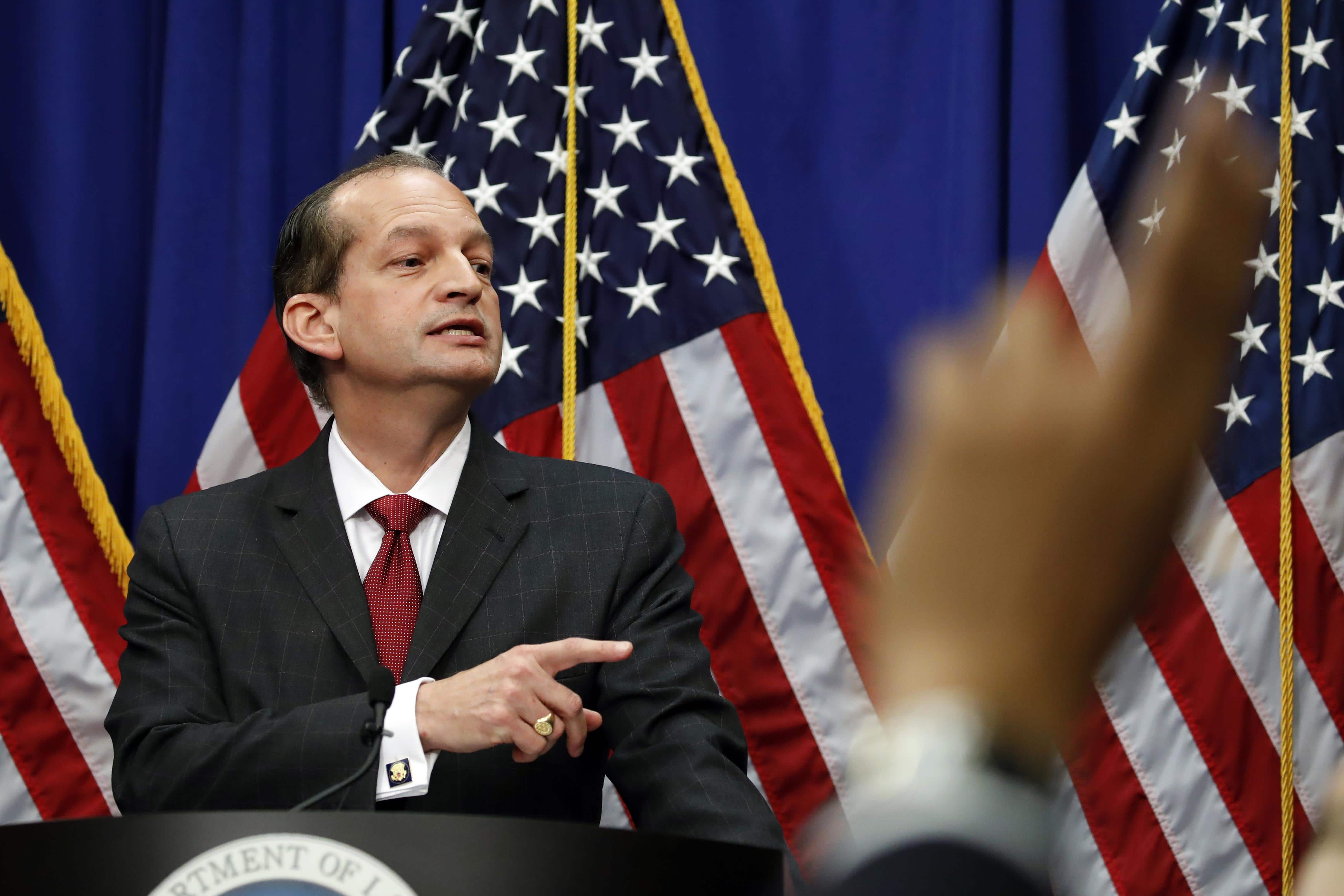 "New Epstein accuser: He 'forcibly raped' me when I was 15" via Ryan Nicol of Florida Politics — Just days after new child trafficking charges were unveiled against Epstein, another accuser is coming forward saying Epstein "forcibly raped" her when she was just 15 years old. That's according to a new report from NBC News. The latest accuser, Jennifer Araoz, said a woman recruited her outside a New York City high school at the age of 14. That woman led her to Epstein's townhouse in Manhattan, where Epstein gave Araoz a tour. The young girl had lost her father to AIDS when she was 12. The wealthy Epstein agreed to give her some money — $300 per visit — in exchange for nothing, at first.
"Acosta, who cut deal with Epstein, tried to slash anti-trafficking program by 80 percent" via Jackie Kucinich and Emily Shugerman of The Daily Beast — Acosta tried to cut a program by nearly 80 percent inside the Department of Labor dedicated to combating human trafficking, along with child and forced labor, internationally. And two months later, he would return to Congress to advocate for a second budget [to] cut the program just as deeply. The cut to the International Labor Affairs Bureau (ILAB)'s budget in the 2020 budget — reducing the funding level to $18.5 million, attracted the attention of Rep. Katherine Clark, who asked Acosta about the department's responsibilities in April 2019. "How can we expect you, the Labor Secretary, to fight for American workers if you couldn't even fight for these girls?" she asked, as Acosta initially stared at her blankly.
"Former Florida state attorney pushes back against Acosta account of Epstein case" via The Hill — A former Florida state's attorney in Palm Beach County pushed back on Wednesday against Labor Secretary Acosta's portrayal of events surrounding a favorable deal for Epstein more than a decade ago. Barry Krischer, the Palm Beach County state's attorney at the time of the investigation, called Acosta's account, which alleged Krischer was prepared to let Epstein walk without serving jail time until Acosta's office stepped in, "completely wrong." "Mr. Acosta's should not be allowed to rewrite history," Krischer said in a statement. "If Mr. Acosta was truly concerned with the State's case and felt he had to rescue the matter, he would have moved forward with the 53-page indictment that his own office drafted," Krischer said.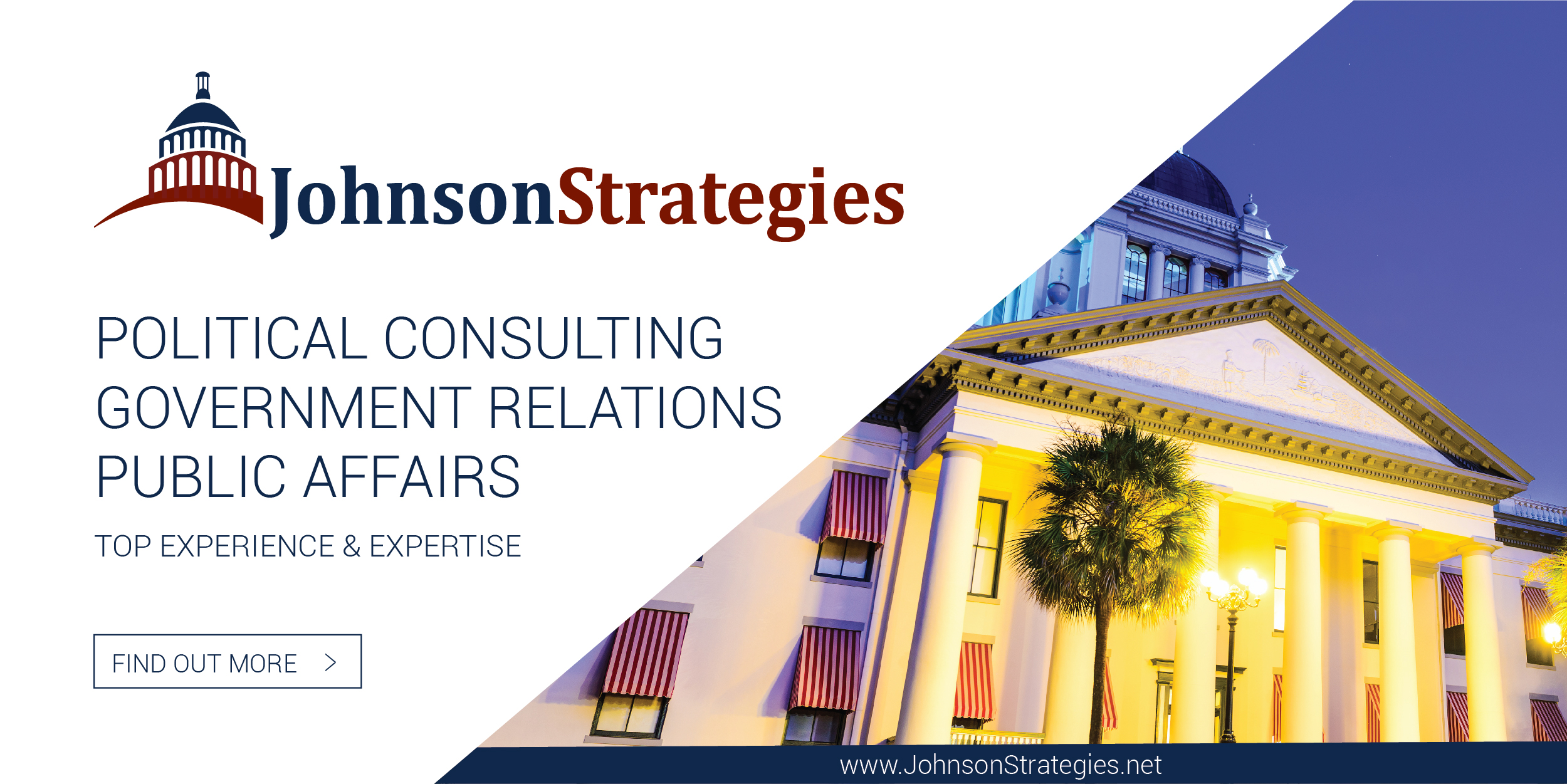 — 2020 —
"Embattled Joe Biden ditches Rose Garden strategy" via Natasha Korecki of POLITICO — In recent days, he's worked to get back on track, beginning with a more coherent defense of his work on civil rights. In South Carolina, where the African American vote will be pivotal to the outcome of the primary, he apologized for his remarks concerning segregationist Senators. Biden's new tack isn't a campaign restart; his campaign insists that positioning Biden as the antidote to Trump remains the central thrust. In New York, Biden is scheduled to deliver an expansive foreign policy speech that is expected to lay out a view of what American policy should be, and serve as a critique to the current president's approach to it. Still, it's clear that the debate sparked a realization that Biden would need a different approach with five more debates in 2019 alone, and seven months to go until Iowa votes.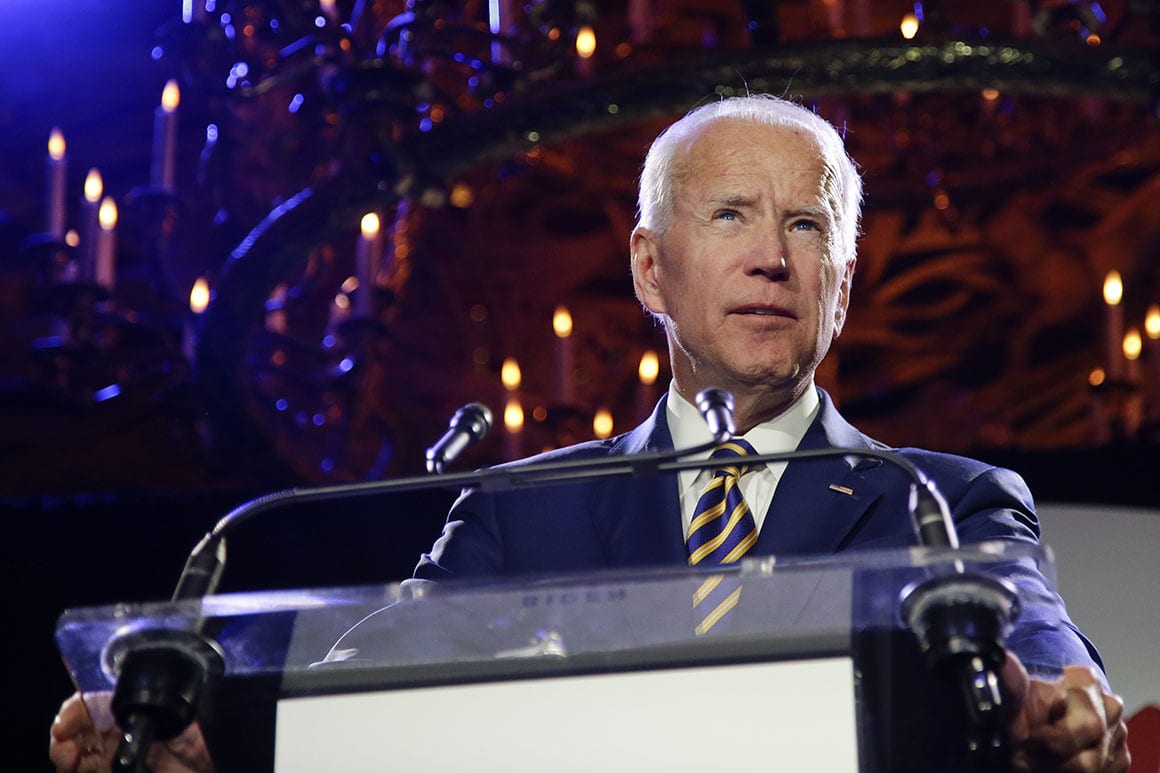 "Lanes are starting to emerge in the 2020 Democratic primary" via Nathaniel Rakich of FiveThirtyEight — Perhaps what is happening here is the "well-educated white liberal" lane, as polls have generally shown these three candidates doing well with those demographic groups. It may also be the "fresh face" lane — people who don't want the 46th president to be older, straight, white and/or male. It's not like all, or even most, voters follow "lane" logic, especially at this stage in the primary when the field is still so crowded. There are also many drawbacks to lane analysis, such as voters not knowing enough about candidates to taxonomize them, voters not universally perceiving candidates in the same way, a candidate's "brand" changing over time, and the bandwagon effect of winning an early primary or two.
"Did Ross Perot bequeath $100 million to the Trump campaign?" via Snopes.com — Nope, says Snopes. A notorious producer of junk news and misinformation capitalized on the death of former presidential candidate Perot, publishing a report that the billionaire businessman had left orders to donate $100 million of his fortune to the reelection campaign of Trump. A few clear signs indicated that the content of the article was fabricated. First, the source was PotatriotsUnite.com, which is part of a network of websites and social media accounts run by Christopher Blair, who produces a high volume of junk news and misinformation, much of it inflammatory, which he presents as "satire."
— THE TRAIL —
"Three ballot proposals dominate signature gathering" via the News Service of Florida — As of Wednesday morning, the political committee Citizens for Energy Choices had submitted 339,553 signatures for a ballot proposal that would require major changes and deregulation in Florida's electric utility industry, according to numbers posted on the state Division of Elections website. Close behind, the political committee Florida For A Fair Wage had submitted 331,694 signatures for a ballot proposal that would gradually increase the state's minimum wage to $15 an hour. Meanwhile, the number of signatures submitted by the committee All Voters Vote has risen dramatically in recent weeks. The committee had submitted 219,401 signatures for its proposal, which would revamp the state's primary election system.
"End Citizens United group adds Ross Spano to its 2020 takedown list" via Janelle Irwin Taylor of Florida Politics — End Citizens United is adding Spano to its "Big Money 20" list in hopes of toppling the first-term U.S. Representative next year. The Big Money 20 campaign focuses on "defeating incumbents who benefit most from the corrupt establishment in Washington." They think Spano fits that bill quite nicely. The group plans to launch a website highlighting their concerns with Spano's short Congressional tenure. It includes complaints about Spano's admitted campaign finance blunder in which he accepted $180,000 in loans from two friends to fund his campaign, a move that could constitute a major campaign finance violation.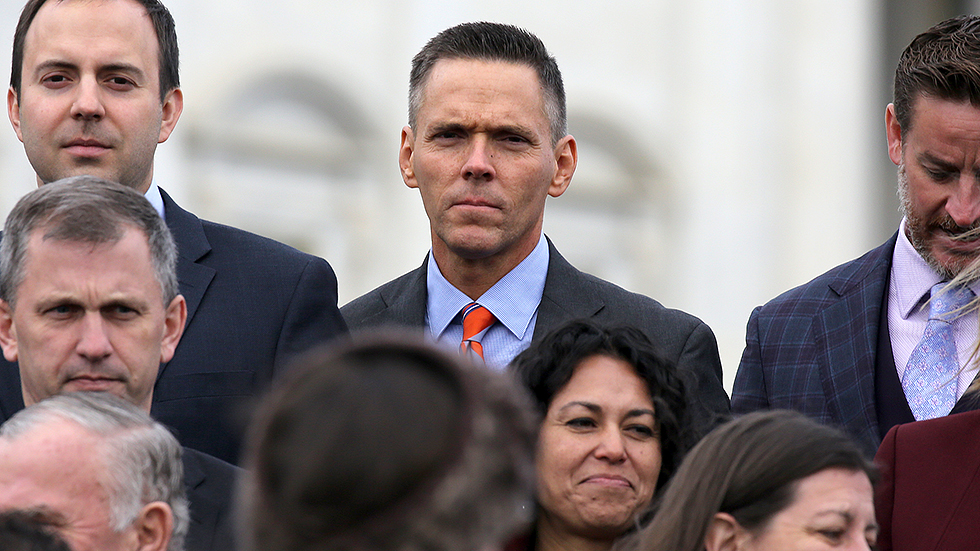 "Debbie Mucarsel-Powell crosses $1 million raised for the year" via Ryan Nicol of Florida Politics — U.S. Rep. Mucarsel-Powell says she's added another $600,000 in fundraising in the second quarter of 2019. Combined with her first quarter numbers, the freshman congresswoman has now raised more than $1 million this year. "We're seeing incredible support and energy across South Florida for Debbie's reelection campaign," said spokesperson Blake Davis. "We hear it in every corner of the district; South Floridians are energized by her fight to expand health care, lower prescription drug prices, make our schools safer, and protect the Everglades and coral reefs. She's delivering on her election promises to deliver results for working families, and it's reflected in this overwhelming grassroots support."
"Jason Brodeur rakes in another $107K to support state Senate bid" via Scott Powers of Florida Politics — Republican former state Rep. Brodeur continued to rake in money for his bid to be elected in Florida Senate District 9 in 2020, raising more than $29,000 for his election campaign and another $77,000 for his independent political committee in June. The two Democrats in the contest are doing almost no fundraising. Neither Rick Ashby of Oviedo nor Justin Miller of Oviedo reported receiving a single dollar in contributions in June. They weren't alone. Other Florida Senate candidates from throughout Central Florida, including incumbents, essentially took June off from campaign fundraising.
"Educator Amanda Linton files for Bill Galvano's Senate seat" via Jacob Ogles of Florida Politics — Brandon teacher Linton hopes to educate voters in the Bradenton area on the virtues of voting Democrat. The educator last week became the first candidate to file in Florida Senate District 21. But she knows it will be a hard battle trying to flip Galvano's seat blue. "It's certainly going to be an uphill climb," she said, "but something this community will learn about me is I have a strong work ethic." Linton enters the race as a first-time candidate. On her Facebook page, she has promoted issues around education and the environment. She adds that equality will also provide a central plank to her campaign.
Allison Tant closes first six months as top fundraiser among House candidates — The campaign announced she closed in on $200,000 raised from 625 donors. This makes her the leader among all House candidates "and reflects her strong support in her community," said Christian Ulvert, a campaign spokesman. "Allison is known for her strong work ethic and commitment to her community, and her first six months on the campaign trail reaffirms this." Tant, a Democrat, is running for House District 9, currently held by Loranne Ausley, who is running for state Senate. "I am beyond humbled and proud to have so much support for my campaign," Tant added. "I am ready to get things done for the community I love."
"Democrat Travaris McCurdy files to run for House District 46" via Scott Powers of Florida Politics — Democrat Travaris McCurdy of Orlando, former legislative aide to state Sen. Randolph Bracy, has filed to run for the seat opening up to represent Florida House District 46 in Orange County. McCurdy, 35, becomes the second candidate to file for the seat, following Democrat Cynthia Harris, a nonprofit executive and former Orlando City Council candidate who filed to run in January. They both seek to succeed Democratic state Rep. Bruce Antone, who is leaving due to term limits after the 2020 election. McCurdy also served as a legislative aide in 2014 for then-state Sen. Geraldine Thompson.
"Guns-for-teachers vote leads Democrat to challenge Rene Plasencia" via Scott Powers of Florida Politics — When Republican state Rep. Plasencia voted yes on SB 7030 to allow teachers to have guns in schools, Nina Wheeler Yoakum had had enough. Yoakum, 60, a Democrat, who like Plasencia is a former teacher, filed to run against him this week in Florida House District 50. "There have been so many shootings. And then he [Plasencia] voted to allow guns in the schools with teachers," she said. "So that's when I decided, actually: somebody's got to run against him." Though guns and teachers, individually, are two of her top issues, Yoakum said she is also deeply interested in health care reform, to make it more accessible.
"Margaret Good posts modest June figures, Donna Barcomb reports scant contributions" via Jacob Ogles of Florida Politics — State Rep. Good posted modest numbers for June fundraising, pulling in $4,775 in her first full month post-Legislative Session. In total, the Sarasota Democrat raised about $45,483 thus far in her reelection bid. Meanwhile, the first Republican to file against her, Barcomb, registered a scant $1,200 the same month. But Barcomb boasts $47,665 in total outside contributions. Those totals were overshadowed by a headline-grabbing fundraising debut for Fiona McFarland, the newest entry to the race and region. The Navy reservist raised $42,150 in monetary contributions for June.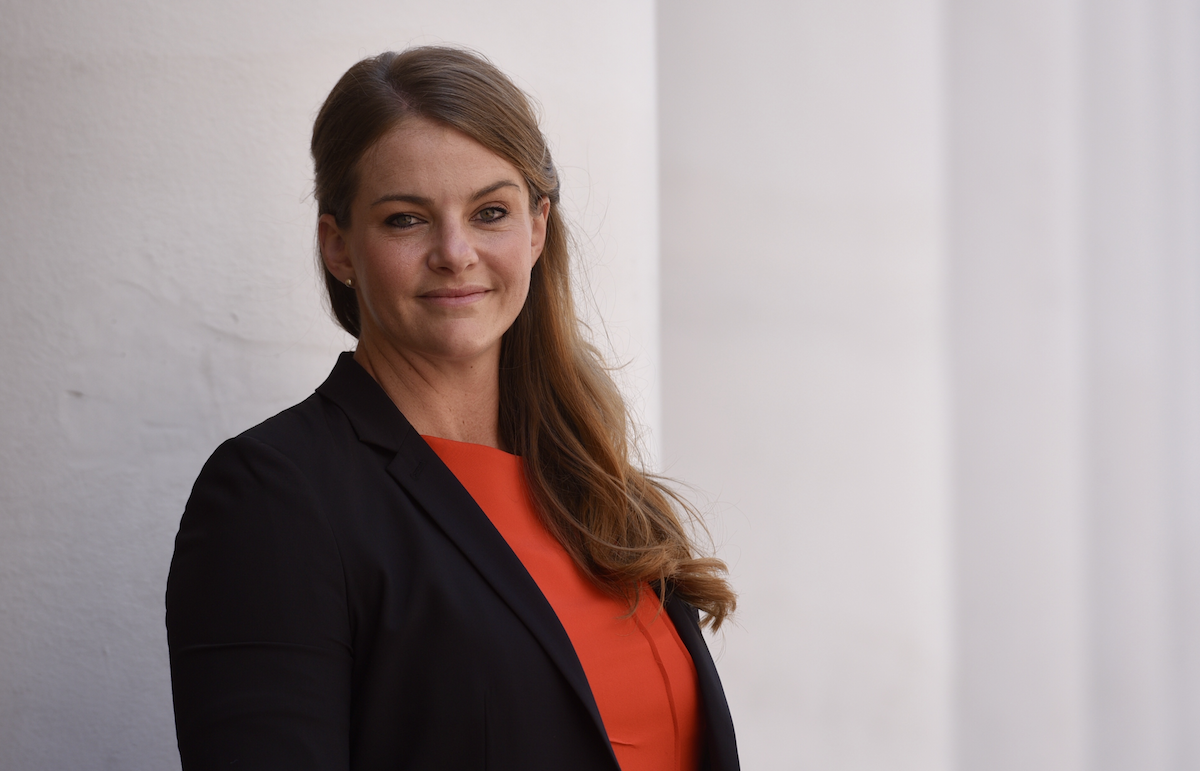 "Democrats vie for Bruce Antone, Barbara Watson House seats" via the News Service of Florida — Orlando Democrat McCurdy opened a campaign account this week. Meanwhile, in South Florida, North Miami Democrat Michael Etienne became the fourth Democrat to open an account to try to succeed Watson in Miami-Dade County's House District 107. Etienne joined Christopher Benjamin, Hubert Campbell and Ulysses "Buck" Harvard in planning to run for the seat.
"In under a month, Kionne McGhee raises more than $100K for Miami-Dade Commission race" via Ryan Nicol of Florida Politics — House Democratic Leader McGhee says he's raised more than $108,000 since declaring his candidacy for the District 9 seat on the Miami-Dade County Commission. McGhee, who is term-limited in the House, confirmed his run for the Commission on June 5. That means in less than a month, McGhee has raised more than any of the other three candidates in the race. "I am honored and humbled by the incredible support of my community and committed supporters throughout the State of Florida," McGhee said. "Born and raised in South Dade, I know and understand the issues and concerns that my neighbors experience."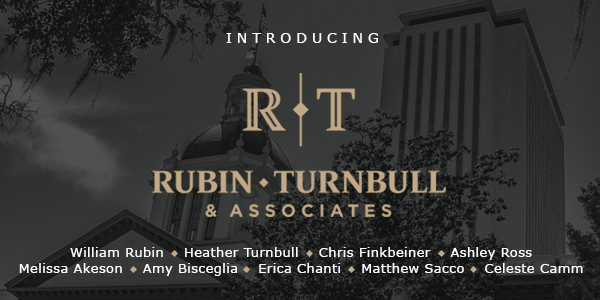 — LOCAL —
"Investigating discrepancies in Lee County Sheriff's background" via Fox 4 Southwest Florida — A FOX 4 investigation now reveals big questions about Carmine Marceno's employment history. The Lee County Sheriff started his law enforcement career in 1998. He worked for the Suffolk County Park system in the Long Island area of New York. A year later, he moved to Southwest Florida. To work in law enforcement, he could take almost 800 hours of police academy training required to work in Florida law enforcement, or go through what is called equivalency of training.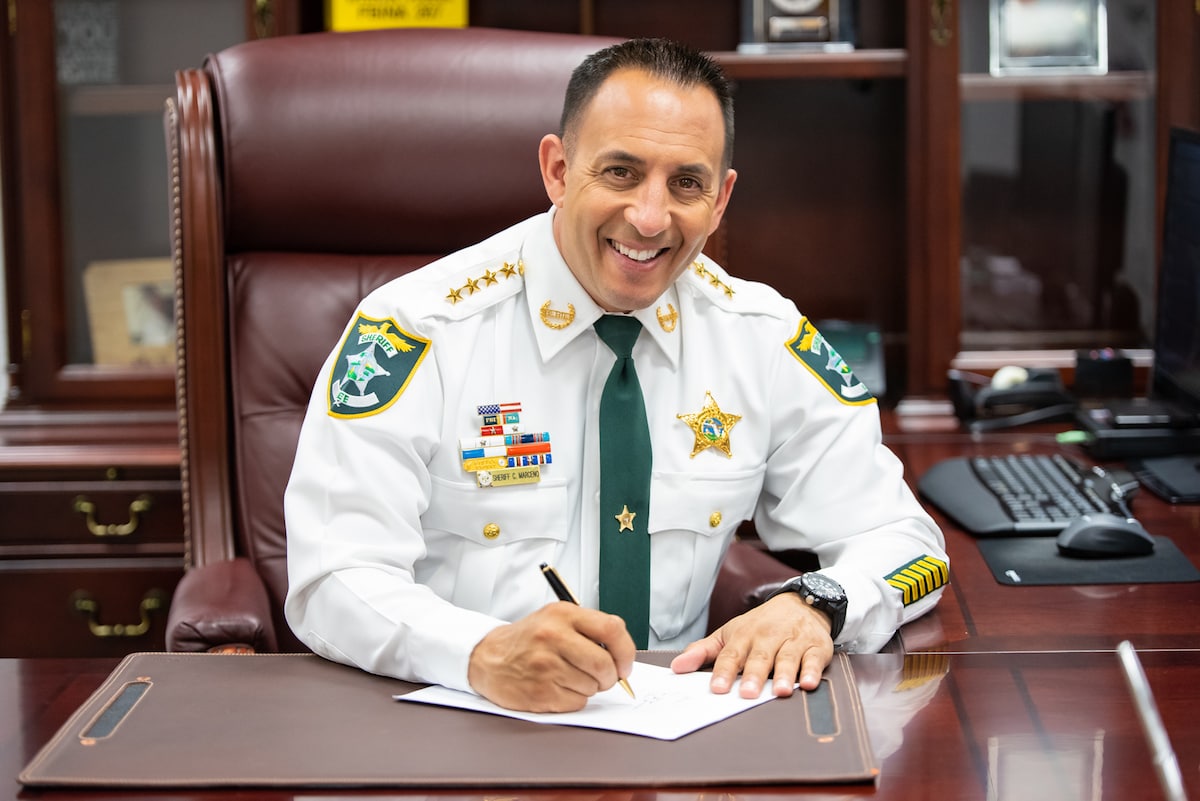 Leon County, Tallahassee leaders press for participation in 2020 Census — Florida TaxWatch hosted the Wednesday press conference with Tallahassee Mayor John Dailey and County Commissioner Rick Minor. "If Florida is underrepresented by the count, it could cost the state millions, or even billions, of dollars," a news release said. "Florida's state and local officials need to immediately start ensuring the accuracy of the count by participating in existing intergovernmental processes to verify addresses and residences." Dominic Calabro, President and CEO of TaxWatch, said he was "grateful to the City of Tallahassee and Leon County for taking action. We encourage the rest of the state to follow their lead." A recent TaxWatch report is here. The Census begins April 1.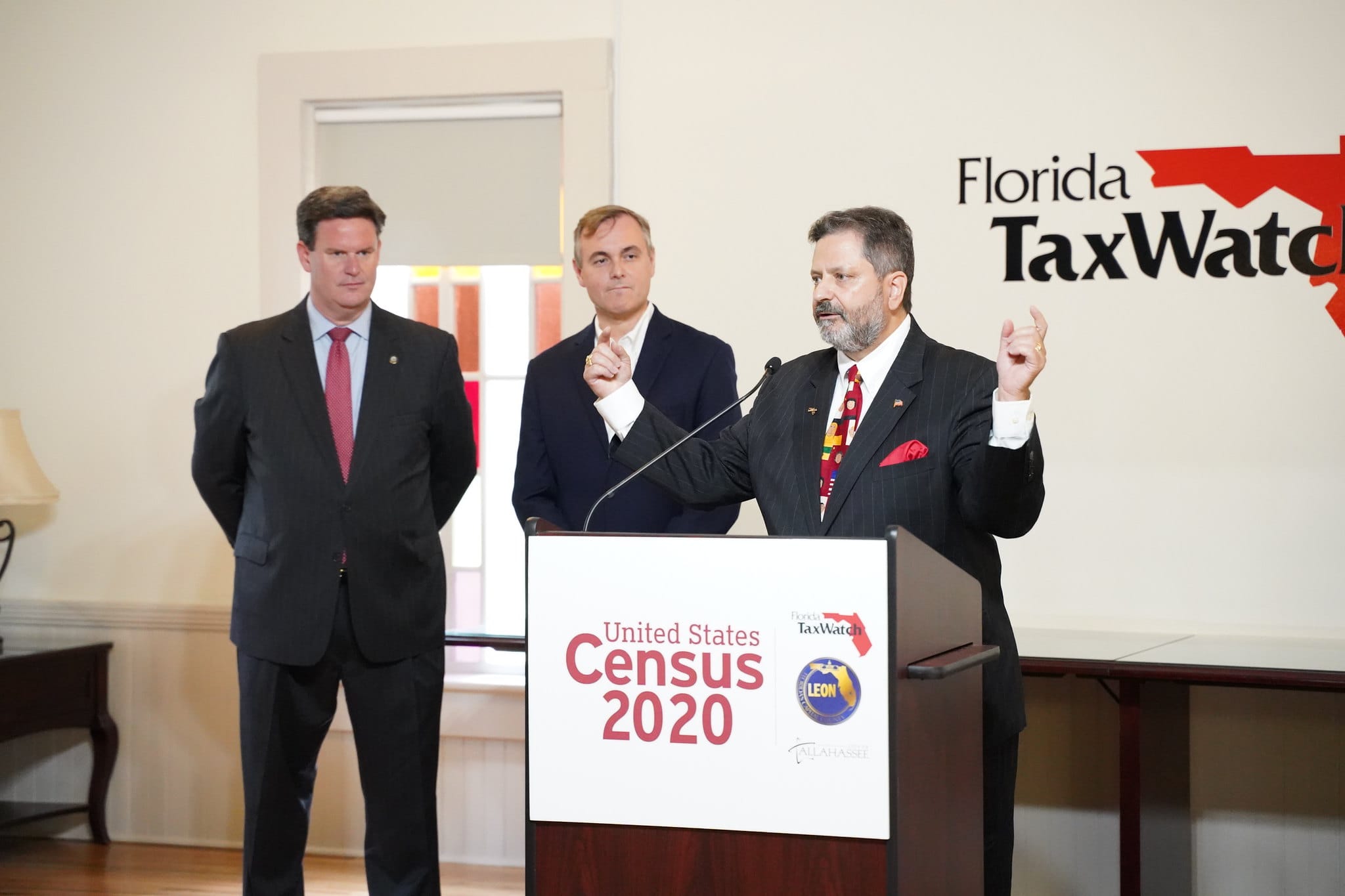 "South Miami to challenge 'sanctuary cities' ban" via News Service of Florida — The city of South Miami is preparing to fight a controversial new law aimed at banning so-called "sanctuary cities," after commissioners unanimously agreed Tuesday to hire an attorney to handle the legal challenge. The ban, signed into law by DeSantis last month, was one of the most fiercely fought issues of the 2019 legislative session that ended in May. But, during a brief special meeting Tuesday evening, South Miami Mayor Philip Stoddard echoed critics' concerns that the law would discourage undocumented residents from reporting crimes. Stoddard, who said the city had been approached about the lawsuit by the Southern Poverty Law Center, said the statute is vague and overrides local authority.
ICYMI from last night's "Last Call" — Derby Lane, the dog-racing track in St. Petersburg, has applied for a break for (workers who) need occupational licenses from the state's Division of Pari-mutuel Wagering. Amendment 13 outlaws placing bets on greyhound and other dog races as of the beginning of 2021 … But Derby Lane explained that it intends to offer live greyhound racing through June 2020. The track says, however, workers and others still need to be individually licensed; many need to renew and the license fee is for three years … It asks for 12-month licenses to issue, with an accompanying break on the licensing renewal fees, which run from $15 to $80. The state has yet to rule.
"Tampa finds that aide did indeed 'cough-curse' during City Council meeting" via Charlie Frago of the Tampa Bay Times — Carrie Henriquez had seen her life turned upside down on social media. People around the world tried to decipher whether Henriquez, wife of Hillsborough County Property Appraiser Bob Henriquez, had coughed or cursed during a May 23 City Council meeting. Many of them had opinions. Many were unflattering. In a June 27 report, Tampa Human Resources director Kimberly Crumv used the full vulgarity — abbreviated here — when she wrote, "It is determined that Ms. Henriquez did utter the word 'a — hole' as she coughed while exiting the dais." City officials reviewed the meeting tape and removed "extraneous sound," the report said.
— #TBMPP2019 —
Day Three of the seventh annual Tampa Bay's 25 Most Powerful Politicians starts with the group that came close — but not quite — to the top 25. Also, the first appearance by a St. Petersburg City Councilmember (and possible mayoral candidate).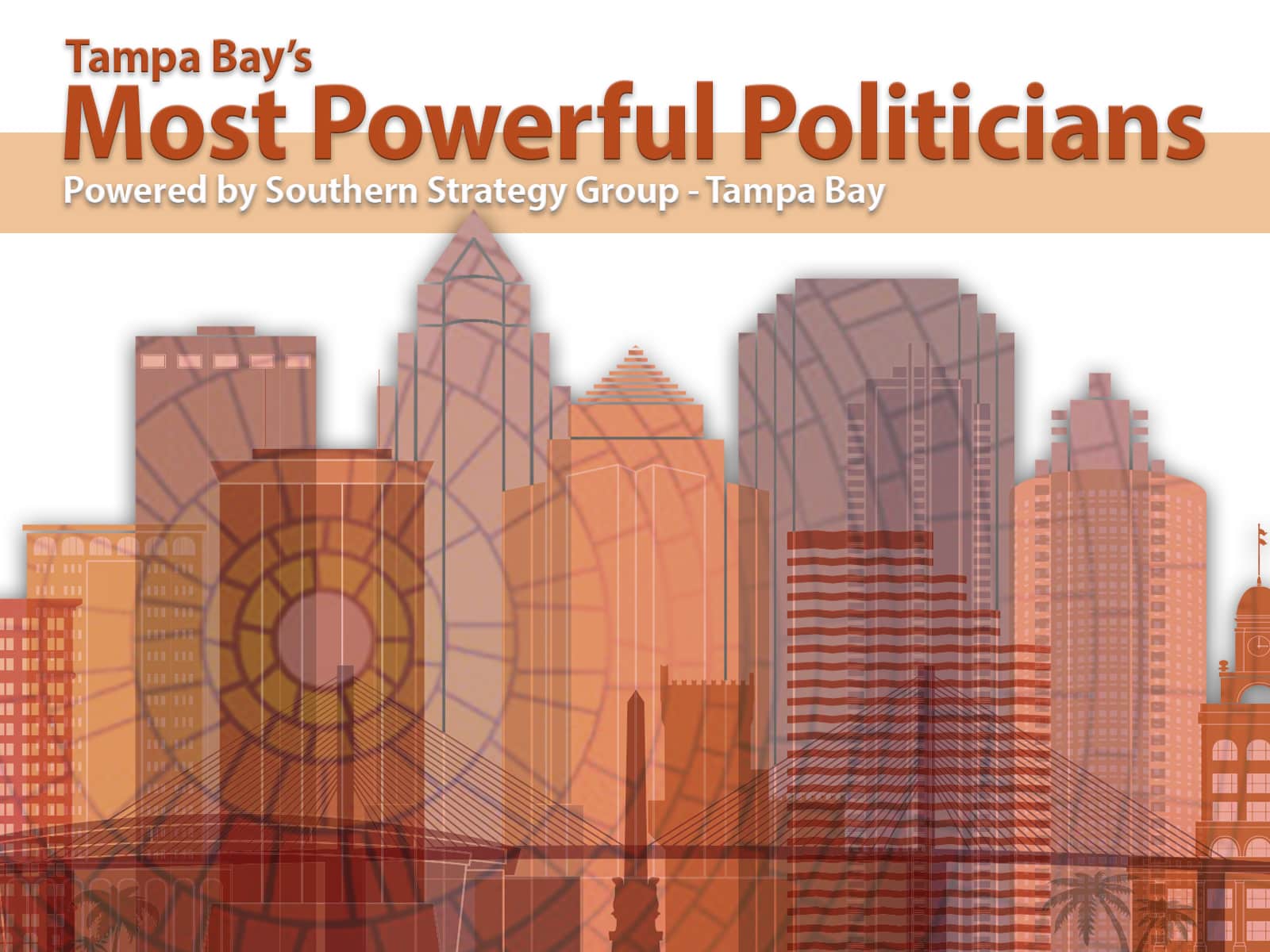 Wednesday's names are:
Almost made it — U.S. Rep. Vern Buchanan and state Rep. Chris Latvala slipped off last year's list. Hillsborough County Commissioner Kimberly Overman and state Sen. Ed Hooper also narrowly missed a spot. However, neither made last year's list either. Despite that, they are all worth watching into 2020.
No. 16: Chad Chronister — "Under Chronister, the Hillsborough County Sheriff's Office has revamped its efforts to train deputies handling mental health-related incidents and has made mandatory what was formerly a voluntary 40-hour training for crisis intervention. Chronister also implemented its own version of St. Pete's 'Park, Walk, Talk' program in which deputies ditch their cars for an hour a day to patrol communities by foot."
No. 15: Darryl Rouson — "Senator Rouson has been able to successfully navigate Tallahassee by working with his colleagues across the aisle, which garners him the respect of his peers and the ability to get things done that are important to him and his constituents," says Laura Boehmer with Southern Strategy Group.
No 14: Jamie Grant — "This past session, Jamie Grant was on fire. Anyone who has watched a debate on the House floor knows if you want to debate Jamie, you'd better have a glass of water and an encyclopedia for a brain," says Republican strategist Anthony Pedicini. "He is a talented and smart Legislator who makes all of Tampa Bay look good when he grabs the microphone. He's one of Tampa Bay's strongest and most vocal advocates."
No. 13: Darden Rice — "She is bold and strategic. Her razor-sharp aptitude for policy and navigating the rocky waters of St. Petersburg politics has propelled her to one of the most formidable mayoral candidates to replace current Mayor Rick Kriseman," says Christina Barker, who serves as vice president of Community Partnerships and Policy at Vinik Family Office. "The notoriety is well deserved."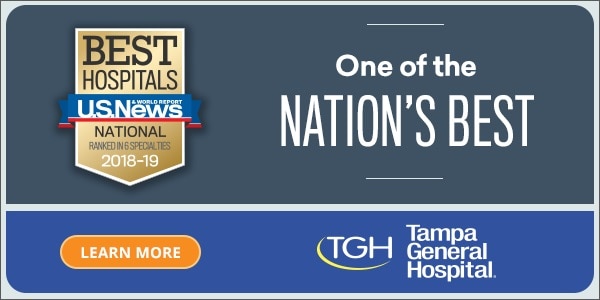 — OPINIONS —
"Alex Acosta may keep his job, but he failed to make the case for why he should" via the Miami Herald editorial board — Facing a growing avalanche of questions and calls for his resignation over how he handled Epstein's (non)prosecution, Miami-raised Acosta held a 53-minute news conference on Wednesday to hold on to his job. He likely will — for now. We're sure his boss, President Trump, was pleased for the perverse reason that Acosta never apologized to the young women, who are still looking for justice. … Acosta followed the Trump playbook: Don't apologize. Don't back down. Deflect. Double down. At least he spared us his boss' bluster. But his performance filled in some blanks, but did little to quell the questions swirling around his white-glove treatment of Epstein in 2007-2008.
"Is Kamala Harris a traditional African American? Does it matter? It didn't with Barack Obama." via Keith Bromery for the South Florida Sun-Sentinel — As the product of a black Kenyan father and a white American mother, Obama was obviously of a different racial background compared to the descendants of Africans who were forcibly transported to this country as slaves. But in the end, what difference did it make? Did it really matter? Harris is the product of a Tamil Indian mother and a Jamaican father, which like Obama places her outside of the artificial boundaries of what many Americans define as a traditional black American. And this orchestrated displacement has effectively landed both Harris and Obama in the racial category of 'other' in the view of some Americans. My main question and concern here are why we are still doing this to ourselves?
"How could a Palm Beach high school principal question historical facts about the Holocaust? Denial feeds anti-Semitism." via Ted Deutch for the South Florida Sun-Sentinel — Palm Beach County, Broward County, and the entire State of Florida teach the Holocaust as historical fact, a fact that is immensely personal for so many residents of South Florida. As a member of the U.S. Holocaust Memorial Council and a founder of the Bipartisan Task Force for Combating Anti-Semitism, I am immensely troubled that two-thirds of young Americans could not identify Auschwitz and over 40 percent believe less than 2 million Jews were killed. Holocaust denial feeds anti-Semitism, which leads too often to violence and death. Bold steps are required — by all of us — to ensure the history of the Holocaust and the Nazis' efforts to eradicate the Jewish people are never questioned — anywhere.
"Not even trees are safe from the Legislature" via the Tampa Bay Times editorial board — Gov. DeSantis signed a bill in June that bans local governments from regulating the removal, replanting, pruning or trimming of a tree on private property if a licensed arborist determines the tree poses a danger. There was no need for the state to intervene in a local issue that called out for inclusion and common sense. In Tampa, for example, all sides aired their grievances — from developers with horror stories of dealing with local government to residents tired of seeing healthy trees laid to waste. Advocates hope that common sense, cooperation and an appreciation for the importance of trees will offset the damage created by this handout to developers. But there's no sugarcoating the loss.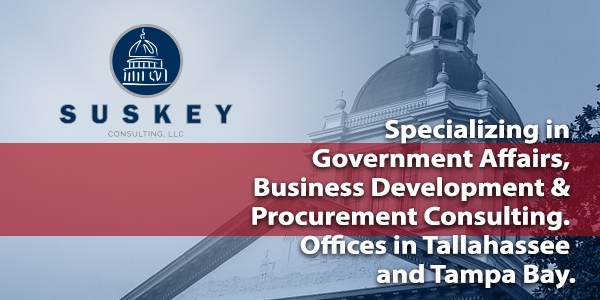 — MOVEMENTS —
"U.S. Senate confirms Kent Wetherell to be north Florida federal judge" via Jim Rosica of Florida Politics — The U.S. Senate has confirmed a Charlie Crist appointee to the state's 1st District Court of Appeal (DCA) as the next federal trial-level judge for North Florida. Appellate judge Wetherell was approved 78-15 to be a U.S. District Judge for the Northern District of Florida. Trump nominated him last April. Wetherell, 48, son of the late Florida State University (FSU) President T.K. Wetherell, had been an administrative law judge since 2002 before then-Gov. Crist named him to the 1st DCA in 2009.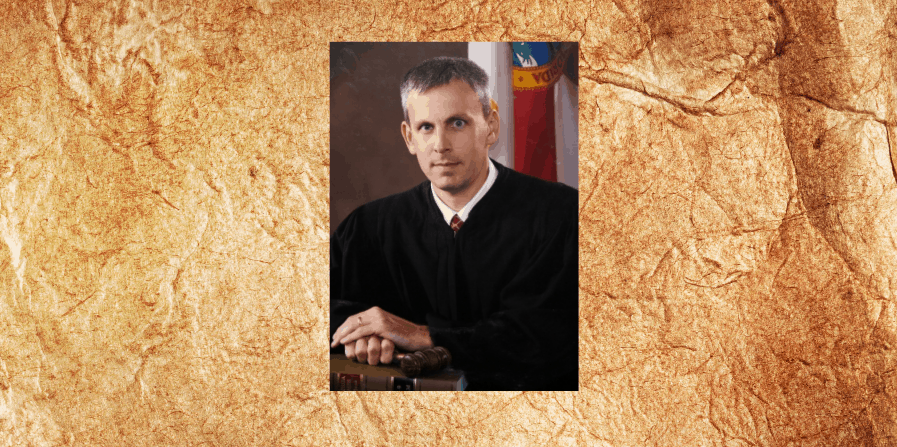 SL7 Consulting aligns with Auxilium Technology — SL7 Consulting, led by Patrick Slevin, and Auxilium Technology, one of the top-ranked digital media marketing agencies in the Washington, D.C. area, have announced an alliance. "In today's Digital Age, firms must be able to integrate multiple channels of communications to influence mediums, media, and mind … Our firm is positioned to advance traditional corporate and public affairs communications initiatives with digital media and branding, internet marketing and web-based capabilities," Slevin said.
New and renewed lobbying registrations:
Courtney Calderone: City of Fort Pierce, School District of St. Lucie County, St. Lucie County
Mike Haridopolos: New Era Community Health Center
Zachary Lombardo, Woodward Pires & Lombardo: Jennifer Parisi, Serena Parisi
Clayton Osteen, Cotney Construction Lobbying: Blockchain Construction
Gary Rutledge, Jonathan Costello, Corinne Mixon, Rutledge Ecenia: ADT Security Services
— ALOE —
"The great race to rule streaming TV" via Jonah Weiner of The New York Times — One big question is what all this means for us, at home, fishing in the cushions for our remotes: If even a network as seemingly sacred as HBO can be pressured by corporate bosses to crank out more shows in order to better compete with smartphones, what new era are we entering? All of our screens are now TVs, and there is more TV to watch on them than ever. The advent of digital platforms streaming video on demand (S.V.O.D.s, in trade lingo) has broken the 24-hour day into infinite possibilities. Questions once crucial have been made irrelevant: "Does this show deserve a prime-time spot?" "Would this make a good lead-in to that?"
— APOLLO —
"Business spikes ahead of Apollo 11 anniversary. For sale: shirts, mouse pads, moon-themed burgers" via Chabeli Herrera of the Orlando Sentinel — Brenda Mulberry's store on the edge of Kennedy Space Center, called Space Shirts, anticipated the Apollo 11 frenzy. Nearly a year ago, it had already started to print its logo design for the moon landing's 50th anniversary on July 20 onto shirts that took up a handful of shelves near the back of the shop. And outside, a digital sign flickered between a message that read, "Brevard County's best-kept secret" and "Apollo T-shirts!" One recent afternoon, when the line at the register was 10 people deep, and the shrill sounds of the landline were echoing through the cramped shop, a man turned to Mulberry, and thinking of the sign outside, said, "I think the secret is out."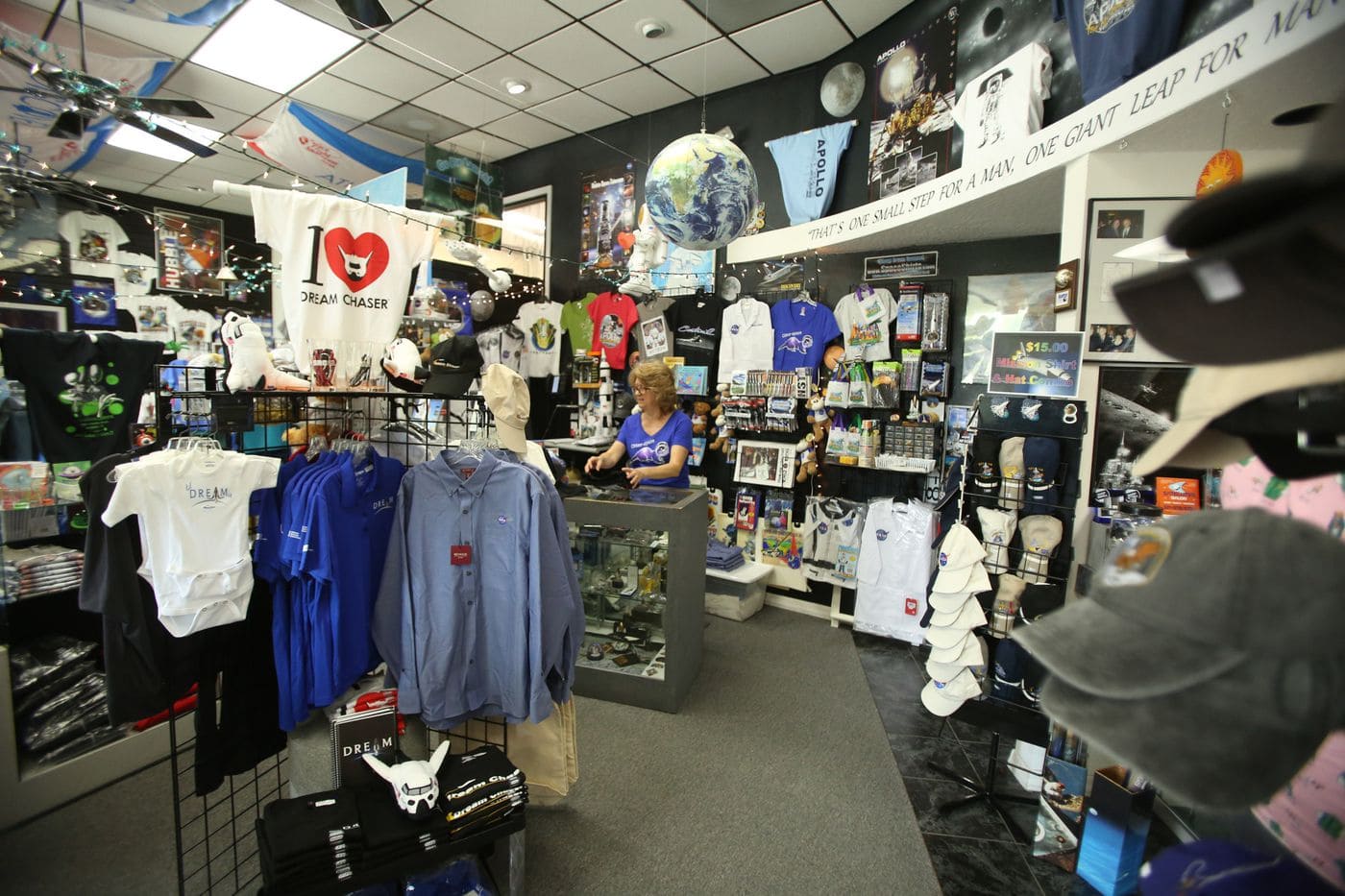 "Google launches new Apollo 11 'experiences' to celebrate moon landing's 50th" via Mike Wall of Science.com — For example, Google users can now view the Apollo 11 command module in zoomable 3-D, via the search giant's AR (augmented reality) in Search feature. This will mark the first-time users can experience a cultural artifact via AR in Search, which debuted this past May, Google representatives said. This content is available via the AMP Stories format and will also appear in the Apollo 11 Knowledge Panel in Search, Google representatives said. Also, in collaboration with the Smithsonian National Air and Space Museum, Google is making available, directly via Search, 20 new stories that focus on lesser-known aspects of Apollo 11.
— HAPPY BIRTHDAY —
Best wishes to Brett Cyphers, our friend James Harris, Matthew Leger, Aaron Sharockman and former Rep. Cynthia Stafford.
—
Sunburn is authored and assembled by Peter Schorsch, Phil Ammann, Jim Rosica, and Drew Wilson.