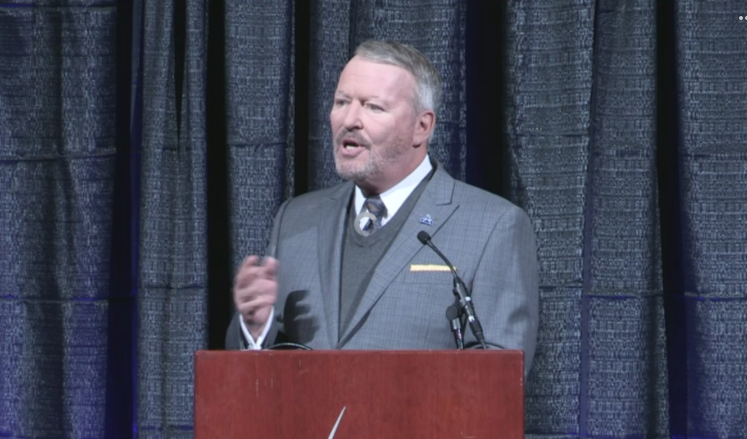 Dyer's campaign also reports raising $47,000 in June
Orlando Mayor Buddy Dyer announced Thursday that his reelection bid has received the endorsements of four Orange County constitutional officers a day after his campaign announced raising another $47,000.
The endorsements come from Orange County Sheriff John Mina, Orange County Tax Collector Scott Randolph, Orange County Clerk of Court Tiffany Moore Russell, and Orange County Property Appraiser Rick Singh. Traditionally, the other two constitutional officers, Orange County Comptroller Phil Diamond and Supervisor of Elections Bill Cowles do not make endorsements.
All are Democrats like Dyer, though the Orlando mayor's office and the 2019 election are nonpartisan. Dyer, in the mayor's office since 2003, is seeking a fifth full term.
The latest endorsements, expanding Dyer's collection from major office holders in Orange County, come after his campaign reported another significant month in fundraising. The $47,485 he raised in June was the lowest monthly total yet for his five-month campaign, Still, Dyer's reelection committee now has raised $402,878 this year. With spending, he still had about $311,000 in the bank on July 1.
The Orlando City Clerk's office had not, as of early Thursday morning, posted June campaign finance reports for Dyer's highest-profile opponent, Orlando City Commissioner Sam Ings. He came into June having raised $33,475 in total, and had about $25,000 of that in the bank.
Mayoral candidate Aretha Simons, a Navy veteran, reported raising $950 in June. She's raised $42,029 to date, and entered July with aobut $12,000 in the bank.
Mayoral candidate Shantele Bennett reported no fundraising in June. She's raised $433 to date and spent it all.
A news release from Dyer's campaign included the following comments from Dyer's latest round of endorsements:
"Mayor Dyer has always shown a deep commitment to public safety. I have worked alongside him and admired his steady leadership and ability to unite our diverse community. I'm proud to support him as Orlando Mayor, now, and moving forward," Mina stated.
"Orlando has made great strides under Mayor Dyer's leadership. The City Beautiful lives up to its name thanks to the hard work of Mayor Dyer and the incredible staff he has brought into City Hall. I look forward to another four years of his leadership at the city," Randolph stated.
"It is my pleasure to endorse Mayor Dyer for re-election as Orlando Mayor. His progressive and innovative leadership has been a catalyst for the growth of the city. I hope the voters of Orlando agree that he should return to continue his great work," Moore Russell stated.
"As the Orange County Property Appraiser, I have many opportunities to interact with leaders of all types. Orlando Mayor Buddy Dyer is a cut above the rest with his keen eye for progressing the City of Orlando. His success is our success. I am proud to endorse Buddy Dyer for re-election in the 2019 race for Mayor of Orlando," Singh stated.