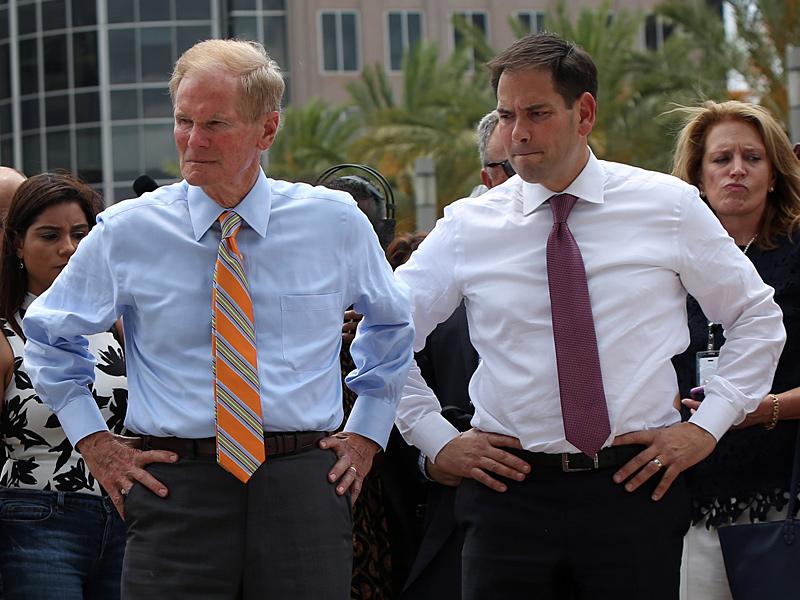 "When it came to Florida, we got things done. But we also developed a personal friendship."
U.S. Sen. Marco Rubio and former U.S. Sen. Bill Nelson spoke Tuesday about how lawmakers can come together and get things done despite growing political polarization in Washington.
The forum, held at the University of Florida in Gainesville, was part of the "Bill Nelson Initiative on Ethics and Leadership."
Nelson, a Democrat, served three terms in the U.S. Senate before he lost reelection to former Gov. Rick Scott in the closest Senate race in state history. Rubio, a Republican, was elected in 2010 and reelected in 2016.
During the eight years they served together, the pair were often at odds when it came to the tentpole issues of their respective parties, but both said there were many issues where they could come together to serve the people of Florida.
"Marco's and my professional relationship was not only that," Nelson said. "When it came to Florida, we got things done. But we also developed a personal friendship."
Nelson recalled the aftermath of Hurricane Matthew, which hit Florida's eastern coast in 2016, and Hurricane Irma, which made landfall in 2017.
"In the hurricane before Irma — Matthew — Marco and I found ourselves in the back of a Coast Guard airplane with the back door open so that we could see the damage that it had wrought," Nelson said.
The plane glided along at about 200 feet, Rubio recalled, with only a couple small straps keeping he and Nelson from tumbling out.
"It would have been hard to explain if something went wrong," Rubio quipped. "Then we would have had to have two special elections."
Seeing the damage convinced the pair they needed to work together to secure federal funding to help the state recover from the storm.
The collaboration was a natural one thanks to Nelson's experience working across the aisle, Rubio said, adding that Nelson "was that way before I got there with [former U.S. Sen.] Mel Martinez.
"When Bill was there, not only did he bring his experience in the Senate, but his experience in the U.S. House and the state government as Insurance Commissioner," Rubio said.
Nelson said it helped that he had more wiggle room than Rubio did — especially during the latter's 2016 presidential campaign, which amped up the pressure for him to toe the party line.
"I had a lot more leeway with my base, basically because I was the only thing the Democratic Party had going for it at the statewide level," he joked.
Both said more often than not they were on the same page, but with conflict driving media coverage, many of the priorities they pushed together went unnoticed.
"Stories about Senators working together don't get clicks," Rubio said.
But even in an era of extreme political polarization, bipartisan support is in high demand.
"The most coveted thing in the Senate, if you've got a bill, is a Democratic co-sponsor if you're a Republican or a Republican co-sponsor if you're a Democrat," Rubio said.
"For example, I disagree with a lot of what [Massachusetts U.S. Sen.] Elizabeth Warren stands for, but we've teamed up on a bill that if you default on student debt you don't lose your occupational license.
"We may disagree on 50 other things, but on that issue she is my strongest ally."
While not uncommon, finding issues where Senators from both parties sides can come together is getting rarer.
Nelson attributes part of the growing divide to the growing number of Senators who only live in Washington part time.
"Families used to come to Washington with members, but that's stopped as jets have gotten faster and the cost of living in Washington has gotten higher," he said.
There's also the so-called "nuclear option" Senate Majority Leader Mitch McConnell invoked to get two U.S. Supreme Court nominees through the confirmation process.
"It's getting harder with the removal of the supermajority rule. When [former Senate Majority Leader] Harry Reid changed the rule on Cabinet-level appointments not to be 60 votes … that was a mistake," he said. "It led to a cascade effect."
Rubio added that the rapid advance of technology has only further complicated things, with many disruptive issues — from telecommunication to the loss of jobs due to globalization — not fully meshing with either party's platform.
"The parties today are weaker than they've ever been — if you tell me somebody's party registration, it tells me more about who they're against than who they are for," he said.
How can two Senators from opposing states form the same working relationship Nelson and Rubio enjoyed?
To Nelson, it's all about avoiding "cheap shots."
"There have been campaigns where Marco could have taken a shot at me, but he didn't," Nelson said. "That would only undermine the relationship."