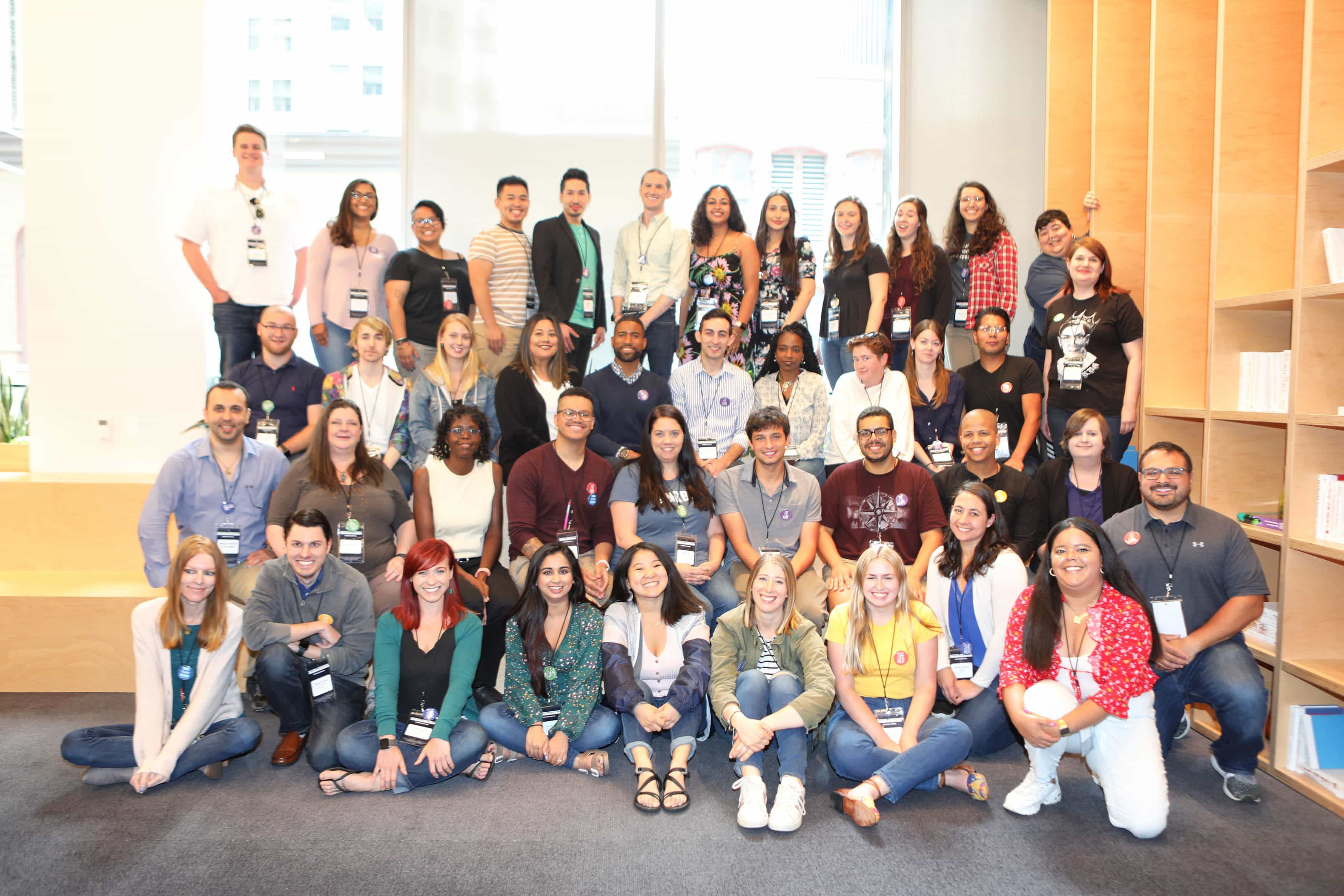 "It was eye opening."
"How do we create solutions that scale and provide for the party long term?"
That question has been on the mind of Kelly Dietrich, founder and CEO of National Democratic Training Committee (NDTC). Dietrich's group has gotten widespread coverage for its efforts to offer free training to Democratic candidates nationwide.
But now, the NDTC has honed in on the staff level as well. The group's new Staff Training Academy just completed its first run, with a class of 60 people graduating at the end of June.
"This is an area of need for the party," Dietrich said.
"What we're trying to do is build a program that lowers the barrier of entry into politics and allows the Democratic Party to have access to more fully-trained, better educated individuals in how to run campaigns."
Nearly 600 people applied to the program, but just 10 percent of those applicants were accepted. Dietrich says he was looking for individuals who hadn't necessarily had high-ranking roles in past campaigns.
"One of the challenges is that most people, when they think about working in politics or getting a career in politics, is that they think you have to know someone. They think that someone has to bring you in," Dietrich said.
The inaugural class was offered training on one of two tracks: digital director or finance director. Once again, the donor-funded NDTC offered the training for free.
Of the 60 members brought in from around the nation, four were from here in Florida: Danny Perez of Lithia, Jessica Danon of Port St. Lucie, Rebecca Garcia of Hialeah and Eleanor McDonough of Kissimmee.
Perez and Danon also spoke with Florida Politics about their experience with the program.
Perez said he's lived most of his life in the Tampa area. While attending the University of South Florida, Perez was involved in a car crash that ultimately spurred his jump into politics.
He said the accident occurred just days after the 2016 election of President Donald Trump. "I didn't think I could really get more stressed," Perez, a longtime Democrat, said.
"I was stopped at a red light and this man on his phone drove right into the back of my car and left me with a back injury that I had no idea was going to drastically change my life."
That back injury made it difficult to work. So Perez said he used his down time to read up on left-leaning thought leaders such as Robert Reich, DeRay Mckesson and Ta-Nehisi Coates.
Perez said he was "activated" by that research. And after seeing a tweet from former presidential candidate Hillary Clinton touting the NDTC's work, Perez said he decided to try out the staff training program.
"It was eye opening," Perez said of the training. "Before that, I would not have said that I could be a finance person in any field."
Both he and Danon pursued the finance director track. The training consisted of seven weeks of online work which including course assignments and webinars. After those seven weeks, each trainee had built up a full finance or digital plan for a hypothetical campaign.
For the eighth and final week of training, the students met up in person in Chicago. They were also given access to a series of interviews to help land a job with an actual campaign.
Perez said the most valuable portion of the training was the opportunity to network with people already steeped in campaign experience.
"The biggest thing is that I'm able to pull from a bank of resources now from the training. Whether it's industry professionals or subject matter experts from the training team, I can go to them with specific questions," Perez said.
"The trainers have made it, and Kelly has made it, so accessible to get face time with them, to get advice from them, to bounce ideas off of them. And that's comforting in a sense that it's going to be harder for me to make mistakes moving forward because I know that those resources are there."
Those sentiments were echoed by Danon, a nine-year resident of the Sunshine State.
"To have real-life, everyday contact with these people is completely invaluable to us. Any time we had a question, even if they don't know the answer, they'll reach out to their network," Danon said.
"That has not just been a leg up from the onset, but I think it will continue to be a leg up for us as we continue throughout our careers in political campaigns and in politics."
Danon is 38 with a background in retail, customer service and marketing, who first heard about the NDTC after doing work with For Our Future as a field organizer in 2018.
"I was looking for more diversity in training and additional skill sets that would help me advance beyond just being a field organizer," Danon said.
"I checked a couple of resources with some friends who are familiar with the various organizations in Democratic politics. And everybody seemed to have good things to say about the NDTC."
Both Danon and Perez are also members of the LGBT community. Dietrich says a push for more diversity, including women, people of color and LGBT individuals, was also a goal of the staff training program.
"We want to bring diversity to our own party, especially among the political staff," Dietrich said.
He added that the group plans to expand the training in the future. By next year, Dietrich hopes to increase the program to 100 trainees and add tracks for field and communications positions. By 2021, the NDTC hopes to accommodate 250 people annually and add in a management track.
All of these program will also be online for free. Dietrich said he hopes to make the inaugural courses on finance and digital roles available online by mid-Summer.
Perez, who said he hopes to run for political office in the future, said that NDTC's resources showed him that there are ways to break into politics, no matter your past experience.
"It's just understanding that the biggest obstacle is yourself," Perez said.
"That individual doesn't need to be somebody that has two degrees from two amazing, different schools and has been a lawyer for 15 years. It doesn't need to be that. This is work that's deeply personal."
___
Image via Kilroy Dunne Photography