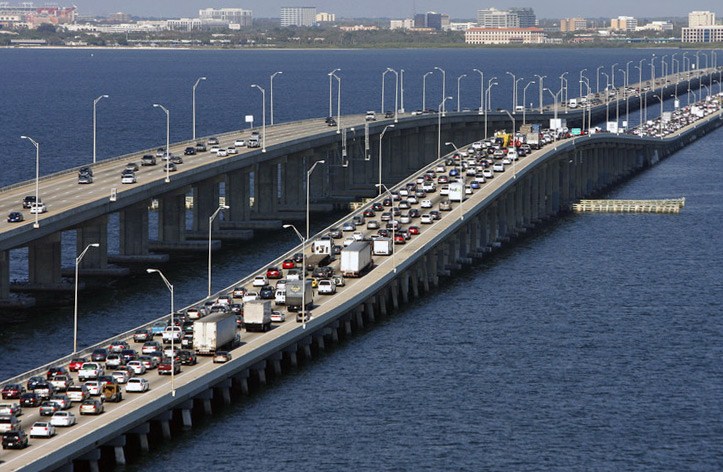 "Today the Hillsborough County commission sent a clear message to their constituents – we heard you."
Hillsborough County Commissioners voted 4-3 Wednesday to enshrine into ordinance spending allocations for the All For Transportation sales surtax voters approved last November for sweeping transportation and transit improvements throughout the county.
The vote reinstates how revenue from the 1 percent sales tax will be spent. Those allocations were struck down last month by Hillsborough County Circuit Judge Rex Barbas as part of his ruling in Hillsborough County Commissioner Stacy White's lawsuit challenging the charter amendment's constitutionality. 
"Today the Hillsborough County commission sent a clear message to their constituents — we heard you. This is a huge step forward for implementing the balanced transportation plan voters approved in November that will address the most critical needs of our county — safer roads, reduced congestion, and expanded transit options," said All For Transportation Chair Tyler Hudson.  "We look forward to standing with Commissioner Miller, Commissioner Kemp, Commissioner Smith, and Commissioner Overman to continue advocating on behalf of the 282,000 voters that made this extraordinary investment."
The board decision, recommended by Hillsborough County Commission Chair Les Miller, reinstates that 54 percent of the sales tax revenue will go to the county and three cities within the county based on population. Another 45 percent will go to the Hillsborough Area Regional Transit Authority for new transit projects and enhancements to the existing bus system. The remaining one percent will go to the Hillsborough County Metropolitan Planning Organization for planning and development. 
Of the general purpose funds, 27 percent must be spent on safety enhancements to existing streets, roads and bridges; 26 percent to relieve rush hour bottlenecks and improve traffic flow on existing roads and in intersections. That pool of funds can be used for vehicle capacity increases to intersections, but cannot add lane capacity. Another 12 percent would go to transportation network improvements to enhance pedestrian and bicycle infrastructure. 
The remaining general purpose funds could be used by funded governments for various transportation projects within their jurisdiction. 
The board approved those funding allocations along party lines with all three Republicans — White, Ken Hagan and Sandy Murman — voting against it. The board's four Democrats, Miller, Pat Kemp, Kimberly Overman and Mariella Smith – voted in favor. 
Supporters of reinstating the original funding allocations argued the move was necessary to maintain the will of voters who voted 57 percent in favor of the sales tax. In Barbas' decision, he wrote that the authority to determine spending allocations and priorities rested with the county and opened the door for commissioners to approve what voters had already agreed to.
Critics, however, argued several factors. 
During lengthy public testimony before board discussion, about ten Tampa Bay area residents, most who lived in suburban areas of Hillsborough County, said the original allocation requirements disenfranchised less dense areas of the county like south and east Hillsborough by greatly limiting funding expenditures for new lane capacity. 
"It was sold as something that would ease road congestion, but what it looks like to me is it won't do anything to ease congestion but it will benefit only large landowners and sports team owners in the city of Tampa," said Hillsborough Resident Bob Ledoux.  
He and others also argued voters were misinformed. 
"You all are smart people," said conservative activist Terry Kemple. "You know that this was sold as something that the allocations do not provide for."
Hagan, after offering a disclaimer that he's always been in support for funding transportation initiatives, agreed that voters might have been duped. 
"You will never convince me that the average voter knew [about] the buckets," Hagan said. 
He argued that the All For Transportation summary that appeared on the November ballot made no mention of funding allocations. It simply stated the new revenue would be used to ease traffic congestion and improve transportation. The details about how the funding would be spent were embedded in the longer ballot language voters would have to download and read for themselves in a four-page document. 
Murman seconded that sentiment, noting that during her various social engagements she has been informally polling people about their knowledge of the All For Transportation funding intent. 
"No one knows anything about that," she said. "And these were people that supported the referendum."
Critics also argued that Hillsborough County action at this point is premature.
"The end of the [legal] challenges have certainly not been reached," said Dover resident and citizen watchdog George Neimann said. "If you try to circumvent Barbas's decision it is likely that more challenges will be put forth."
Overman flatly disagreed with critics' concerns. She said it was unfair to assume voters didn't know what they were voting for and she called claims that the All For Transportation revenue doesn't include improvements for roads nothing "further from the truth."
Overman pointed out that there are other sources of revenue that can be used to widen roads in suburban areas. Namely, that could come from the $812 million 10-year plan Hillsborough County Commissioners approved in 2016 to address transportation deficits. That plan started at about $600 million, but new revenue estimates increased the pool substantially. 
But in another move, Hillsborough County Administrator Mike Merrill suggested in his budget proposal pulling $31 million from that plan to bridge a funding deficit for public safety. Critics of that plan, including the All For Transportation team, argue pulling funds from that pot is akin to the state yanking money from Florida Lottery revenue voters approved for education. The All For Transportation tax is separate from transportation funding and the two revenue sources should be seen as enhancements to one another not as a one or the other pool of resources. 
Commissioners also discussed that plan during their Wednesday meeting, but a final decision isn't expected until September. Commissioners want to consider alternatives like increasing the county gas tax, communication tax, limiting the 2020 commitment to reserves or increasing property taxes. 
Commissioners did unanimously agree on one thing. Murman moved to ask county staff to come back at a future meeting with a report on what the transportation needs are for road-centric areas in south and east Hillsborough County to consider in the "fifth bucket" of All For Transportation revenue. That is the amount of money cities and the county can used for general transportation projects.