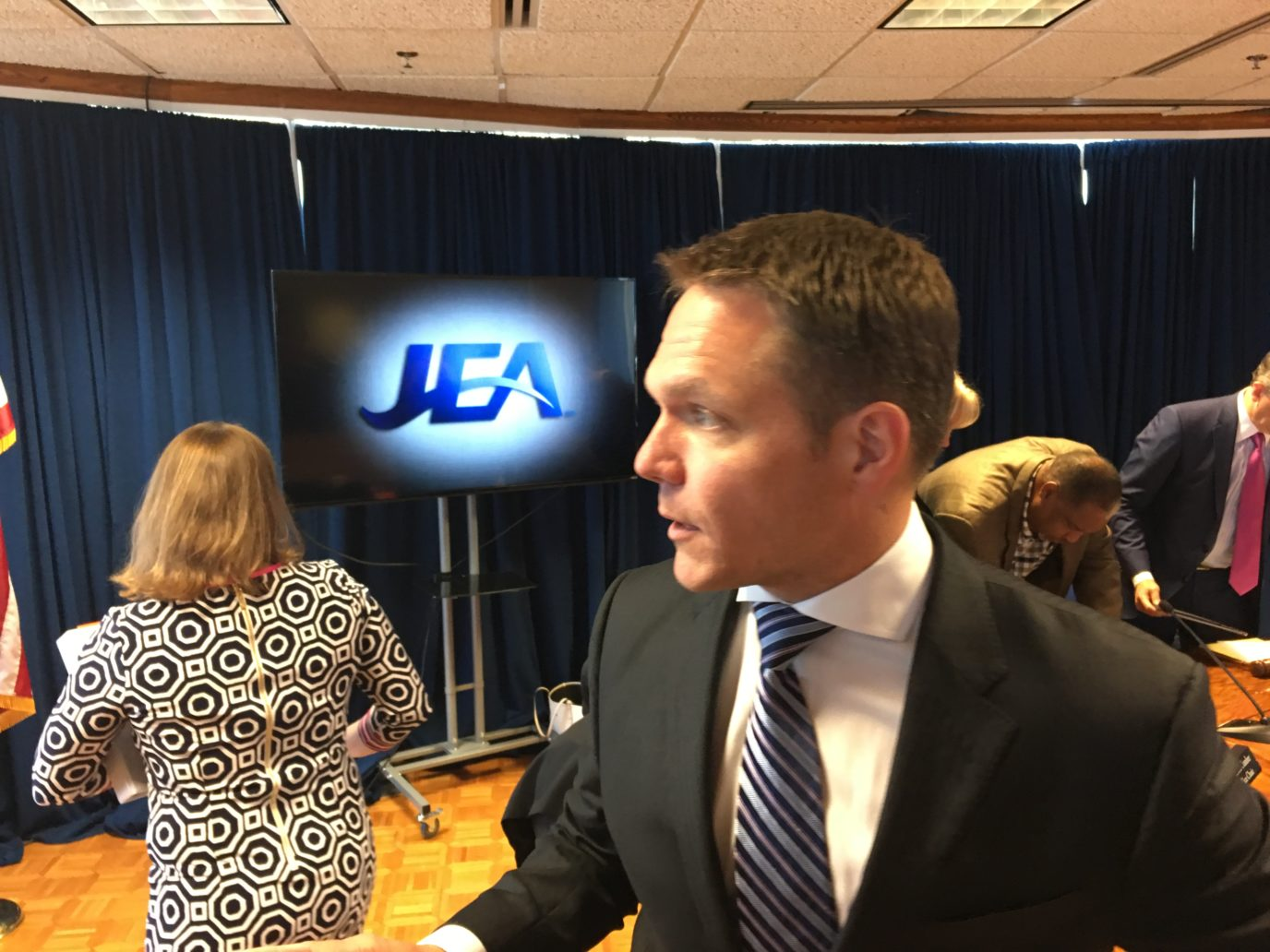 JEA will explore privatization in the coming months.
On Tuesday, Jacksonville's embattled utility JEA mulled a binary choice. And it took the road less traveled.
On one side: a "status quo" future (also described as a "death spiral").
That could include double-digit rate hikes, hundreds of layoffs (including half the C-Suite), worse service, and a potential relocation from downtown.
At issue: declining demand for electricity, a function of increased efficiency in building and appliances, and people and companies going solar or getting off the grid.
Over the last couple of years, privatizing the utility outright was floated. And on Tuesday, Option B represented an exploration of what privatization could look like.
In theory, it could bring a billion dollars more value to the city, protect employee pensions, and allow the utility to build its new downtown headquarters. And it could stabilize the utility against a perpetual and irreversible decline in traditional revenue sources.
CEO Aaron Zahn and his chief lieutenants rehearsed three options for potential board approval. Two of them were "status quo."
The third: radical transformation.
The board moved toward that transformation, culminating a process began early in Mayor Lenny Curry's first term when he revamped the board with his own appointees.
Before voting for seismic change, they heard about two more status quo responses.
The mildest "a traditional utility response including … workforce reorganization … rate changes and other revenue initiatives." President/COO Melissa Dykes said "leaves JEA with too much debt."
Scenario 2, explained by Chief Administrative Officer Herschel Vinyard, described ways to remove legislative "constraints" to JEA pursuing new business opportunities.
Lobbying for legislative or Constitutional change, as a strategy, would take "multiple years with limited success."
Scenario 3, the winner, was outlined by CFO Ryan Wannemacher: "a non-traditional utility response … Removing all Constraints."
This may have an "uncertain outcome," said the CFO. But it's a "local process," a "10-year strategy" to boost valuation.
Traditional approaches? They "delay the inevitable." They forestall JEA's ability to "compete."
The problem: that JEA is owned by the government.
A potential solution: reconfiguration to a "non-governmental structure," perhaps as a community co-op, or a new corporation that would be an S&P 500 company upon inception.
Other solutions could include outside investors, such as some of the private utility companies that lobbied up last time privatization was discussed, buying in.
Benefits could be major: more than $3 billion of "value" for the city (replacing the JEA Contribution, with an extra billion to spare); $400 million in customer rebates; and 100 percent renewable energy for schools by 2030.
Employees would be guaranteed three years of stability, and the new downtown headquarters would be built after all.
"A once in a generation opportunity … no one will be left behind," Wannemacher pledged.
From Foley & Lardner, former Jacksonville City Council President Kevin Hyde asserted that this plan would protect employee pensions "in the most secure way possible."
CEO Zahn said the decision was binary: "to shrink or to grow."
The board approved three resolutions.
One allowed Zahn, who will become the city's highest paid employee per board discussion, to pursue the "non-traditional" response to "maximize" JEA's value.
Another submitted pension reform legislation to City Council. And another protected the employee prerogatives outlined above.
The seismic change, in the end, was played as a fait accompli.
"The board finds itself at a historic moment. If you'd been paying attention, you'd have seen the historic moment coming," said Board Member Alan Howard.
"We're talking about exploring options, to grow and protect JEA from a certain death spiral," Howard said.
Board members Andy Allen, Camille Johnston, and Fred Newbill expressed similar sentiments.
"You already know you're going to die," Newbill said.
The board accepted Scenario 3 with some modification. It ultimately decided to lobby for legislative outcomes and operate the business with current best practices, in addition to more aggressive business plan changes.