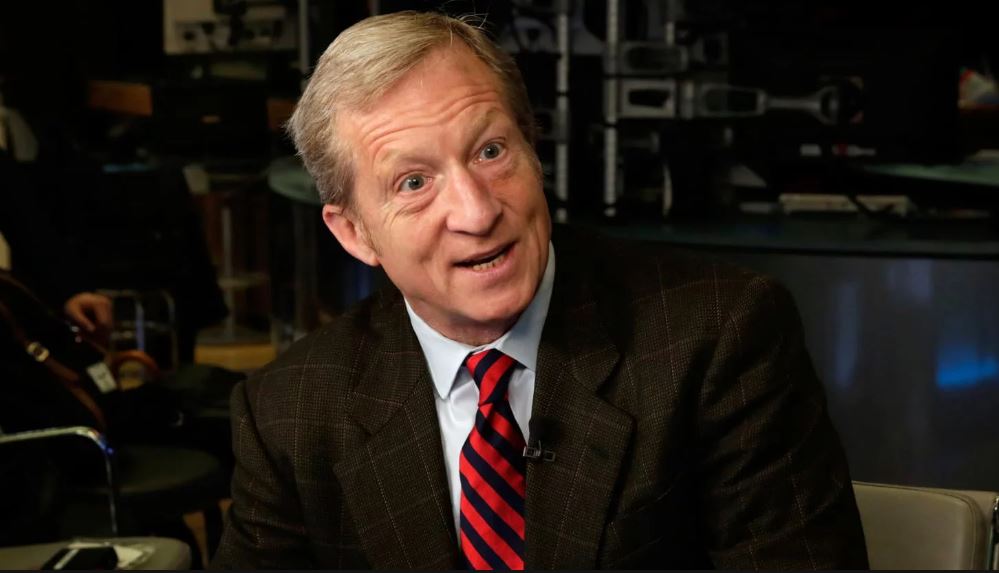 "Voters in the early primary states are clearly responding to Tom's message."
Billionaire hedge fund manager and activist Tom Steyer is continuing to gain steam in early primary states in the weeks since announcing he was joining the Democratic field.
However, he remains with just 1 percent support among all voters so far.
The newest survey from Morning Consult has Steyer polling at 6 percent among voters from Iowa, New Hampshire, Nevada and South Carolina.
That's good for fifth place among Democrats.
Former Vice President Joe Biden leads in those early primary states with 32 percent. He's followed by U.S. Sen. Bernie Sanders of Vermont at 19 percent, U.S. Sen. Elizabeth Warren of Massachusetts at 16 percent and U.S. Sen. Kamala Harris at 8 percent.
"Having just entered the race four weeks ago, Team Steyer is proud of this milestone. Tom has been delivering his message of taking back our democracy across the country, and it is resonating with the American people," said Steyer Campaign Manager Heather Hargreaves.
"Voters in the early primary states are clearly responding to Tom's message. Whether by impeachment or by the ballot box, Tom Steyer will remove Donald Trump from the presidency."
Steyer has long been behind a push to impeach President Trump. He frequented the early primary states while flirting with a run in early 2019. Ultimately, Steyer announced he would not run for President.
By July, he had changed his mind, entering the field of more than 20 declared candidates. He put $500,000 toward an anti-Trump ad buy that began running during the Democrats' second debate in Detroit.
Steyer also spent millions backing Andrew Gillum's 2018 bid for Florida Governor. Gillum was defeated in November by now-Gov. Ron DeSantis.