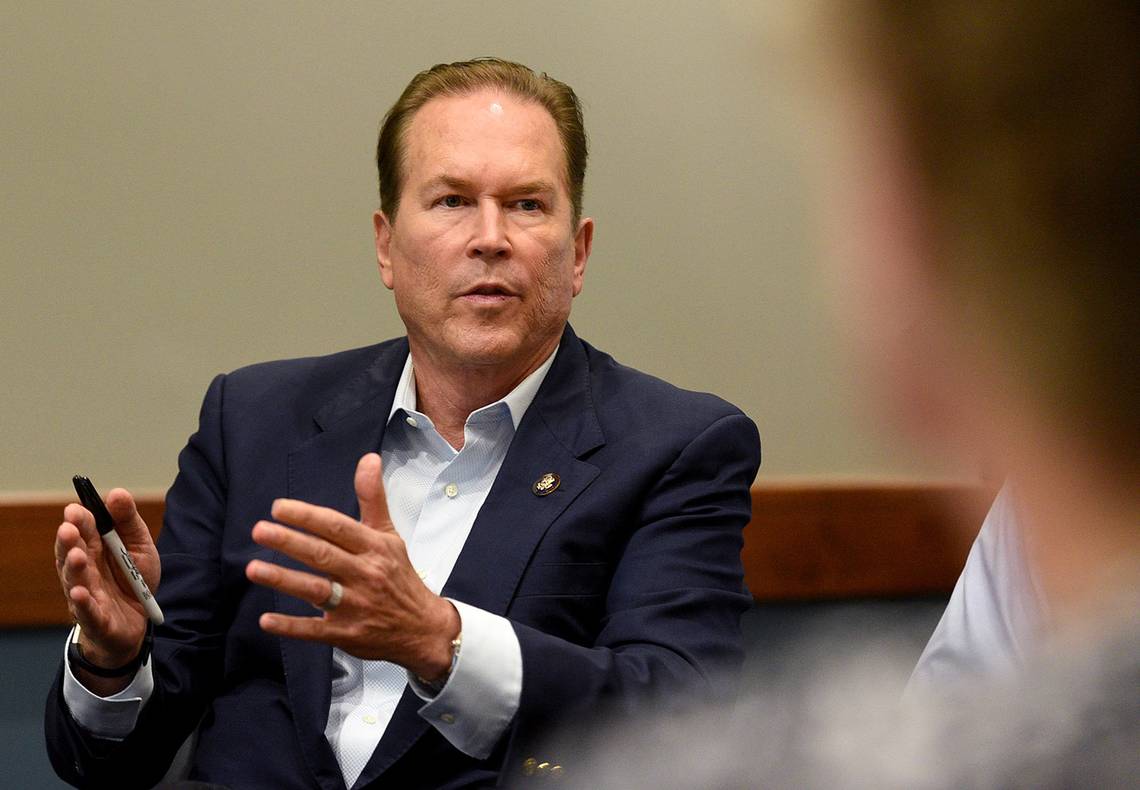 Sarasota Republican holds roundtable at Sarasota facility.
U.S. Rep. Vern Buchanan said it was a pleasant surprise to be honored with a "Hospice Champion Award." More than accept a plaque, the Sarasota Republican held a roundtable at Tidewell Hospice.
Representing Florida, he said it's critical such operate proficiently within the community.
"Something like 58 percent of people here will deal with Hospice and end-of-life issues," he said.
Buchanan counts himself in the number. Both of his parents have died, with Hospice care helping assist his family toward the end. His wife, Sandy, has also served on the board at Tidewell Hospice. So he's conscious of the organization's needs.
Paul Ledford, President and CEO of the Florida Hospice & Palliative Care Association and NHPCO My Hospice Ambassador, in the roundtable praised Buchanan's attention to the cause.
"We are fortunate to have him advocating on our behalf in Washington."
And Jonathan Fleece, President and CEO of Tidewell Hospice, in particular thanked Buchanan for legislation helping providers.
"Creating a quality, dignified, end-of-life experience is the goal of Tidewell Hospice," he said.
"We're able to do that, in part, thanks to the support of Congressman Buchanan and other policymakers who recognize the value of the important, person-centered care we provide."
This year, Buchanan has worked multiple bills that are priority issues for Hospice services.
The House Ways and Means Committee in June passed legislation to provide help free of charge for seniors and families with questions about health care insurance.
In April, the same committee passed a Buchanan bill requiring transparency in pricing medicine.
He has also co-sponsored legislation expanding mental health resources for seniors.
Coming of the Hospice visit, Buchanan said he will also work to streamline auditing for Hospice organizations.
But much of the roundtable centered around mental health, a hot topic an the nation reels from shootings in El Paso, Tex. and Dayton, Ohio.
Buchanan serves on the committee overseeing Medicare expenditures and he hopes to work on better spending regarding mental health, something that could make Americans healthier and safer across the board. He notes federal spending in that arena has been flat, about $125 billion, for upward of four decades. He'd like to know that money, at the very least, gets spent as effectively as possible.
He also wants to make sure Hospice and its related services help area veterans. Florida's 16th Congressional District is home to some 88,000 veterans, one of the highest concentrations in the country.
As chairman of Florida's Congressional Delegation, Buchanan hopes he can build bipartisan support for mental health and Hospice services.
"I saw it needs to be bipartisan because as someone pointed out, from 1985 to 2015, only nine partisan bills became law," he said.
"We can do messaging bills, but if we want to get something done, you have to reach across the aisle and compromise."