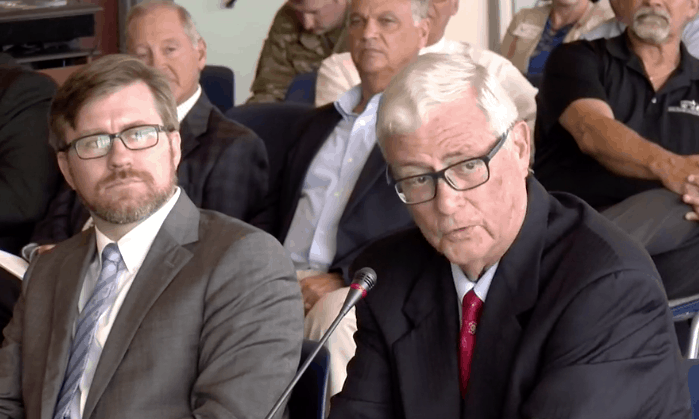 Tyndall AFB reconstruction offers a bright spot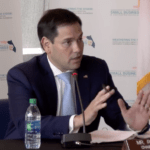 While Hurricane Michael recovery at Tyndall Air Force Base is moving swiftly and some relief money is now coming in, people in and around Bay County "are hurting," in part because of housing shortages, said former Florida House Speaker Allan Bense on Wednesday.
Bense, along with fellow former Speaker Will Weatherford and former U.S. Rep. Gwen Graham, co-chairs the Rebuild 850 organization, He spoke Wednesday at a special field hearing of the U.S. Senate Committee on Small Business and Entrepreneurs in Panama City, held by that panel's chair, Republican U.S. Sen. Marco Rubio,
Bense said that housing and workforce shortages are combining to slow recovery efforts and extend suffering from the October 2018, hurricane.
The number of homeless students in Bay County schools went from 750 before the hurricane to over 5,500, he said.
"We clearly have a terrible housing issue. An acute housing issue in northwest Florida. And we have significant problems with mental health issues out there, not just with students but in the entire community," Bense said.
"The biggest issue is our workforce," he said. "The problem is, it's very difficult because of the housing issue for employees to work and live in Bay County and in other counties affected. We're hurting. The average working man or working women are having a very, very difficult time. … There are a lot of people hurting out there. A lot of people hurting."
There was some good news for the region, though it may be longer-term good news. Air Force Col. Brian Laidlaw, Commander of the 325th Fighter Wing at Tyndall Air Force Base, said recovery there is moving swiftly.
"Despite the extensive damage to the base over the last 10 months, our Airmen implemented countless, innovative, temporary fixes to bring their missions back online, consistent with our Air Force Secretary's direction. With the exception of our F-22 and T-38 flying operations, much of which we are conducting out of Eglin, and our noncommissioned officer academy, which we plan to stand up sometime next year, we have fully resumed all of our missions at Tyndall. We have back at Tyndall 73 percent of the military and civilian Airmen that we had pre-Michael," Laidlaw said
Recovery and reconstruction efforts at the base involve more than $1 billion in spending before the end of this year. Future reconstruction projects, not yet contracted, could push that spending to $3 billion, Laidlaw said.
And he assured the base would be better and busier than ever when the recovery work is completed and new programs move in.
Rubio touted the short-term economic bump brought by the Tyndall construction and the increased long term financial impact coming from plans to expand Tyndall's role.
"If it all works out … Tyndall won't just be as good as it used to be. It'll be bigger, and better and more important than it was before the storm," Rubio said. "And I think that's a very positive point for the community."
Yet Bense, and occasionally other witnesses who appeared before Rubio's committee meeting in Panama City, spoke of problems associated with the slow flow of federal recovery money and the red tape, to go along with the lack of housing and workers.
The result is far too much is sitting and waiting, still devastated. In many cases, some of the witnesses told the committee, people are choosing not to chase federal relief dollars because it's easier and quicker to pursue much more expensive private loans.
Also, Florida Housing announced it had reserved $1.7 million in state funds for 118 housing loans in Bay, Calhoun, Franklin, Gadsden, Gulf, Holmes, Jackson, Liberty, Taylor, Wakulla and Washington counties.
Yet those and federal housing assistance and Small Business Administration loans have trickled in slowly, now 10 months after the storm. And that causes more delay problems.
"I could have responded so much faster to fixing our building and getting our business back on track if I would have had it [money from an SBA loan] in the middle of December when we closed on the loan," said Aaron Rich, owner, Aaron Rich Marketing in Panama City. "By the time I had the money, contractors were backed up months, I mean three to six months."
Last updated on August 14, 2019