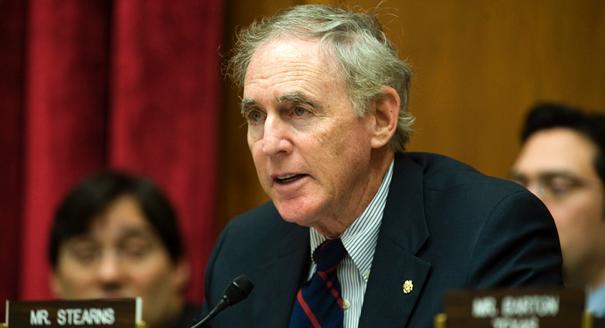 Ellen Weintraub criticizes peers for going easy on former lawmakers' abuses
A scathing statement, penned by the chair of the Federal Election Commission (FEC), was released to the public Thursday following the completion of the agency's investigation into how former Congressman Cliff Stearns misspent campaign funds after leaving office. 
FEC Chair Ellen Weintraub called the penalties — a $6,900 fine and $8,120 in personal reimbursements — "frustrating" given the evidence the Ocala Republican "used his campaign account as a personal checking account … to pay club memberships, conference attendance fees, travel, and meals."
Florida Politics first reported the settlement last month, the first accountability measures taken by the FEC against a former candidate for abusing campaign finance loopholes after leaving office. Stearns' old account was one of more than 100 zombie campaigns identified by the Tampa Bay Times and WTSP in 2018.
The FEC also released documents Thursday detailing how proposals for tougher penalties against Stearns and his wife, who he paid $12,000 a year in campaign funds to submit a few basic forms, failed along 2-2 partisan votes.
Partisan gridlock has plagued the FEC in recent years, with Democrats and Republicans seldom agreeing on even the most seemingly-obvious reforms or accountability measures if they adversely impact their own party. 
Even in cases with the most egregious abuses, most commission motions die by a 2-2 vote. Weintraub, the chair of the board, is one of two Democratic commissioners.
"While it should be newsworthy that the routinely deadlocked Commission found a violation of the law and assessed a penalty," Weintraub wrote of the Stearns investigation, "this is not the whole story.
"The Office of General Counsel concluded that Stearns used committee funds to further his lobbying career and subsidize his family by paying for a variety of expenses to the tune of over $26,000 — not just the almost $10,000 that the Commission could agree was a violation of the law.
"Without good reason, my colleagues excused Stearns' use of campaign funds to pay roughly: $5,000 for monthly cellphone bills; $5,000 to Stearns' spouse, Joan, for 'administrative support' — a service she provided for free as a campaign volunteer during Stearns' years in office; $6,000 for use of a storage facility well beyond the Commission-sanctioned period; and $400 for holiday cards."
The FEC commission did unanimously agree to take one significant action following the Times/WTSP zombie campaigns investigation; it voted to start reviewing the federal filings of former lawmakers for the first time. That action resulted in the opening of more than 50 inquiries this spring regarding campaign spending long after candidates' campaigning was done.