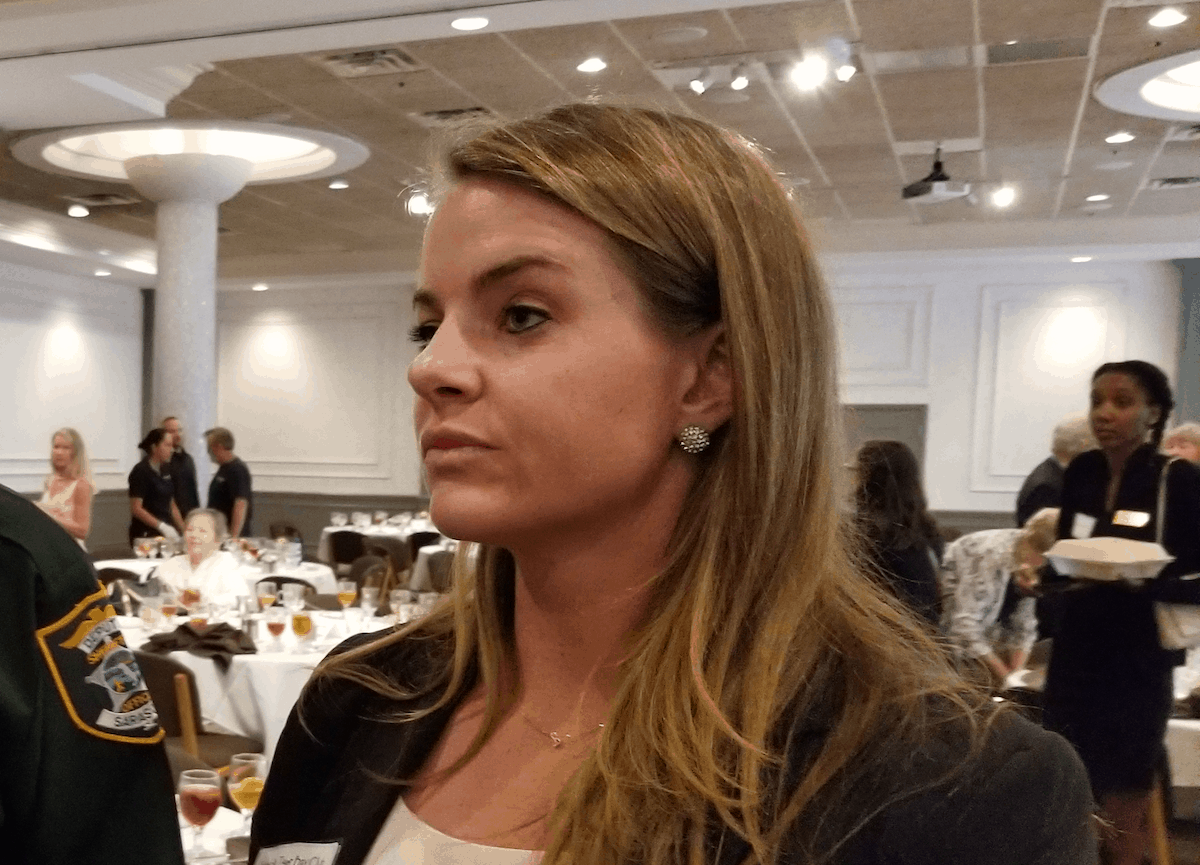 Nearly 90 percent of her money comes from outside HD 72.
Navy Reservist Fiona McFarland quickly earned notice in political circles for connections to President Donald Trump's support network. And she made headlines for prolific fundraising out of the gate.
But as more details about her funding sources come into focus, new questions arise about her local connections. And while Trumpworld money appears to have come through, local politicos now wonder if she ever plans to raise money in the Sunshine State.
The Republican state House candidate has raised nearly 90 percent of her fundraising from outside the district, much of that from beyond Florida's borders.
She already held a fundraiser in the Hamptons in July before ever holding a similar event in Sarasota (though one is planned for Sept. 18). The New York event was organized largely with the help of U.S. Rep. Dan Crenshaw, a Texas Republican with no significant attachment to the state. And her major backers include as many players in Manhattan real estate as in Florida Politics.
It all begs the question, does a candidate who established her residency in House District 72 only after filing for office boast enough community support regardless of dollars raised?
By The Numbers
Out of 185 outside donations to McFarland's campaign, only 14 come from addresses within House District 72.
That shortlist at least includes some long-standing community leaders, notably former Sarasota County Commissioner Paul Caragiulo and Public Defender Larry Eger.
But then, only 12 of those 14 sources are human beings. Frederick Derr & Co. donated $1,000 (on top of $1,000 from owner Frederick Derr), and another $1,000 comes from business consulting firm Loblolly Hill.
McFarland's $106,990 in contributions include a $20,000 candidate loan.
But the $9,350 raised from other contributors within the district make up just 10.75 percent of all outside contributions to McFarland's campaign.
By comparison, she has received 171 donations from outside of the district, adding up to $77,640, or 89.25 percent of contributions.
Of those, 148 donations originate outside the state of Florida, representing $69,615 of the $86,990 in checks to the campaign beyond her loan.
So where do the dollars come from?
New York State of Mind
Donors from a total of 24 different states contributed to McFarland's campaign. Eight hail from Washington, D.C.; another 10 call Texas home.
But so far, the bulk of dollars and donors to this Sarasota conservative come straight out of New York.
A total of 75 donors through July have home addresses in the Empire State, collectively chipping in $35,460 to further McFarland's House ambitions.
A number of those individuals wrote checks to McFarland on July 27, the same day McFarland was hosting a fundraiser in the Hamptons with her mother K.T. McFarland, a Suthhampton resident and Trump's first Deputy National Security Advisor, and Crenshaw, a close political ally.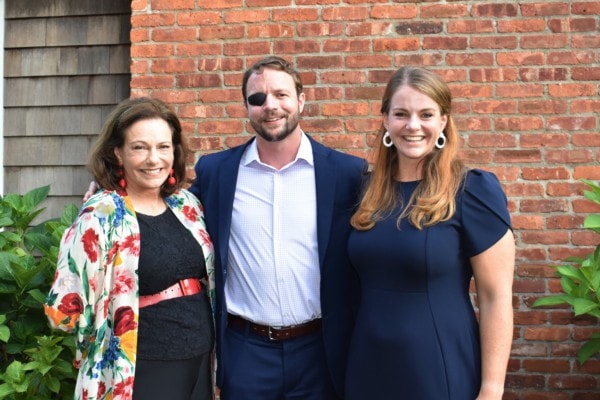 For what it's worth, Fiona McFarland's camp lists Crenshaw, a family friend through McFarland's brother Luke McFarland, as an asset.
A Navy SEAL who lost an eye in Afghanistan, those close to McFarland count the Congressman a testament to her conservative bona fides. And after earning national attention appearing on Saturday Night Live with comedian Pete Davidson after the latter delivered a controversial joke, they figure Crenshaw a palatable figure who won't turn off moderates in a swing district. He also can remind voters of Fiona McFarland's record in the Navy reserves.
But Crenshaw also represents one out-of-state force responsible for the state House candidate's fundraising success.
Other names jump out of the donor list to McFarland. John Catsimatidis, a billionaire radio talk show host and owner of Manhattan grocery chain Gristedes Foods, gave $1,000. Laurence Horton, founder of Manhattan real estate firm Horton Realty Advisors, also gave $1,000, as did the company itself.
Connections
McFarland says the wide reach of her fundraising comes in part because a personal network of friends and family lives all over the country.
"I'm reaching out to friends and family, folks I served with in the Navy, and they are all across the country at this point," she said. "I think every candidate starts begins with that network."
Of course, members of McFarland's family also make up a chunk of the out-of-state money. K.T., Luke, Alan, Andrew, Camilla and Gavin McFarland all gave $1,000 each.
Campaign adviser Max Goodman, responsible for $5 of that out-of-district money, spun the substantial number of out-of-state dollars as a positive.
"There are people from all corners of the country who want to support a young female Naval Officer who brings a fresh perspective to the political conversation," Goodman said.
But already, some have cast McFarland as a carpetbagger.
"I question her reason for running," said former state Rep. Ray Pilon. "Sure doesn't appear she has the District's best interest as a reason since she is raising most of her funds from outside the District."
Pilon, a Sarasota Republican, supports McFarland's opponent, Donna Barcomb.
McFarland said she moved to the region with her husband Matthew Melton, for professional reasons.
He grew up in Palm Harbor, though his Facebook profile still says he lives in New York, but the campaign said he couple are both moved into their new place in Sarasota, though he does travel the country working with Amazon.
McFarland acknowledges she is new the area but has met with dozens of local leaders trying to learn the community's needs.
The campaign notes she received more in-district money in her first two months of campaigning than Barcomb did. She's just drawn funding from elsewhere as well.
And it may take a national network of money to flip District 72 red again, officials suggest. They note state Rep. Margaret Good, who recently announced she won't run for reelection in District 72 so she can run for Congress, raked in hundreds of thousands in outside dollars.
Regardless, while that fundraiser in the Hamptons draws side eye, McFarland plans to host her first Sarasota fundraiser in less than a month.
On Sept. 18, an event is planned at Caragiluos, a restaurant owned by the family of the former commissioner. At that point, a larger segment of her donations almost surely will come from within the district, she said.