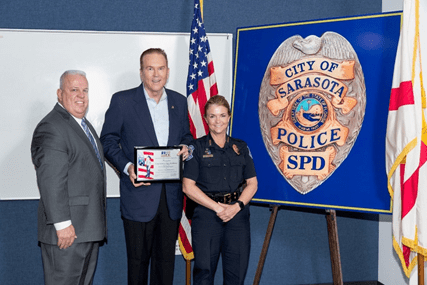 Legislation comes after Philadelphia police shot, wounded this week.
U.S. Rep. Vern Buchanan wants cop killers, and those who try to murder police, to fear death.
The Sarasota Republican made a fresh push for stiffer punishments following a Philadelphia standoff where six police officers were shot and injured. No one was killed.
"Police officers and first responders put their lives on the line every single day to help those in harm's way," Buchanan said. "They need to know that we have their backs.
"And those who target police and first responders need to know that there will be severe consequences."
Buchanan called for Congress to pass his "Thin Blue Line Act" (HR 99), which would make the murder or attempted murder of a police officer an "aggravating" factor in death penalty determinations.
Similar legislation passed in the House last year by a 271-143 margin. He filed the legislation again in January.
But after a headline-making standoff between a shooter and police in the City of Brotherly Love, Buchanan hopes to draw fresh attention to the bill.
Philadelphia authorities arrested Maurice Hill, a 36-year-old man accused of shooting and wounding six police officers, according to CNN. The incident occurred after narcotics officers attempted to serve a search warrant on Hill's home.
No police officers were killed in the impending standoff and did not suffer life-threatening injuries. Police suspect Hill shot officers using an AR-15.
But Buchanan said many more officers do lose their life on the job each year. Already, 72 police officers died in the line of duty in 2019 so far, according to the National Law Enforcement Officers Memorial Fund. That includes four in Florida.
The fund reports 158 officers died on duty in 2018. That was a decline from 171 in 2017, but also reflected an 18-percent increase in shooting deaths.
Buchanan's legislation is endorsed by a number of law enforcement agencies in his district, including the Sarasota County and Hillsborough County sheriff's offices, Sarasota Police Department, Bradenton Police Department, Palmetto Police Department and Holmes Beach Police Department.
The National Association of Police Organizations last year honored Buchanan for his support of law enforcement.