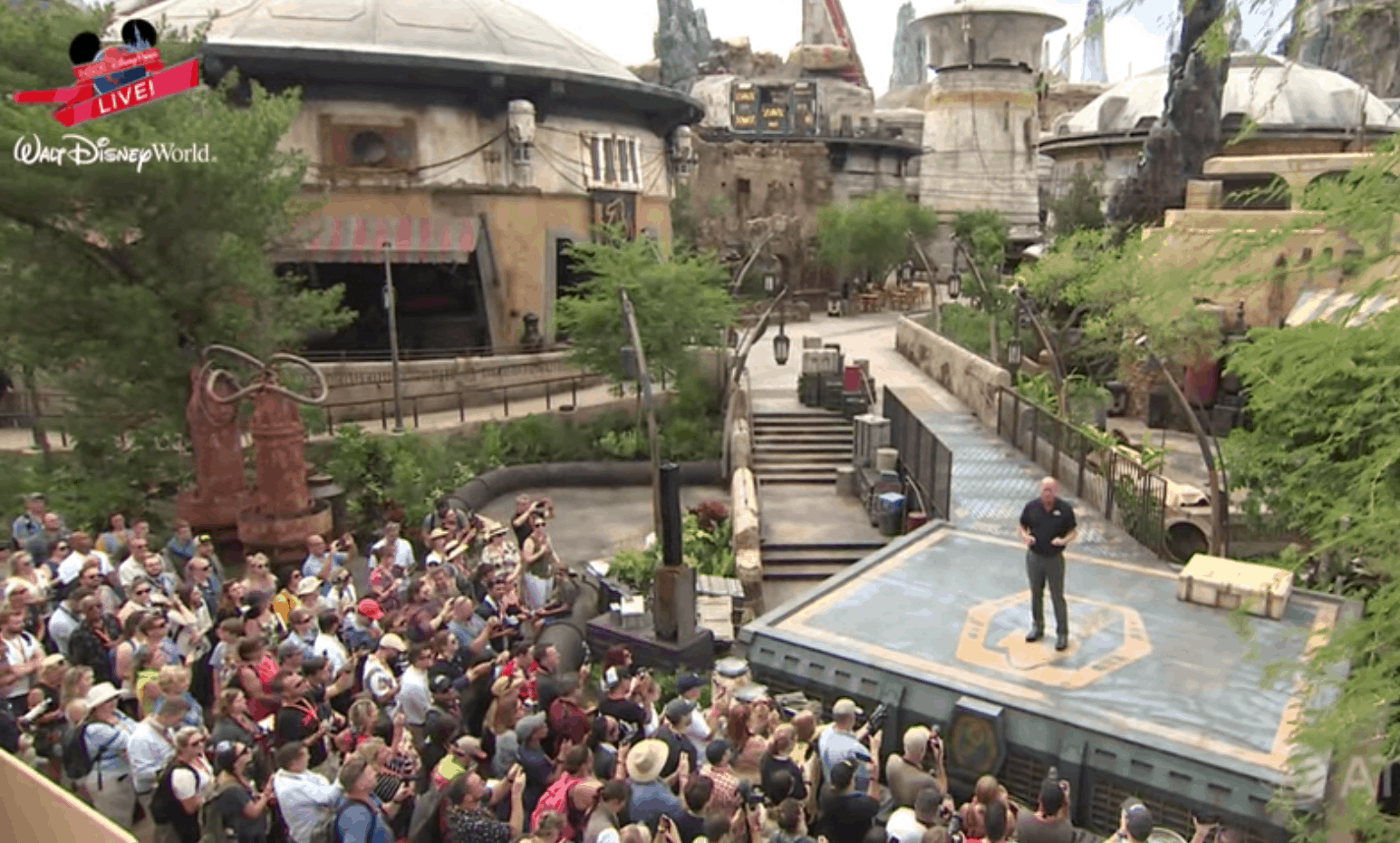 Galaxy's Edge: "the most immersive storytelling in the galaxy"
Star Wars: Galaxy's Edge opens Thursday at Hollywood Studios. Today's dedication introduces the zone with all the magic of Disney.
Hondo Ohnaka, a character in "Star Wars: The Clone Wars," took to the stage initially to greet a packed crowd of Star Wars fans anticipating the dedication of Galaxy's Edge and a first-look opportunity at the zone. 
Ohnaka introduced himself and his store, "Ohnaka's Transport Solutions," welcoming the crowd as if they were his customers. 
This immersive role-play experience is just a small taste of what's in store for fans who have been waiting years, decades even, to embark on their own story in the Star Wars universe.
Soon a frazzled Chewbacca, R2D2 and BB-8 appeared, interrupting Ohnaka's sales pitch. 
Shortly thereafter came the iconic Storm Troopers looking to detain Chewbacca as a member of "The Resistance." No sooner does Ohnaka start sweet-talking the Storm Troopers, Vi Moradi — a Resistance spy — appears, and leads them on a chase offstage. 
As all characters exit the platform, Bob Chapek, Chairman of Disney Parks Experience and Products, enters to formally dedicate the park zone.
Chapek calls Galaxy's Edge "the most immersive storytelling in the galaxy," and says it's the most ambitious Walt Disney Imagineering has ever been.
After opening the zone in Disneyland in May, TIME called it one of the "World's Greatest Places." Starting tomorrow, visitors to Orlando's Hollywood Studios will have the opportunity to judge for themselves.
Chapek reminds guests the epic storytelling goes beyond rides and walk-throughs. It extends to every part of the zone, from the "Cantina" which serves blue milk, a nutrient-rich Star Wars staple, to piloting the Millennium Falcon.
He mentions the Disney Skyliner, scheduled to open this fall, that will connect visitors from select resorts to parks on a whimsical aerial journey, and of course, Star Wars: Rise of the Resistance, a much-anticipated ride experience opening on December 5. 
At the end of the dedication, Chapek thanks key players involved in making Galaxy's Edge a reality in Orlando. 
He includes Scott Trowbridge, Portfolio Creative Executive and Studio Leader at Walt Disney Imagineering, Catherine Powell, President, Disney Parks Western Region, and George Kalogridis, President of Walt Disney World Resort in Lake Buena Vista.
Additionally, Chapek thanked the team at Walt Disney World and, of course, the beloved cast of characters whose performances and guest engagements make the Galaxy's Edge experience. 
The cast of Galaxy's Edge emerged, flanking the stage on either side, and Chewbacca shot a flare gun as fireworks exploded in the sky, ending today's dedication in the kind of sensational finale we've come to expect from Disney.
Disney's Hollywood Studios will be offering "Extra, Extra Magic Hours," opening between 6 — 9 a.m. for guests interested in getting an early start to their trek through Galaxy's Edge between September 1 — November 2. Watch the dedication here.