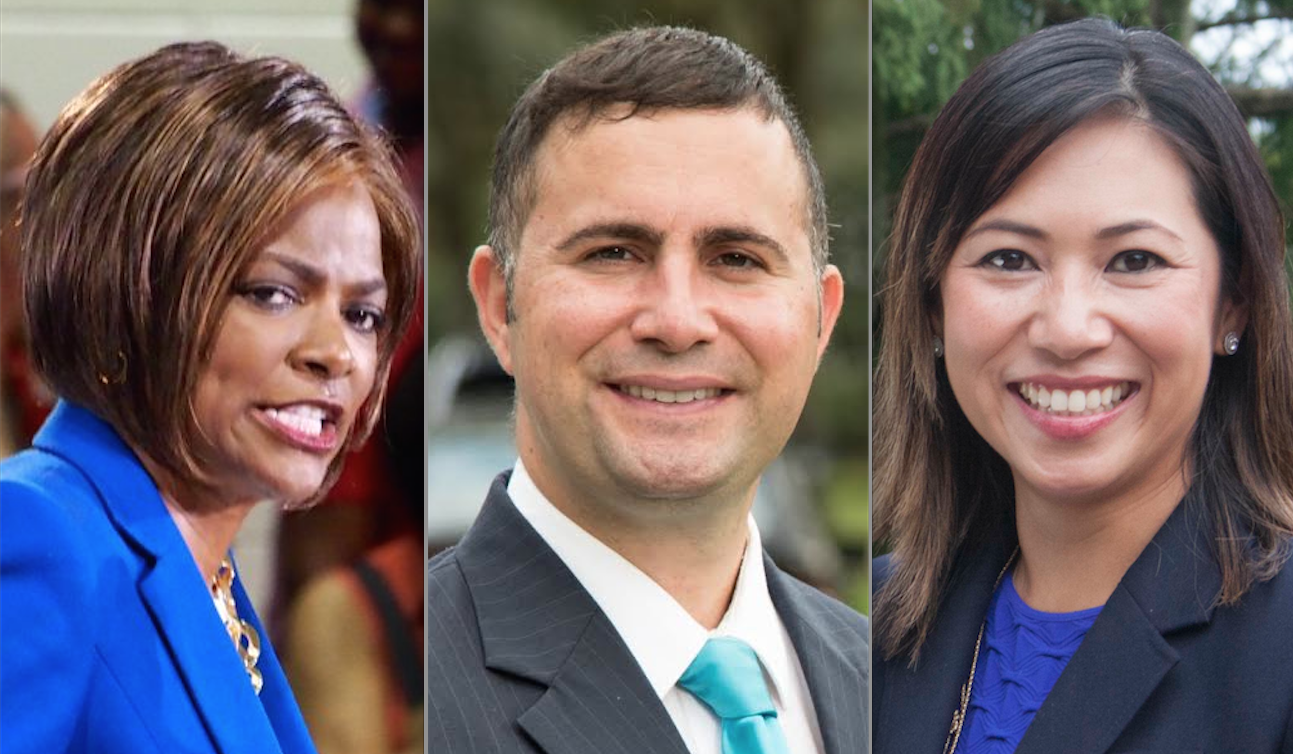 Demings rips Trump: "The President ... is insulting and attacking the people in harm's way"
Central Florida's congressional delegation is speaking with Puerto Rico leaders, meeting with FEMA representatives, and offering full support for Puerto Ricans on the island and in Central Florida as Hurricane Dorian hits the already battered commonwealth.
The looming disaster is double as the Dorian expects to become a major hurricane and head toward Central Florida by the weekend. The members of Congress also turned attention to advance warnings for their constituents back home.
Both Democratic U.S. Reps. Stephanie Murphy of Winter Park and Darren Soto of Kissimmee spoke with Puerto Rico Gov. Wanda Vázquez Garced and pledged her their support, including their offices to support constituents affected by the storm.
While U.S. Rep. Val Demings of Orlando joined Murphy and Soto in pledging Puerto Rico support Wednesday, she also ripped into President Donald Trump for his tweets about Puerto Rico Wednesday, and for his decision to redirect storm relief money to the security of the southwestern U.S. border.
The three are among members of Congress meeting with leaders of the Federal Emergency Management Agency Wednesday afternoon to go over preparation and response plans.
Dorian is moving through the U.S. Virgin Islands and Puerto Rico Wednesday afternoon, not quite two years after Hurricanes Irma and Maria left mass destruction in both American territories in 2017. Projections show it could slam into Central Florida as a major hurricane Sunday.
Central Florida attracted hundreds of thousands of storm evacuees in 2017, and many settled in the Orlando-Kissimmee area.
On Tuesday news broke that the Trump administration was moving hundreds of millions of dollars of relief aid to border enforcement.
Earlier Tuesday, Trump tweeted:
https://twitter.com/realDonaldTrump/status/1166723477879087104
Replied Demings: "There's a storm approaching land that may kill American citizens and the President of the United States is insulting and attacking the people in harm's way while taking funding away from FEMA."
Demings also declared, in a written statement, "Hurricanes are extremely dangerous and Floridians should begin preparing now. Make a plan and check www.ready.gov for help getting you and your family ready. I know that all Floridians stand with our brothers and sisters in Puerto Rico, and are ready to offer any support and assistance they need in the coming days and months. I will work in Congress to ensure that our fellow Americans get the full FEMA response and recovery help that they need."
She and Murphy and Soto also offered tweets of support for Puerto Rico:
Murphy tweeted: "As Tropical Storm Dorian approaches Puerto Rico, I spoke with Governor @wandavazquezg to offer my full support. To the people of Puerto Rico, stay safe. Your friends, family members, and fellow Americans in Orlando are thinking about you."
Soto tweeted: "Thank you to Gov @wandavazquezg for speaking with me tonight about Puerto Rico's readiness for #TropicalStormDorian. We stand ready to work with you to ensure @fema is on the ground to help all Puerto Ricans!"
Demings tweeted: "Praying for Puerto Rico as Dorian approaches. Florida stands ready to help, and we will work to ensure that our fellow Americans get the full FEMA response and recovery assistance that they need."