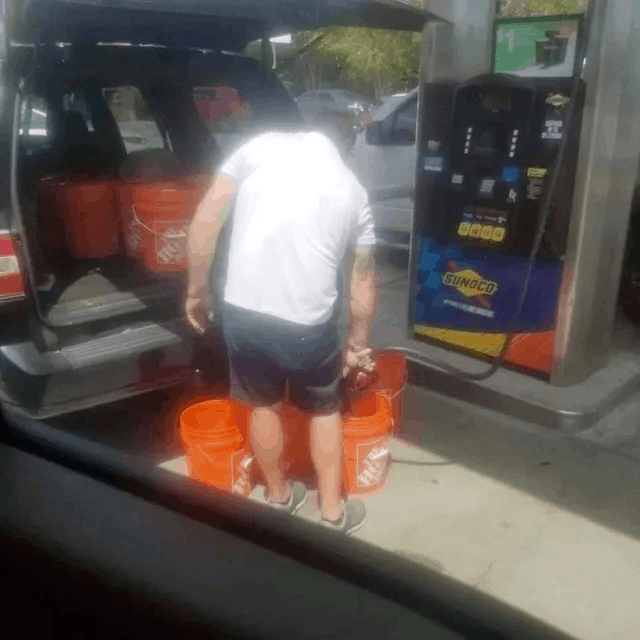 To be clear: Sloshing gas in the back of a running car is a bad idea.
Preparing for a hurricane in Florida does not mean the crazy headlines that make the state infamous disappear.
The Florida Department of Agriculture and Consumer Services spread an image on Facebook Friday of a man making sure he had plenty of gas to weather the storm.
In the picture, a man in shorts and a T-shirt is shown at a gas pump at an unknown location filling up Home Depot buckets with gasoline. It's not clear from the photo whether the man placed lids on any of the buckets, but there are at least four already loaded into the back of his SUV with another four on the ground waiting to be filled.
Florida Agriculture Commissioner Nikki Fried probably didn't think she needed to say so, but this is a bad idea.
Don't be like Florida Man.
"CONSUMER ALERT: We're receiving reports of consumers filling unsealed or open containers with gas as they prepare for Hurricane #Dorian — this is unsafe," the department wrote on its Facebook page with an image of the unknown man who is probably going to become a meme within the hour. "If you need fuel, make sure you only use sealed gas containers, it's important for public safety during & after the storm."
To be clear, only approved gasoline containers should be used to store extra gasoline. This is not only a safety precaution, but it's also a way to ensure the gas can be easily and safely poured into its intended tank for use.
The image online prompted several sarcastic comments ranging from a gif of Seth Myers drinking from an actual gas receptacle to people calling the man stupid. One commenter claimed the image was old, but a search couldn't confirm that. The image was shared to Reddit earlier in the day Friday.
Even if it's old, it's Florida, so there's probably someone, somewhere in the state doing this.
Just don't. OK?