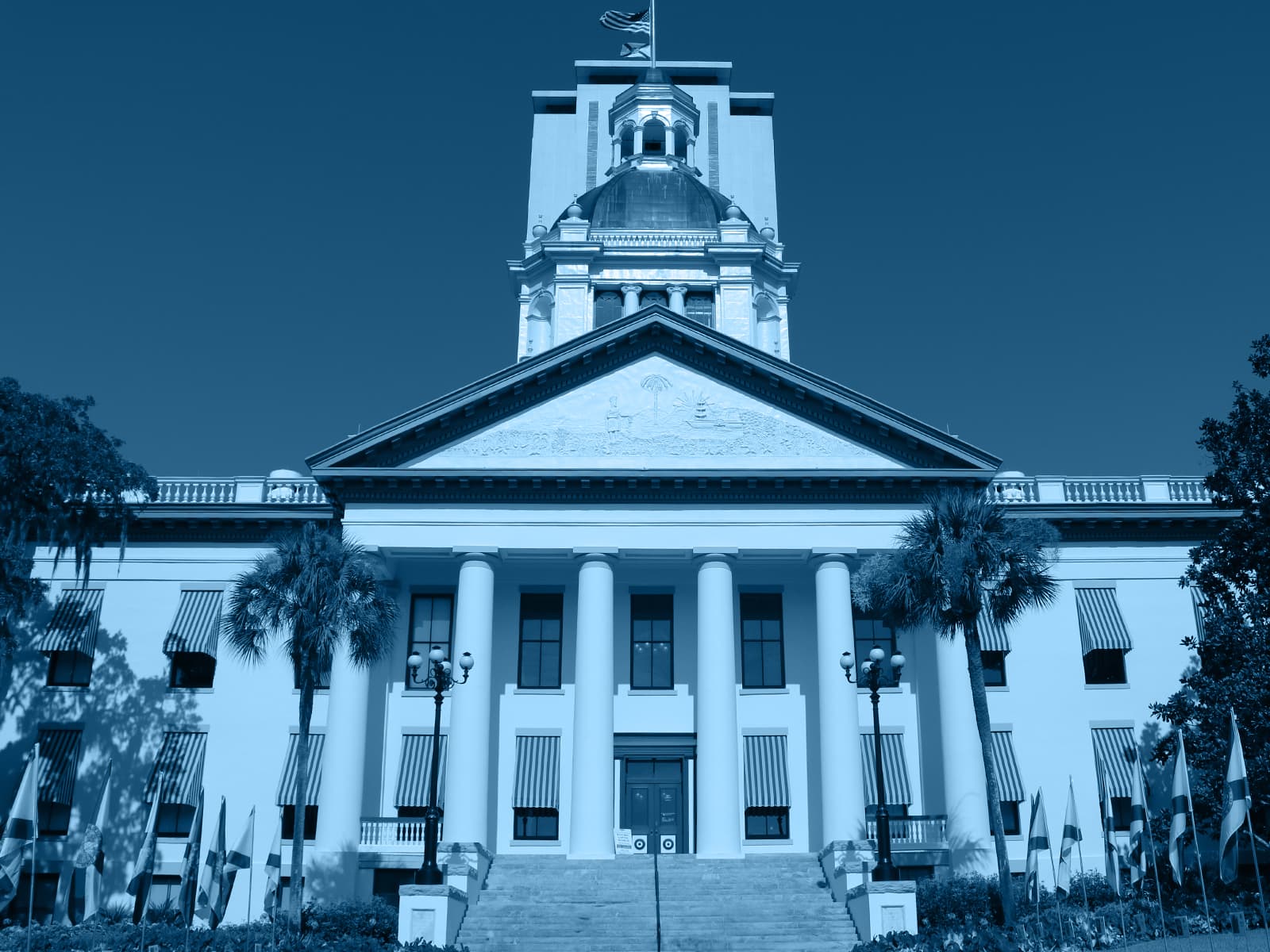 Hurricane Dorian, blockchain, beer and a new area code for the Panhandle — here's the week that was.
Eight-five-Oh, what a headache
Those living in the 850 may need to update their phone contacts in a couple of years.
According to the North American Numbering Plan Administrator — the organization that plans out area codes — the current prefix will run out of numbers as soon as the first quarter of 2022.
It's been more than two decades since Northwest Florida split from Jacksonville and was assigned the 850 code, which covers Tallahassee and everything west of it.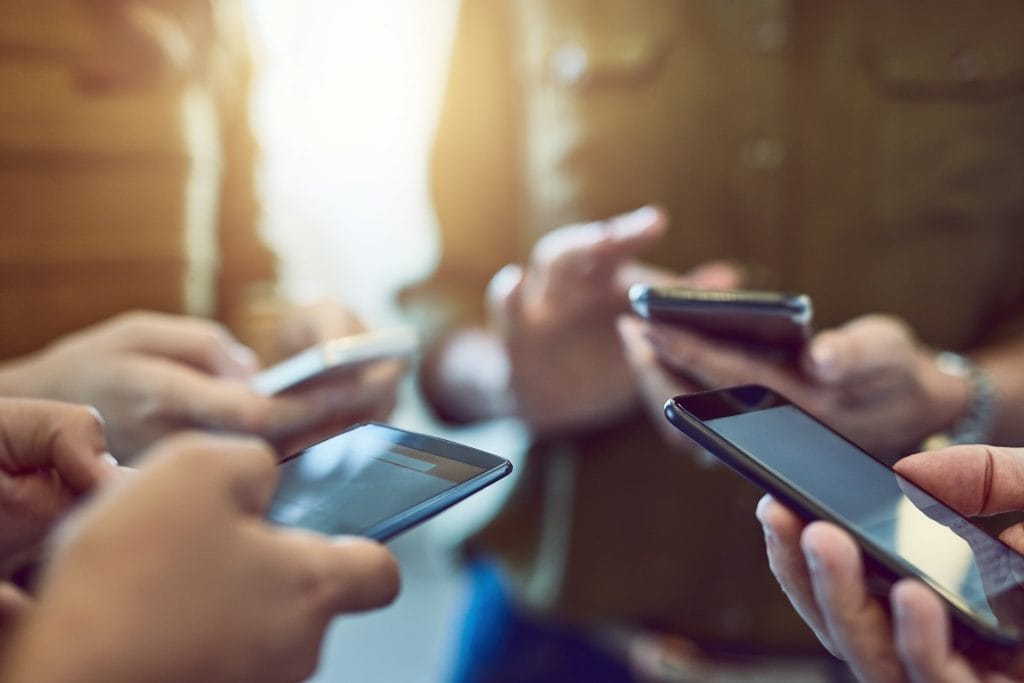 The Florida Public Service Commission would have to approve the new code, and the panel is planning to discuss the proposition next week.
When the new code gets assigned, it won't be an overnight split.
Generally, new area codes rolled out as overlays which allow for "permissive dialing," meaning callers could enter either code to reach the same phone number.
850, for instance, went into service in mid-1997, but it wasn't until March 1998 that callers had to use it to reach Northwest Florida phones.
Currently, the Sunshine State has 17 area codes, with the most recent addition coming to the Orlando area earlier this year.
And if Florida's population keeps booming, and the strong economy keeps bringing businesses — and heaps of phone lines — to the state, a few more codes may be required in the coming years.
Even though seven-digit phone numbers offer 10 million number combos, a good chunk of those aren't usable since numbers that start with 911, 411, 0 and 1 are tossed out.
According to the Numbering Plan Administrator, that leaves 7.9 million usable numbers for each area code.
___
Coming up, the usual assortment of tidbits, leftovers and not-ready-for-prime-time moments by Peter Schorsch, Drew Wilson and the staff of Florida Politics.
But first, the "Takeaway 5" — the Top 5 stories from the week that was:
Take 5
Prepping for Hurricane Dorian — Gov. Ron DeSantis declared a state of emergency to all 67 Florida counties. The Federal Emergency Management Agency (FEMA) also approved a federal state of emergency as Florida prepares for the coming storm. Meanwhile, the National Hurricane Center says Dorian is expected to become an extremely dangerous major hurricane with additional strengthening likely as it heads for the Florida peninsula. Forecasters now say the storm could be a Category 4 hurricane by the time it makes landfall. As of Friday afternoon, the storm was en route to strike the Palm Beach area, but the entire east coast of Florida remained in the "cone of uncertainty."
Special session idea shot down — The Republican-controlled Legislature overwhelmingly rejected a Democratic proposal to hold a special session to address gun violence. The Senate rejected the idea by a 20-14 margin, while the House turned it down by a 68-38 margin, according to the Department of State. Votes were almost along straight party lines, with only three Democrats crossing over to oppose the proposed special session. Those Democrats were Sen. Bill Montford, and Reps. Bruce Antone and Al Jacquet. House Democrats called for the special session in the wake of mass shootings in El Paso, Texas, and Dayton, Ohio.
Shot at Hammer misses mark — The Florida House dismissed a complaint against National Rifle Association lobbyist Marion Hammer that had alleged she failed to report lobbying compensation properly. Democratic state Rep. Anna Eskamani filed the complaint in the House. A similar claim in the Senate, filed by Sen. Perry Thurston, went nowhere. GOP state Rep. Tom Leek, who chairs the House Public Integrity and Ethics Committee, did note Hammer ran afoul of a rule requiring disclosure of compensation from lobbying firms. But he said Hammer took appropriate action to avoid sanction and determined "the complaint does not state facts supporting a finding of probable cause."
Workers comp rate cut coming? — The National Council on Compensation Insurance this week filed with the state Office of Insurance Regulation a proposal that would lead to an average 5.4-percent rate decrease for employers, effective Jan. 1. The recommended rate changes are based on claims-experience data as of the end of 2018. More than 90 percent of the data analyzed came from policies that took effect after a 2016 Florida Supreme Court decision that struck down strict caps on attorney fees in workers' compensation cases, according to the organization known as NCCI, which makes annual rate filings on behalf of insurers.
Ruling favor 'Schools of Hope' — The Florida 1st District Court of Appeals upheld bill on charter schools, including the new 'Schools for Hope.' The court determined funding such schools is, in fact, allowed under the Florida state constitution. The Collier County School Board had argued the law imposed forbidden taxes on school boards to pay for the schools. But the court rules the school board "lacked standing to raise all but their capital millage and federal Title I funding constitutional claims." Based on the that, judges sided with the state.
DeSantis celebrates new veterans clinic
DeSantis was on hand for the opening ceremony of The Steven A. Cohen Military Family Clinic in Tampa this week.
The clinic, operated by Aspire Health Partners, aims to provide low-cost mental health services for veterans suffering from conditions such as post-traumatic stress disorder.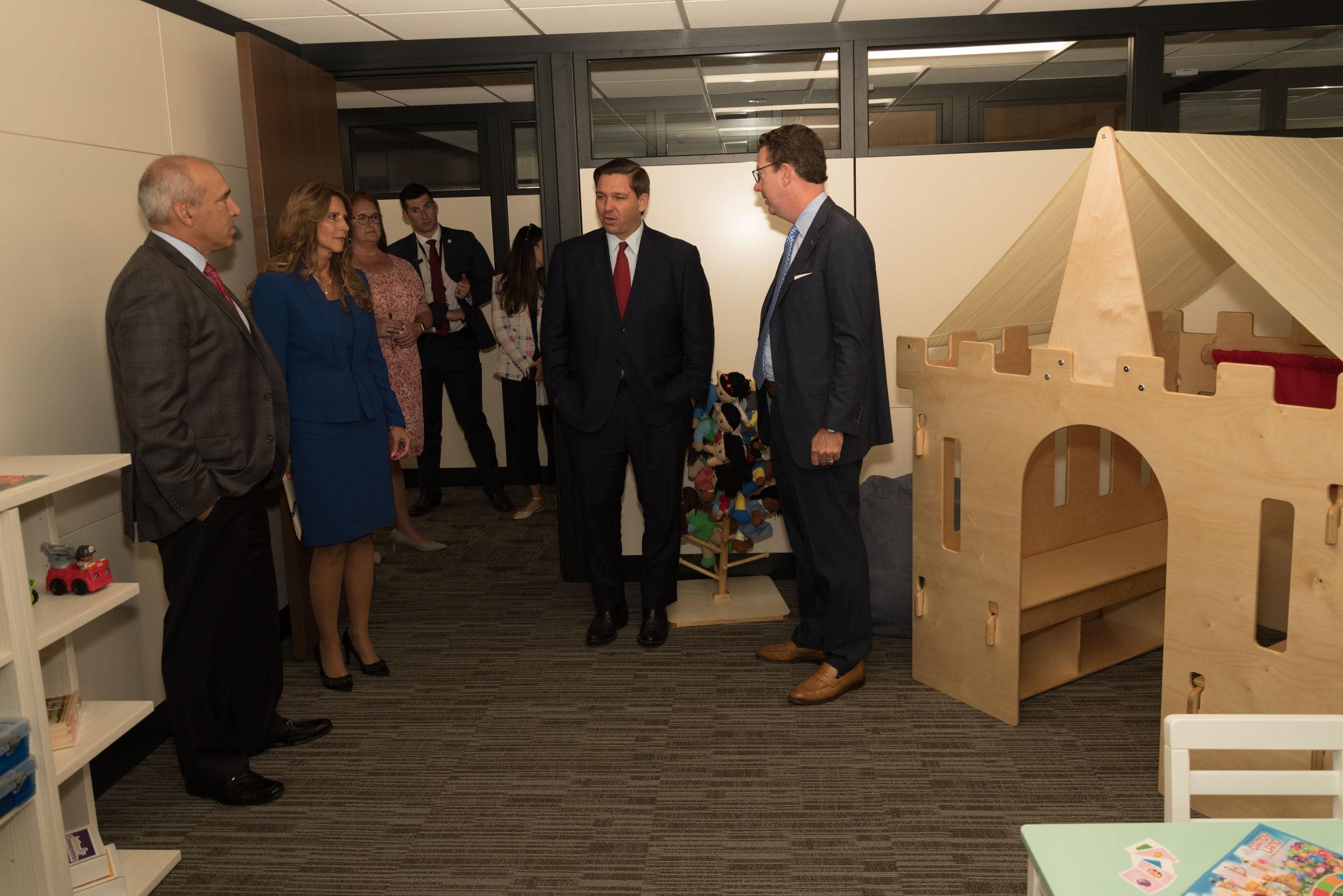 "I appreciate the great work the Cohen Veterans Network does for our veterans and their families to ensure they have the best care available," DeSantis said.
"This clinic will provide additional support to Florida veterans who are suffering from mental health and post-traumatic stress issues, so they can live purposeful lives despite their critical wounds. I understand the sacrifices our military members make to protect our nation, and those who selflessly serve our country will always have my support."
The clinic is backed by the Cohen Veterans Network, a nonprofit founded by billionaire philanthropist Steven Cohen in 2016. The Tampa clinic is the network's 13th nationwide and the first one for Florida.
AG activates price gouging hotline
With a hurricane on the way, there is a chance unscrupulous shopkeepers will take advantage of Floridians with hefty markups on storm prep supplies.
If they do, they'll have to turn over their take and then some.
Attorney General Ashley Moody this week activated Florida's Price Gouging Hotline. Consumers can call into (866) 9NO-SCAM to report gougers or download the NO SCAM app, which allows users to include pictures and copies of receipts alongside their report.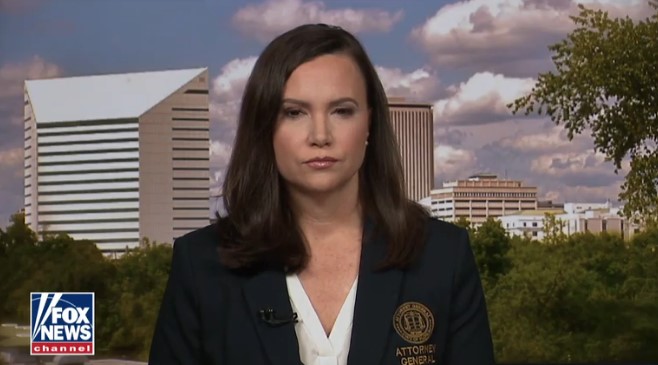 "Floridians in the projected path of this storm should take steps now to ensure they are prepared for a strike and the possibility of days without electricity," Moody said. "This means purchasing essential commodities such as food, water and fuel."
Florida law prohibits extreme price hikes for those commodities if they're needed as a direct result of an officially declared emergency.
DeSantis this week declared a state of emergency in all 67 Florida counties.
That means gougers statewide can face civil penalties of up to $1,000 per violation and up to $25,000 in penalties for multiple violations in a single 24-hour period.
Blockchain whizzes wanted
Florida CFO Jimmy Patronis is looking for people who know a thing or two about blockchains, the tech behind cryptocurrencies such as bitcoin.
Patronis is seeking three such experts to serve as his appointments on the Florida Blockchain Task Force, which was established this year to study if and how state, county, and municipal governments can benefit from a transition to a blockchain-based system for things such as record-keeping, data security or financial transactions.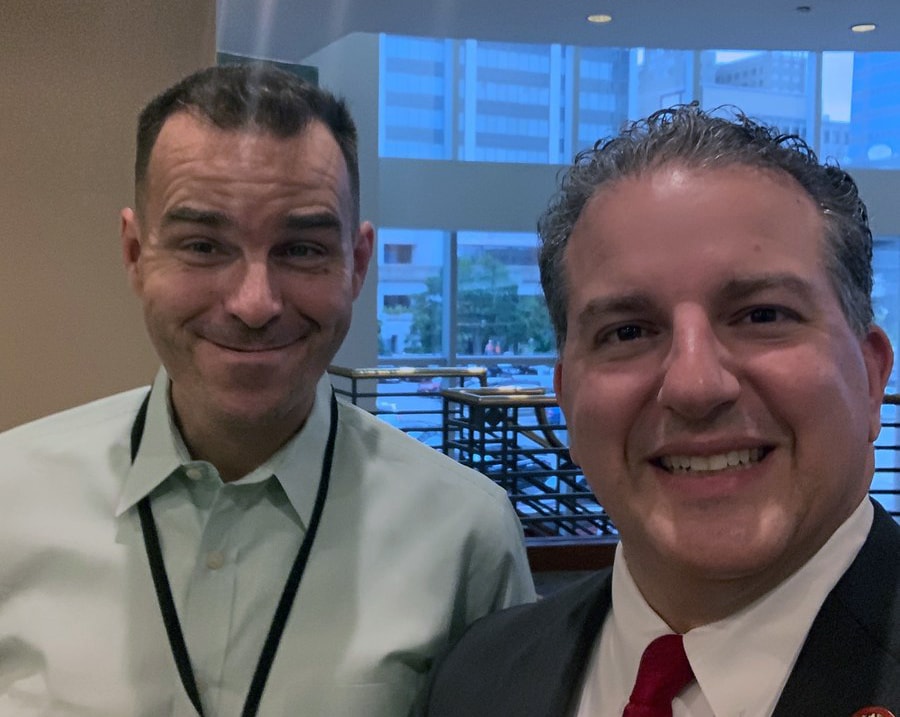 The task force will fulfill that mission by studying current blockchain implementations employed by industry and other governments to see if they're a fit for the state government.
"I'm proud that the Blockchain Task Force is established within the Florida Department of Financial Services," Patronis said. "We will work to explore and develop a master plan for fostering the expansion of blockchain in our state, and innovation will keep us at the forefront of this growing technological industry."
Those up for the task can fill out the CFO's questionnaire on the Department of Financial Services' website.
Instagram of the week
The week in appointments
St. Johns River State College District Board of Trustees — DeSantis this week appointed Jan Conrad and reappointed Samuel Garrison. Conrad, of St. Johns, is the senior vice president of commercial banking at Ameris Bank and is appointed to a four-year term. Garrison, of Clay, is an attorney with Bradley, Garrison & Komando, and specializes in the areas of criminal defense, city, county and local government law, land use and zoning, application of government regulations, public records, labor relations and constitutional law. He is reappointed to a four-year term. These appointments are subject to confirmation by the state Senate.
Government Efficiency Task Force — DeSantis appointed Sal Nuzzo, Tarren Bragdon, Jonathan Satter, Keith Wold and Ed Moore. Nuzzo, of Tallahassee, is the vice president of policy and the director of the Center for Economic Prosperity at the James Madison Institute. Bragdon, of Ave Maria, is the chief executive officer at the Foundation for Government Accountability. Satter, of North Palm Beach, is the Secretary of the Florida Department of Management Services. Wold, of Boca Raton, is an attorney and private investor. Moore, of Tallahassee, is the outgoing president of the Independent Colleges and Universities of Florida.
Northwest Florida Water Management District — DeSantis reappointed George Roberts. Roberts, of Panama City Beach, is vice president of Roberts & Roberts, Inc. a home construction company, and the owner of Hombre Golf Club. He also serves on the Board of Directors for the Florida Transportation Builders Association. He has served on the Northwest Florida Water Management District board since 2006. Roberts is reappointed to a four-year term. This appointment is subject to confirmation by the state Senate.
Florida State College at Jacksonville District Board of Trustees — DeSantis appointed Shantel Davis. Davis, of Jacksonville, is the vice president of real estate and facilities management for CSX Transportation. She has worked for CSX Transportation since 1999 and has served in her current role since 2017. She oversees operations of one of the largest fertilizer port terminals and is responsible for a $470 million portfolio. This appointment must be confirmed by the state Senate.
Opioid Task Force — DeSantis appointed Heather Flynn, Steven Leifman, Melanie Brown-Woofter, Tommy Ford, Rick Jenkins and Melissa Nelson. Flynn, of Tallahassee, is a clinical psychologist, associate professor and vice-chair for research at the Florida State University College of Medicine's Department of Medical Humanities and Social Sciences. Leifman, of Miami, is an associate administrative judge for the 11th Judicial Circuit. Brown-Woofter, of Crawfordville, is president and CEO of Florida Behavioral Health Association (FBHA), the state's largest trade association representing community behavioral health providers. Ford, of Bay County, was appointed Sheriff in 2016 and subsequently elected in January 2017. Jenkins, of Palm Beach County, is the Palm Beach County Police Chief. Nelson, of Jacksonville, is the State Attorney for Florida's 4th Judicial Circuit.
Seminole State College District Board of Trustees — DeSantis appointed Bob Cortes and Susan Fernandez. Cortes, of Altamonte Springs, is the senior administrator for government affairs for the Seminole County Sheriff's Office. He served for two terms in the House of Representatives 2014-18. Fernandez, of Sanford, is the senior director of communications and government relations at Mitsubishi Hitachi Power Systems Americas. She served as the regional director for U.S. Sen. Marco Rubio 2010-14. The terms are for four years, and the appointments are subject to confirmation by the state Senate.
DACS Innovation Workgroup — Agriculture Commissioner Nikki Fried appointed Holland & Knight partner Meital Stavinsky to the Florida Department of Agriculture's Innovations Workgroup, a 21-member panel tasked with making recommendations to the Commissioner of Agriculture for strategic actions and solutions to support growth and development of agriculture. Stavinsky is an Israeli-American and co-chairs the Israel Practice of Holland & Knight. Her agriculture background includes membership Florida Agri-Women, an affiliate of the 50,000-member American Agri-Women. She will serve a term ending June 30, 2022.
Get ready for Dorian
Hurricane Dorian is on its way, and Citizens Property Insurance Corp. is urging Floridians to batten down the hatches in preparation for the possible Category 4 storm.
"As Dorian approaches, our policyholders and all Florida residents need to take action to protect themselves and their families," said Barry Gilway, the head of the state-backed insurer.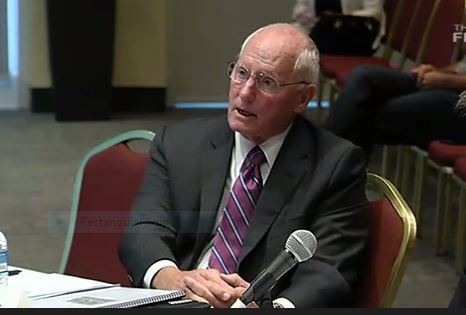 "Be sure to follow instructions of local emergency management agencies. Citizens is preparing all of its internal and external resources to help you recover."
The insurer reiterated routine hurricane prep plans, such as packing a disaster kit, learning evac routes, setting up a family communication plan and making sure to account for pets in any plan.
One key prep step policyholders need to take: make sure all policy documents, health records, pet records, financial records, identification documents and a list of home inventory are secured in a waterproof location.
Citizens also recommends policyholders verify their contact information is up-to-date via their website, citizensfla.com/mypolicy.
Dorian delays Rebuild Florida deadline
With the named-storm Dorian trudging toward the Sunshine State, the Department of Economic Opportunity (DEO) says it's "extending the deadline for local governments to submit applications for the $85 million Rebuild Florida Infrastructure Repair Program."
The upshot: The original deadline of Friday, Aug. 30, has been pushed to Thursday, Oct. 31, — an extra two months.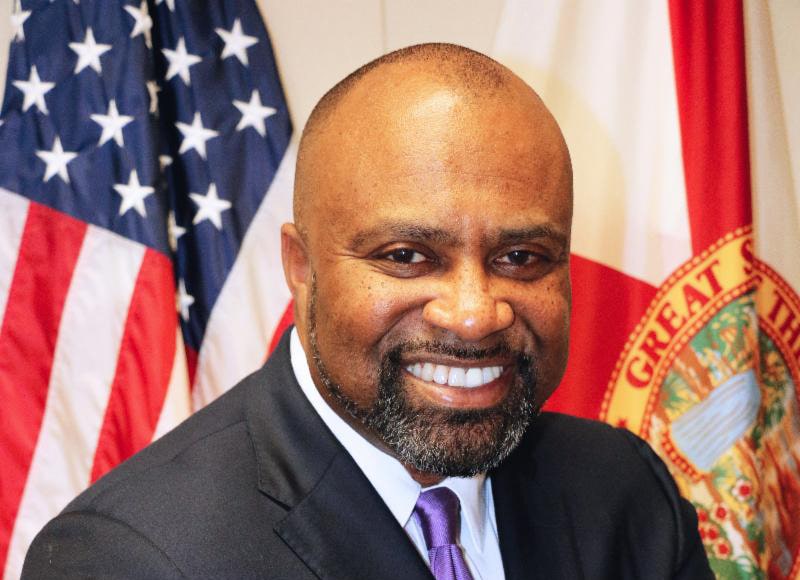 "With Dorian approaching, we want Florida's communities to be fully focused on preparedness activities," said Ken Lawson, Executive Director of the Florida Department of Economic Opportunity.
"By extending the application deadline for the Rebuild Florida Infrastructure Repair Program, we're ensuring eligible local governments have every opportunity to apply for these critical disaster recovery funds."
The grant funding can be used by local governments to restore and improve infrastructure in areas damaged by Hurricane Irma or as match funding for other federal programs to carry out eligible, federal Community Development Block Grant-Disaster Recovery (CDBG-DR) infrastructure activity.
The cash will be directed to projects benefitting low- to moderate-income populations.
FMEA calls in backup
The Florida Municipal Electric Association (FMEA) has activated its national mutual aid network ahead of Hurricane Dorian's landfall.
Mutual Aid Agreements enable municipal utilities across the country to call on each other for emergency workers and supplies.
In all, FMEA has received commitments from about 1,500 lineworkers in 20 states, including some from as far away as Minnesota, Wisconsin and New England.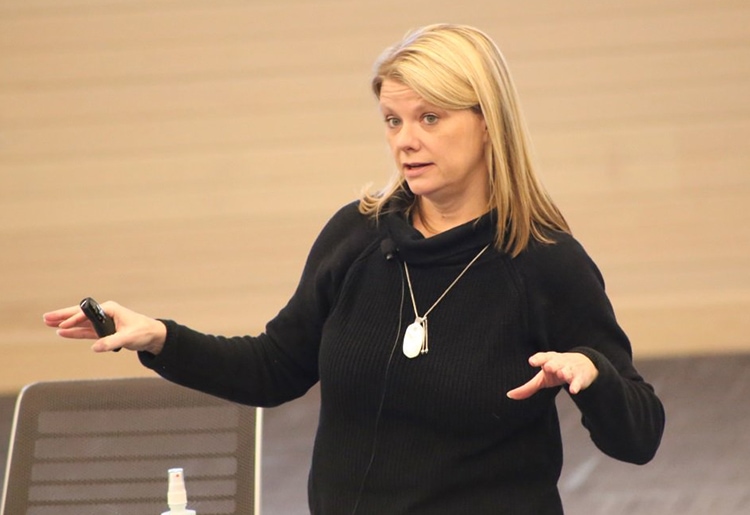 "Public power communities pull together in times of need, and we are so thankful to have the support of communities not just in our own state, but from across the country," FMEA Executive Director Amy Zubaly said.
"With their help, we will be able to work together to restore power quickly and safely to as many people as possible as we have during previous years' storms."
The outside help will bolster the 6,000-plus employees, including 1,000 lineworkers, from FMEA's membership of 33 public utilities.
They will set up at locations around the state and, once the worst has passed, they'll fan out to the communities that lost power during the storm.
'Lionfish Challenge' wrapping up
Those looking to compete for cash and prizes only have a couple of days left to catch some lionfish.
The Florida Fish and Wildlife Conservation Commission's annual "Lionfish Challenge" ends Monday and whoever has sent in the largest and smallest lionfishes of the season will get some coin — $2,000 for first place, $1,000 for second and $500 for third.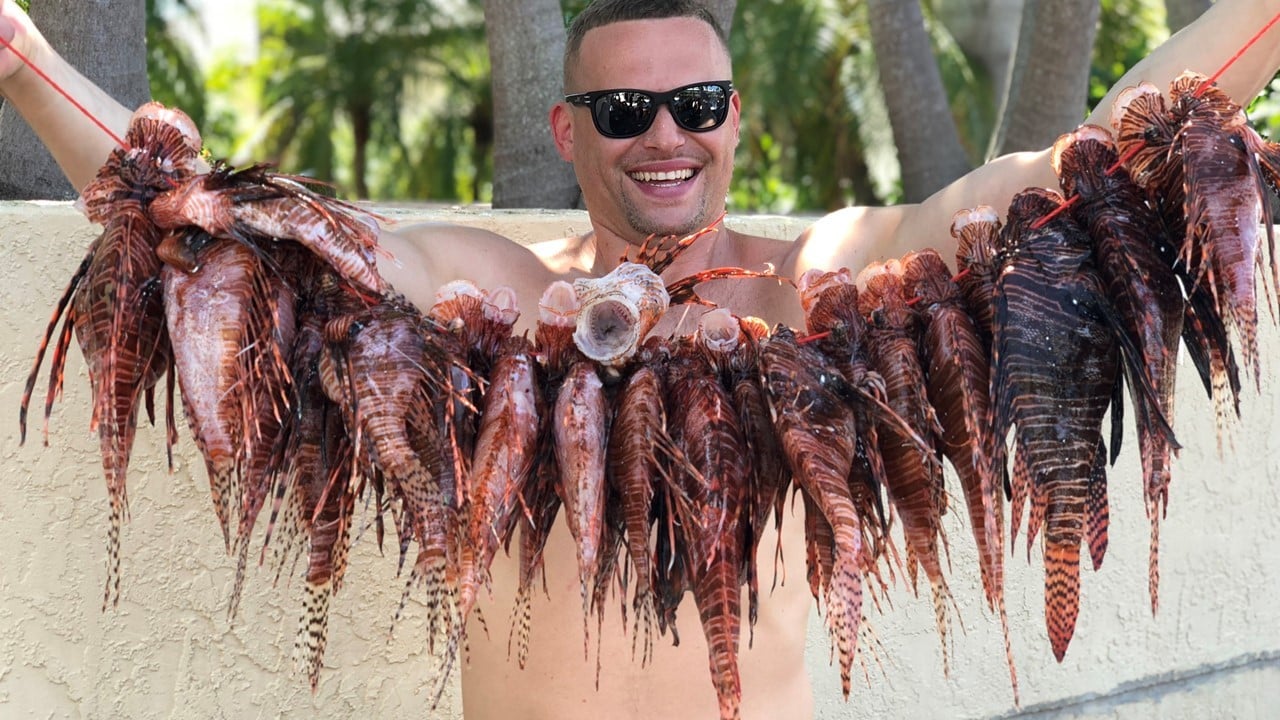 Other prizes include SCUBA gear and pole spears. Plus, any "reef ranger" who bags 25 lionfish will receive a T-shirt, a commemorative coin and an entry into the FWC Lionfish Hall of Fame.
FWC said 336 people have registered for the challenge and 138 people have sent in lionfish. So far, nearly 20,000 lionfish have been removed from Florida waters.
The venomous saltwater fish are native to the Pacific, but they've been abundant in Florida waters ever since the mid-1990s when Hurricane Andrew flung a handful of very prolific aquarium specimens into the ocean.
The invasive species has quickly multiplied over the past few decades to the detriment of Florida's native fishes.
Lawmakers file independent living bill
Sen. Lori Berman and Rep. Joe Casello, both South Florida Democrats, filed bills that would save seniors some simoleons on purchases that let them remain at home in their golden years.
Under SB 192 and HB 93, the state would waive sales tax for home improvements that increase accessibility — bed transfer handles, bed rails, grab bars, and shower seats all make the list.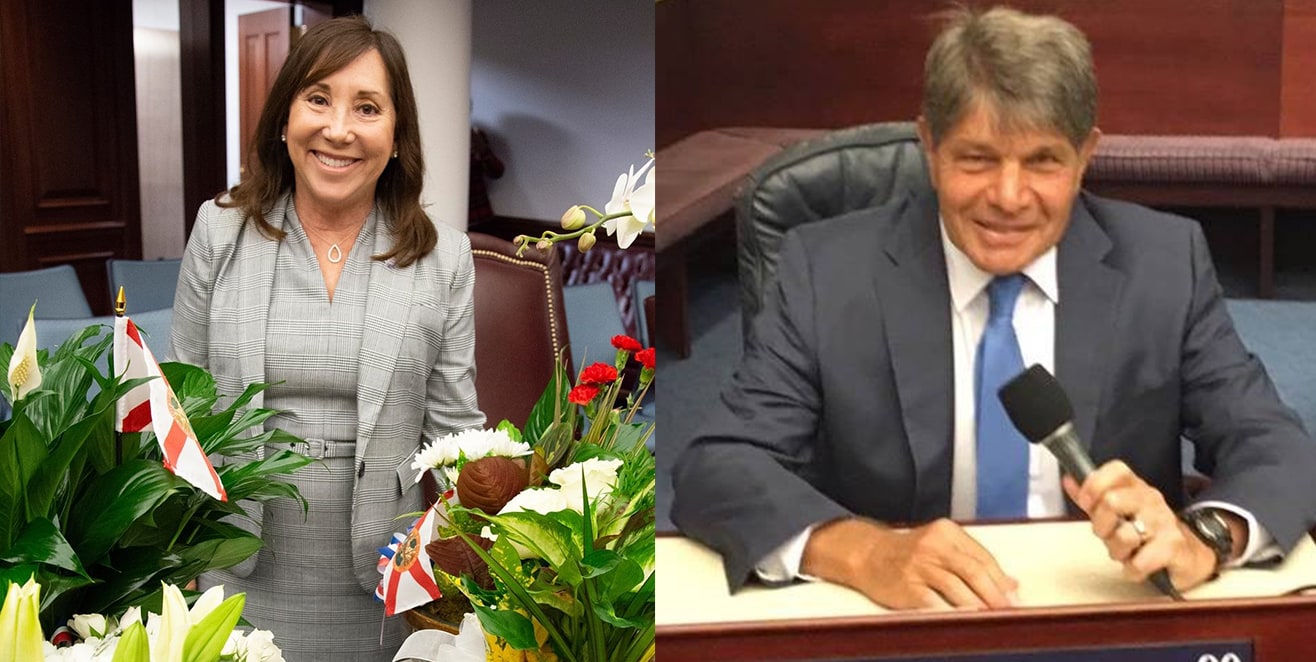 "By helping the elderly to afford equipment that allows them to remain in their homes, we're helping them maintain dignity, self-sufficiency and their overall well-being," Berman said.
Casello added, "My district is home to many seniors who are fiercely independent and want to remain in their homes as long as possible. These exemptions will help them to do just that."
The legislation, filed for consideration during the 2020 Legislative Session, also nabbed some early support from the AARP, the Florida Alliance of Retired Americans and the Florida Council on Aging.
"The Florida Alliance for Retired Americans is pleased to support this legislation, which allows seniors to age in place by exempting from taxes certain items for their homes," FARA President Bill Sauers said.
Hispanic Heritage Month
First Lady Casey DeSantis this week announced the theme and student contests for 2019 Hispanic Heritage Month.
This year's theme will be "Celebrating Public Service" to "recognize and pay tribute to Hispanic leaders who play prominent roles in public service throughout Florida," she said.
.@GovRonDeSantis and I are excited to join Floridians across the state in honoring some of our greatest Hispanic leaders and public servants. Florida is particularly rich in Hispanic history and culture. pic.twitter.com/Iq0ynQwgyq

— Casey DeSantis (@FLCaseyDeSantis) August 26, 2019
"Gov. DeSantis and I are excited to join Floridians across the state in honoring some of our greatest Hispanic leaders and public servants," she said.
"Florida is particularly rich in Hispanic history and culture. In celebrating Hispanic Heritage Month, we welcome the opportunity to celebrate the great accomplishments of our Hispanic neighbors and Americans of Hispanic descent for their noteworthy contributions to the Sunshine State."
Mrs. DeSantis invited students to participate in academic and creative contests based on this year's theme.
For more information about the contests, go to www.FloridaHispanicHeritage.com.
Appreciate a lineworker
The Public Service Commission this week observed "Florida Lineworker Appreciation Day," noting all the "hard work they do every day to keep the lights on in Florida."
"Our communities rely on safe, reliable electrical power, and the PSC honors the lineworkers who make it happen: The men and women who keep our lights, A/C, appliances and electronics humming," PSC Chairman Art Graham said.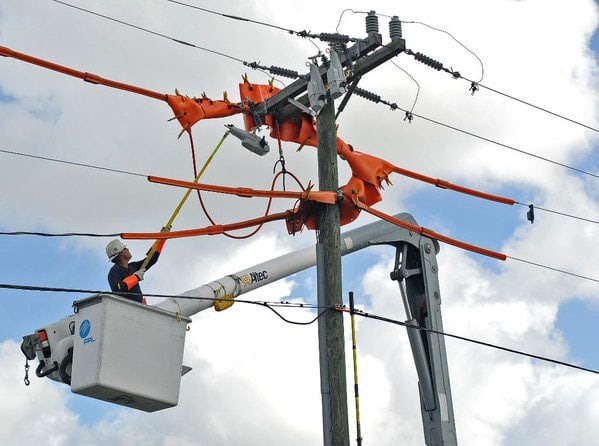 "Lineworkers put their lives on the line every day, so we can enjoy the comforts of our homes."
In 2012, lawmakers created Lineworker Appreciation Day, honoring the thousands of workers risking their lives daily to ensure delivery of reliable electric service throughout the state.
As a news release put it, "Florida's lineworkers are highly skilled professionals, trained to work safely and efficiently during high winds, rain or other inclement conditions. When needed, they selflessly leave their families to travel to other parts of the country to help restore power to homes and businesses struggling after a storm.
"Even when there is no storm or hurricane, lineworkers toil daily with high voltage electric lines as they dangle high above the ground in harnesses to keep the lights on."
Free saltwater fishing
Try your hand at saltwater fishing Saturday, Sept. 7, without needing a saltwater fishing license.
"License-free fishing days are a great way for Florida residents and visitors to get out on the water and find out why Florida is known as the Fishing Capital of the World," a state news release said.
It's one of eight license-free fishing days the Florida Fish and Wildlife Conservation Commission (FWC) offers each year. All bag limits, closed areas and size restrictions apply on these dates.
To learn more, visit MyFWC.com/License. For fishing regulations and tips, visit MyFWC.com/Fishing. To renew or purchase a fishing license, visit GoOutdoorsFlorida.com.
Florida Trust's new chair
Leon County Commissioner Bryan Desloge was recently elected Chair of the Board of Trustees of the Florida Local Government Investment Trust (Florida Trust).
Appointed by the Florida Association of Counties in 2018, Desloge serves alongside two other Commissioners and three Court Clerks on the Board and is responsible for steering investment strategy, guiding staff and overseeing audit processes.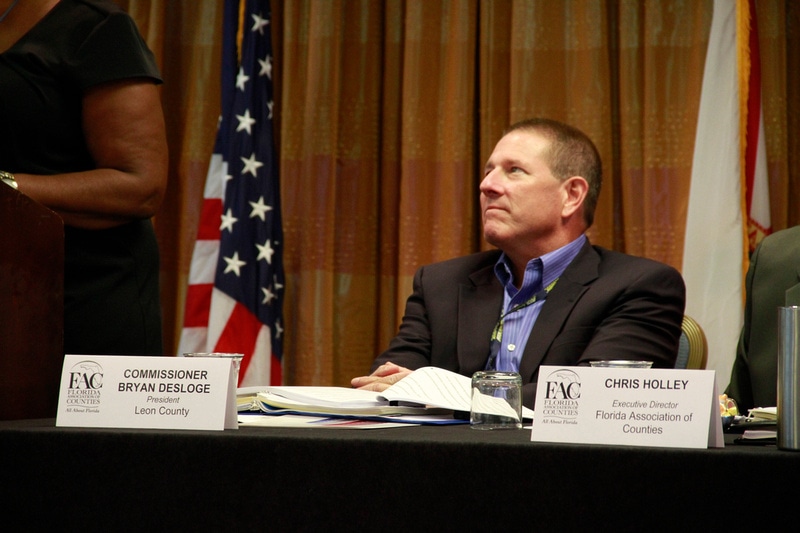 "For almost 30 years the Florida Trust has provided local governments with consistent returns on investment, providing a measure of stability even in times of economic uncertainty," Desloge said. "I am proud to serve with my fellow commissioners and Court Clerks representatives on the Board of Trustees."
The Florida Trust, co-created by the Florida Association of Counties and Florida Court Clerks & Comptrollers in 1991, operates two professionally managed funds available only to public entities in the state.
'Beer me'
File this under … hometown brews for home games.
Tallahassee's Proof Brewing Co. announced this week that its beers would be sold at the five concession locations at Doak Campbell Stadium during Florida State football games for 2019.
Eightfive-0 Pale Ale and Mango Wit Belgian-style Wit will be available in the two locations within Doak Campbell and three areas outside the stadium.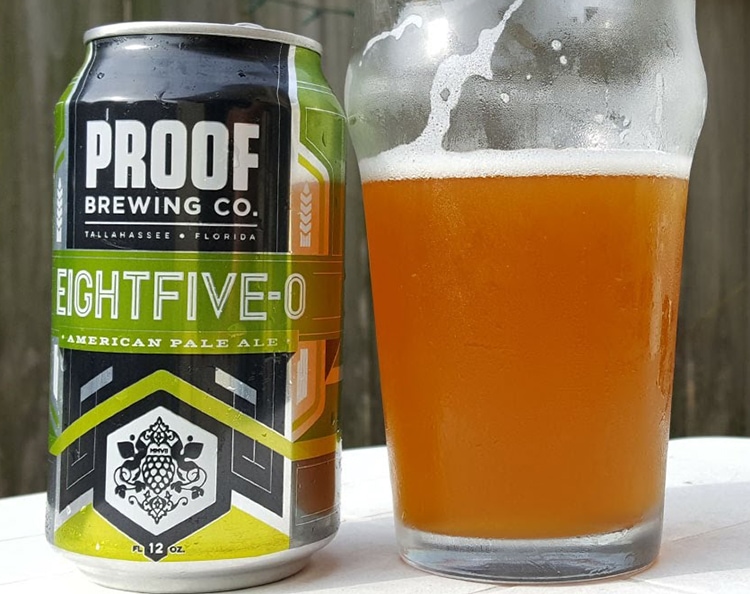 "We are beyond thrilled for this opportunity and support from FSU," said Proof founder Byron Burroughs. "We can't wait to cheer on our hometown team and provide our fans at the game with a fresh local craft beer."
One caveat: The two areas inside Doak Campbell will require that all alcoholic beverages be consumed within a designated area adjacent to the concession stand.
That means you can't take beer to your seats. (Hey, no one said you could have it all.)
Capitol Directions