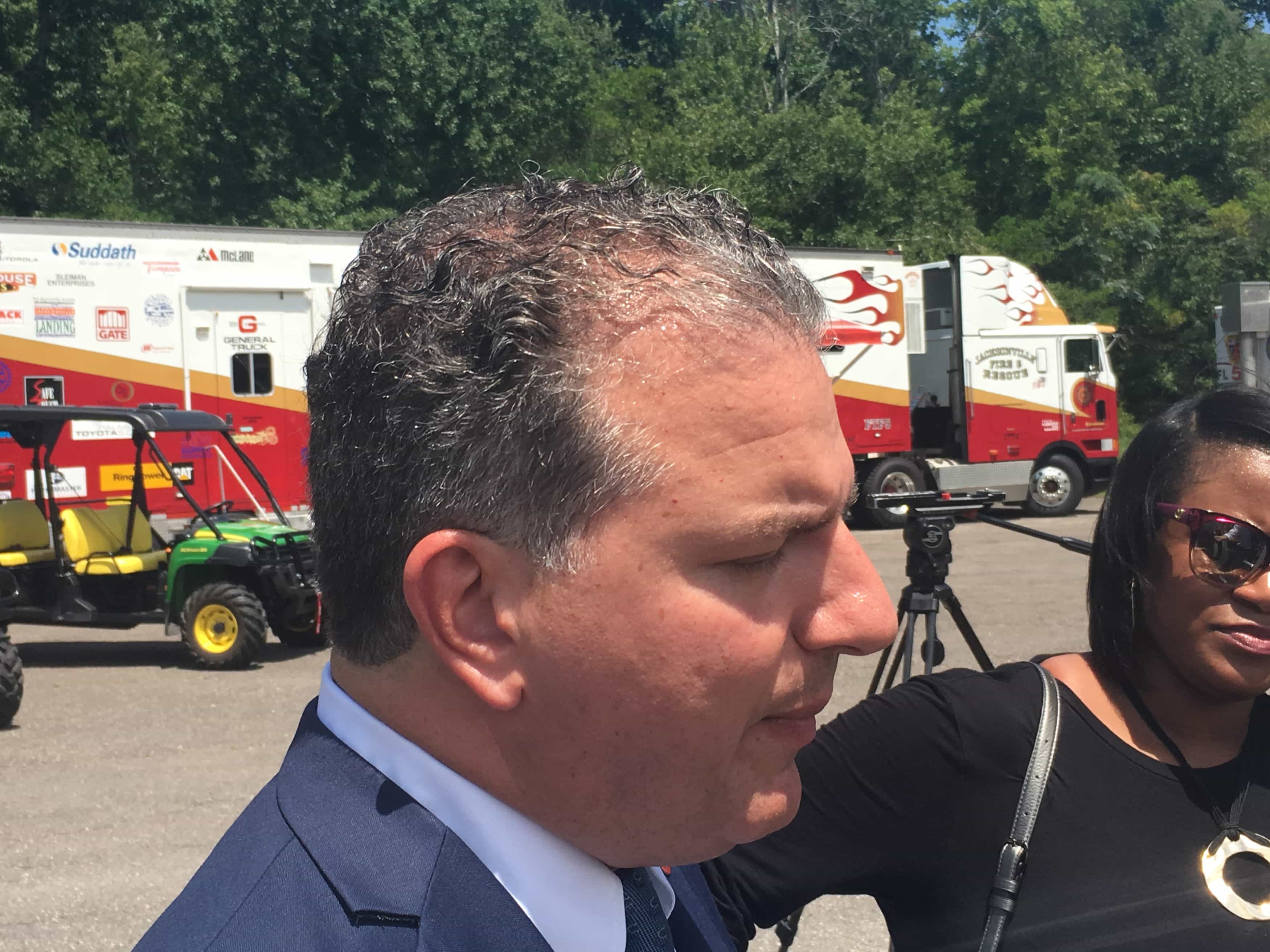 Patronis still cautioned that Florida is not in the clear just yet.
Chief Financial Officer Jimmy Patronis says the state is paring back on the number of urban search and rescue task forces to be activated in preparation for Hurricane Dorian.
As of early Saturday evening, Florida is projected to dodge a direct impact from the storm.
"We're going to activate 14 of those teams instead of the 24 teams that were prepared to," Patronis said Saturday. But he cautioned that's not a sign that Florida is in the clear just yet.
"We're not giving up on the storm. We're still going to treat it with a lot of caution because of the fear that it could change, just like we've seen with both Irma and Michael."
Patronis referenced the changing course of those previous hurricanes, which did make landfall in the state, causing serious devastation.
And while Dorian's current track keeps it in the Atlantic, the state's east coast could still feel the effects of the storm and its outer bands.
Gov. Ron DeSantis declared a state of emergency this past Wednesday. And part of the state's east coast remains under a tropical storm watch.
While Dorian's current projected path would be a drastic improvement over the potential nightmare scenario of previous predictions, Patronis says the path isn't set in stone just yet.
"It's not anything that any of us feel is sustainable with confidence that we're willing to take the chance of risking people's lives," Patronis said.
"Every operation here is still on full alert. Our urban search and rescue teams are getting staffed and prepared in order to be deployed."
The state currently plans to activate 10 fewer urban search and rescue task forces than initially planned. Still, as Patronis said, all resources remain ready to be utilized until it's clear the state will avoid a direct hit by Dorian.
Those task forces are established in different regions throughout the state to help deal with fallout from disasters both in Florida and elsewhere.
Other teams have also been sent from other states to help brace for Dorian. Patronis says some of those squads may be redirected to South Carolina in the event Dorian strikes that region.
Previous days' projections had the storm slamming into South Florida before turning north and knifing through the rest of the state. Patronis said that prompted concern in his office about the state's finances.
"Citizens Insurance is primarily is Dade County. If the storm were to hit Dade County, that's 100,000 policies that are there," Patronis noted, referring to the public-private entity that offers insurance to Floridians.
"So if Citizens is blown out with a lot of potential losses, that overall could affect the credit-worthiness of the state. That's what I lose sleep at night about."
Patronis has served as CFO through the strikes by Irma and Michael. He says that's given him a somewhat senior role in helping newer officials under the DeSantis administration navigate preparation efforts.
"As I look around the room, there's a lot of new faces," Patronis said.
"Some of these agency heads, I grab them and I start walking them around and introducing them to all the different groups that we have here, whether it be [Department of Transportation] or the Public Service Commission or the Department of Environmental Protection."
Coordination between various agencies is key in preparing for a storm of this magnitude, though that burden would be somewhat lifted for Florida should the storm remain east.
But Patronis remains concerned about issues such as potential insurance fraud should this or another storm strike that state.
"We don't want people to sign anything," Patronis said.
"So if they're going to file an insurance claim, their first call needs to be to us at 1-877-MY-FL-CFO, their insurance agent, or their insurance carrier. If that's one of the first three calls they make, there's almost zero for fraud."
While the full force of the state and federal government may not be needed this time around, Patronis said he and other officials will remain on alert until the state is out of danger entirely.
"God willing we're going to dodge a bullet," Patronis said.
"But I'm not going to hold my breath. I'm going to feel much better after Tuesday if this thing is still out in the Atlantic."