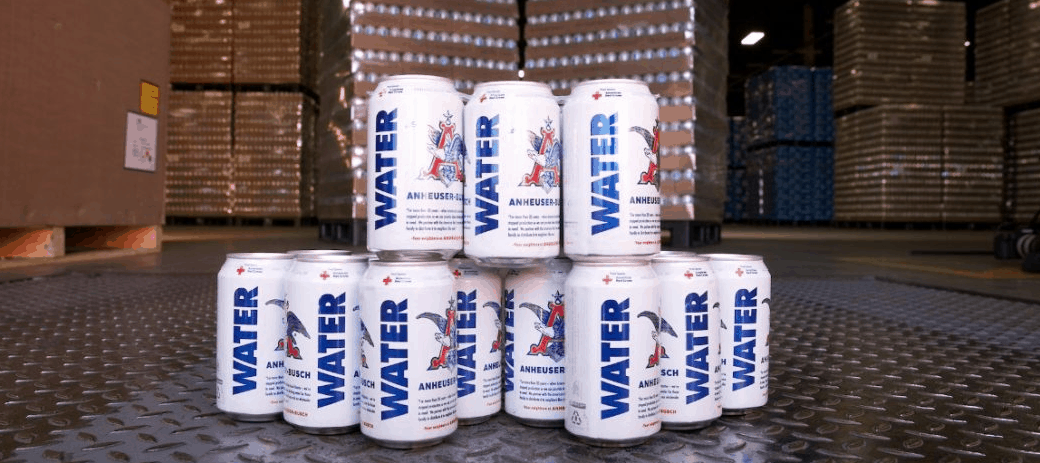 Hurricane Dorian has been upgraded to a Category 5, Anheuser-Busch and American Red Cross join forces.
Anheuser-Busch is delivering truckloads of emergency drinking water to Florida residents. 
More than 100,000 units of canned water will arrive in communities in advance of Hurricane Dorian. The donation from Anheuser-Busch is a response to a request from the American Red Cross to support aide efforts.
While the newest projections suggest that Florida may miss the eye of the storm, Central Florida is still projected to be in Dorian's cone. Hurricane Dorian has been upgraded to a Category 5 and if it hits Central Florida, it will be the strongest storm to impact the area in three decades, according to a news release.
The water will be delivered to the Anheuser-Busch brewery in Jacksonville, and other partners in the industry including Southern Eagle Distributing, Gold Coast Eagle Distributing, and Bernie Little Distributors who will help get the drinking water to those in need of disaster relief.
Anheuser-Busch and American Red Cross have a long history of working together in this way.
The donation will come from Anheuser-Busch's Cartersville, Georgia brewery. It's routine in this facility, and in the Fort Collins, Colorado brewery, to periodically stop beer production throughout the year to can emergency water for instances like this one, a program the company started in 1988.
Over that time, Anheuser-Busch has distributed more than 81 million cans of water to U.S. communities in the path of disaster. Today, the company boasts 23 breweries, 14 distributorships and 23 agricultural and packaging facilities making it one of the top three brewing companies in the United States.
They have over 18,000 colleagues and employees who work with the brand to ensure production across America. A news release states:
"As employee safety is the foremost and primary concern, Anheuser-Busch is closely monitoring the storm and is taking action to ensure colleagues in the region, including at their Jacksonville, Florida brewery, are safe and prepared."