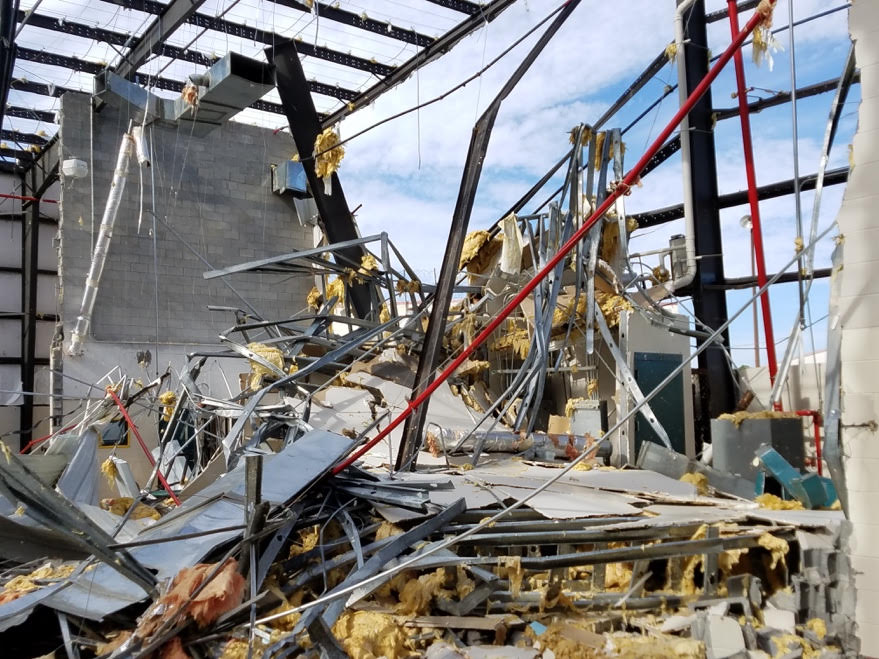 While deniers say there is no proof humans contribute to climate change, storms like Dorian keep forming
A Facebook wit posted last week that waiting for a major hurricane like Dorian to strike is like being stalked by a turtle. I guess that's apropos, provided the turtle is the size of Godzilla with jaws that can snap a Buick in half.
There is a bigger point, though. These monster storms are coming with more frequency, packing power we have never seen. We're not even at the peak of hurricane season. More Dorians could be in our immediate future.
That's why it was a little disheartening to see Sen. Rick Scott's tap-dance Sunday on Fox News Sunday with Chris Wallace. Scott was there, with the trademark Navy cap he trots out for hurricanes, to provide insight about preparing for a storm like Dorian.
Wallace asked the question that was on many people's minds.
"You have expressed mixed feelings over the years about climate change and about the role that human activity plays, but sure seems like these hurricanes are getting bigger, stronger, more intense," he said. "Do you see a connection?"
Cue up the dancing music.
"Well, first off, we know the climate's changing, and then we know our storms seem to be getting bigger. I mean just in the last four years as Governor, I had four of them. Now we have them — my first year out as governor.
"So we don't know what the cause is, but we've got to react to it. … I mean, we put money into dealing with things like sea-level rise, more mitigation, and things like that. So we've got to continue to figure this out."
Aw, geez.
Figure it out?
Um, Senator? Many smart people already have figured it out, and either you weren't listening or didn't like what you heard.
The NASA website lays it out clearly. It is a storehouse of one-stop shopping for anyone interested in finding out about the effect humans have on the climate.
"Multiple studies published in peer-reviewed scientific journals show that 97 percent or more of actively publishing climate scientists agree: Climate-warming trends over the past century are extremely likely due to human activities," it said.
Ninety-seven percent!
The American Chemical Society noted 15 years ago, "climate change is real, largely attributable to emissions from human activities, and potentially a very serious problem."
The U.S. National Academy of Sciences warned 14 years ago about the increasing greenhouse gases in the atmosphere.
Why not just come out and say it, Senator?
My guess is because he doesn't want to believe what all those smarty-pants scientists are saying. Their message sends shivers down a billionaire's back. On the front end, adapting the global economy to deal with the climate crisis is expensive.
To Republicans like Scott, the argument stops there.
Scott trampled on environmental protections as Governor. Funding for water protection districts fell by $400 million while he was in office. No surprise, toxic goo clogged parts of the St. John's river.
There were stories about how the Department of Environmental Protection officials couldn't say things like climate change and global warming when Scott was in charge.
President Donald Trump's disdain for climate science is renowned. At the recent G-7 economic summit, he skipped a conference on climate change. When asked about that, he responded with typical head-in-the-sand nonsense about wealth in the United States.
"I'm not going to lose that wealth, I'm not going to lose it on dreams, on windmills, which frankly aren't working too well," he said.
Meanwhile, the storms keep getting bigger, and they keep coming. Parts of Florida haven't recovered from Hurricane Matthew in 2016. Other residents are still dealing with the effects of Irma (2017), and Michael (2018).
We don't yet know the butcher's bill Dorian will leave.
Here's one prediction we can make, though. Hurricanes will get stronger and cause more damage while people like Rick Scott try to, in his words, "figure it out."
Please hurry. Try to move a little faster on this than, oh, a turtle.