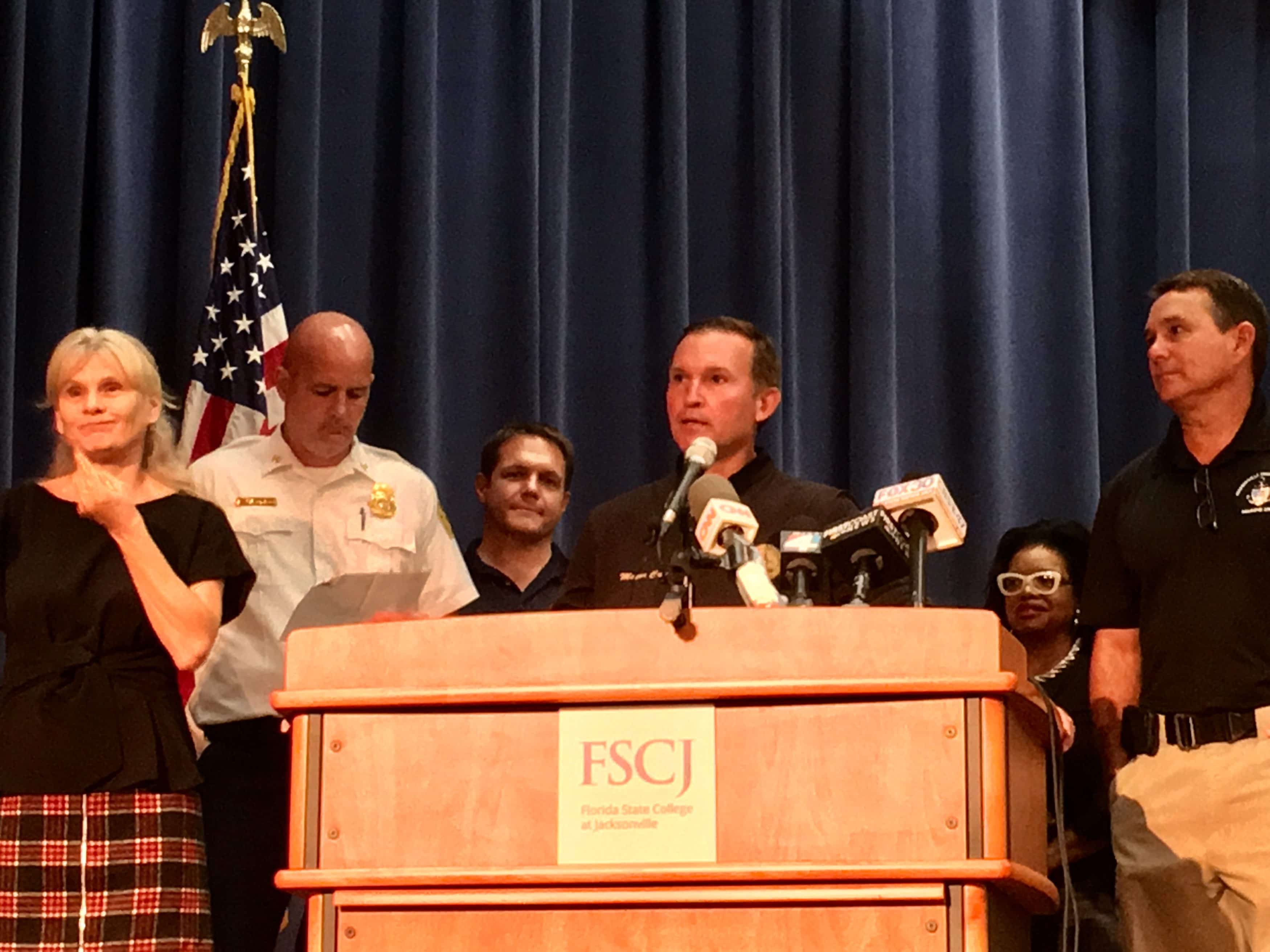 "All we can do is communicate what's coming."
Optimism, of sorts, characterized Jacksonville airwaves Tuesday regarding Hurricane Dorian, with one forecaster suggesting this year's storm might be comparable to Hurricane Floyd.
Floyd, 20 years ago, spurred mass evacuations in Northeast Florida. The storm ultimately did not make landfall in the state, even as roads out of the area were sclerotic from the panicked, outbound traffic.
Hurricane Dorian, as of Tuesday morning, looks to be a coastal event in Northeast Florida. However, preps continue, and Jacksonville's Mayor and Sheriff spent part of Monday morning with the Emergency Road Access Team.
Mayor Lenny Curry noted that Hurricane Matthew, another analogue track to Dorian, created impacts such as downed trees in low-lying inland areas.
The auditorium at Florida State College Jacksonville was full of police and fire, with uniforms and ballcaps the predominant sartorial selections.
Fire and Rescue and the Sheriff's Office will, should the need arise, clear roads after the storm.
Though Duval is expected to have tropical storm impacts even on the coast, with less inland, teams stand at the ready for impacts, assured Curry and Sheriff Mike Williams.
"Be safe," Williams said. "Let the worst of the worst go by and then get back out there."
Curry noted that city crews and emergency teams are prepared for potential impacts.
"Our area remains under a tropical storm warning," Curry said, predicting "major impacts."
"Matthew wriggled itself offshore and [created impacts]," Curry said.
The Mayor noted that ordered evacuations are there for a reason.
"There may be a point during this storm when you call 911 and [they won't be able to answer]," Curry said.
Right now, there are 360 evacuees in 12 shelters, the Mayor added.
"All we can do is communicate what's coming," Curry said. "I hope that people heed those orders."
"People who stay behind," Curry added, could endanger the lives of city employees compelled to respond to distress calls, especially in low-lying areas, such as evacuation zones A and B.
Sheriff Williams asserted that for those who want to evacuate, traffic will not be a problem.
Despite the issues with Duval County Public Schools and capital needs, Mayor Curry noted that there were no issues, per the Superintendent, with the schools serving as shelters.
"We all speak with one voice at this point in time. Safety of our people," Curry said.
"It's coming," added Williams, noting that bridge closures are likely.
The takeaway: this is the last day to prepare, to stay, or to go.