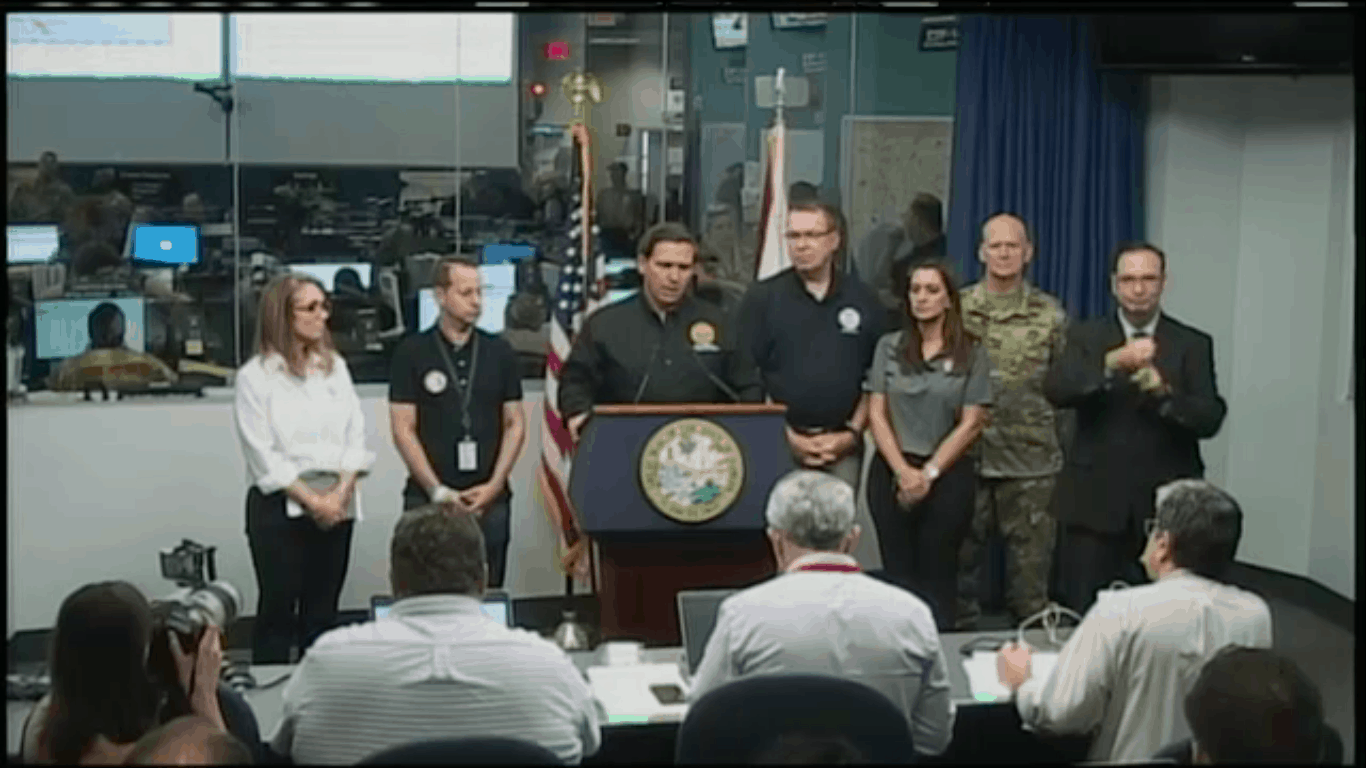 Forecasts show Dorian "dangerously close" but ready to bypass Florida.
Hurricane Dorian now appears poised to pass Florida without making landfall. Still, Gov. Ron DeSantis urged residents throughout Florida to heed evacuation orders.
"At the end of the day, staying safe is the most important thing," he said.
At a press conference in the state's Emergency Operations Center in Tallahassee, DeSantis reminded that storm surge and wind damage will come to Florida.
Meanwhile, he's defending the preparation and state of emergency called for all of Florida.
DeSantis noted that over the past week and a half, all of Florida's 67 counties have at one point or another been in the way of a "credible path" for Dorian. The most recent storm paths show the eye of the storm won't hit Florida.
"This is a better track than seven hours ago, but the important this is to stay safe, remain vigilant," he said.
Pete Gaynor, Deputy Administrator for FEMA, noted Dorian has already been designated as the 10th strongest storm on record in the Atlantic. He pointed to images of the Bahamas, where the storm made landfall as a Category 5, to imagine the damage that Florida might have experienced.
"We are fortunate this will have minimal impact in Florida," Gaynor said.
DeSantis noted at various times, Dorian has been forecast to strike Miami, to cut across to Tampa Bay and even to strike Northwest Florida. When the storm bent north of Puerto Rico and seemed on a clear runway to Florida, the situation seemed particularly dangerous.
The storm then parked atop Grand Bahama Island for a record 14 hours, and today started a slow turn north.
"How these things happen, I don't know," he said.
DeSantis still plans to fight for federal reimbursements to cover local preparation costs to counties and to the state, even if the efforts took place in areas that never feel Dorian's effects.
"They did the right thing to be prepared for this," he said. "I think they behaved responsibly."
For that reason alone, he thinks it's important for the federal government to help reimburse costs. Otherwise, a bad message will be sent for the next storm.
This also served as the first major storm since DeSantis took office in January. He said that throughout the process, his administration has taken a bottom-up approach.
"It starts at the counties, then we have role at the state level to coordinate, and then FEMA folks are there to offer assistance," he said.
That process was successfully born out with this storm, he said, and will serve as a template for the future.
Meanwhile, the EOC has no plans of immediately shutting down. The storm will be tracked until any residual effects for any part of Florida pass.
Already, some utility company officials shuttled to Florida to stage for the storm have started driving further north.
And DeSantis said Florida will also be ready to offer assistance to other states in the Southeast that may feel greater impacts from Dorian.