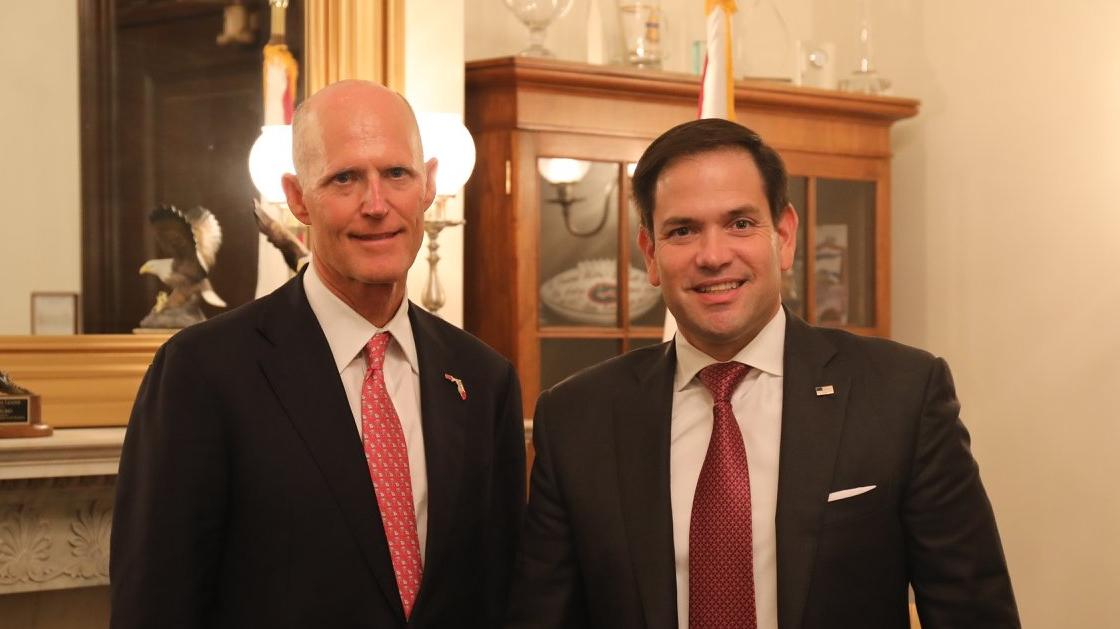 Visa recipients must have family to live with stateside.
In the wake of Hurricane Dorian, Florida's U.S. Senators hope the federal government can make it easier for some Bahamians to get American visas.
Sens. Marco Rubio and Rick Scott wrote President Donald Trump Wednesday, urging relaxed requirements for Bahamians who can live with relatives stateside.
"Incoming images and media reports indicate that thousands of homes have been destroyed and the basic infrastructure of many communities simply no longer exists. Many government services, including those of the United States government, are not functioning in the affected areas at this time," the Senators contend.
The ask: "to ensure that those who have lost everything, including family members in some instances, are provided the opportunity for shelter and reunification with family in the United States."
Many government services "are not functioning in the affected areas at this time," the senators noted.
"As Americans, and others throughout our hemisphere and across the globe, work to provide aid and assistance for the many needs of the Bahamian people at this time, perhaps one of the most basic yet meaningful steps our government can take immediately is to ensure that those who have lost everything, including family members in some instances, are provided the opportunity for shelter and reunification with family in the United States," the Republicans wrote.
Bahamians, notes the release from Rubio's office, have "low visa overstay rates."
Those who follow Rubio's Twitter feed expected this letter to emerge.
#Florida has deep ties to The #Bahamas. Many Floridians have family living there.

Today I will be asking the Trump Administration to consider suspending certain visa requirements for citizens of The Bahamas displaced by #HurricaneDorian & with close relatives in the U.S.

— Marco Rubio (@marcorubio) September 4, 2019
Scott, no stranger to the devastation of hurricanes, has messaged on getting the storm-ravaged archipelago the help it needs.
Just spoke with Theo Neilly, Bahamas Consul General to DC, about what we can do to help the islands during this devastating time.

Floridians are ready to help. Any supplies being shipped or brought by boat will be exempt from duties and fees.

— Rick Scott (@SenRickScott) September 4, 2019
Today I joined local officials from @CityofMiami at Fire Station 8 where humanitarian aid is being gathered for the people of the Bahamas.

Floridians & all Americans come together in times of need, and we are going to do everything we can to help our friends in the Bahamas. pic.twitter.com/qrJl04IGsg

— Rick Scott (@SenRickScott) September 4, 2019
Trump, for his part, is willing to help the Bahamas, which was "hit like few people have seen before."
Help is needed now and urgently, a Bahamian legislator told Florida Politics on Tuesday.
Florida will send its own help in a matter of days, asserted CFO Jimmy Patronis earlier the same day.
In an interview with The Weather Channel on Tuesday, the Panama City Republican vowed to push for the sending of urban search and rescue teams to the Bahamas in the near future.
"They're the equivalent of the Navy SEALs of that profession," Patronis said. "We're advocating to get these brave men and women to the Bahamas."
With the threat all but gone from the Sunshine State, these brave men and women look to have their next mission.
State Rep. Shevrin Jones, a West Park Democrat whose father's family lives in the Bahamas, also called on Trump to allow people from the island to relocate to Florida.
In an interview Wednesday with The News Service of Florida, Jones praised the efforts of Rubio and Scott, as well as those of U.S. Rep. Frederica Wilson, a Miami Democrat who also has close family ties to the Bahamas.
"Setting politics aside, I'm appreciative of them doing this," Jones said, referring to Rubio and Scott. "This is a human rights issue. I'm happy to see that we are working for once together. … I'm thankful that (Washington) D.C. is engaged in this."
Jones, who has posted heart-wrenching videos on social media of Dorian's landfall and aftermath on the island, said that, two days after the slow-moving storm wreaked havoc in the Bahamas, "it's all search-and-rescue mode right now, and connecting."
With cell phone towers out and limited or no power, people are still trying to connect with their families, Jones said.
"Right now, the biggest thing for the Bahamian families over here, they're asking can my family member come here. That's why we're asking for the suspension of visas, because it puts us in the position of not having to deal with the red tape and we can get those people to safety as soon as possible," he said.
The devastation wrought by Dorian is "the greatest national crisis in our country's history," according to Bahamas Prime Minister Hubert Minnis.
The official death toll Wednesday was seven, but Minnis said he expected that number to rise as rescue workers began to conduct searches in the hardest-hit areas.
Some experts have predicted it will take years for the island chain to recover from the disaster, while others fear that the unique character of the Abacos — a popular destination for boaters from Riviera Beach and other parts of Southeast Florida — may be permanently erased.
"It's going to be a long time to even get back to some type of normalcy," Jones said.
While breathing a sigh of relief after Dorian avoided a direct hit to the Sunshine State, Floridians have begun relief efforts to deliver much-needed items to the Bahamas.
"The biggest thing is water and tents. They need portable toilets. They need baby diapers. They need diapers for seniors. Those are the main things the prime minister is asking for," Jones said.
Tallahassee lobbyist David Ramba told the News Service he has put his plane on standby, awaiting the reopening of airports in the Bahamas.
"We want to offer the same help to people in the Bahamas that we would for any neighbor," Ramba said.