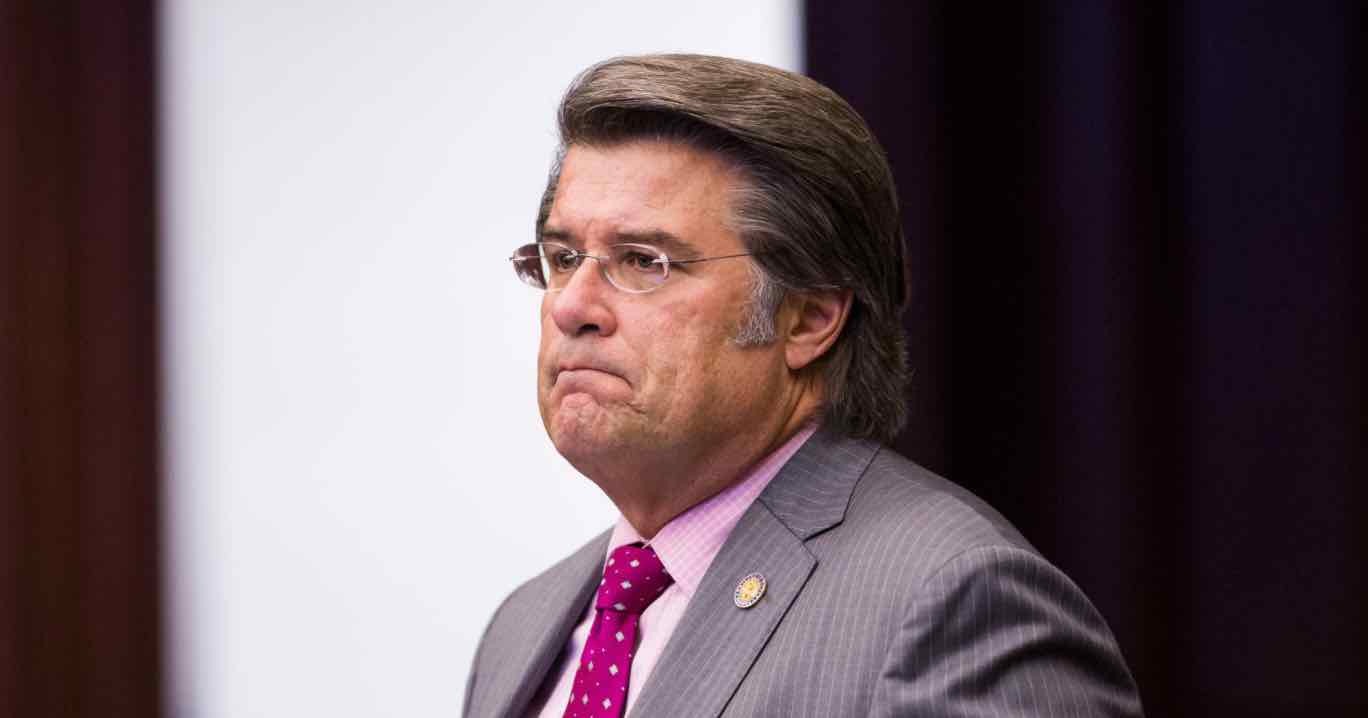 "I felt it was important, as Leader-designate, to inform my colleagues."
Publisher's note: Florida Politics is declining to name the lobbyist mentioned in this post. The individual does not hold nor has not held public office, and therefore should not be subject to the same level of scrutiny as an elected official.  I have spoken to the lobbyist and confirmed the details of their relationship with Sen. Farmer. However, it is my belief that it is more often women than men who bear the brunt of whatever negative repercussions emanate from these relationships, specifically in which a powerful man is romantically linked to a woman engaged in the political process. — Peter Schorsch 
Senate Democratic Leader-designate Gary Farmer has reached out in recent weeks to Senate Democratic colleagues, informing them he has separated from his wife and begun a relationship with a Tallahassee lobbyist.
The disclosure by the Lighthouse Point Democrat comes ahead of a 2020 election cycle in which Democrats likely need to over-perform to capture a majority in the Senate. Democrats would need to wrest three seats from Republicans in order to secure that margin.
Farmer released a statement to Florida Politics on Tuesday night acknowledging the relationship and his comments to colleagues in the Senate.
"As is common knowledge among our close friends and family, my wife and I have been separated for a few months," Farmer said. "Shortly after the separation, I felt it was important, as Leader-designate, to inform my colleagues of this fact. At this time, I have no further comments except to say that this is a painful and difficult time for me and my family and we ask for privacy."
A search of divorce cases in Broward County, where Farmer resides, turned up no filings under his name. He did not elaborate on his motivation to inform his fellow Senate Democrats about the personal matter.
Farmer did say he was intent on remaining Leader-designate as Florida Democrats prepare for 2020: "I remain fully focused on helping our caucus win more Democratic seats next November."
Farmer also declined to answer questions about when the relationship with that lobbyist began, or whether it had any impact on his work in the Senate.
When contacted Tuesday regarding Farmer's disclosure, some Senate Democrats said they doubted any personal issues would cause problems for Farmer as Leader-designate. Others declined to comment, citing privacy concerns.
But that feeling was not unanimous.
Democratic state Sen. Linda Stewart of Orlando was among the caucus members not contacted by Farmer about the matter.
Stewart is still miffed at Farmer from the caucus leadership meeting in the spring, when Farmer dismissed state Sen. Lauren Book as a potential leader because she has two small children to care for.
"That pretty much did it for me," Stewart said. "I'm not going to fight my whole life for equal pay for equal work, equality for women, and all that, and have someone say 'Well, I'm sorry you can't be a leader because you have two children.'
"So, he knows that. And I told him that. And I didn't appreciate it. He kind of tried to apologize, but he already said it. So, what do you do?"
Consequently, Stewart doesn't expect that she'd be among those Farmer might call for support now.
Stewart said that she's reserving judgment until she knows more. She said earlier Tuesday that she had not heard anything but rumors, and that taking any position on the relationship "wouldn't be fair."
She added, "I have always had a problem with how he dealt with a female who is very equipped to deal with children and the Senate. So I'm not thrilled about how he approaches women."
Questions about how Farmer "approaches women" caused Sen. Kevin Rader to pull his support for Farmer prior to Farmer's elevation to Leader-designate.
On Tuesday, Rader would not discuss whether Farmer's disclosure would have any effect on his current status as Leader-designate.
"I think it's a totally private matter and I hope he and his wife can work things out," Rader said. "He reached out to me and that's exactly what I told him."
Sen. Janet Cruz also confirmed that she spoke with Farmer.
"Fifty percent of marriages unfortunately end in divorce and I'm sorry for Gary and I'm sorry for his family," the Tampa Democrat said, acknowledging Farmer reached out to her. "He did let us know that he's living alone and that he's going through a divorce."
When asked if she were comfortable with Farmer remaining Senate Democratic Leader, she said, "I think that's fair to say."
"… I think that divorce is always sad and unfortunate," Cruz said.
Democrats have their work cut out for them to secure a Senate majority in 2020 after a disappointing 2018 cycle.
The 2018 elections saw Democrats win just one battleground seat, with Cruz eking out a win in Senate District 18 against the incumbent, Tampa Republican Dana Young. The party fell short in several other contests.
At the top of Democrats' 2020 list is Senate District 39. That seat is being vacated by term-limited Sen. Anitere Flores.
State Rep. Javier Fernandez is currently the only Democrat filed in the contest after health issues prompted Pinecrest Vice Mayor Anna Hochkammer to leave the race.
Meanwhile, Republican leadership courted state Rep. Ana Maria Rodriguez to ditch her House District 105 seat and pursue the SD 39 seat. Angie Chirino, a singer and former congressional candidate, also is competing for the Republican nomination.
Given Rodriguez's strength as a candidate, Democrats' best bet in 2020 is no sure thing. They're also targeting Sen. David Simmons' seat, though that's a tougher climb.
And as POLITICO Florida's Matt Dixon has reported, Republicans are looking to expand the battleground map in 2020, pushing for challengers in Senate District 3, currently held by Tallahassee Democrat Bill Montford, along with SD 37's José Javier Rodríguez, a Miami Democrat.
Thinning Democrats' resources even further will make the job that more difficult for Farmer.
Farmer's colleagues appear loathe to punish the Leader-designate regarding a decision in his personal life. But should they raise further questions of his newfound relationship, it could cause fractures for 2020 that an already-delicate Democratic effort cannot stand.
___
Orlando correspondent Scott Powers and Senior Editor Jim Rosica contributed to this post.