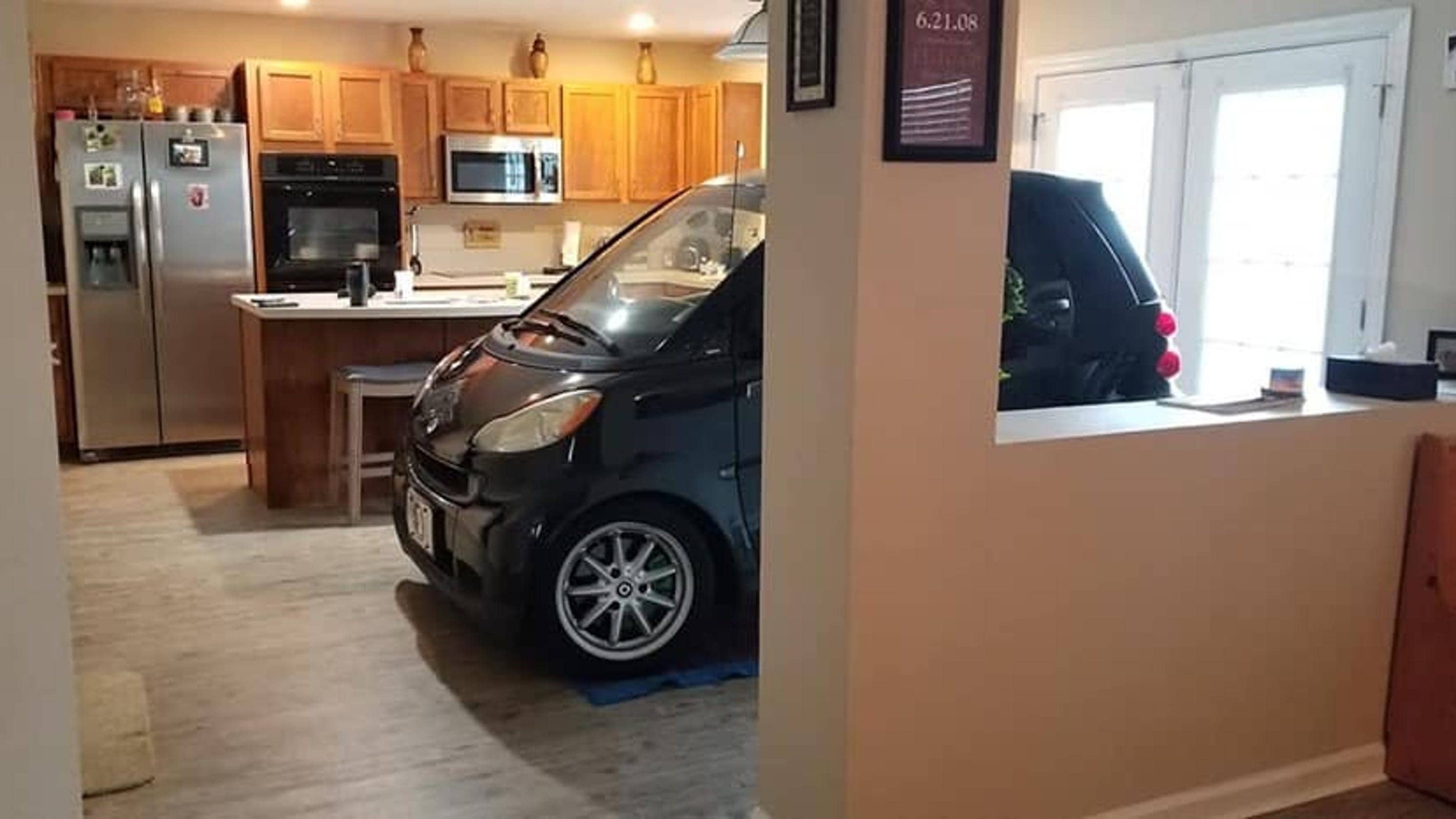 Gives a new meaning to drive-thru service.
Is that a car in your kitchen or are you just happy to see me?
For one Florida man, it's a car.
Jacksonville resident Patrick Eldridge didn't want his smart car to blow away during Hurricane Dorian so he did what any red-blooded American living in the weirdest state in the nation would do. He parked it in his kitchen, according to the Associated Press.
Eldridge, finding that his garage was already occupied by his wife's car and a bunch of clutter he didn't feel like addressing, instead posed a question to his wife. What if we just park it in here?
She challenged him, saying she didn't think it would fit. 
In what might be the ultimate "challenge accepted" moment, Eldridge propped open a pair of french doors and reportedly slid the tiny car into the home's kitchen with ease.
His victory was not without hassle though. Eldridge's wife, Jessica Eldridge, told the  Associated Press she had a difficult time maneuvering around the car to, you know, feed her family, and hoped he'd move it back outside soon once the winds died down.
But it wasn't having to climb over a car to prepare a taco that irked Mrs. Eldridge the most.
"There is room and it's not in the way, but my dogs are confused by it," she said. 
As of Wednesday afternoon, Hurricane Dorian was moving slowly past Jacksonville off the east coast  of Florida with some areas expected to experience tropical storm-force winds. 
Smart cars are tiny, but they still weigh nearly 2,000 pounds. Even a strong gust from Dorian's bands passing through Jacksonville aren't likely to sweep away a one-ton car. 
So probably Florida Man Edlridge just really wanted to see if he could fit a vehicle into his kitchen. 
No word yet on whether or not Mrs. Eldridge has been nominated for the wifely patience of the year award.