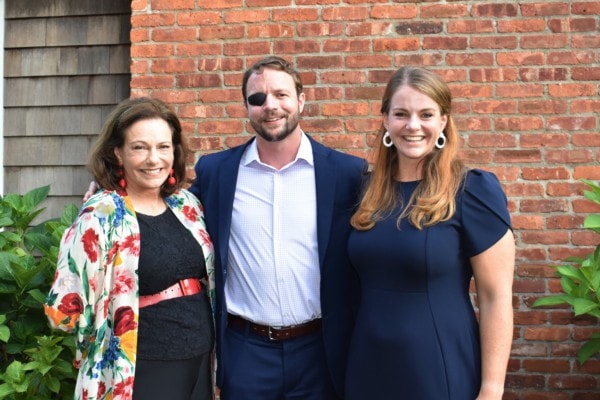 He attended a New York fundraiser for the Sarasota candidate in July.
Texas U.S. Rep. Dan Crenshaw endorsed fellow military veteran Fiona McFarland in her bid for House District 72.
"Fiona has served our country in the Navy and she's bringing that same sense of duty to her community in Florida," said Crenshaw, who, like McFarland, is a Republican.
The formal endorsement comes months after Crenshaw appeared at a Hamptons fundraiser for McFarland. After that event, the candidate explained she had a family connection to Crenshaw.
"I am honored by Congressman Crenshaw's endorsement and friendship," McFarland said of the endorsement.
"I admire his continued service out of uniform and I believe principled leaders like him will keep our political debate focused on the issues most relevant to the future of our country."
McFarland also appeared recently on a nationally broadcast radio program with Crenshaw. The two were guests on The David Webb Show on SiriusXM Patriot 125.
Crenshaw earned national attention while running for office when "Saturday Night Live" comedian Pete Davidson mocked a war injury that left the Navy SEAL with one eye.
Crenshaw later appeared on the show, where Davidson apologized for the joke, and defended the comedian while calling for more civil dialogue.
Since his election to Congress in 2018, he has been among the most high-profile freshmen and a popular conservative voice, particularly on immigration and gun rights issues.
McFarland stressed her own record of service in announcing the Crenshaw endorsement. The Naval reservist served aboard warships in the Western Pacific and later was in the Pentagon as a surface warfare officer.
The Sarasota Republican has filed to run for state House in a district being vacated by state Rep. Margaret Good, a Democrat running for Congress.
McFarland currently faces Sarasota Public Hospital Board member Donna Barcomb in the GOP primary in 2020. Democrat Drake Buckman, a Sarasota lawyer, has also filed for the seat.
McFarland also boasts endorsements from developer and former state Sen. Pat Neal, Public Defender Larry Eger and former County Commissioner Paul Caragiulo.