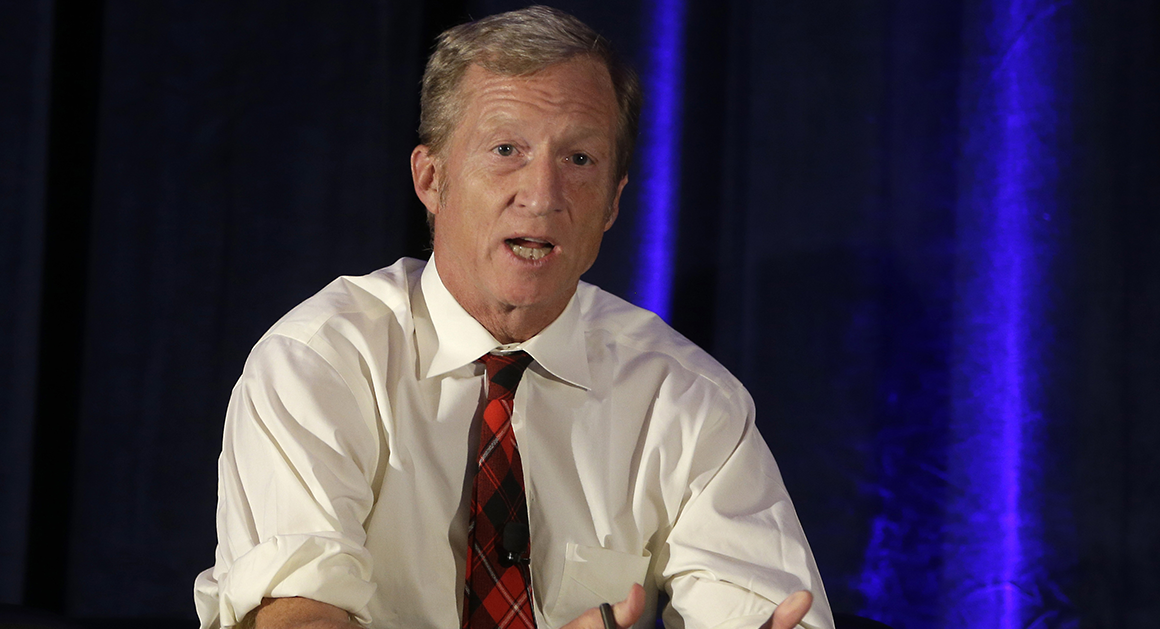 Steyer is the 11th candidate to qualify.
Billionaire hedge fund manager Tom Steyer won't be on the stage Thursday for the Democrats' third debate in Houston.
But Steyer will finally make his debate debut after qualifying for the Democrats' next debate in October.
The qualifying deadline for the Houston debate was late August. Steyer just missed out, falling one poll short of the necessary four in order to qualify.
Steyer did reach the donor requirement set by the Democratic National Committee. But Steyer needed to notch 2 percent in one final survey.
He failed to do so, making him the candidate closest to the cut who missed the debate.

The good news for Steyer is that any donations and polls already banked counted toward the fourth debate as well. On Sunday, Steyer netted that fourth poll when he registered at 2 percent in a survey of Nevada.
The billionaire activist is also the latest candidate to enter the presidential contest, waiting until July to do so. That's despite originally announcing he would not run for President.
But Steyer changed his mind in early July. He has long been behind a push to impeach President Trump. And Steyer frequented the early primary states while flirting with a run in early 2019.
Those early states have been the source of some of Steyer's best polls. Ten candidates managed to qualify for Thursday's debate in Houston.
Appearing Thursday will be former Vice President Joe Biden, U.S. Sen. Cory Booker of New Jersey, South Bend Mayor Pete Buttigieg, former Secretary of Housing and Urban Development Julián Castro, U.S. Sen. Kamala Harris of California, U.S. Sen. Amy Klobuchar of Minnesota, former U.S. Rep. Beto O'Rourke of Texas, U.S. Sen. Bernie Sanders of Vermont, U.S. Sen. Elizabeth Warren of Massachusetts and former tech executive Andrew Yang will all take the stage in Houston.
Those 10 will also appear on stage in October. Steyer will be the 11th candidate.
That means the October debate will be spread over two nights. Thursday's debate will take place on a single night, and is the first time all the major candidates will share a stage together.