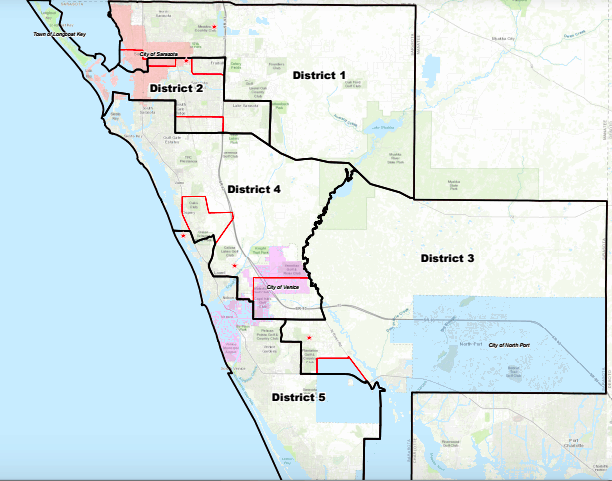 Critics continue to demand that process wait for 2020 Census.
As Sarasota County Commissioners held a first hearing on draft redistricting maps, the biggest argument at hand seemed to be whether to split cities.
An initial map presented by consultant Kurt Spitzer presented subtle variations from existing county commission boundaries. Alternatives also presented showed more change, including potentially shifting some Republican areas into Democrat-leaning District 1.
But the most substantive discussion among county commissioners revolved around whether the counties three largest cities — North Port, Sarasota and Venice — would be better served by being divided into different county commission districts.
"To give a city one county commissioner, I think, would be unfair to those cities," said County Commissioner Charles Hines.
But County Commissioner Nancy Detert said she appreciated arguments that a city like North Port would benefit from being the center of a district. That would increase the odds of a North Port leader earning a spot on the board.
County Commissioners remain intent on the controversial decision to redraw districts ahead of the 2020 census. The move will have particular weight as Sarasota County voters in 2020 will vote only for the commissioner in their district for the first time since the early '90s.
Many members of the public continued Wednesday to criticize that move. Others presented their own maps moving forward.
Jono Miller, a former Sarasota County Commission candidate, sided with the one-city-per-district crowd. He suggested it would be a good idea to have one county commissioner representing most of the rural east county communities.
He also said it would be helpful for Venice to dominate a south county district. Since no city exceeds 20 percent of the county population, every city can fit compactly in a district.
But Kafi Benz, president of the Sarasota County Council of Neighborhood Associations, said it benefits county residents if commissioners don't remain focused on members of a single community.
"This is a county commission, not a district assembly," she said.
Notably, three sitting or former municipal mayors have filed to run in 2020. Former Sarasota Mayor Fredd Atkins is running in District 1, North Port Mayor Christopher Hanks fled in District 3 and Venice Mayor John Holic threw hit hat in the ring in District 5.
There will be neighborhood meetings on redistricting held within each existing district.
Interestingly, Spitzer's main proposal was greeted by some redistricting skeptics as more fair than expected. Partisan make-up of districts changes little, for example. Supporters of a switch to single-member voting include many who hope to see a Democrat elected to the commission for the first time in decades.
But notably, Spitzer also submitted some alternatives that could water down Democratic representation in District one by moving areas near heavily Republican precinct 233 into District 1, while shifting Democratic areas like precincts 129 and 131 to District 2.
The possibility remains that District 2, which doesn't go up for election until 2022, could be redrawn again after the 2020 Census. County commissioners will be required to review lines again after the federal population count is completed, but are not mandated to redraw lines.
Sarasota County Commissioner Christian Ziegler, the only vote against redistricting now, encouraged residents to become involved in the process of drawing new lines. He stressed Spitzer's early proposals remain a draft.
"These maps are just a starting point," he said.