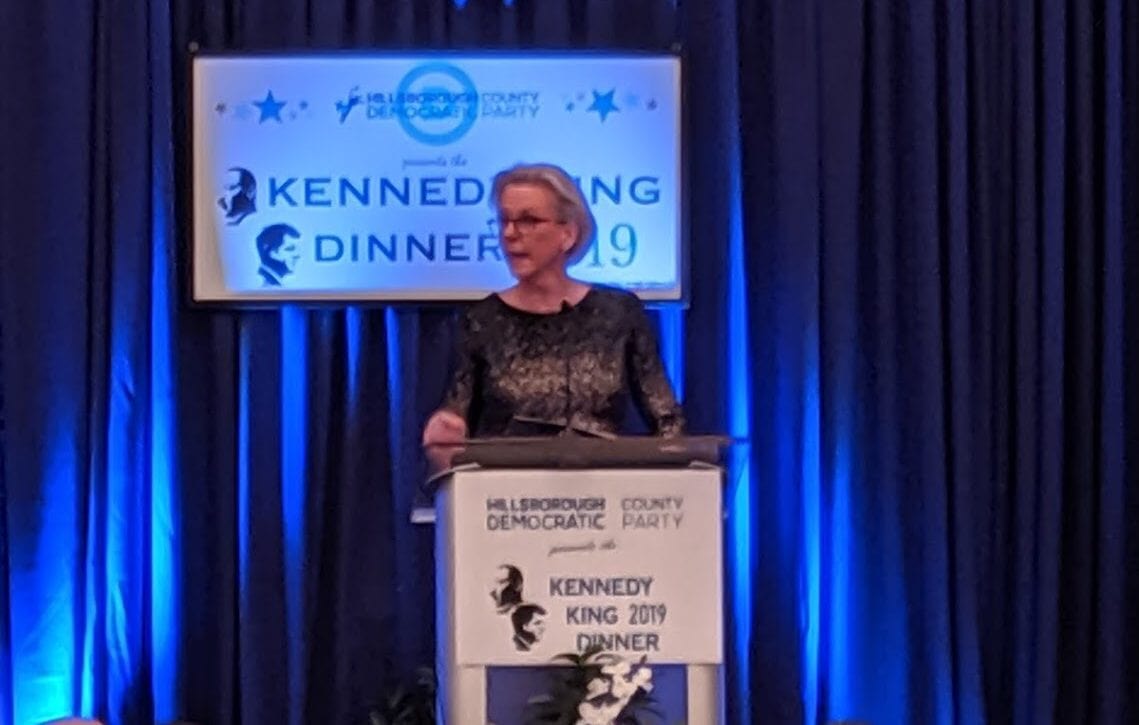 Castor praised the accomplishments of women.
The Tampa Bay area is ground zero for Democrats heading into the 2020 Presidential election, according to Tampa Mayor Jane Castor.
Castor was the welcome speaker at the Hillsborough County Democratic Party's annual Kennedy-King Dinner on Saturday.
The event is the group's most important fundraiser. Proceeds feed the party's Victory Fund, supporting Democratic candidates and get out the vote efforts.
Castor spoke about the critical role the Tampa Bay Area plays in national politics and, as 2020 approaches, the path for Democrats to the White House.
As Tampa and the I-4 corridor goes, so goes Florida and as Florida goes, so goes the nation. (While that hasn't always been the case, it's long been the saying.)

"This election is, and I know we hear it every election, one of the most important elections of our lifetime. I look forward to working alongside a Democratic nominee who represents America's core values, has a vision for our nation's infrastructure, focuses on modernizing our transportation system, investing in affordable housing, while addressing the need for more workforce development," she said.
Castor also took the opportunity to speak about women.
"This election and elections all over the country are proving, no offense to our male elected officials here, but women are trailblazing the way AND getting things done; from school boards to county commissions to the house and the senate and Mayors across the country," Castor said.
"Did you know, as of May 2019, among the 100 largest cities in the U.S., 27 had women mayors and in cities with a population above 30,000 there are a total of 295 women mayors? We have come a long way but still have work to do."
She implored women considering running for office not to wait: "When women run, women win," Castor said.
Castor gave a nod to Tampa Bay Area women who, unlike national trends, have long been leaders in local politics. She name dropped people like former Tampa Mayors Pam Iorio and Sandy Freedman, Hillsborough County Commissioner Pat Kemp, former Florida Sens. Betty Castor and Arthenia Joyner and former Tampa City Council member Gwen Miller.
"Whether we're spearheading legislation to protect women's rights or, like my good friend and 'sister' (U.S. Rep. Kathy Castor) did just this week, fought for a ban on offshore oil drilling which is critical to our environment and to our State's economy, or to Janet my in-law who has resorted to raising money on her own to install filters in schools water fountains to ensure our kids are drinking safe lead free water, and even—imagine this—banning assault weapons and proposing common sense gun measures," Castor said.
"It's time we rise up and elect leaders who will do what is right for communities—not what is most beneficial to special interests. We must restore civility and dignity in every elected office and we can only do that if we are united."
Castor also used her speech as an opportunity to outline her accomplishments so far in office.
"I've been in office just over 130 days and it's been quite the sprint. In that short amount of time, we've been able to do some amazing things," she said.
That includes City Council's approval of Castor's PIPES project to restore the city's aging water and wastewater infrastructure.
"I've said it before and I'll say it again: Tampa's going to change more in the next 10 years than it has in my entire lifetime and it's because of these changes we need to ensure our infrastructure is sustainable," Castor said.