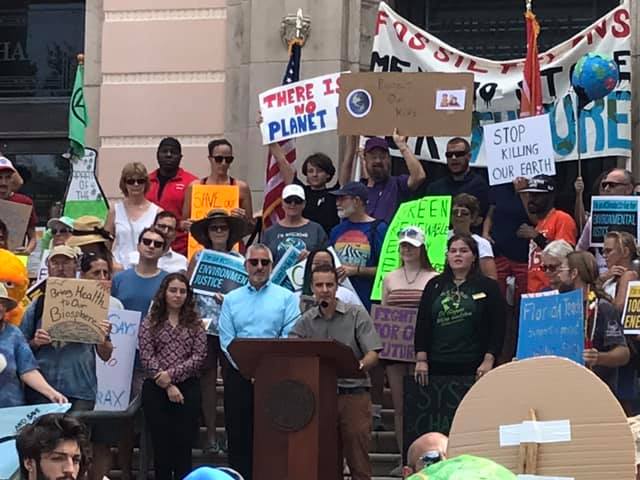 The rally and march was part of a global day of action.
More than 1,000 people crowded the streets of downtown St. Petersburg Friday to demand action on climate change as part of the Global Climate Strike happening throughout the world.
That number is according to the Suncoast Sierra Club's count of people who attended both the march and preceding rally at St. Pete City Hall.
The march flooded city streets, blocked intersections and led to the St. Petersburg Police Department shutting down portions of First Avenue North.
"This, by the end of the day, will likely be the biggest mass mobilizations around climate change in world history," said Sierra Club member and one of the event's organizers Tim Martin.
The march was part of a global day of action in which students and workers globally walked out of classrooms and their jobs to send a message to policymakers that climate change is a crisis that needs to be addressed immediately.
"There is no more climate change debate. Enough," St. Pete Mayor Rick Kriseman said from the steps of City Hall to a thunderous outburst of applause. "The science has long been settled. Reasonable people know this — the climate emergency is well underway."
The Global Climate Strike is the brain child of 16-year-old Greta Thunberg of Sweden who began her own Friday strikes demanding action. Thunberg traveled to the U.S. on a zero emissions boat instead of flying to participate in actions ahead of the U.N. Climate Summit.
"Greta has put out a clarion call. Young people, indigenous people, people of color, immigrants, the poor — these groups are least responsible for climate change yet disproportionately feel most of its effects," Martin said.
The St. Pete march drew on the collective creativity of St. Pete. Some people carried signs with popular messages like, "there is no planet B" and others calling out the fossil fuel industry.
Others wore elaborate costumes like a chipmunk with its tail on fire, oil industry executives carrying a bound planet earth and others dressed as villains.
They marched from City Hall to Williams Park chanting things like "who's got the power, we've got the power" and "keep fossil fuels in the ground."
The crowd included ages ranging from infants to elderly.
Martin sent a message to the youngsters in the crowd.
"They don't have the luxury of riding this one out," he said. "The message to you, keep pushing those of us who are not so young. Our lives and future depend on it."