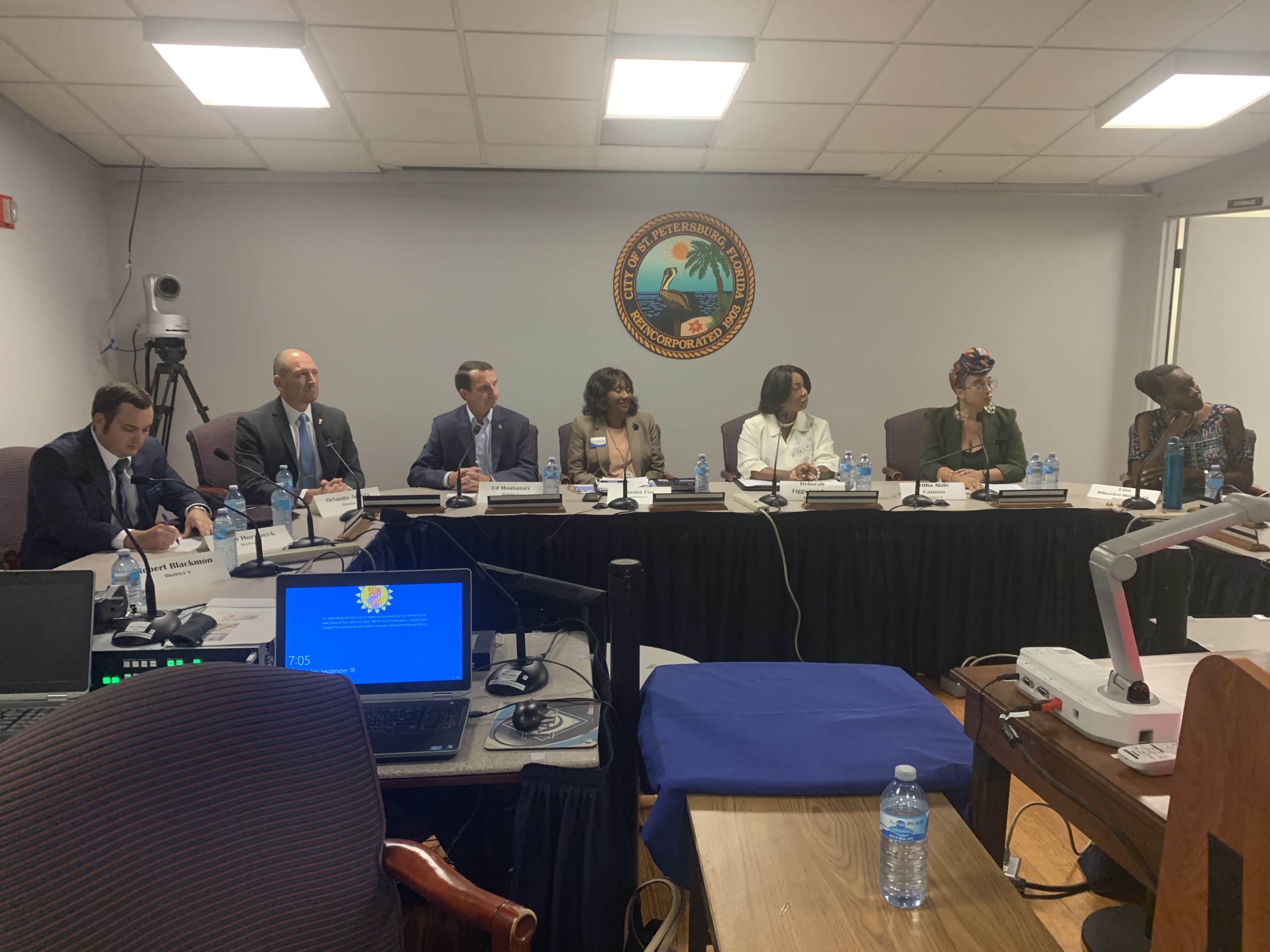 It should honor the black community.
The field is varied among candidates running for St. Petersburg City Council this year, but there's at least one thing the eight candidates in four races all have in common:
They all want to make sure the city's black community is honored when the city finally gets to redevelop the Tropicana Field site.
Tropicana Field, then known as the Florida Suncoast Dome, opened in 1990. Its construction displaced hundreds of residents and businesses on the site that had been until 1986 the Gas Plant neighborhood, a primarily black community.
Candidates all agree the site, when redeveloped, should benefit the community that was displaced and serving families.
However, candidates have a variety of ideas on how to make that happen.
The most extreme plan comes from District 7 candidate Eritha "Akile" Cainion.
Cainion is running under the banner of the south St. Pete-based Uhuru movement that seeks reparations for African-Americans to relieve centuries of systemic oppression and racism.
Her plan for the Tropicana Field site would include a reparations land trust consisting of black members of her community.
"Who doesn't want to see a vibrant black community," Cainion asked during a Council of Neighborhood Associations campaign forum last week. "We pay thousands of dollars to travel to the Caribbean when we can enjoy the culture that you love so much … right here in the city."
Cainion said her Southside community is packed full of African culture including both arts and cuisine — both of which could flourish in a new development that directly benefits the black community.
She touted access to affordable housing on the site as well as to jobs and business opportunities for the community.
Other candidates offered some similar ideas, but did so in a way that offered economic benefit to the entire St. Pete community, not just for African-American residents.
"It needs to be for everyone, not just one particular group," said District 7 incumbent Lisa Wheeler-Bowman, who Cainion is challenging. "A lot of people lost property there. I want to make sure that it is something for everyone."
Wheeler-Bowman suggested including affordable housing, office space and entrepreneurial opportunities. She also suggested a potential partnership with the University of South Florida for educational and research opportunities on the site.
District 5 candidates Deborah Figgs-Sanders and Trenia Cox, both of whom are also African American, also want to honor the families displaced.
"There was a lot of loss in the black community and I understand that," Figgs-Sanders said. "I think that the commitments that were made to the neighborhoods and the residents and the businesses lost need to be met."
But like Wheeler-Bowman, Figgs-Sanders said the site should be for everyone's benefit.
"It's going to be monumental for the city," she said. Among her suggestions: A convention center, retail, restaurants and educational opportunities.
Cox's plan focuses more on jobs and economic opportunity to lift people out of poverty, a problem that plagues the black community and survivors displaced when the Trop was developed.
"We need opportunities for our local talent to get the skills that they need and so that those jobs can be such that they can look forward to home ownership and the American Dream," Cox said.
She wants to see an increase in opportunities through the innovation district's hospitals and USF campus to provide high-quality jobs as well as training for those jobs.
"Everyone doesn't want to be excited about having a job that isn't a livable wage," Cox said.
Ed Montanari, the District 3 incumbent, said the site should have green space as a center role.
"I can see a pond or a lake in the middle of that with something like the river walk in San Antonio," Montanari said.
A high-profile park, he explained evoking sentiments of Central Park in New York City, would be an oasis for residents and visitors in the center of an urban area that could stimulate other economic activity.
To boost the neighboring community, Montanari said the city should continue to attract companies to the area to provide living and high-wage jobs.
"People are leaving high tax states and moving to low tax state," Montanari said referring to Florida. "I could see financial services companies moving there (the Trop site)."
Montanari also said the site should include affordable housing.
His challenger, Orlando Acosta, lamented the displacement of the black community, but echoed other candidates' sentiments about the Trop site being a place for everyone.
"We have the opportunity to create the hub, the nexus, the heart of St. Pete — economically, socially, culturally for everybody — black, white, young, elderly, newcomer, fourth, fifth, six generational," Acosta said. "We need to include our all and put our all in it."
In District 1, candidate John Hornbeck said he would support a proposal to provide 2 percent of the development proceeds from the site to the African American community. He also suggested including tech space and "a world class convention center."
Hornbeck's opponent, Robert Blackmon, suggested a memorial to the Gas Plant neighborhood as well as an offer of some development proceeds to the Dr. Carter G. Woodson African American Museum.
That development, he said, should include hotels and affordable and workforce housing and, like Montanari, Blackmon said that it should provide recreational space along Booker Creek.