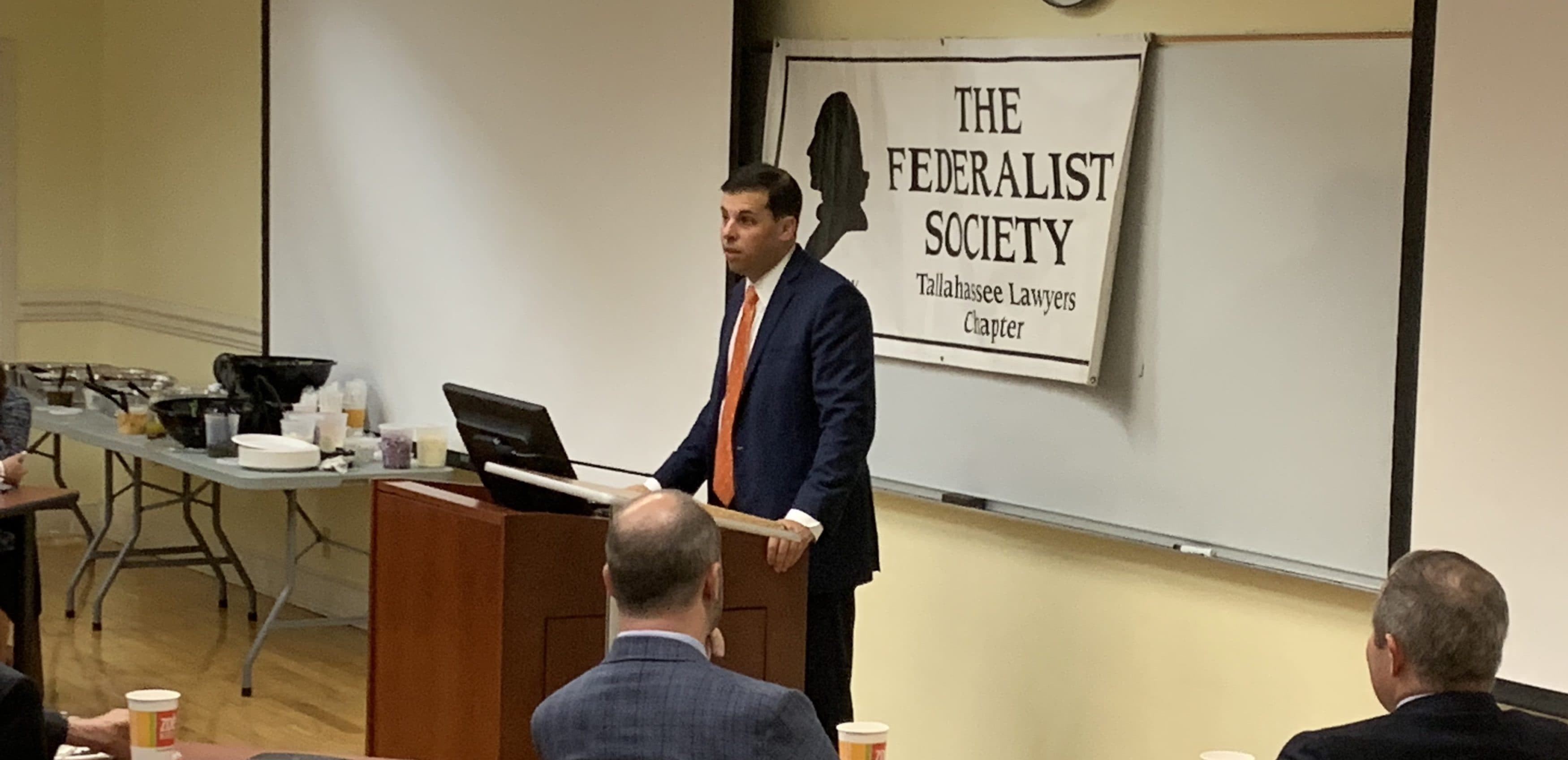 He asked: Are people who invest in marijuana businesses committing money laundering?
Speaking to a room packed with the capital's conservative legal lights, former U.S. Acting Associate Attorney General Jesse Panuccio spoke his truth about marijuana to power—and power seemed to agree with him. 
Panuccio's simple argument was this: Despite a state constitutional amendment allowing medicinal cannabis, proposed amendments to make pot legal outright, and public opinion supporting the plant, marijuana is still illegal under federal law. 
And federal law is the ultimate law of the land. 
Marijuana is still what's called a "Schedule I" substance by the feds. Selling marijuana is still a federal crime, even though many states — including Florida — allow marijuana as medicine or even — as in Colorado — its recreational use by adults.
"This is very fundamental stuff," he told a standing room-only crowd in a Florida State University law school lecture hall. "This is basic American civics."
Panuccio — a Harvard Law grad who was once Gov. Rick Scott's top lawyer and Department of Economic Opportunity (DEO) head — started his lecture with some equal opportunity skewering. He pointed out tweets by Democratic Agriculture Commissioner Nikki Fried, lawyer and marijuana advocate John Morgan, GOP state Sen. Jeff Brandes and Republican Congressman Matt Gaetz.  
What they all have in common is talking about "following the rule of law," Panuccio said, adding that they pay only lip service to the concept. 
"Why don't (they) care about what is really going on with the rule of law and marijuana in this country?" he said. "What we're seeing with respect to marijuana in Florida and nationally is one of the most blatant and widespread violations of the rule of law in recent history in this country.
"There's no reasonable argument that a straight faced lawyer could make that what is happening in this state right now is lawful. Period, full stop," he added. 
In highlights from the hour-long speech, Panuccio said:
— Those who helped set up marijuana businesses in Florida and elsewhere, no matter whether they remain involved in them, could be guilty of the federal crime of conspiracy. He also mused whether people who "invest" in marijuana businesses are committing "money laundering."
— The federal Controlled Substances Act overrules any state marijuana-related law under the U.S. Constitution's supremacy clause, which "establishes that the federal constitution, and federal law generally, take precedence over state laws, and even state constitutions," the Legal Information Institute explains.
The feds rank controlled substances "depending upon acceptable medical use and the drug's abuse or dependency potential." Schedule I includes cannabis, as well as fentanyl and its derivatives, heroin, morphine, mescaline, and others.
— What about hemp, made legal in the Farm Bill signed by his former boss, President Donald Trump? Hemp isn't the same as marijuana (though they're related), Panuccio said, adding that the Food and Drug Administration still hasn't approved the use of CBD, or cannabidiol, which is derived from hemp and added to many products sold over the counter. 
— Panuccio even took The Florida Bar to task, pointing out that the Bar is telling its own members to break the law by saying they can advise and represent marijuana businesses. "You get the feeling that no one is reading the laws surrounding marijuana," he said. 
The speech, sponsored by The Federalist Society's Tallahassee Lawyers Chapter, was attended by a bevy of conservative attorneys and others: Secretary of State Laurel Lee, former DEO director Cissy Proctor, former appellate judge and now lobbyist Paul Hawkes, Senate general counsel Jeremiah Hawkes, House general counsel Adam Tanenbaum, state Solicitor General Amit Agarwal, former Scott general counsel Daniel Nordby, former Senior Deputy Solicitor General Rachel Nordby, and Nick Primrose, current deputy general counsel for Gov. Ron DeSantis. Also attending was Tallahassee-area Circuit Judge Stephen Everett, a DeSantis appointee.
Requests for comment are pending with Morgan, Brandes and Gaetz. Morgan, who bankrolled the state's 2016 medical marijuana amendment, has recently said he supports full legalization of marijuana for adult use. At least three such amendments are aiming for the 2020 ballot.
Later Wednesday, Fried spokesman Max Flugrath issued a short statement: "Mr. Panuccio is entitled to his opinions."
___
Ed. Note — Do you agree with Panuccio? Why or why not? Let us know in the comments section below.