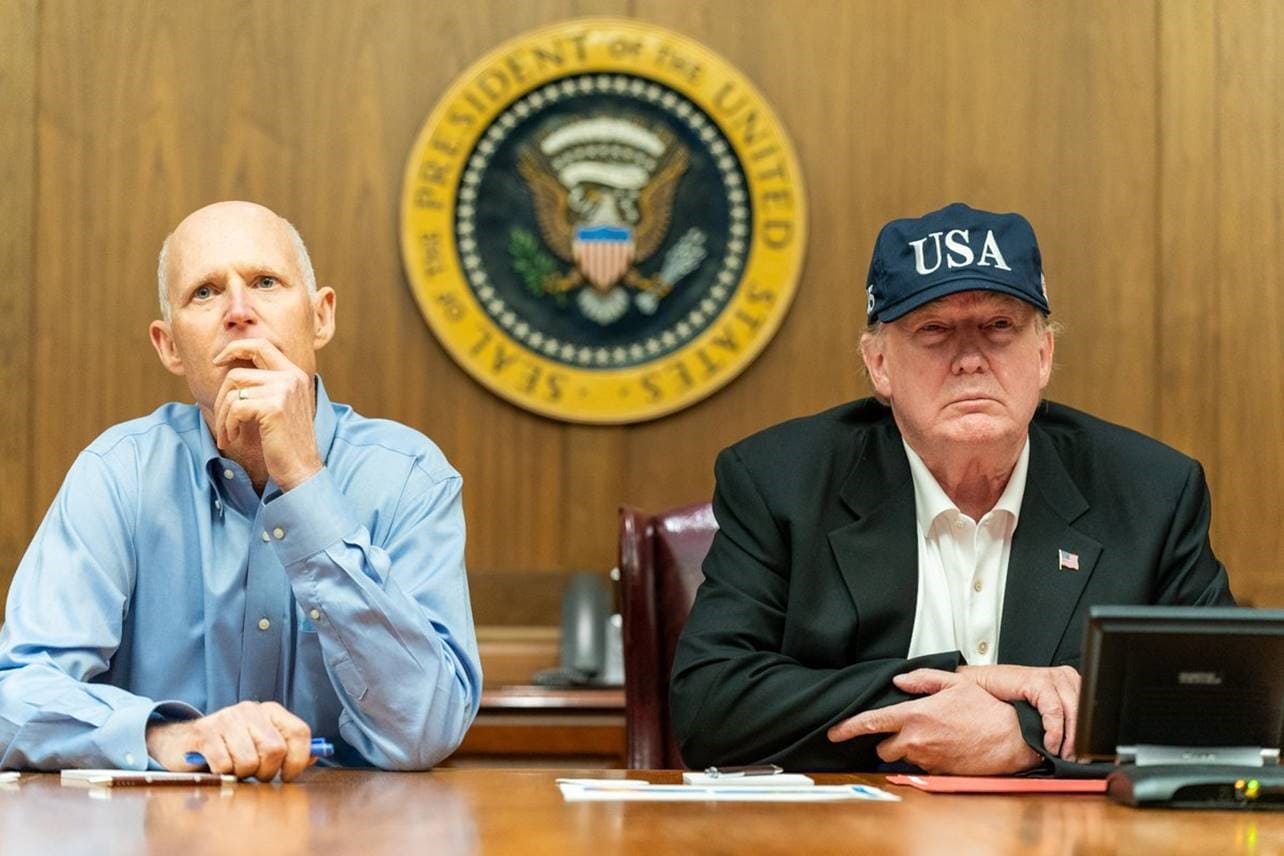 Former Governor compared withholding foreign aid to dispute over health care policy.
Sen. Rick Scott deems President Donald Trump's alleged quid-pro-quo with Ukraine's government as similar to President Barack Obama's tactics expanding Medicaid.
Florida's former Governor made the peculiar comparison when Fox News Radio asked about a newly launched impeachment inquiry on the President.
Declassified transcripts show Trump raised with Volodymyr Zelensky the need to pursue investigations of Democratic presidential candidate Joe Biden and his son Hunter.
But when asked if Scott had any problem with that action, the Republican and Trump ally changed topics to the last Democratic president.
"Let me give you a story," Scott said. "I sat in there trying to get health care for my state. I'm the Governor of Florida. The Obama administration said in writing, said if you don't expand Medicaid, we're going to withhold a billion dollars of money to help your poorest families.
"And they did it and they said it in writing. Did anybody care? And they said it, and they have it in writing they said it. I mean it was clear. They put it in a letter to me. Nobody complained."
Scott spokesman Chris Hartline later made clear on Twitter that Scott referenced Low Income Pool funding.
Of course, there were plenty who complained about the decision at the time for the Obama administration to withhold LIP funding from Florida not participating in a Medicaid expansion. The state's right to opt out of the marketplace was a key win for Scott in the Supreme Court's ruling on application of the Affordable Care Act.
Jonathan Ingram and Josh Archambault of the Foundation for Government Accountability characterized the move as "Sopranos-style blackmail" in a contribution to Forbes.
And Scott's administration did not ignore the slight either, and, in fact, sued the Obama administration over the issue. That led the state and federal administrations to an agreement in principle on Medicaid.
But it's an odd comparison anyway, as Florida is a state in the union, not a foreign government, much less a nation under perpetual threat of invasion by a global superpower many have criticized the President for coddling.
Regardless of that part of the new Scott statement, the Senator dismisses the Ukraine conversation's significance comparing it instead to a policy disagreement. But there was never public controversy over foreign aid to Ukraine before Trump froze $391 million designated to assist the nation.
The Washington Post reports Trump personally asked acting Chief of Staff Mick Mulvaney to freeze expenditures in mid-July, at least a week before a now-infamous conversation between Trump and Zelensky.
But perhaps the most important problem with the comparison between LIP funding and foreign aid is that Trump did not suggest any policy disagreement between his administration and the new leader in Ukraine. In fact, the transcripts released by the White House show Trump praising the new leader's approach to governance, and Zelensky promising to imitate Trump.
(The released account is not a word-for-word transcription but one compiled to the best recollection of Trump officials on the call.)
Rather than asking for any deference on a matter of policy, Trump raised the subject of an investigation into the Bidens as a "favor."
Obama and Scott disagreed about health care policy.
Obama wanted Scott to accept more than a billion in federal funding for health care as Scott was refusing to participate in a program intended to expand health care access.
Trump and Zelensky apparently disagreed over nothing, at least by the White House account. The President just inferred it would be a good idea for the foreign nation to investigate a company tied to a partisan political opponent.