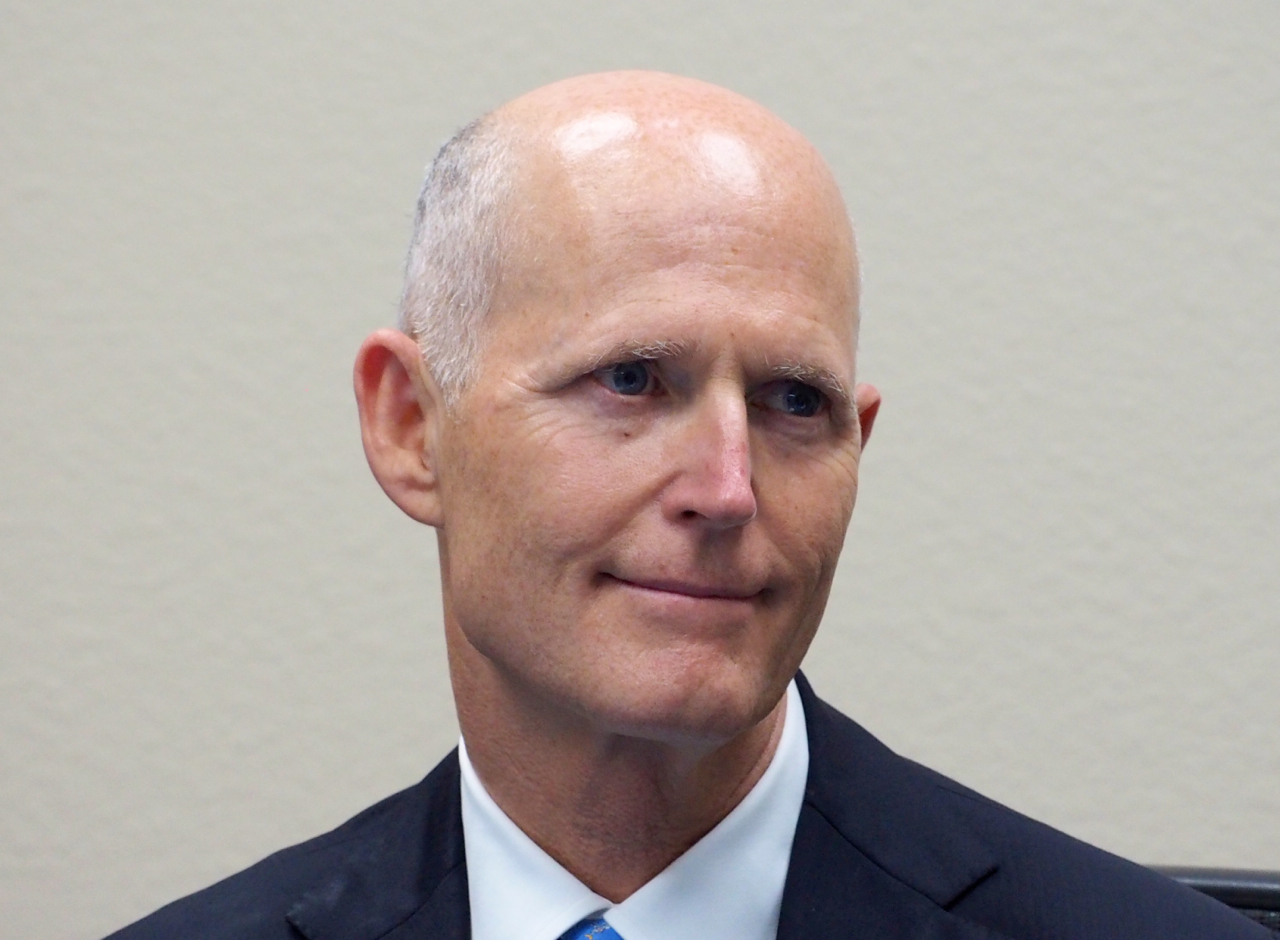 Liberals want to destroy our President, Scott says
While also saying that people were rushing to judgment, Florida's Republican junior U.S. Sen. Rick Scott has opened his fundraising off the Democrats' impeachment inquiry of President Donald Trump, charging that liberals are trying to "destroy our President."
Scott posted an item on Facebook Wednesday afternoon calling on supporters to contribute to his political campaign to help him fight back against liberals and help save Trump.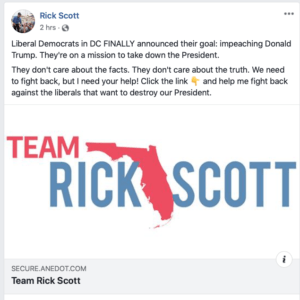 "Liberal Democrats in DC FINALLY announced their goal: impeaching Donald Trump. They're on a mission to take down the president," his Facebook post declares. "They don't care about the facts. They don't care about the truth. We need to fight back, but I need your help! Click on the link and help me fight back against the liberals that want to destroy our  President."
The link leads to a campaign fundraising page that essentially repeats the general message about liberals and Trump, and adds one of his themes, that Washington, D.C., is bad. "As your Senator, I feel it's my duty to let you know just how dangerous this move is, and how much it proves that Washington is a ridiculous place," it states.
Scott is not the only one rushing to cash in on the partisan split on the impeachment issue since House Speaker Nancy Pelosi announced Tuesday afternoon the Democratic-controlled U.S. House of Representatives would conduct a formal inquiry.
Trump's own campaign started fundraising off Republicans' outrage immediately. Reportedly, other Republicans and Democrats also are selling the impeachment proceedings to their bases.
Scott's campaign was not immediately available Wednesday afternoon to comment on the new pitch.
Scott won't be up for reelection until 2024.
His initial reaction Tuesday had been one of caution, arguing both parties' faithfuls were jumping to conclusions. Scott also told FOX News, "First off, we ought to get the facts. And we ought to do it in a methodical manner."
That didn't last long. The Senator, who might be called upon to judge Trump if the House delivers articles of impeachment to the Senate, has talked Wednesday about the Democrats' impeachment inquiry on FOX News and in tweets as a vendetta and a waste of time obsession. He also compared the allegation that Trump tried to muscle Ukraine into investigating his political rival, Joe Biden, with the time that President Barack Obama's administration tried to withhold health care funds from Florida for not approving expansion of Medicaid.