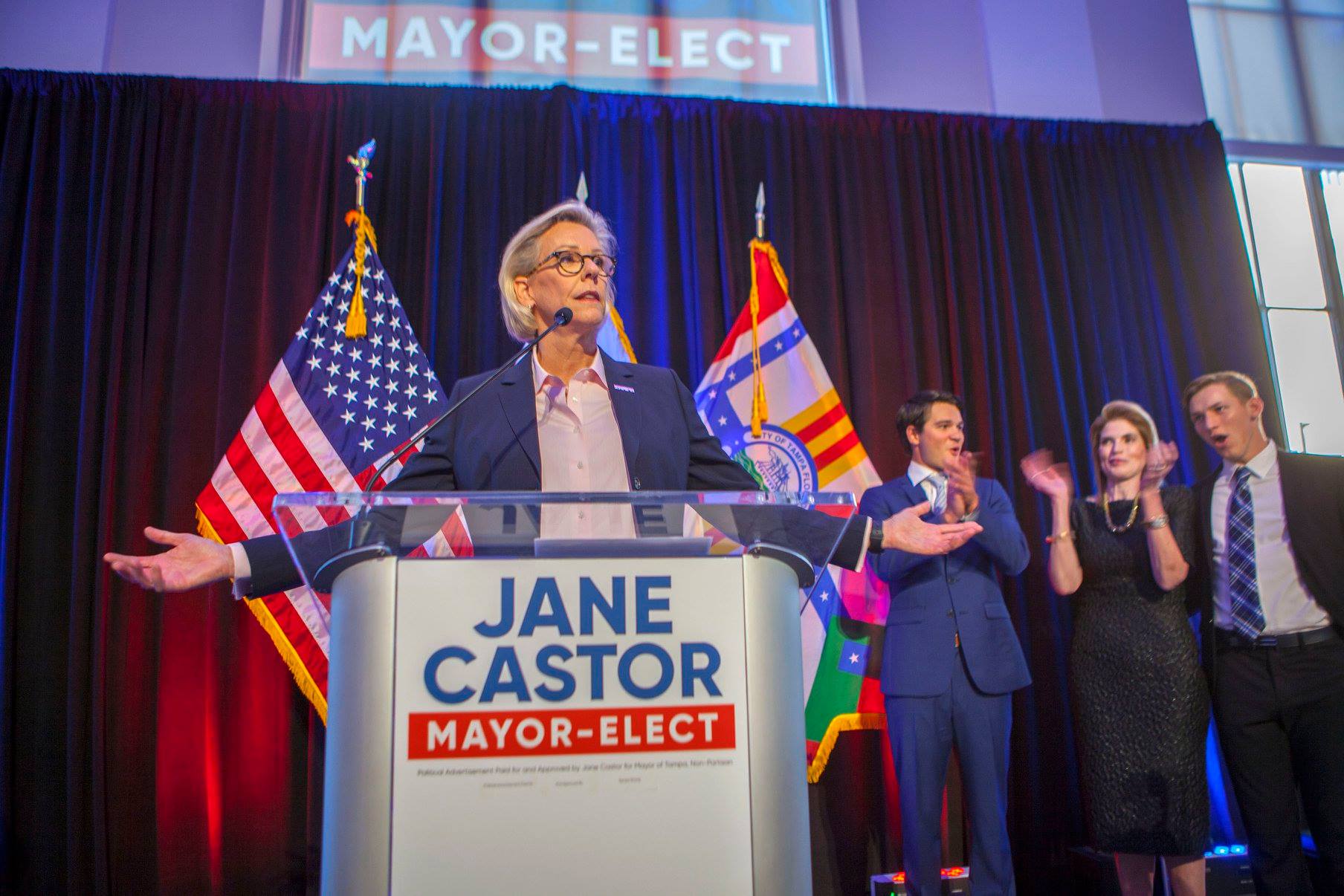 Federal grants, increased minimum wage and LGBT protections are among the list.
Friday marks Tampa Mayor Jane Castor's 150th day in office, and she has a growing list of accomplishments to add to her list.
Most recently, Castor announced the federal government had awarded the city a $600,000 grant that will let the Tampa Police Department buy 600 body cameras to outfit almost all uniformed officers at or below corporal level.
Castor said that was an issue she campaigned on because she always feels "transparency is the best policy."
One of Castor's biggest achievements is working with the City Council to approve the city's largest ever infrastructure plan, the P.I.P.E.S Project.
The plan will slowly raise the average monthly water bill for residents from about $41 to about $80 in 2028. The city of Tampa currently has the lowest water rates in the region. Under the fee increases, the city won't exceed the peer city average for other municipalities in the region until 2021, and that's assuming other governments don't also raise fees.
The approved plan will fund improvements across the city's water and wastewater infrastructure over the next 20 years and begin work on reducing pipe cave-ins throughout the city that have become a huge and expensive issue. Over the last two years, some 3,500 pipes have collapsed resulting, in part, in about $20 million a year in repairs.
"P.I.P.E.S. will end the growing number of water main breaks that we see impacting neighborhoods across Tampa on a daily basis. It will ensure that our water system is able to serve our residents for generations to come," Castor said.
"Voting to raise fees is always a tough decision for any elected official, so I commend Council Chair Luis Viera, Councilman Guido Maniscalco, Councilman Joe Citro, Councilman Orlando Gudes, and Councilman Bill Carlson for moving forward with what will fully-fund the water infrastructure needs of neighborhoods across the entire city."
Earlier this summer, Castor also announced an initiative raising the city's minimum wage to $15 an hour for municipal workers.
"I've always been a firm believer in paying people a living wage," Castor said. "It's just the right thing to do. Sustainability is about more than the environment. It's about the economy and the quality of life of those who live and work in Tampa."
Castor and her administration also launched a Bridges to Business vendor certification program that allows local business owners to meet with city officials within their own communities to learn how the city's vendor process works and get information on how to apply for city contracts.
"We brought city hall out into the community and we will continue to look for ways we can make all city programs, assistance, and events more convenient for all to use and enjoy," Castor said.
Castor became the city's first openly gay mayor when she was sworn into office 150 days ago, a historic moment that earned Castor and Tampa national exposure among major media networks including CNN, NPR and MSNBC, among others.
In a move supporting the LGBT community, Castor signed an executive order adding LGBT-owned businesses to the city's women and minority-owned business enterprise program that promotes inclusivity and equal opportunity for women and minority-owned businesses in the city. The executive order doesn't provide specific favors to businesses but allows the city to track participation among LGBT-owned businesses in its procurement process to ensure inclusivity.
The executive order also requires the city to partner with the National LGBT Chamber of Commerce (NGLCC) to certify LGBT-owned businesses and provide additional support to those businesses.
Under the order, the NGLCC will provide independent scholarship programs, mentorship and leadership training, networking opportunities, or other business development tools to further support LGBT business enterprises in Tampa.
"And it is my hope that someday we will reach a point where everyone is judged by the content of their character rather than the color of their skin; that no one loses their life because of the God they worship; that who you love does not matter as much as that you love and are loved; and that we all focus on working together to solve problems that really matter," Castor said.
Among some of Castor's first moves in office were efforts to establish robust advisory committees including for transportation, sustainability and resiliency, development services, workforce development and affordable housing.
"These advisory teams are hard at work and are comprised of a wide variety of community members, subject matter experts, citizens, and end users who all have expertise in their respective fields but also many who live and work in Tampa and have ideas to share about their what they want for their city.," Castor said.