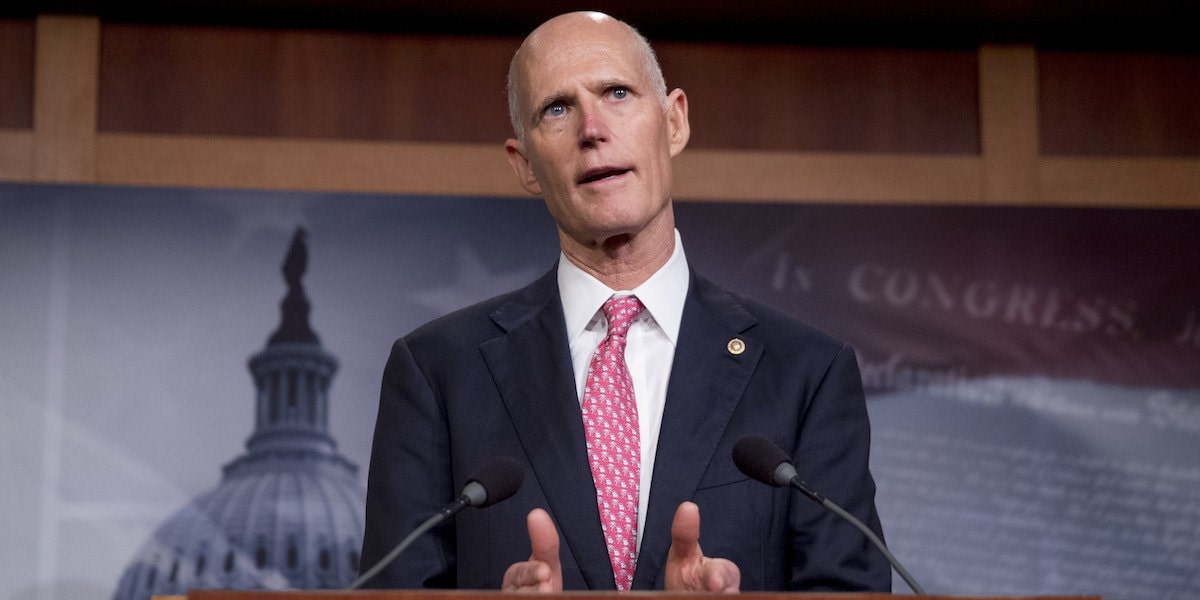 The Naples Republican continues to hammer China.
On Monday in San Francisco, Sen. Rick Scott discussed a recent fact-finding trip to Hong Kong, one that reinforced his foreign policy position.
Scott's position: The protesters in Hong Kong are fighting for freedom, against the oppressive yoke of communist China, and America should "stand up" for Hong Kong.
"The determination of the pro-democracy leaders in the country is remarkable. The people of Hong Kong know what they want & deserve – freedom, human rights & liberty from China," Scott said in a tweet setting up the livestream of his comments.
Remarks to the media — a different crew than that found in Tallahassee or stateside — struck a familiar tone, urging America to take a strong position in favor of the protesters who have battled with government forces off and on for months.
"Every American has to stand up for Hong Kong," Scott said Monday to media out West. His comments were largely directed at China's leader, Xi Jingping.
"Xi is not living up to his side of the bargain," Scott said, rattling off a litany of offenses.
"They killed our jobs. They're trying to kill us with fentanyl," Scott said, adding that Xi was "trying to change the world," before spotlighting how Chinese forces are firing rubber disks and tear gas at "peaceful protesters."
Scott then went on to describe state-ordered disappearances from Hong Kong and threats against protesters' family members, as well as "police brutality" and "sexual abuse by the police."
"This is just the example of what a communist leader does," Scott said, calling Xi a "human rights violator."
"Americans, you need to understand that when you buy Chinese products, you are supporting a human rights violator," he added.
The Senator also noted that he was pressuring President Donald Trump to take the Chinese threat more seriously.
"This is about our existence. Are we going to have a country that has freedom? Communist China doesn't think that way," Scott said.
The Senator has been aggressive in trying to spotlight Chinese actions, clearly frustrated that American policy doesn't reflect his deep concern.
For example, Scott thinks China is a no-go zone and wonders why the State Department doesn't share his alarm.
The Senator gave a speech last week to the Concordia Institute where he spotlighted perils from China.
"I won't stop fighting until America's economic and political future is secure from the threat of Chinese influence," Scott vowed.
The Senator has not gone too many days since going to Washington without calling attention to a Chinese infringement on traditional American prerogatives, as part of a larger foreign policy vision that calls for aggressive stances against U.S. adversaries.