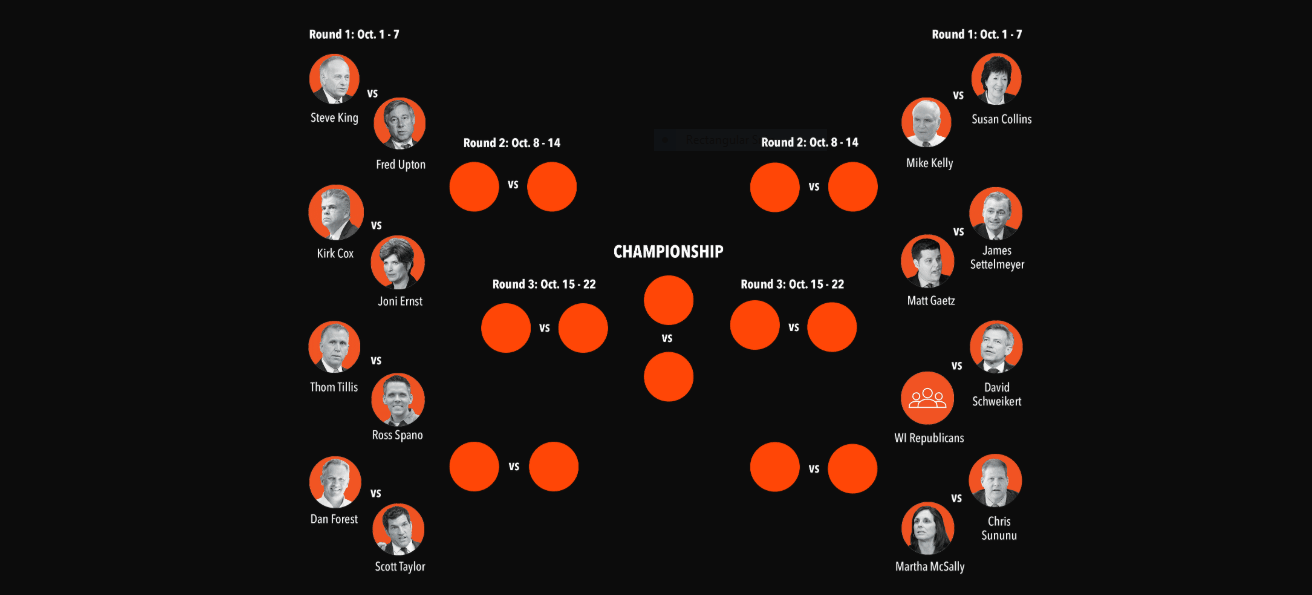 The contest runs through October.
October is upon us, and so are Halloween tie-ins relative to every commodity.
Political activism is no exception.
NextGen America, a political arm of hedge funder/Democratic Presidential candidate Tom Steyer, launched on Tuesday a "scariest Representative" bracket.
The contest runs through October.
This "online voter education campaign" is intended "to highlight some of the worst climate change denying, anti-choice, and overall shady characters currently occupying or running for office in NextGen's 11 targeted states."
Two Florida Representatives made the list: U.S. Reps. Matt Gaetz and Ross Spano.
The threshold, says a NextGen spox, was high.
"The scariest thing young voters will see this Halloween season are the records of the Republican representatives who are up for re-election next year," said Ben Wessel, Executive Director of NextGen America.
"We've selected the worst of the worst climate change deniers, NRA lapdogs, and anti-choice electeds for our Scary Sixteen. Once we have a winner, " Wessel vowed, "we look forward to making every day of 2020 as scary as Halloween for them in their home district."
The "winner" will be targeted with ads from the Steyer-led group.
If Gaetz indeed prevails here, it will take one incredible ad buy to unseat him. He won his 2018 election with over 67 percent of the vote, a number likely ensured by his deep-red Panhandle district.
And Gaetz, per the bracket, does have a path to victory.
His first round opponent is Rep. James Settlemeyer, a Nevada state Senator who lacks the national platform Gaetz boasts.
The second round will prove tougher. Gaetz could face Maine Sen. Susan Collins, the U.S. Senator from Maine.
Should Gaetz advance to the Final Four, potential semifinal opponents include Sen. Martha McSally of Arizona, New Hampshire Gov. Chris Sununu, or "Wisconsin Republicans."
Spano is on the other side of the bracket, and could theoretically face Gaetz in the finals. However, he faces a formidable first round test in U.S. Sen. Thom Tillis of North Carolina.
With polarizing figures like U.S. Sen. Joni Ernst and U.S. Rep. Steve King on his side of the bracket, it is hard to see a path for the lesser known Florida Congressman.
Spano is dogged by an ongoing Congressional ethics investigation: friends gave him $180,000 to run his Congressional campaign.
Spano is serving his first term in office and is seeking reelection.
Two Democrats are vying to replace him, Florida Rep. Adam Hattersley and former Sarasota newsman Alan Cohn. Both are messaging about the verboten contributions.
The Democratic Congressional Campaign Committee has also targeted Spano, attempting to exploit the same narrative.
If the bracket shakes out right, the Steyer organization may offer them some help.
Material from Florida Politics' Tampa correspondent Janelle Taylor was used in this post.