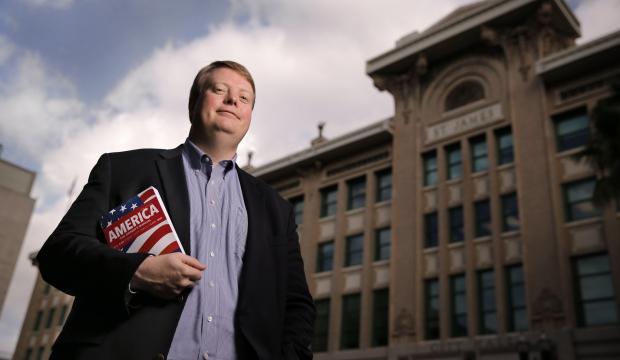 The definitive history of Jacksonville government gets an update.
Author Chris Hand, former Chief of Staff for Jacksonville Mayor Alvin Brown, had a front row seat for four years of Jacksonville Consolidated Government.
The integrated city/county model, framed as revolutionary at the time, still flashes strengths. But weaknesses have emerged also, as Hand notes in the latest edition of A Quiet Revolution.
Hand wrote the once-every-decade update, in which he looks at moves made by his former boss, as well as Mayors John Peyton and Lenny Curry.
Peyton, who raised taxes and fees as a recession hit and as 2008's Amendment 1 wrecked millage collections, was singled out for political courage.
"Mayor Peyton's advocacy for implementing fees & increasing millage in the midst of a major recession was the ultimate test of the strong mayor system at the core of consolidated government. He persuaded a reluctant City Council by using the tools provided by the strong mayor model — setting a vision and relentlessly advocating for that vision through a strong mayor's unique 'bully pulpit' to use President Theodore Roosevelt's term," Hand told us last week.
That "bully pulpit," as Hand calls it, exists to this day. Mayor Lenny Curry, who Hand compares to Steve Spurrier running the Florida "fun and gun" offense, has agitated for sweeping structural changes in his five years.
However, a bully pulpit isn't the solution to all issues, as Hand writes. He advocates collaboration, and notes that many of his interview subjects saw it similarly.
"Several leaders I interviewed for this 50th Anniversary update noted that at times Jacksonville has seen a lack of coordinated strategic planning and continuity throughout the consolidated government," Hand noted. "Former Visit Jacksonville CEO Paul Astleford made some waves in September 2013 when he suggested the city tended to operate in silos. But he wasn't the only person who saw a need for more synergy.
"The 2013-2014 Task Force on Consolidated Government, led by former Council President and current Downtown Investment Authority CEO Lori Boyer, offered recommendations to create a formal strategic planning process and enhance continuity among mayoral administrations and City Councils," Hand notes.
Indeed, Hand had a front row seat for continuity. With Brown losing narrowly in 2015, Hand was charged with helping to facilitate the transition to the Curry era. To that end, he worked with Brian Hughes during a transition this writer described as surprisingly "seamless" at the time.
Even in the Curry years, Hand noted that former "Council President Aaron Bowman made strategic planning one of his top priorities."
However, the collaboration that has happened is but a fraction of what could have, Hand notes, leaning on a tenured expert for his observation.
"Community leader and former City official Alton Yates wondered how much more Jacksonville could have accomplished over the last 50 years through more continuity between administrations," Hand noted.
"Strategic planning and continuity will be crucial if Jacksonville is to fulfill the more than 50 year-old promises of consolidation. As I write in the book," Hand added, "success will likely involve a multi-step process."
"The mission will need champions both inside and outside City Hall. Advocates will need to develop a clear mission and build a holistic business case. City government stakeholders will need to assemble a comprehensive master plan and determine a dedicated funding source to keep the work on track no matter who is serving in office. I was asked about this part of the book update when I spoke to the Charter Revision Commission on September 20, so it appears at least some commissioners are considering these issues," Hand noted, perhaps hopefully.
One key to the consolidated model has been the so-called independent authorities. In theory free of politics, the appointment process to boards often negates that lofty ideal in practice.
"The issue I explored in the 50th Anniversary update was the community debate over whether independent authorities are too independent or not independent enough," Hand remarks.
"Since consolidation," Hand added, "the City of Jacksonville has seen periods where the authorities operated quite independently and other periods where they have been more in sync with mayoral administrations and City Councils."
Indeed, Hand's book provides a recent delineation, as Mayor Curry quickly and somewhat controversially realigned key boards, especially JEA, in line with his administration's vision for the utility. With the debate as to whether or not to "recapitalize," or "privatize," or "sell" JEA having burned locally for nearly two years, it was clear that vision thing mattered.
The previous board would have been a harder sell than the current panel.
That said, Hand avoids controversy by nature, and again returned the issue to the structural.
"Former Council President Bill Bishop raised a key question in this discussion: Given that authorities are part of our consolidated government, what is the proper balance between operational independence and alignment on strategic priorities? Since three authorities are currently governed by the City of Jacksonville Charter, and three others could possibly become charter authorities through changes in state law, I will be interested to see if the Charter Revision Commission attempts to answer that question and makes any recommendations to the City Council or the Duval County Legislative Delegation," Hand noted.
The latest edition of A Quiet Revolution is on Amazon, as well as local bricks and mortar bookstores, such as Chamblin's Bookmine.
For those looking for a sober history of Jacksonville in times when it is fair to wonder if the governing class has had one beer too many, Hand's additions to the latest edition update the historical record nicely, without spin or political intent.