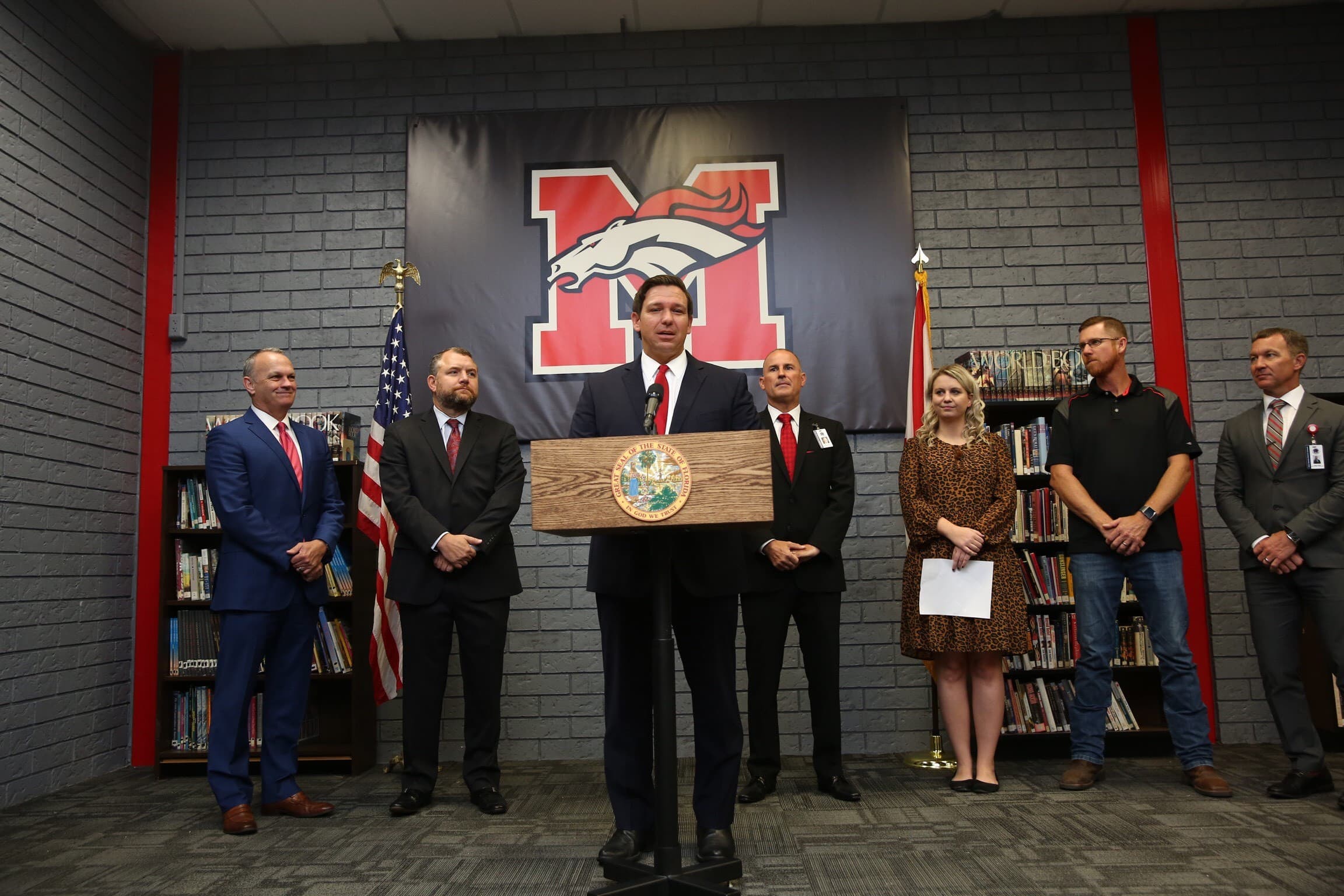 Only New Jersey's starting teacher pay would be higher.
Florida could go from the middle of the pack to near the top in one key metric, if a legislative proposal from the Governor clears the Florida Legislature.
In Middleburg on Monday morning, Gov. Ron DeSantis, Education Commissioner Richard Corcoran, and Senate Appropriations Chair Sen. Rob Bradley stood together to promote big changes to teacher compensation.
Last week, Bradley filed a bill to end the "Best and the Brightest" teacher bonus program.
SB 440 would revoke Florida law defining the program, which has been controversial with many teachers, who note that it's easier to hit the bonuses in A or B schools.
Instead of that bonus program, though, a new incentive was proposed: Higher starting pay for new teachers.
The ask from the Governor in his new budget proposal is a $47,500 "minimum" starting wage, which would move Florida from 27th to second among the 50 states, behind only New Jersey.
Florida ranked 27th in the nation for average teacher starting pay during the 2017-2018 school year at $37,636, according to the National Education Association. The national average starting salary was $39,249.
The state's overall average teacher pay in 2017-2018 topped $48,000, but educators have long called for higher salaries as Florida has ranked near the bottom nationally. The state's schools receive much of their funding through a complicated formula, and county school boards ultimately negotiate contracts with teachers.
The package would cost $603 million, and while the proposal clearly has a path in the Senate, it's going to be tougher in the House.
"I am in receipt of the Governor's statement regarding teacher compensation as I am of the over $2B of new spending requests from his agencies," asserted Speaker José Oliva.
"The legislative process will properly vet these among all other state concerns. My initial thought is one of gratitude for those who came before us and saw it fit to bind us and all future legislatures to a balanced budget," Oliva added.
While the Speaker hints that this proposal is too free-spending, the statewide teachers' union thinks it's just a beginning.
In a statement, Fedrick Ingram – president of the Florida Education Association (FEA) – called  the announcement "a starting point."
"We thank the Governor for opening a dialogue on salaries and for acknowledging that our teachers are woefully underpaid," Ingram said. "Raising minimum starting pay is a beginning. We still hope to hear about what Gov. DeSantis plans to do to retain experienced teachers who have devoted years to their students, and about how his administration will provide fair, competitive pay for all the people essential to our schools — bus drivers, paraprofessionals, food-service workers, office staff, custodial personnel and others."
The goal, said DeSantis, is "recruiting and retaining" good teachers.
DeSantis noted that 100,000 teachers statewide would get pay bumps, with this proposal that would "take Florida from the bottom half of states" to "the top two in terms of teacher compensation."
The teachers union, which is calling for $2.4 billion for public education in the next state budget, questioned where DeSantis intends to find the money for pay raises. That question has yet to be addressed.
Bradley noted the importance of good teachers for students who might otherwise be at a "crossroads" of life.
"We're at a crossroads," Bradley said. "If we fail to retain good teachers, we will not be able to continue the success we've had going forward."
Corcoran cited this proposal as another example of the "Education Governor" pursuing "world-class" results.
"This is a transformative day," Corcoran said.
On the campaign trail, DeSantis' opponent Andrew Gillum proposed a $50,000 starting wage, a proposal that seemed radical at the time.
However, the DeSantis proposal comes much closer than anyone would have predicted last November.
"As Sen. Bradley pointed out during the Governor's Monday morning news conference, Florida needs to not only recruit qualified teachers but to retain those teachers once they are in our classrooms," Ingram added. "Looking at the big picture, our students need more than great teachers, and both students and teachers need support.
"The FEA is waiting to hear how the Governor plans to lift this state out of the basement in national rankings on education funding and to ensure that all of our students have the opportunity for a world-class education."
___
The News Service of Florida contributed to this post.