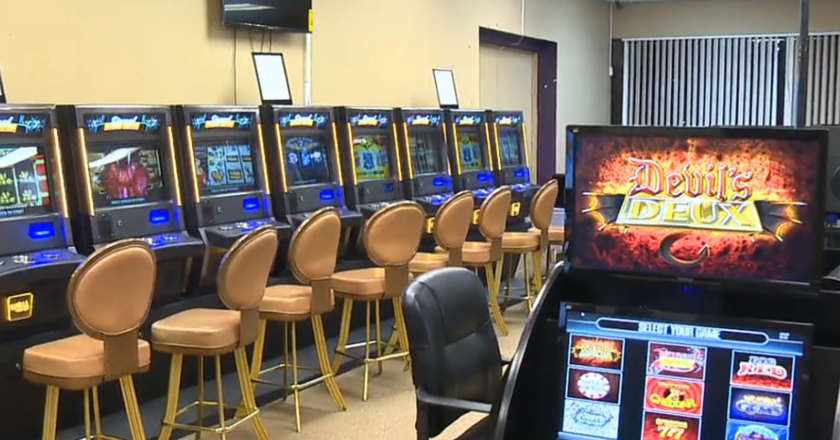 Arcades blamed for murder, overdoses.
On Tuesday evening, the Jacksonville City Council narrowly approved a bill to immediately shut down the city's controversial adult arcades.
The initial vote was 10-9 against the bill. Councilwoman Ju'Coby Pittman voted no in error, leading to a 10-9 vote in favor of the legislation.
Audience members called it "bullsh*t," with one asserting that "bestbet paid the Council off."
The arcades were already set to be shut down in February, but this bill will expedite the timeframe, contingent now on Mayor Lenny Curry's signature.
That signature is a fait accompli. Curry messages heavily on public safety and the bill is championed by one of his closest allies on the dais, first-termer LeAnna Cumber.
"This bill is a public safety bill," Cumber said, noting that these arcades are "nuisances."
Curry's Chief Administrative Officer Brian Hughes echoed those concerns.
Cumber cited Sheriff Mike Williams noting a preponderance of police calls are going to "these establishments."
"One of these got 64 calls in four months," Cumber contended. "One every couple of days."
A representative of the Jacksonville Sheriff's Office confirmed that JSO could "expeditiously close the arcades in a timely manner."
Cumber attacked the proposition that these arcades were "the only place for seniors to go," noting that the city has senior centers.
"If you want them shut down," Cumber contended, "today's the day to do it."
Cumber had allies, including fellow Republicans Aaron Bowman, Sam Newby, Randy DeFoor, Al Ferraro, Terrance Freeman and Rory Diamond, who noted the correlation between arcades, murder and other crimes.
Ferraro described "girls laying in the ditch with needles in their arms," while others brought up a correlation between murders and these establishments.
So, too, did Currycrat Reggie Gaffney, who noted these arcades have a spillover effect on other businesses. And his fellow Democrat Ju'Coby Pittman, "sick and tired of liabilities" in her district.
Pittman vowed to bring "job training" and "economic development" to her district for the displaced arcade workers, though one may be skeptical given the last half-century of Consolidation.
"For those of you losing jobs," Pittman said, "I'm sorry."
In a signal that this would be a contested bill, it passed last week the only committee of reference by a narrow 4-3 margin.
Indeed, there was dissent in the larger Council as there was in the Neighborhoods committee.
Councilwoman Brenda Priestly-Jackson, in whose district the latest arcade killing happened, questioned the "dangerous precedent" of the bill, accusing Cumber of "combing through" the past Council's agendas to revive issues previously settled.
Councilman Ron Salem, a product of the Curry machine like Cumber, went the other way on the bill, saying this bill would "close them three months ahead of time," which is "not an appropriate thing to do."
Councilwoman Joyce Morgan, who has advocated for closure, noted that this is a matter of "personal choice" being preempted.
"How can we say people can have a choice for schools but not where they spend their time," Morgan asked rhetorically.
Morgan argued for the original six-month window, as did her fellow Democrat, Tommy Hazouri, who didn't want to throw employees out of work.
"My district looks like Disneyworld or Vegas," said Councilman Garrett Dennis, offering an interesting description of the bleak dystopian landscape of Blanding Boulevard, a distressed retail corridor that houses many of these storefronts.
"February will come soon enough," added Republican Matt Carlucci.
"The Councilwoman is doing the best she can. Maybe she's experiencing something we are not," he added cryptically.
In the end, the majority of Council lined up with Cumber, and the Mayor's Office.