Can sanctions save Kurds?
Condemnation of President Donald Trump's order to effectively giving Turkish troops the green light to invade continues from both parties. As Turks moved further and faster than expected, military leaders moved quickly to evacuate U.S. troops and equipment.
Those criticizing the President's action insist the Kurds, who fought with the U.S. against ISIS, were abandoned. Among the many sympathizing with them was West Palm Beach Democrat Lois Frankel.
"I continue to stand with the Kurdish people & condemn @realDonaldTrump's actions to abandon our Kurdish friends in Syria," she tweeted.
In 2016, I met with Kurdish fighters in Iraq, known as the Peshmerga. These brave men & women were risking everything in the fight against ISIS.

I continue to stand with the Kurdish people & condemn @realDonaldTrump's actions to abandon our Kurdish friends in Syria. pic.twitter.com/SJZ56MKrJ5

— Rep. Lois Frankel (@RepLoisFrankel) October 11, 2019
St. Augustine Republican Michael Waltz said the possibility of having better relations with a NATO ally made Trump's decision not totally irrational, but the possibility of seeing thousands of captured terrorists freed is of grave concern.
"I think the downside of creating an environment where ISIS can resurge again, is where I have concern and where I disagree with the decision," Waltz told Florida Politics. "We are essentially opening the jail doors to these detention camps that are holding tens of thousands of ISIS fighters."
Several Republicans were said to be "furious" at the initial decision, as well as the troubling reports the Turks were committing atrocities that constitute "war crimes."
Those Republicans are reportedly working with Democrats to prepare legislation that would require Trump to impose harsh sanctions on the Turkish regime.
As he announced the withdrawal more than a week ago, Trump said he could "obliterate" the Turkish economy via sanctions if they invaded. The sanctions under consideration, according to Treasury Secretary Steve Mnuchin, would also include punishing restrictions on Turkish officials, including President Recep Erdoğan.
Mnuchin revealed Trump had given him authority to level sanctions if the Turks do not cease operations and return to within their own borders.
"These are very powerful sanctions. We hope we don't have to use them," Mnuchin told reporters. "But we can shut down the Turkish economy if we need to," the Treasury chief told reporters.
The Senate effort would require sanctions on any U.S. assets of high-ranking Turkish officials, including Erdoğan, until the Trump administration certifies to Congress that Turkey has withdrawn from Syria.
Also, the measure would place visa restrictions on Turkish leaders, sanction any foreign person supporting the Turkish military and ensure the previously congressionally-mandated sanctions for Turkey's purchase of a Russian missile defense system go into effect.
Sen. Marco Rubio tweeted:
Welcome news that Trump admin has put Erdogan on notice of potentially crippling sanctions over its assault on Syrian Kurds

Don't have to agree with initial decision to realize that at this point this could be the best way to mitigate its consequences. https://t.co/7MMiNcApoh

— Marco Rubio (@marcorubio) October 11, 2019
In the end, how many are paying attention? An issue where members of the President's own party are openly criticizing a crucial decision would generally have Democrats pummeling him by the hour and using their colleagues' statements in retweets.
Even with a looming or ongoing humanitarian disaster, impeachment still commands most of the attention.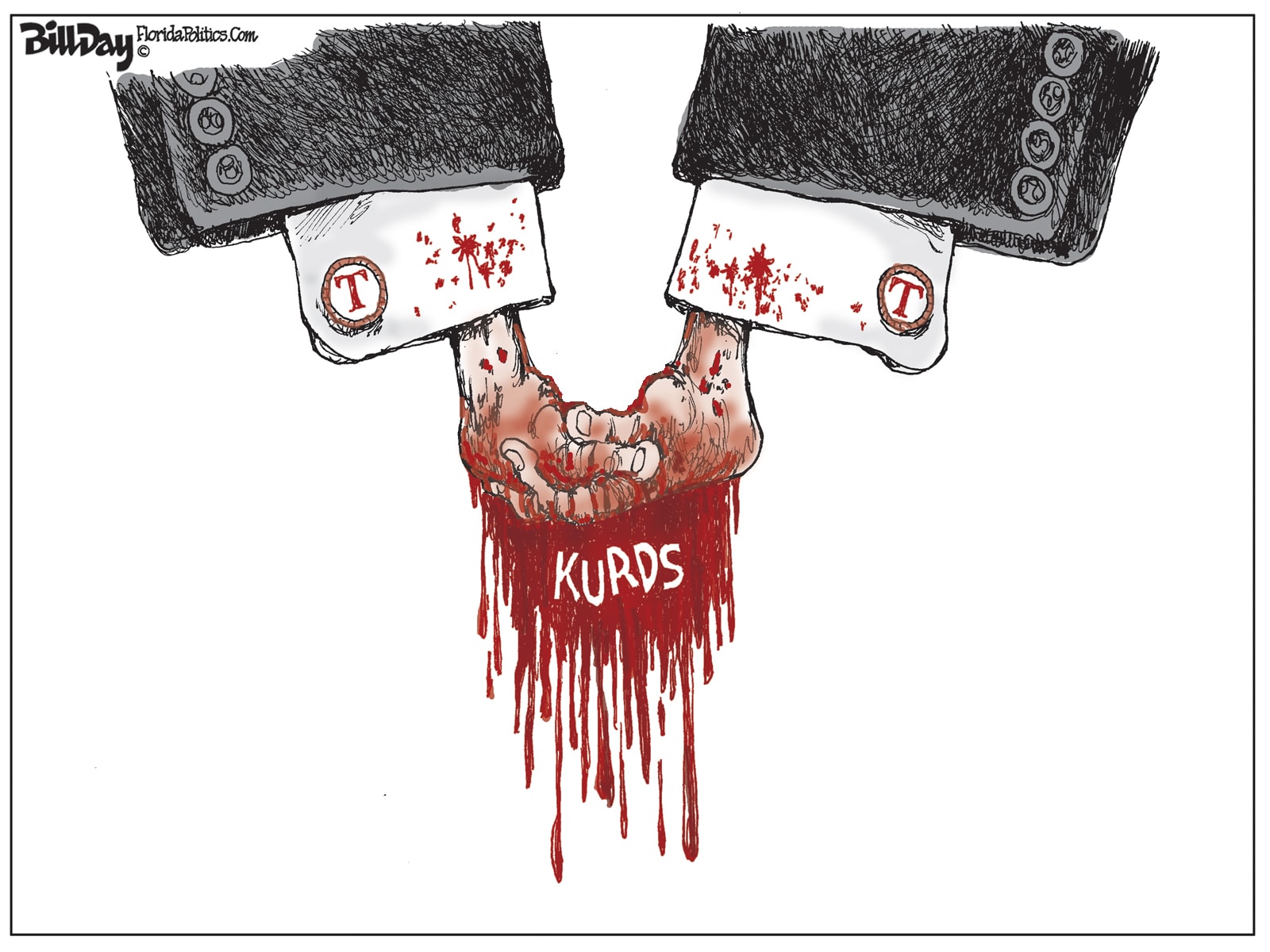 Scott taunts Governors
Some of the nation's state governments face large debts through spending that is sometimes exacerbated by unfunded liabilities in state pension funds. Six of those states' governors, mostly Democrats, received a letter from Sen. Rick Scott that also contained a lecture on how it should be done.
Scott wrote separate letters to Illinois Gov. J.B. Pritzker, Massachusetts Gov. Charlie Baker, Hawaii Gov. David Ige, Delaware Gov. John Carney, Connecticut Gov. Ned Lamont, and New Jersey Gov. Phil Murphy. Baker is the only Republican.
"I am concerned for the financial well-being of your state, and the burgeoning share the taxpayers of Illinois would have to contribute to pay down your debts," Scott wrote to Pritzker. "I am sure you agree that is alarming, and I urge you to take decisive action to ease the burden on your residents and lower your state's debt before it's too late."
Scott then offered Florida as a model for them to follow. Without mentioning current Democratic Rep. Charlie Crist by name, Scott described the state's turnaround during his eight years after four years under Crist as governor.
"When I was elected Governor of Florida in 2010, our state faced enormous challenges: rising rates of unemployment, growing state debt, thousands of burdensome regulations stifling our small businesses, and taxes increased by more than $2 billion in the previous four years before I took office," he continued.
Florida, like most states, suffered for years following the financial meltdown of 2008.
He concluded each letter with a choice and a taunt.
"Of course, you are free to continue accumulating state debt, imposing burdensome regulations on your businesses, and taxing (fill in the state) families to pay for your out-of-control spending, and Florida will stand ready to welcome new residents fleeing your state for the brighter economic future of the Sunshine State," he concluded.
Rubio seeks executive order
Though it has recently faded into the background, the struggles in Venezuela persist with some of those problems coming to the U.S. Citgo, the oil company now controlled by the Venezuelan opposition led by Juan Guaidó, owes a $900 million bond payment later this month, which it is likely unable to pay.
That would seemingly allow creditors to foreclose on three of the company's refineries located along the Gulf Coast and the Midwest. Rubio joined with other lawmakers from the region in a letter to Trump, asking him to issue an executive order preventing the seizure of these refineries that employ hundreds of workers.
The issue is sensitive as the letter, dated Oct. 10, was not publicly released by Rubio, who is not shy about sharing policy correspondence with the President. Reuters was among those in the media to whom it was leaked.
"Legitimate claimants against the Nicolás Maduro regime should be made whole, but the burden of the claims should be entirely carried by the Maduro regime or by a democratically elected successor in Venezuela," wrote the seven lawmakers.
Rubio is reportedly the only signee from a state other than Texas or Louisiana. All are Republicans except for freshman Democratic Rep. Lizzie Fletcher of Texas.
Guaidó has also asked Trump for an executive order.
Gaetz: Stop impeachment, censure Schiff
The impeachment train moves along, albeit behind closed doors. Media leaks indicate this week is expected to produce newsworthy appearances and plenty of spin from both sides, but nothing in public.
The unique nature of this approach has brought constant criticism from Republicans. Rep. Matt Gaetz of Ft. Walton Beach is calling for the inquiry to end.
Standing in front of the office of Coral Gables Democrat Donna Shalala, Gaetz pledged he would "fight for Donald Trump" and do what they can to prevent impeachment. Shalala was not in her office at the time.
Gaetz wasn't finished. As former White House aide Fiona Hill gave a deposition before three House committees in the impeachment inquiry, Gaetz tried to sit in on the closed-door gathering.
On Congress' first day back in Washington, he was ejected because the Judiciary Committee, of which Gaetz is a member, was not one of the three committees involved. He described the proceedings as "Adam Schiff's clown show."
Republicans argue the inquiry is illegitimate because the House did not vote to launch it officially. The White House said last week they will not cooperate with the inquiry as it now stands.
Most GOP members also seek California Democrat Adam Schiff's removal as the inquiry's lead investigator. They cite his "parody" of Trump's call with Ukrainian President Volodymyr Zelensky and Schiff's lack of candor regarding any contact between the whistleblower and House Intelligence Committee.
If not removal, most House Republicans seek to censure Schiff. Rep. Andy Biggs of Arizona, chairman of the conservative House Freedom Caucus, circulated a resolution that had 110 signatures as the week began.
Among delegation Republicans, eight have joined the effort. Those included Gaetz, Waltz, Greg Steube, Bill Posey, Daniel Webster, Ross Spano, John Rutherford and Brian Mast.
Dunn praises revised contract
The U.S. Department of Homeland Security (DHS) made an important announcement regarding the Panhandle economy by granting "limited extraordinary contract relief" to Eastern Shipbuilding for $10.5 billion to build up to 25 offshore patrol cutters. This decision will allow for a reconfiguration of the contract to account for higher labor costs and shortages caused by Hurricane Michael.
"I applaud the Department of Homeland Security's decision to continue construction of the Offshore Patrol Cutter in Panama City," Panama City Republican Neal Dunn said in a statement. "Despite sustaining a direct hit from Category 5 Hurricane Michael just one year ago, the Florida Panhandle remains the best place to build these critical vessels and get them into the hands of our Coasties as quickly as possible."
The action by DHS allows Eastern Shipbuilding to construct the first four hulls. Competitive bidding for the others will take place, but any bidder must match planning and design to exactly mirror the four ships produced by Eastern Shipbuilding after the four ships are complete and the Coast Guard moves to re-compete the contract.
Without renegotiation, the project has already faced years of delay.
Helping brain-injured vets
Veterans who have suffered or are still suffering from traumatic brain injury (TBI), often face challenges when finding adequate care when they return home. Rutherford and California Democrat TJ Cox from California have sent a letter to the Department of Veterans Affairs Secretary Robert Wilkie seeking additional information on the VA's long-term care plans.
According to Rutherford, these veterans face increased hardships in assisted living facilities. This is because traditional facilities typically cater to an older demographic with different physical needs.
"After America's service members go abroad to fight for us, many return home with physical and psychological wounds of war," Rutherford said. "As our warfighters seek treatment and return to civilian life, all options for care must be available to them. This includes VA supported assisted living facilities for younger veterans suffering from traumatic brain injury."
Severe TBI often results in a plethora of short and long-term changes, including attention and memory difficulties, perception, expressing feelings, inappropriate behaviors and physical impairments. The VA conducted a pilot program to explore assisted living for TBI survivors, but it concluded in 2017 with veterans still have questions about the comprehensive plan for long-term care.
Bilirakis promotes international tourism
According to Department of Commerce projections, the United States will welcome 95.5 million international visitors and tourists annually by 2023, which is near twice the amount in 2000. Palm Harbor Republican Gus Bilirakis and Vermont Democrat Peter Welch have introduced legislation to boost those numbers even higher.
The Travel Promotion, Enhancement and Modernization Act of 2019 renews and fully funds the Brand USA program, which is a public-private partnership that promotes the United States as a travel destination for international tourists. The program is funded at no cost to taxpayers through a fee on international visitors.
"All Americans benefit from tourism, but Floridians are in a place where the industry is crucial to our economy, Bilirakis said. "Brand USA has already yielded significant benefits for Floridians, and I am proud to co-lead a bipartisan effort to continue the strong trajectory toward one of the most popular travel destinations for workers, families and globetrotters alike."
Brand USA has a strong track record of helping attract international visitors to the U.S. In 2018, its marketing program brought 1.13 million international visitors to the United States, generating an economic impact of $8.9 billion.
"Just last month the national unemployment rate fell to a new 50 year low of 3.5. "Bilirakis added. "With tourism being the backbone of Florida's economy, it is only common sense that we should promote job creation in this sector."
The bill has over 75 bipartisan co-sponsors, including Democrats Shalala, Crist, Stephanie Murphy of Winter Park, Darren Soto of Kissimmee, and Kathy Castor of Tampa. Republican co-sponsors include Dunn and Rutherford.
The legislation would reauthorize Brand USA through 2027 and create a stable, long term funding source by increasing the international visitor user fee used to fund the program partially.
Crist touts FEMA grants
As Florida recognized the anniversary of Hurricane Michael slamming into the Panhandle, several communities are still recovering from the devastation from Hurricane Irma in 2017. Crist announced more federal help is on the way for his district.
Crist announced more than $8.6 million in grants to Pinellas County and the City of St. Petersburg from the Department of Homeland Security's Federal Emergency Management Agency (FEMA). The funding will come in the form of three grants for emergency protective measures and debris removal following Hurricane Irma in 2017.
"Two years ago, Hurricane Irma made landfall in Southwest Florida, leaving a trail of destruction across the state," Crist said in a news release. "While Pinellas was spared the worst of it, our communities suffered from flooding, power outages and damaging winds — requiring an expensive cleanup and recovery effort.
"I am delighted to announce these grants to Pinellas and St. Petersburg that will help reimburse the millions spent on ensuring the well-being of our community and its residents before and after Irma."
Pinellas County will receive $3.1 million for emergency protective measures and $4 million for debris removal. The City of St. Petersburg was awarded $1.6 million for debris removal.
On the same day, FEMA also awarded grants to several other Florida communities, totaling more than $78 million to assist with debris removal. Among those affected is Seminole County ($14.4 million), Lee County ($17 million), City of Miami ($14 million), Hillsborough County ($4.9 million), City of Ft. Lauderdale ($19 million), and the Town of Davie ($8.6 million).
Good's haul outpaces Buchanan
One of the races in Florida where both major candidates have reported third-quarter fundraising is in Congressional District 16. Incumbent Republican Vern Buchanan reported $356,000 in the quarter, while his challenger, Democratic state Rep. Margaret Good, announced she had raised $450,000 since launching her campaign in July.
The Buchanan camp did not seem overly concerned, noting the Longboat Key Republican is averaging the quarterly figure reported by Good in her first quarter.
"Vern is fighting every day to end the Washington gridlock and produce real results for his community," said Max Goodman, Buchanan's campaign adviser. "We are humbled by the tremendous outpouring of support from Republicans, Independents and Democrats throughout the region."
Good's team believes Buchanan should be concerned, adding her fundraising is an indication that change is coming.
"Margaret Good just outraised Congressman Buchanan, and it's time to start the retirement clock on him after yet another underwhelming fundraising quarter," said Kevin Lata, Good's campaign manager.
Buchanan has raised $1.35 million for the 2020 campaign. Good may need several more quarters like the most recent to remain competitive. Buchanan's 2018 opponent, attorney David Shapiro, outraised him but lost by 10 points.
Mast raises $600K
As fundraising reports began to trickle in, Mast reported a good third quarter haul, bringing in slightly more than $600,000. That leaves him with approximately $900,000 in cash on hand heading into the fourth quarter.
Mast's Democratic opponent, former Florida Deputy Solicitor General Oz Vazquez, is yet to reveal his totals. He reported raising $100,000 in the first 48 hours following the announcement of his candidacy earlier this month. Reports must be filed by Oct. 15.
While Mast was bringing in big dollars, he also had to give some of it back. A $2,173 donation from businessman Igor Fruman (who used the name "Furman") was returned following the arrest and indictment of Fruman and Lev Parnas, both associations of Trump attorney Rudy Giuliani, on campaign finance charges.
A Mast spokesman said the Congressman "has never met or talked to Fruman and didn't solicit the money."
Libya stabilization bill introduced
In addition to Syria, another continuing hot spot is the North African country of Libya. Eight years after the overthrow and execution of Libyan leader Muammar Gaddafi, turmoil still reigns.
Boca Raton Democrat Ted Deutch, Chairman of the subcommittee overseeing affairs in the Middle East and North Africa, has joined with colleagues from both parties to address problems in the region. The Libya Stabilization Act is designed to facilitate a peaceful diplomatic resolution to the Libyan conflict and to deter foreign interference in Libya.
"The United States cannot afford to ignore the Libyan conflict, which is undermining the stability of North Africa, exacerbating a humanitarian crisis, and impeding a return to UN-sponsored peace talks," Deutch said in a joint release. "Libya is increasingly exposed to severe threats by terrorist groups and other nonstate actors, and foreign interference is escalating the conflict.
Joining Deutch as co-sponsors of the bill was South Carolina Republican Joe Wilson, the ranking member of Deutch's subcommittee. Also signing on were Democrats Ted Lieu of California and Tom Malinowski of New Jersey.
"It is essential that the United States establish a clear and principled policy toward Libya to mitigate instability, stem the humanitarian crisis, and promote political reconciliation," Deutch added. "This legislation seeks to clarify U.S. policy toward Libya and empower the United States with sanctions authority to revitalize diplomacy, secure our national interests, stabilize Libya, and provide peace and opportunity for the Libyan people."
Wasserman Schultz praises ruling
Another federal judge has weighed in on Trump's methods for seeking funding for a border wall along the Southern border. After U.S. District Judge David Briones rejected the Trump administration funding scheme and explicitly declared it "unlawful," battle lines were formed.
Briones based his decision from the January budget deal that ended the government shutdown, which expressly prohibited border wall funding. In February, Trump declared a national emergency at the border giving him powers to address the situation by diverting funds from other areas, including military readiness and construction funds.
"This Administration has overstepped its constitutional authority by recklessly spending military funds on an ineffective border wall project, and today a federal judge agreed," said Weston Democrat Debbie Wasserman Schultz n a statement. "Our military readiness, national security, military families, and those communities living near this proposed boondoggle should not have to suffer because of Trump's hasty, careless attempt to pander to his nativist base."
Wasserman Schultz chairs a House appropriations subcommittee that oversees military construction. She is aware that finding a federal judge to agree is not the problem, but the highest court could prove to be an obstacle again.
The Trump administration will surely appeal and hope the U.S. Supreme Court will take a similar position to that in a recent case. After a federal judge in California blocked border wall construction, the court voted 5-4 to stay the decision and allowed construction to continue until the matter is fully litigated.
Accreditation transparency proposed
The process for accrediting postsecondary schools and colleges is not well understood. Some within the public, education advocates and elected officials would like to change that.
Miami Gardens Democrat Frederica Wilson recently introduced a bill that would establish performance benchmarks and require more transparency among accreditor's evaluations of schools. Wilson says the Quality Higher Education Act fills some glaring gaps.
"When students make tough decisions about what college to attend, they trust that if a school is accredited, it will be able to provide them with the skills and knowledge needed for their chosen career path," said Wilson. "It's crucial that all schools meet the same high-quality standards to retain accreditation, and that if they're not adequately serving all student populations, it's clear to them and prospective students what they must do to improve."
According to Wilson, about 13 million students receive roughly $130 billion in federal aid to help cover the cost of their education. However, only 58 percent of those students end up graduating within six years.
"Given the skyrocketing cost of higher education and unprecedented levels of student debt, the stakes have never been higher," she added.
On this day
Oct. 15, 2001 — Osama bin Laden should be in U.S. hands within the next 30 days, dead or alive, said Democratic Sen. Bob Graham. Without giving details, Graham, chairman of the Senate Intelligence Committee, hinted the terrorist's general location was known.
"I am optimistic that we will be able to accomplish that objective in the next 30 days," Graham told reporters. At the same time, the U.S. military is reportedly set to ease assaults against the Taliban in Afghanistan over the next few days during Ramadan to avoid alienating Muslim nations that have joined the American-led coalition.
Oct. 15, 2018 — Trump came to the Florida Panhandle to assess the devastation brought upon the area by Hurricane Michael. Joining the President in Lynn Haven near Panama City was First Lady Melania Trump, Gov. Scott, FEMA Director Brock Long and Homeland Security Secretary Kirstjen Nielsen.
Both the President and First Lady joined with Scott to hand out bottled water to residents in a day free from politics. On the day Michael hit, Trump was criticized by Democrats for declining to cancel a rally in Pennsylvania, saying he could not disappoint those who had been lining up for hours to see him.