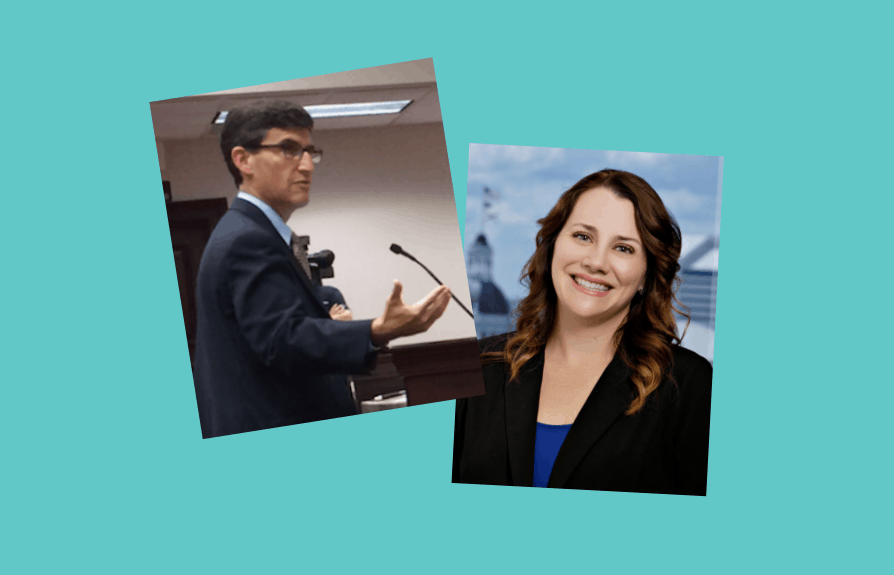 Gov. Ron DeSantis continues to put his conservative mark on the judiciary.
Republican Gov. Ron DeSantis' office on Wednesday announced he had appointed conservative Tallahassee lawyers Rachel Nordby and Adam Tanenbaum to openings on the 1st District Court of Appeal (DCA), headquartered in the capital.
Nordby is a partner in the Shutts & Bowen law firm and a former senior deputy solicitor general under Attorney General Pam Bondi. She is married to Daniel Nordby, another Shutts partner who was general counsel to Gov. Rick Scott.
Tanenbaum, now the general counsel for the Florida House, also has been general counsel for the Department of State, the state's Chief Deputy Solicitor General, and was an assistant federal public defender.
DeSantis did not comment on the appointments in his office's news release. Nordby and Tanenbaum were picked from nine finalists out of 26 applications.
The 1st DCA is considered a high-profile assignment because, being based in the capital, the court hears appeals from civil cases challenging actions taken by the Governor and state government. In all, the 1st District hears appeals from six judicial circuits in north Florida, encompassing 32 counties.
With the latest picks, DeSantis continues to put his mark on the judiciary. He added three new conservative justices to the state's seven-member Supreme Court in January, replacing longtime and liberal-leaning justices who retired.
Two of them, Barbara Lagoa and Robert Luck, have now been nominated by President Donald Trump to serve on the 11th U.S. Circuit Court of Appeals, meaning DeSantis will likely have to choose yet another pair of new justices.
A recommendation for Nordby – a Florida State University College of Law grad – was signed by 16 colleagues from her state government service days, including state Solicitor General Amit Agarwal.
"As a group, we do not all share the same legal and political views," the letter said. "But all of us agree that character, competence, and commitment are essential qualities for a successful judge, and all of us agree that Rachel possesses these qualities in abundance."
And Dallas-based lawyer Bill Wray, Tanenbaum's roommate while they attended Georgetown University's law school, mentioned in his recommendation Tanenbaum's membership in The Federalist Society, the national organization of conservative and libertarian law students and lawyers.
Wray wryly noted that Tanenbaum would always check his grocery receipt for missed charges and "insist that he pay for (any) extra item," and "insist(ed) on strictly observing speed limits," saying they were examples "of Adam's commitment to honesty and doing what was right and legal."
In a statement, House Speaker José Oliva called Tanenbaum "a tenacious litigator, keen intellect … devoted to the Constitution of Florida and the United States.
"While the House has lost an incredible general counsel, the State of Florida gains a judge we can all be proud of," the Miami Lakes Republican added. "We wish the Tanenbaum family all the best in Adam's upcoming work, and thank him for his tireless and dedicated service to the House of Representatives."
The vacancies were caused by the ascension of former judges T. Kent Wetherell II and Allen Winsor to the federal bench in north Florida. They too were nominated by Trump.
___
Senior Editor Jim Rosica in Tallahassee provided background for this post.