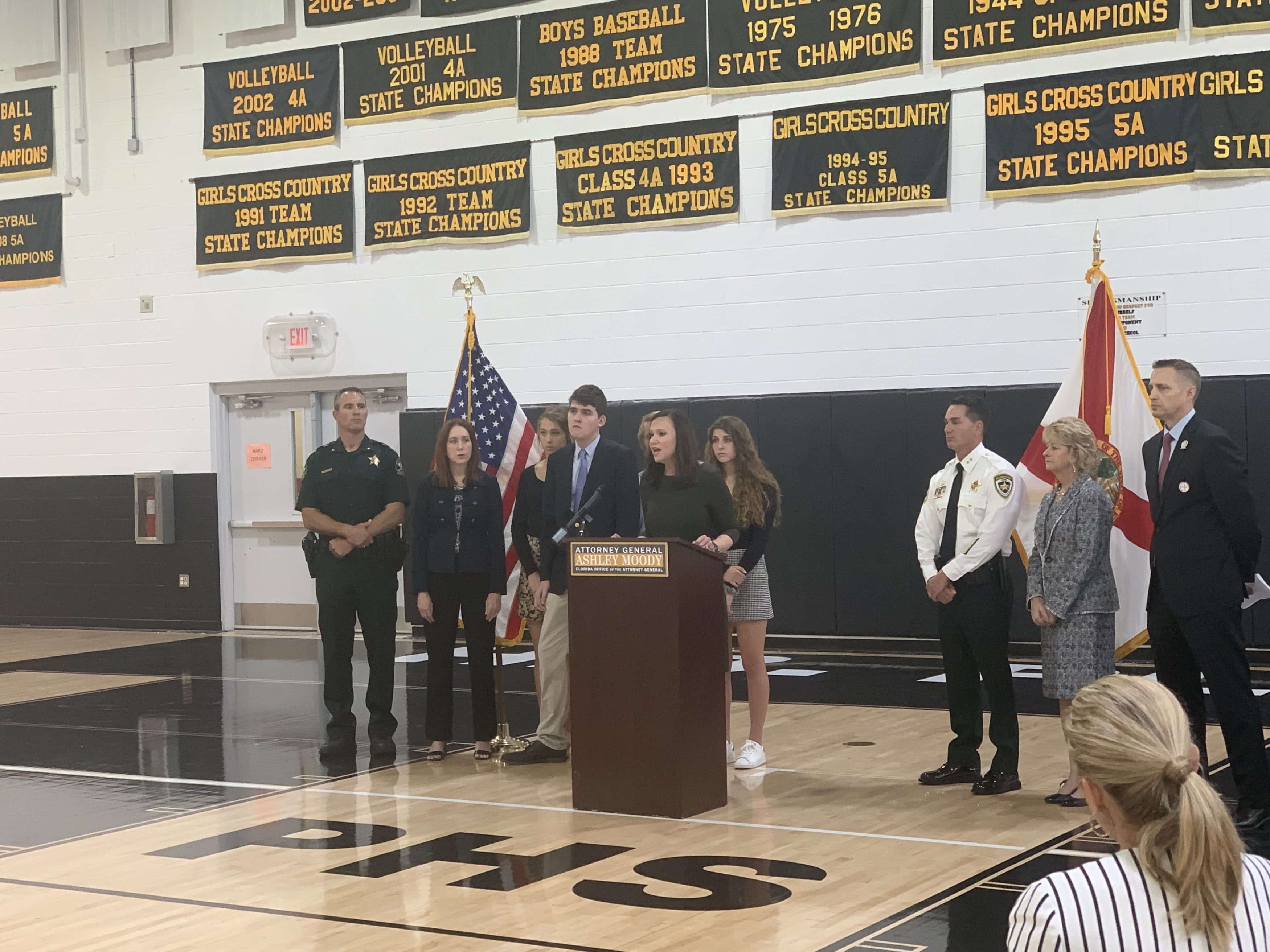 The list includes Juul.
Attorney General Ashley Moody is launching an investigation into more than 20 companies that produce and sell vaping products in Florida.
The investigation, which Moody announced Wednesday at Plant High School in South Tampa, is aimed at identifying whether companies intentionally targeted minors, whether their claims about potential health risks are accurate and whether they are adequately verifying customers' ages online.
Moody's office is sending requests for information to all of the companies targeted and the investigation will advance from there, she said. As of right now, Moody is pursuing a civil process, but she did not rule out the possibility of finding criminal wrongdoing.
She said the goal is to identify bad players and raise awareness among parents to tamp down what Moody called a rising epidemic of nicotine use among children who have taken to vaping. Vaping refers to inhaling and exhaling the vapor produced by an e-cigarette or similar device.
"As a mother, I refuse to sit back and watch while our next generation becomes addicted to another nicotine product," Moody said. "Two thirds of young people don't even know these products contain nicotine. We know the use of nicotine can lead to other drugs, and we know the developing brain is affected by the use of nicotine."
Moody said one in four high school students now admit to using vaping products, but she suspects the number might be much higher.
"This investigation will take time. In the meantime, understand that these products are not harmless, they do contain nicotine and other harmful chemicals," Moody said. "I understand there are claims that these products might be better than actual cigarettes, but we can't let children be targeted as future addicts."
Local leaders also joined Moody: Hillsborough County Sheriff Chad Chronister, Pasco County Sheriff Chris Nocco, and Hillsborough County Schools Superintendent Jeff Eakins.
"It seems like forever ago that big tobacco led our country to believe that smoking was safe," Chronister said. "It wasn't until decades later we found out how harmful it was."
Nocco took it a step further, painting vaping as the new gateway drug.
"If you're a teenager and you want that high, you're either looking for a stronger high or you're looking for a cheaper high," Nocco said. "They're going to go on the black market. That's going to lead to places like China. They'll kill our teenagers again."
He suggested parents be vigilant: "Smell your kids' clothes. If it smells like cotton candy, if it has a 'flavor' smell, they may be vaping."
The list of companies Moody is investigating includes high-profile names like Juul, Lizard Juice, Blu and NJoy. Some of the companies are based in Florida; others are headquartered out of state but do business in Florida.
In a statement, a spokesperson for Juul said the company shares Moody's concerns about underage vaping and plans to work with her to address the issue and share information.
"We need to urgently address underage use of vapor products and earn the trust of regulators, policymakers and other stakeholders. That is why we are focusing on taking aggressive actions to reduce youth usage of our products, working through the FDA's PMTA process and supporting and complying with FDA's final guidance on flavored products once effective," the company wrote.
Earlier this year Juul removed flavored products other than traditional tobacco and menthol flavors from retail locations and restricted those flavors, seen by some as more appealing to underage users, to online sales, which the company also updated to more rigorously verify age.
The company supports "Tobacco 21" legislation that would prevent sales to anyone under the age of 21. The company also shut down its Facebook and Instagram accounts to avoid any unintended marketing to children. It is also launching technology in retail stores that will restrict the sale of Juul products until a government-issued ID is scanned and would include product purchase limits to avoid reselling products to kids.
Here's the complete list of companies under investigation:
— Lizard Juice
— Direct Liquid
— Virtue Vape
— Vapor Fi
— Vapor Unlimited (Fogworks)
— Juul
— Njoy
— Element Vape
— Creative Vape Labs (Monster Vape Labs)
— EonSmoke
— All Access Vapor
— The Vaporatory
— Blu
— Fuggin Vapor
— FTW Vapor Distribution (Esnaxx)
— Dr. Vape
— Drip More
— Pax Labs
— ECig Distributors
— The Vape Factor
— Florida Vapor Supply