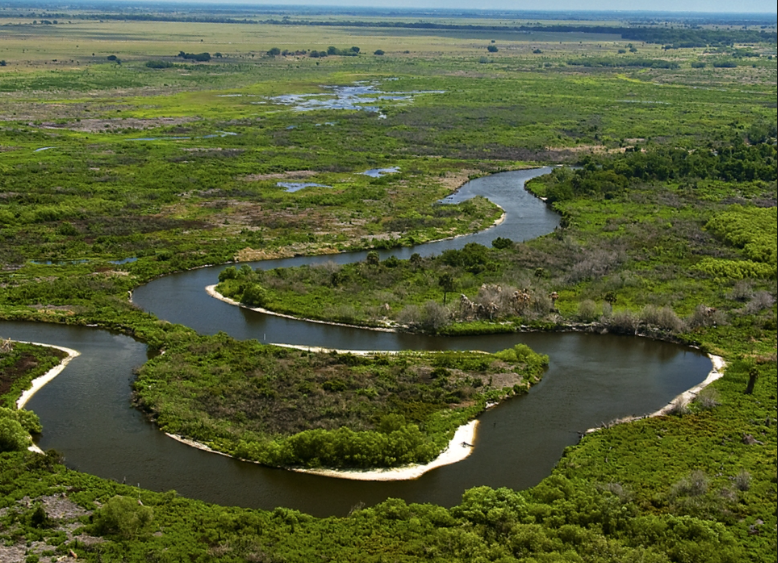 First time in U.S. for such a provision in a state party platform
Almost overlooked at the Florida Democratic Party's bi-annual convention in Orlando last weekend was adoption of a platform resolution that includes potentially revolutionary language for efforts to protect Florida's environment.
One of the "be it resolved" clauses in a "Demand Clean Water" resolution approved by the party's general meeting includes a handful of key words: "recognizing and protecting the inherent rights of nature, as we have done for corporations."
The seemingly odd wording is a nod to an emerging national legal strategy in the environmental protection community, one that already is appearing in other statements in Orange County and elsewhere. The effort is to legally declare that rivers, lakes, forests, estuaries, reefs, or other natural features may have inherent rights against degradation, which can be defended in court, much as corporations have been found to possess inherent rights.
The notion has been emerging in recent years, and is being contested in courts, notably in a multi-pronged battle in Toledo, Ohio. Yet it has roots in a 1972 U.S. Supreme Court case, in which Justice William O. Douglas proposed it, in a dissenting opinion for an environmental dispute, creating a concept which environmental activists now are seeking to validate.
"On Saturday, the Florida Democratic Party approved a new party platform which includes the Rights of Nature. This is believed to be the first time such a provision has been included in a state political party platform in the United States," the Community Environmental Legal Defense Fund, a Pennsylvania group that has been championing the idea nationally, observed in a news release.
The Florida Democratic Party resolution, offered by Melissa "Mel" Martin of Brevard County, has no statutory impact.
However, it commits the Florida Democratic Party to support the concept of inherent rights of nature as it might be raised in local proposals, as is happening in Orange County and elsewhere. In Orange County, a proposed charter amendment seeks to establish inherent rights for the Wekiva and Eckonlockhatchee rivers, presumably giving supporters of those rivers' environmental protection standing to sue to stop development or other matters that would threaten the rivers' health.
Martin, a lawyer from Cocoa who has been an environmental activist since growing up along the Wekiva River,  has been following Orange County's proposal and the Community Environmental Legal Defense Fund's national efforts. She incorporated the key language into a broader clean water resolution. She said she discussed it clearly with the party's environmental caucus chair, though she said there wasn't much discussion on the floor before it was adopted by the general meeting.
She said the concept of rights of nature can relate directly to proposed solutions to water issues in Florida.
"The [current] legal framework is not going to help us out unless we start shifting the conversation and the paradigm," Martin said.
"It's kind of like a last-resort measure," she said. "I can talk about my own personal experience. But based on my observations, my research, my understanding of the system, and the law, and the limitations of the law, I've exhausted all other courses of action, to my understanding. And unless and until we can guarantee good people to protect our environment will be in office for perpetuity, then we're going to have to figure out a different system."
Specifically, the Florida Democratic Party's "Demand Clean Water" resolution reads, in part:
"WE RESOLVE to adequately protect our waters, we support communities' rights in reclaiming home rule authority and recognizing and protecting the inherent rights of nature, as we have done for corporations, as a reflection of our shared values and interests."
Thomas Linzey, who is leading CELDF's efforts in Florida, stated in a news release, "There is a growing effort across Florida to protect the rights of rivers and other ecosystems to exist, regenerate, and be restored. As we see in headlines every day, we have pushed nature to the brink, and it's time to make the difficult but necessary changes in how we govern ourselves toward the natural world.
"We congratulate the Florida Democratic Party on leading the way for the kind of systemic change that is needed," Lindzey added. "We also congratulate the many people across Florida who are advancing rights of nature laws in their communities."