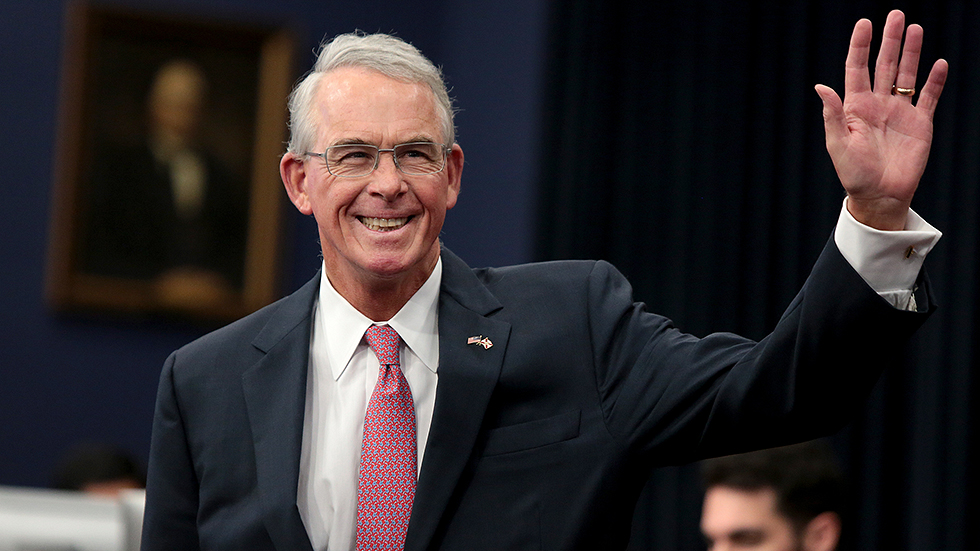 The former Ambassador is waving goodbye to Congress.
U.S. Rep. Francis Rooney will not seek a third term in the U.S. House.
Tamara (Tami) Holliday, Deputy Chief of Staff to Rooney, confirmed her boss's decision to Florida Politics on Saturday afternoon. Holliday said an official statement is forthcoming.
Earlier in the day, Fox News host Leland Vittert asked the Naples Republican if viewers should consider him one of the Republicans who wouldn't run for re-election in 2020.
"Yes, you do. I've done what I came to do," he told Vittert on "America's News HQ."
Rooney pointed to his efforts in getting money for Everglades projects and getting an offshore drilling ban passed to protect Florida.
"We've gotten all the major projects underway," he said.
The second-term congressman added that he wanted to be a model for term limits.
"People need to realize … this is public service, not public life."
The announcement comes a day after Rooney said he is open to considering all sides in the impeachment inquiry of President Donald Trump. That came after comments from White House acting chief of staff Mick Mulvaney that seemed to acknowledge a quid pro quo with Ukraine which tied foreign aid to an investigation of former Vice President and Democratic presidential candidate Joe Biden.
"He basically said it's a quid pro quo, which is not a good thing," Rooney said. "The only thing I can assume is he meant what he had to say. … It's not an etch-a-sketch."
Rooney is one of few elected Republicans who have been open to impeaching Trump, provided "all the facts" point to inappropriate behavior by the President. He has also at times been a Trump critic. He was one of 13 House Republicans to join a Democratic effort early this year to stop the president from declaring a national emergency to fund his border wall with Mexico.
Still, he said Saturday he does not fear retaliation from the White House.
"What's he going to do to me? I mean, he can say bad things, but it's just what it is," Rooney said. "There's a lot of people around who are seriously concerned about being criticized by the president. Seriously. I just want to call them as I see it."
A year ago, at a presidential rally in Estero, Trump praised Rooney as "a man who's so great to me on television. This guy is special. He was a great businessman. Now he's a great congressman, Francis Rooney."
He went on: "I love him when he defends me. He's brutal. He gets the job done, right, Francis? Thank you, man."
Trump has lashed out against Republicans who have criticized him, however.
On Friday night, Trump tweeted, "REPUBLICANS MUST STICK TOGETHER AND FIGHT!" That tweet was accompanied by a video targeting U.S. Sen. Mitt Romney of Utah, who has been critical of Trump's handling of Turkey's assault on Syrian Kurds.
When U.S. Rep. Justin Amash of politically critical Michigan became the first House Republican to call for Trump's impeachment earlier this year — and quit the party — the backlash from Trump's orbit was swift.
That was before revelations about Trump's pressure on Ukraine, which made his impeachment by the end of the year a real possibility.
The decision for Rooney not to seek another term also comes after a year of scant fundraising on the congressman's part. He did not raise $1,000 in any of the first three quarters of 2019.
The inactivity seemed a sign 2020 would be his last time running; he still closed September with $597,295 in cash on hand. Now, it seems his final run for reelection came in 2018, when he trounced Democrat David Holden with 62 percent of the vote.
Rooney, a close friend of Sen. Rick Scott before either Naples politicians ran for office, previously served as U.S. Ambassador to The Holy See.
In the House, Rooney set himself apart as a GOP champion for the environment, calling on more House colleagues to acknowledge climate change.
Of course, the decision also turns Florida's 19th Congressional District into an open seat less than a year ahead of Florida's state primary. The heavily Republican district includes Lee and Collier counties, including the greater Fort Myers and Naples area.
"It's going to be a very interesting election year," said Jonathan Martin, chair of the Lee County Republican Executive Committee.
He didn't consider this too late in the cycle for Rooney to announce his retirement. In fact, it feels like a luxurious amount of time in Southwest Florida.
In 2014, there was short lead-time to fill this seat in a special election following the abrupt resignation of U.S. Rep. Trey Radel following a drug bust. Self-funded businessman Curt Clawson won that race and held the seat that November. But Clawson did not announce until May 2016 he would not seek reelection, leaving little time for candidates to qualify.
The short lead time led the way for Rooney, another multi-millionaire with the ability to self-fund, to win the seat in 2014 and 2016.
Qualifying week to run for Congress in Florida runs from noon April 20 to noon April 24.
"I do think that's gonna benefit more heavily an outsider candidate like Rooney or Clawson who can afford to spend seven figures on this race," Martin said.
When asked for a comment on Rooney's retirement and what it means for the 2020 elections, National Republican Congressional Committee spokesman Chris Pack messaged "R+13." In other words, the next occupant of a seat that has had three different representatives this decade will almost certainly be decided in the GOP primary.
Joe Gruters, Republican Party of Florida, echoed that the seat was not a concern as far as partisan risks.
"This is probably one of the safest two or three states in Florida," Gruters said. "Francis Rooney was a conservative guy. I'm just looking forward to who next will serve this conservative area."
State Rep. Dane Eagle, a Cape Coral Republican and state House Majority Leader, tells Florida Politics he is actively considering running for the seat.
"Southwest Florida deserves consistent representation in Washington," Eagle said. "I'm certain we will have a slew of candidates throwing their name in the ring, and at this time, my wife and I are carefully considering this opportunity."
State Sen. Lizbeth Benacquisto, a Fort Myers Republican who has run for the seat before, said her focus right now remains on an upcoming Special Session to decide the fate of former Broward County Sheriff Scott Israel.
"Congressman Rooney has represented Southwest Florida with honor and integrity and we are grateful for his service," Benacquisto said. "I appreciate the outpouring of encouragement and support today, but my focus remains on the incredibly important Special Session ahead in the Florida Senate next week. As Rules Chair and, more importantly, as a mother, we have no greater responsibility than doing everything within our power to protect the children of Florida."
State Rep. Bob Rommel, a Naples Republican, said he's already fielding calls about running as well.
"I'm flattered to be part of the conversion," he said. "My family and i are discussing options. I still have a lot of things to accomplish in way of state government, but bringing common sense conservative values to Washington, D.C. is well needed."
State Rep. Byron Donalds, a Naples Republican who for the federal seat in 2012, said he's also exploring options. "I'm humbled by all of the people in Southwest Florida who have encouraged me to run again for Congress," he said. "I'm strongly considering getting into the race."
And Lee County Commissioner Cecil Pendergrass said he's long considered a run. He expected Rooney to retire in 2022.
"I hate to see him leave," Pendergrass said. "I didn't see this coming this soon, but we are thinking about it." The County Commissioner did note that running countywide in 2017, he received more votes in Lee County than other Republicans higher on the ballot. He thinks that shows broad support for his governing philosophy.
"I'd like to bring that way if thinking to Washington, D.C., to build a consensus in D.C. on issues that relate to Southwest Florida."
Chauncey Goss, whose father Porter Goss previously represented the area in Congress, has run for this seat before. But the South Florida Water Management District member is not making sudden moves just yet
"This is all fairly sudden so no I haven't made a decision one way or the other," Goss said. "I need to discuss with my family and friends."
State Rep. Spencer Roach, a North Fort Myers Republican, said he's paying some close attention to how the field forms before making any decision.
"The only person I have spoken to directly is Dane Eagle, who confirmed that he is giving serious consideration to entering the race, and Dane would be a very strong candidate," Roach said. "I would not run against Dane, who is a good friend and would represent this district well, but if Dane decides not to run, I would keep all options open."
Former state Rep. Matt Caldwell, who was the 2018 Republican nominee for Agriculture Commissioner, said he still has an appetite for electoral politics. But he doesn't feel the call of Congress right now.
"While I appreciate the interest, my wife and I have talked about it repeatedly," he said, "and while we have a daughter in middle and high school, being off in Congress and the life that requires is not a good fit for us the next couple of years."
Likewise, state Sen. Kathleen Passidomo, a Naples Republican, also said she's out. Passidomo has notably been in competition with state Sen. Travis Hutson to become Florida Senate President should the GOP hold the chamber in 2022.
"I'm focused on the future of Florida," she said, "and that means taking on the opportunities and challenges I can tackle as a leader in the Florida Senate. I have no intentions to run for Congress."
Other names already being floated in Republican circles in the region include former state Rep. Gary Aubuchon and Lee County Commissioners Brian Hammon.
Another curious option? Local Fox News Radio host Drew Steele could run, notable considering Radel was best known as a talk radio host himself when he won the seat. In the past, Fox News personality Dan Bongino has run, and Fox News host Sean Hannity frequently gets bandied about as a potential candidate should he ever want to hang up his pundit hat.
Democrats for their part threw praise at Rooney for his recent interest in an inquiry on Trump.
"As questions swirl around Florida Republicans' ties to Rudy Giuliani and his Ukraine henchmen, Congressman Rooney clearly wants out," said Avery Jaffe, Democratic Congressional Campaign Committee spokesman.
"Rooney should be commended for speaking the truth about President Trump's abuse of power and separating himself from the rest of the Republican caucus who are unwilling to put country over party and uphold the rule of law."
But the district hardly seems a partisan battleground. Rooney won the seat with 66 percent of the vote the last time there was a vacancy.
Still, Democrat Cindy Banyai had already filed to run against Rooney, who had been trying to call Rooney's environmental bona fides into question.
"I can certainly understand Rooney no longer wanting to be part of the partisan machine destroying our democracy," Banyai said. "Now is the time for leadership for our community and the things that matter most to us, like clean water, healthcare, and quality education."
___
The Associated Press contributed to this post.