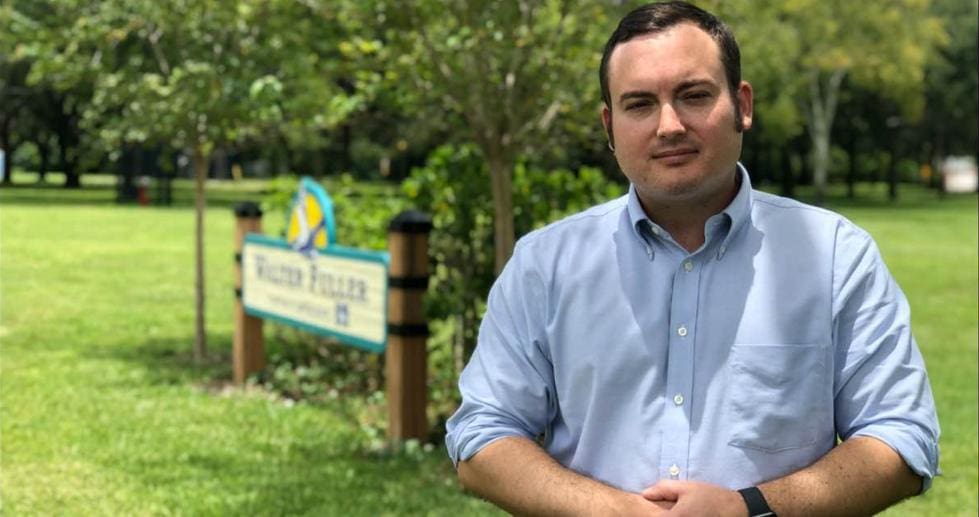 Enoch Nicholson said Hornbeck isn't ready to lead.
John Hornbeck's one-time campaign manager is warning voters about his former boss, arguing Hornbeck can't handle the stress and pressure of elected office.
Enoch Nicholson, who managed Hornbeck's campaign until about four weeks ago, described a candidate who couldn't take criticism and shut down when asked to handle the basics of campaigning like soliciting endorsements and raising funds.
"He can't take criticism. When I confronted him about making more calls he just kind of lashed out about it and acted like a petulant child," Nicholson said. "If you can't handle stressful decisions, how are you going to lead?"
Hornbeck has bucked traditional campaign protocol since the beginning of his race. He acknowledged to Florida Politics before the Aug. 27 primary that he had waited to seek endorsements because he was still honing his campaign and didn't feel comfortable hounding people for money.
Asked about Nicholson's latest claims about his ability to manage the fundamentals of a candidacy, Hornbeck doubled down on that sentiment.
"By the grace of God I feel like I've been able to give more than I've asked to receive," Hornbeck said, noting the $14,000 of his own money he's put into the campaign. "I didn't want to be owed a lot of favors."
But Nicholson said it was more than just raising funds. He said Hornbeck failed to dedicate enough time to earning support from voters, even if avoiding asking them for money.
"He thought that if he locked in the big endorsements the money would just roll in," Nicholson said.
But as the campaign drudged on, Hornbeck didn't get those either. So far he has endorsements from the Stonewall Democrats and Charlie Gerdes, the incumbent he Hornbeck hopes to replace. St. Pete Mayor Rick Kriseman didn't endorse him, but gave an odd nod writing on Facebook that he "supported" Gerdes' endorsement.
One of Hornbeck's campaign volunteers, who asked not to be named, said Nicholson's claims were not true. The volunteer, who spoke on condition of anonymity to avoid professional conflicts, said Nicholson called all the shots in Hornbeck's campaign as it related to outreach, events and fundraising. The volunteer also said Nicholson postponed Hornbeck's campaign launch to accommodate his own bachelor party ahead of his wedding this summer.
Nicholson said he hesitated to come forward.
"I'm literally throwing myself under the bus, but the city needs a leader who can lead and I just don't think John can," he said.
Hornbeck questioned Nicholson's motives for coming forward.
"Shakespeare said 'hell hath no wrath like a woman scorned.'  He must have felt scorned," Hornbeck said.
Hornbeck added that Nicholson "ghosted" him after he hired another campaign consultant, former NextGen staffer Alec Reynolds.
Worth noting, the quote Hornbeck referenced, which uses the word "fury" not "wrath," is actually from English playwright and poet William Congreve, but is frequently wrongly attributed to Shakespeare.
Candidates often require campaign staff to sign non-disclosure agreements to avoid former staffers coming forward with damaging information about internal workings. Hornbeck said he didn't think he needed to do that because he "conducts himself in a way that people want to work for him."
Nicholson said he felt bad for speaking out against Hornbeck, who he considers a friend.
"He's a good guy he's got a great heart and he's just so dang wholesome, but I think voters need to know," Nicholson said.
He said of of the reasons he worked for Hornbeck in the first place was because both men are opposed to abortion.
Hornbeck, a registered Democrat, declined to comment on his views on abortion.
"It's probably one of the most divisive issues. If I was to say I was pro-life I would be upsetting my Democratic base. But if I was to say I was pro-choice, I would be upsetting my Christian base," Hornbeck said.
He also said the abortion isn't relevant to local politics because it's a state and federal issue. Asked if he would recuse himself from local issues that could involve abortion — like zoning or building regulations for abortion facilities — Hornbeck said he wasn't prepared to commit to that at this time.
He also claimed even his wife doesn't know his views on abortion.
Nicholson said that while he has no hard feelings against Hornbeck as a friend, he's decided to support Hornbeck's opponent, Robert Blackmon.
Nicholson is a little-known local campaign consultant who has worked quietly on campaigns including for former Mayors Rick Baker and Bill Foster. One of Baker's 2017 political consultants, Barry Edwards, is managing Blackmon's campaign.