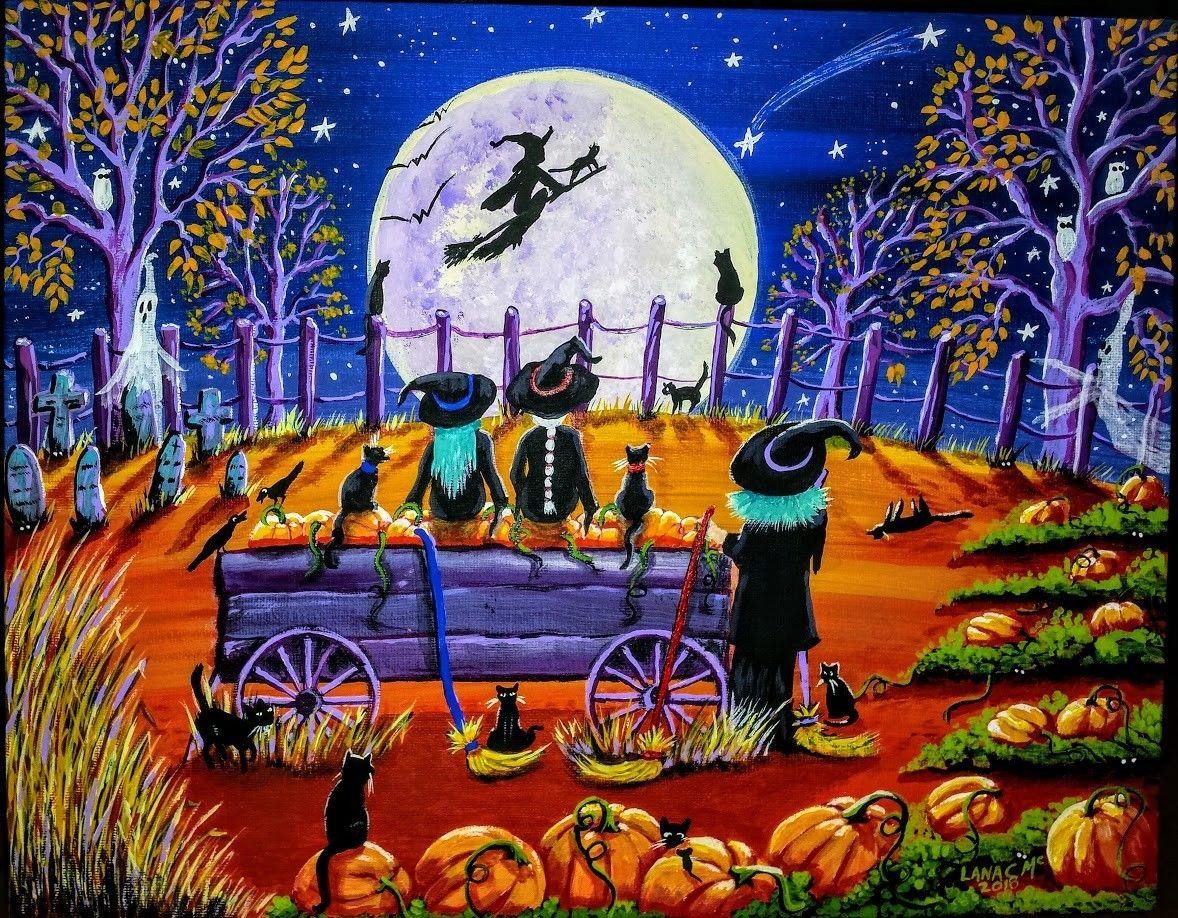 Ghosts, goblins, scary stuff — and Florida politics, too! Happy Halloween from Sunburn!
Happy Halloween, Sunburn readers.
In case you missed it, here is Ella Joyce's Not-So-Scary Halloween Display for 2019.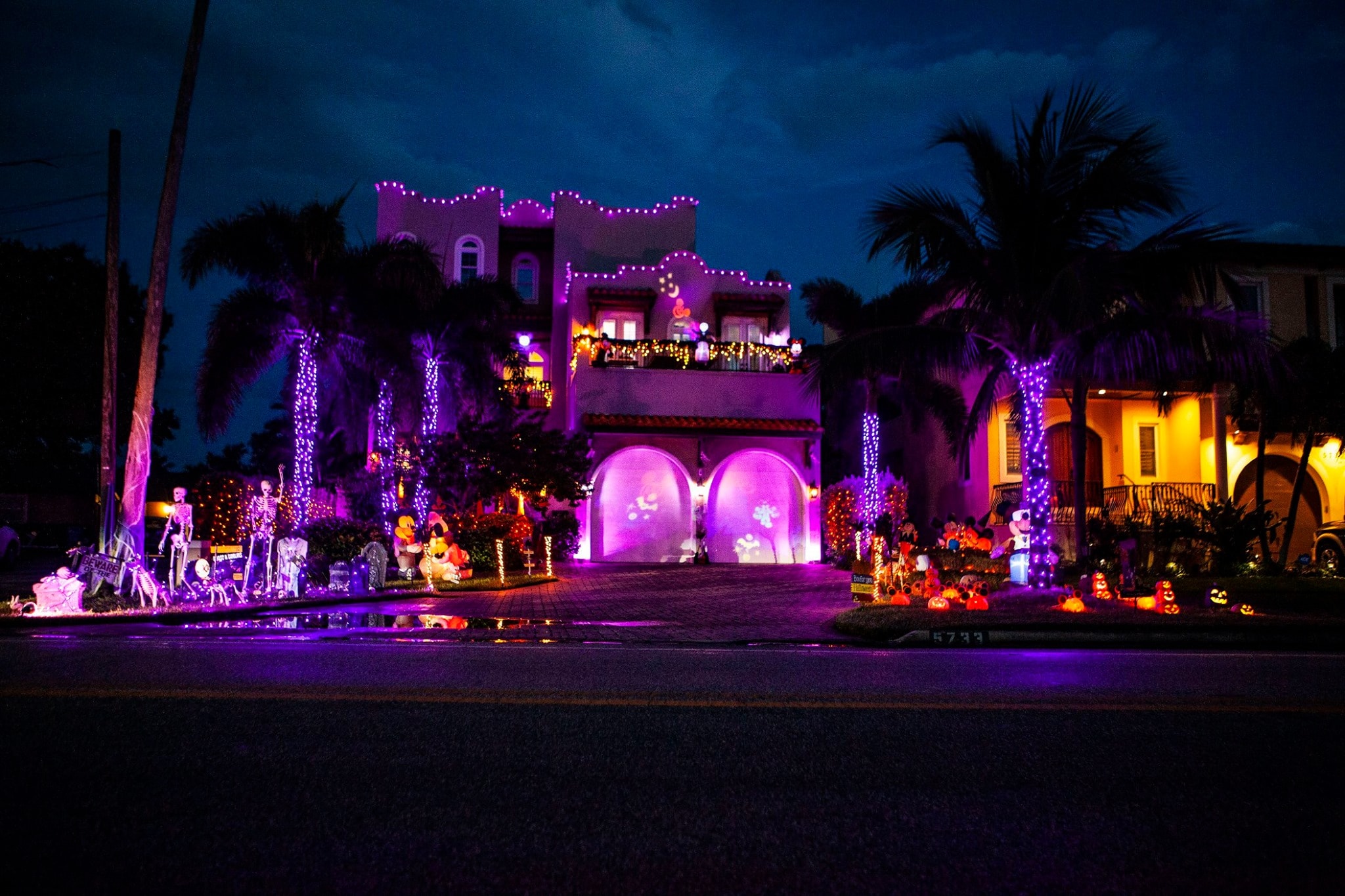 —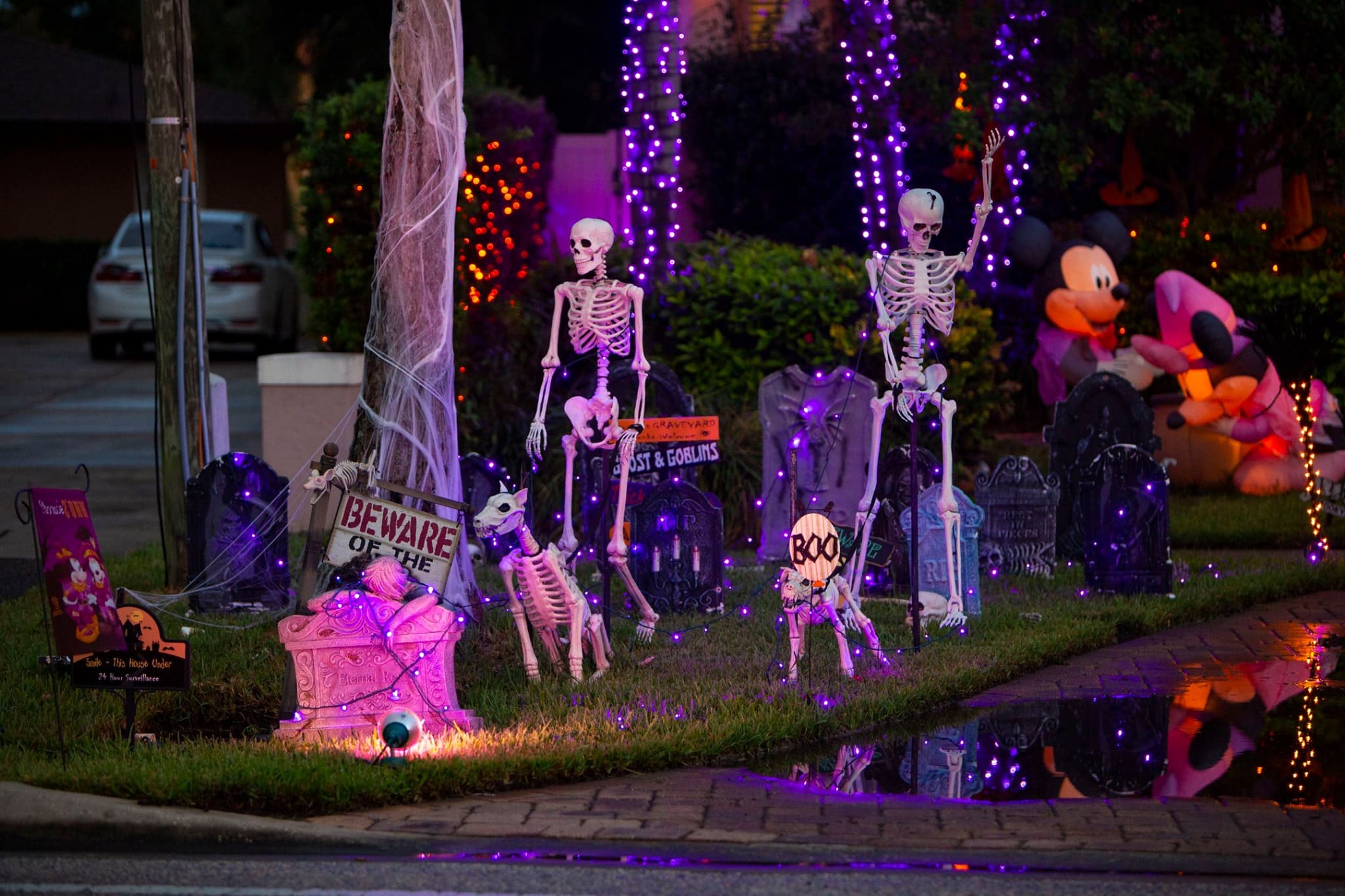 —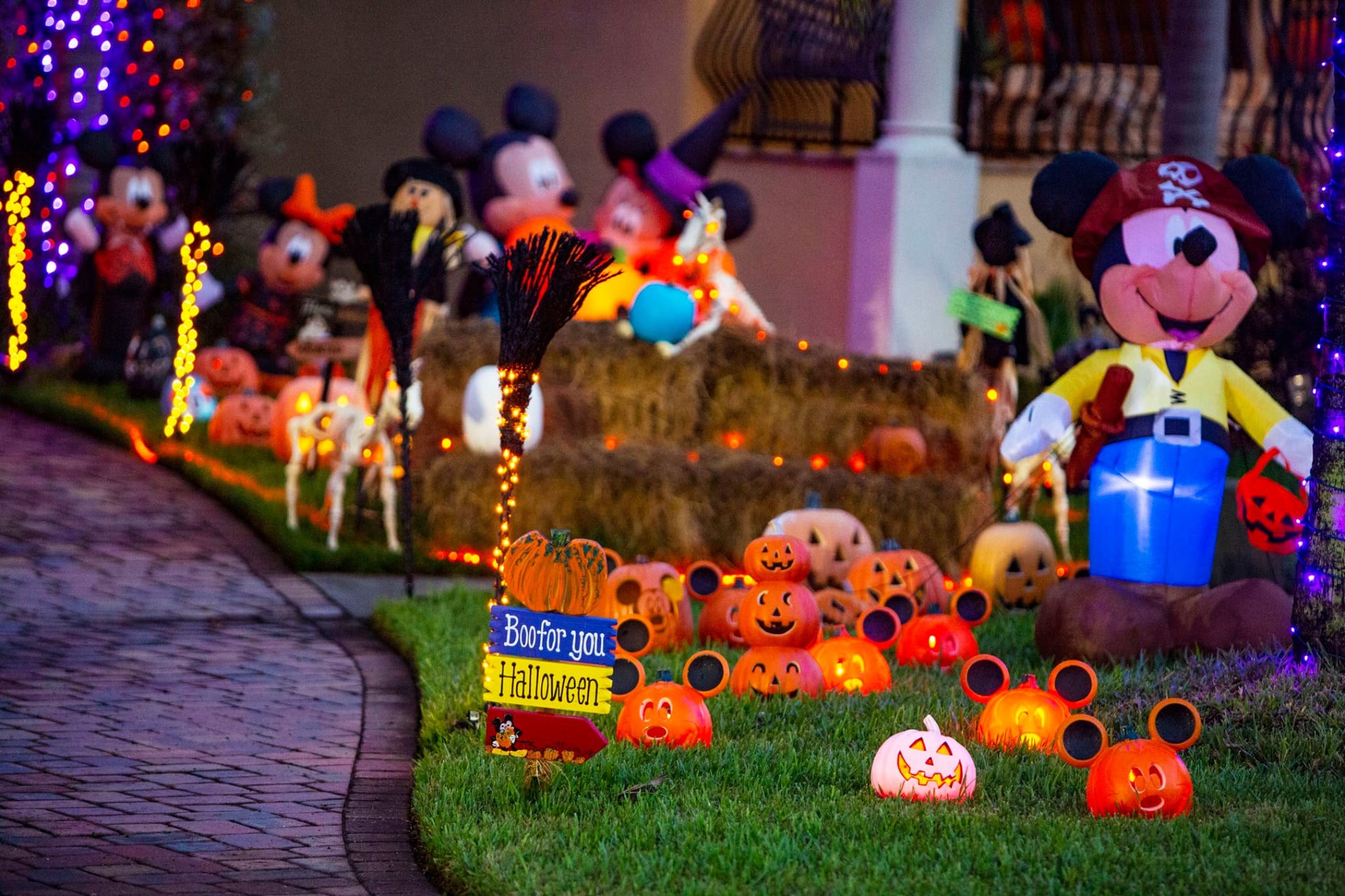 Our display was written up in the local newspaper — "Skeletons, pumpkins, lighted homes dress up these Halloween displays" via the Tampa Bay Times
___
Be sure to read this fun Halloween-themed blog post from FP's Janelle Irwin — "The complete cynic's guide to Halloween safety, brought to you by Florida Politics' snarkiest mom."
This is always a must-read for those in the Influence Industry — "Halloween is brought you by these Florida lobbyists and political associations" via Florida Politics — The witching hour is upon us. Halloween is expected to leave Florida Retailers are flush with cash. In fact, the National Retail Federation expects celebrators to spend a record high of $86 apiece. While retailers supply the costumes and candy, they're not the only interest that helps Floridians have a happy Halloween. Here are the lobbyists and political associations that make the holiday the best it can be.
___
If you enjoy today's Halloween edition of Sunburn, please take five seconds to Like it on Facebook or Retweet it.
Sunburn will be off Friday so that our staff and their families can fully enjoy the holiday. The morning read of what's hot in Florida politics will return to inboxes Monday.
— TODAY'S SUNRISE —
Sunrise gives an update on election security in Florida. The Russians hacked into two county databases during the 2016 election, and the Secretary of State's office is spending millions of dollars to try to prevent a recurrence in 2020. However, details of what exactly is being done are not forthcoming.
Also, on today's Sunrise:
— Gov. Ron DeSantis says the upcoming Legislative Session could be better known as the Year of the Teacher. Teachers Hope it's true — but after the way they've been treated in Tallahassee in the past couple of decades, they remain cautiously doubtful.
— Mega-attorney John Morgan's $15 minimum wage constitutional amendment had cleared a significant hurdle. They have enough signatures to make the ballot. But there's still a way to go.
— It's Halloween! While kids fill bags with candy, the real treat goes to retailers. The holiday for ghosts and ghouls is a major economic driver in the Sunshine State.
— More Florida Men madness: A Vero Beach man in a MAGA cap says the hat was slapped off his head by another man who proceeded to spit on him, saying: "You should go back to Russia, you f**ing communist."
To listen, click on the image below:
— SITUATIONAL AWARENESS —
Tweet, tweet:
😂😂😂😂😂😂 pic.twitter.com/BXM3Jux6Ec

— Sawyer Hackett (@SawyerHackett) October 29, 2019
Tweet, tweet:
Editorial cartoon by Mike Luckovich. Tainted #Halloween treats. #Trump pic.twitter.com/vM2uLgACkn

— Douglas Herbert (@dougf24) October 29, 2019
—@Fineout: Notice to @GovRonDeSantis administration @AHCA_FL — There is no obligation for a reporter to tell your PR office ahead of time if a reporter is going to a public meeting … And it's fascinating that a state agency official will spend time after a public meeting to talk to all the lobbyists gathered there but said she couldn't talk to reporters without a PR person present
Tweet, tweet:
Be safe out there while Trick-or-Treating tomorrow!

Watch out for pedestrians while driving, and take extra care when crossing the street. https://t.co/DlDzxjmRE4

— AG Ashley Moody (@AGAshleyMoody) October 30, 2019
—@LMower3: A @MyFDOT official just told toll roads task force members NOT to ask questions about whether 300+ miles of toll roads are needed. That's not their job, he said. Instead, they should just come up with some recommendations for the roads.
—@BDS_Supt: Baker Acted 3 students today- that's 97 since Aug. We need help & 13 months after MICHAEL have rec'd ZERO mental health $$ from Fed Disaster/FEMA. Waiting could literally kill us!
—@JakeAFarmer: At lunch @Jyapo and I got a lot of weird looks. even a "this is so weird to me" comment with him in his @GatorsFB gear & me in my @GeorgiaFootball gear … we're the college football version of W. & Ellen.
—@CHeathWFTV: How to celebrate #NationalCandyCornDay 1. Place candy corn in a bowl 2. Pour bowl into trash 3. Repeat as necessary
—@ChristmasCountdown: Two more days until you can't tell me not to talk about Christmas yet.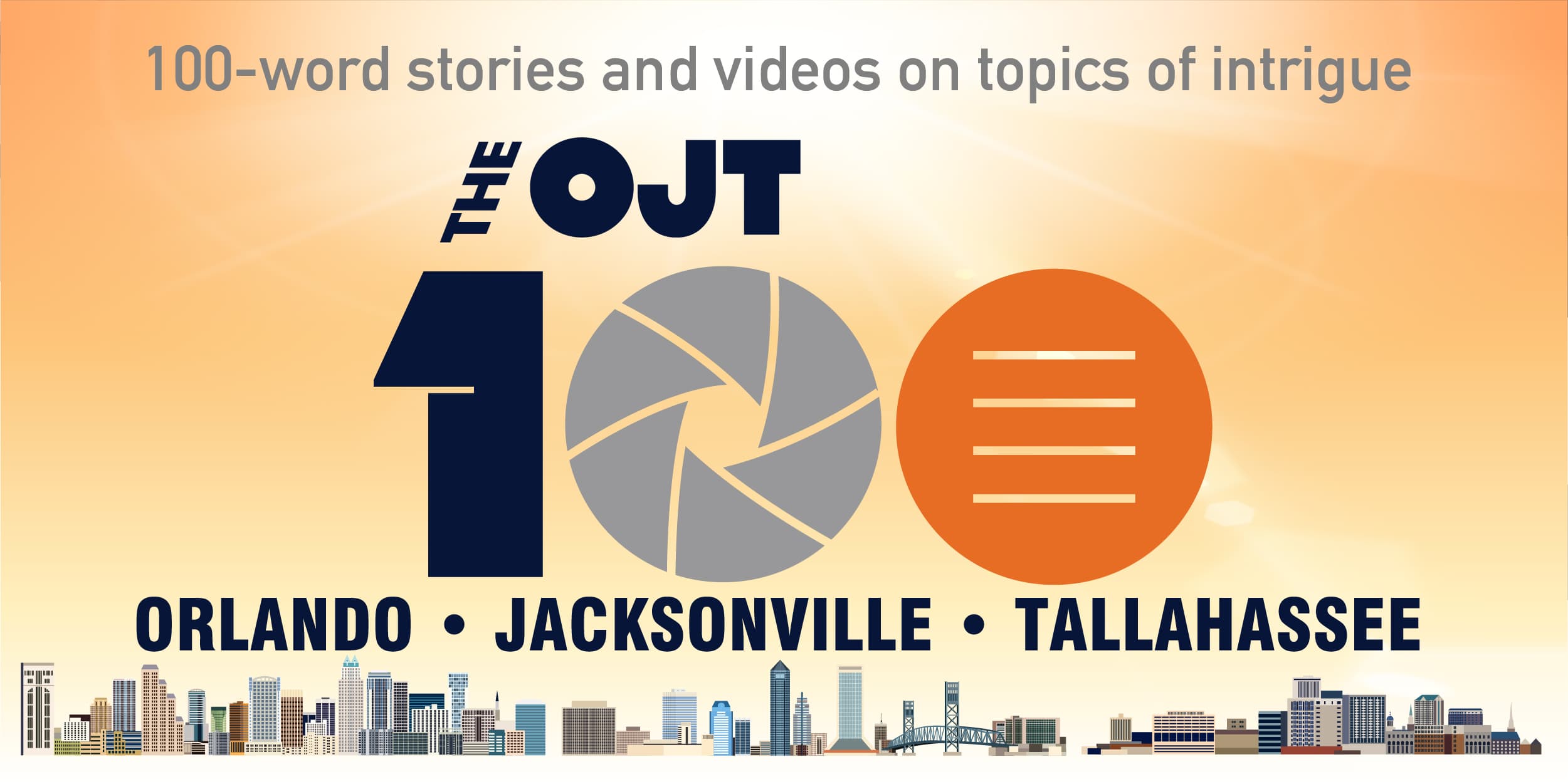 — DAYS UNTIL —
The Florida Chamber's Insurance Summit — 4; 2019 General Election — 5; 3rd Annual Florida Internet and Television FITCon starts — 7; "The Mandalorian" premieres — 12; New season of "The Crown" streaming on Netflix — 17; Fifth Democratic debate — 20; "Frozen 2" debuts — 22; Next government shutdown (maybe) — 22; TaxWatch 40th Annual Meeting — 32; "The Rise of Skywalker" premiers — 50; College Football National Championship — 74; 2020 Session begins — 75; Florida TaxWatch State of the TaxPayer Dinner in Tallahassee — 76; Super Bowl LIV in Miami — 94; Great American Realtors Day — 95; Iowa Caucuses — 95; New Hampshire Primaries — 103; Last day of 2020 Session (maybe) — 133; Florida's presidential primary — 138; "Black Panther 2" debuts — 188; 2020 Summer Olympics in Tokyo begin — 265; Florida primaries for 2020 state legislative/congressional races — 299; First Vice Presidential debate at the University of Utah — 342; First Presidential Debate scheduled at the University of Michigan — 350; Second presidential debate at Belmont — 357; 2020 General Election — 369.
— TOP STORY —
The Florida Retail Federation is expecting record-high spending this year for Halloween.
— Survey says …: The National Research Federation conducted a survey of shoppers this year who indicated average planned spending of more than $86 each on things like candy, decorations and costumes.
— Big bucks: The 2019 spending forecast is the third-highest record for the Halloween season, with 2017 being the peak.
— Sweet tooth: Nearly all Halloween shoppers will purchase candy this month, with 95 percent indicating they'd be ready to hand out sweets to trick-or-treaters in their neighborhoods. Nearly three-quarters of Halloween shoppers said they would purchase decorations, and more than two-thirds plan to buy costumes.
— Quote: "Whether you're passing out candy to trick-or-treaters, hosting a party or searching for the perfect costume this season, Florida families can find their Halloween needs at Florida's retail businesses," said Scott Shalley, President and CEO of the Florida Retail Federation. 
"Florida's favorite stores — from the big box brands to the family-owned businesses on Main Street — are ready to deliver this Halloween," he added.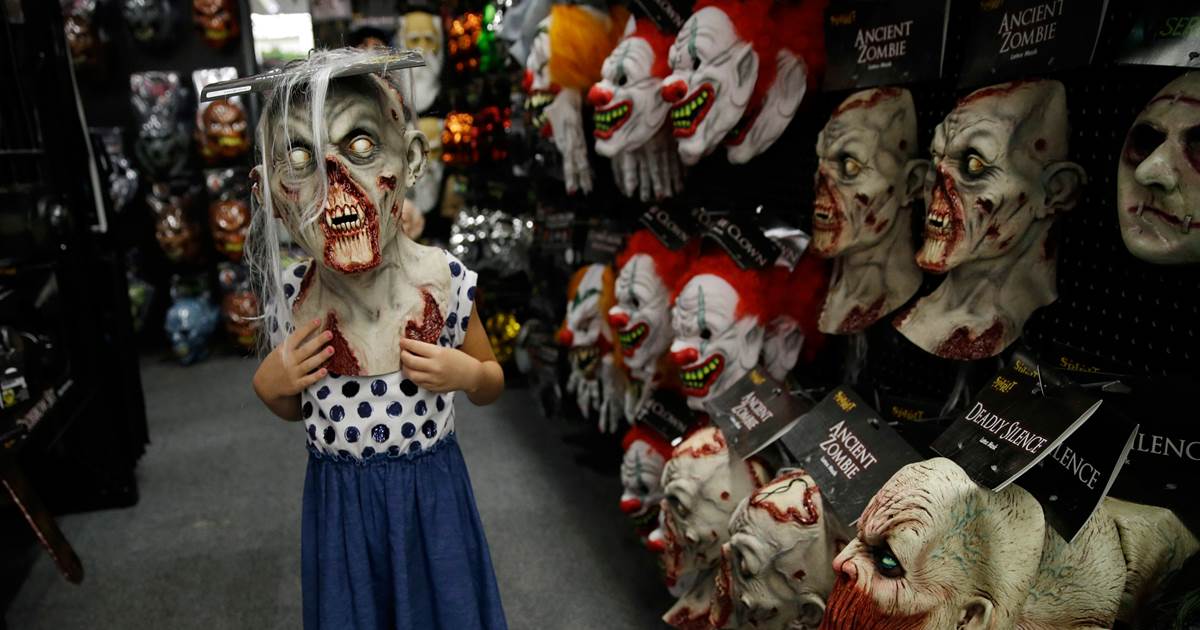 "Florida GOP leaders begin calling for Peter O'Rourke's ousting" via Jacob Ogles of Florida Politics — Top GOP officials within the Republican Party of Florida expressed anger at reports of internal friction. Now, at least eight state board members have called for the termination of Executive Director Peter O'Rourke. As negative publicity continues to pile, more are openly speaking of taking corrective action. Text messages shared with Florida Politics show more than eight state board members have called on the removal of the executive director. At least one state board member suggested the party call George Riley, who served as executive director in 2016 when Republicans carried Florida for President Donald Trump, to replace O'Rourke.
"Jimmy Patronis looks to Ron DeSantis on financial regulator" via Jim Turner of the News Service of Florida — Chief Financial Officer Patronis is deferring to DeSantis about how to proceed with hiring a new top financial regulator. Patronis rejected any insinuation he was in a compromised position in the pending hire, after earlier this year championing the hiring and firing of former Office of Financial Regulation Commissioner Ronald Rubin. The series of events drew heavy attention, in part because Rubin was accused of sexual harassment. DeSantis, Patronis, Attorney General Ashley Moody and Agriculture Commissioner Nikki Fried will choose a successor to Rubin. But Patronis said he is awaiting the lead of DeSantis on the issue.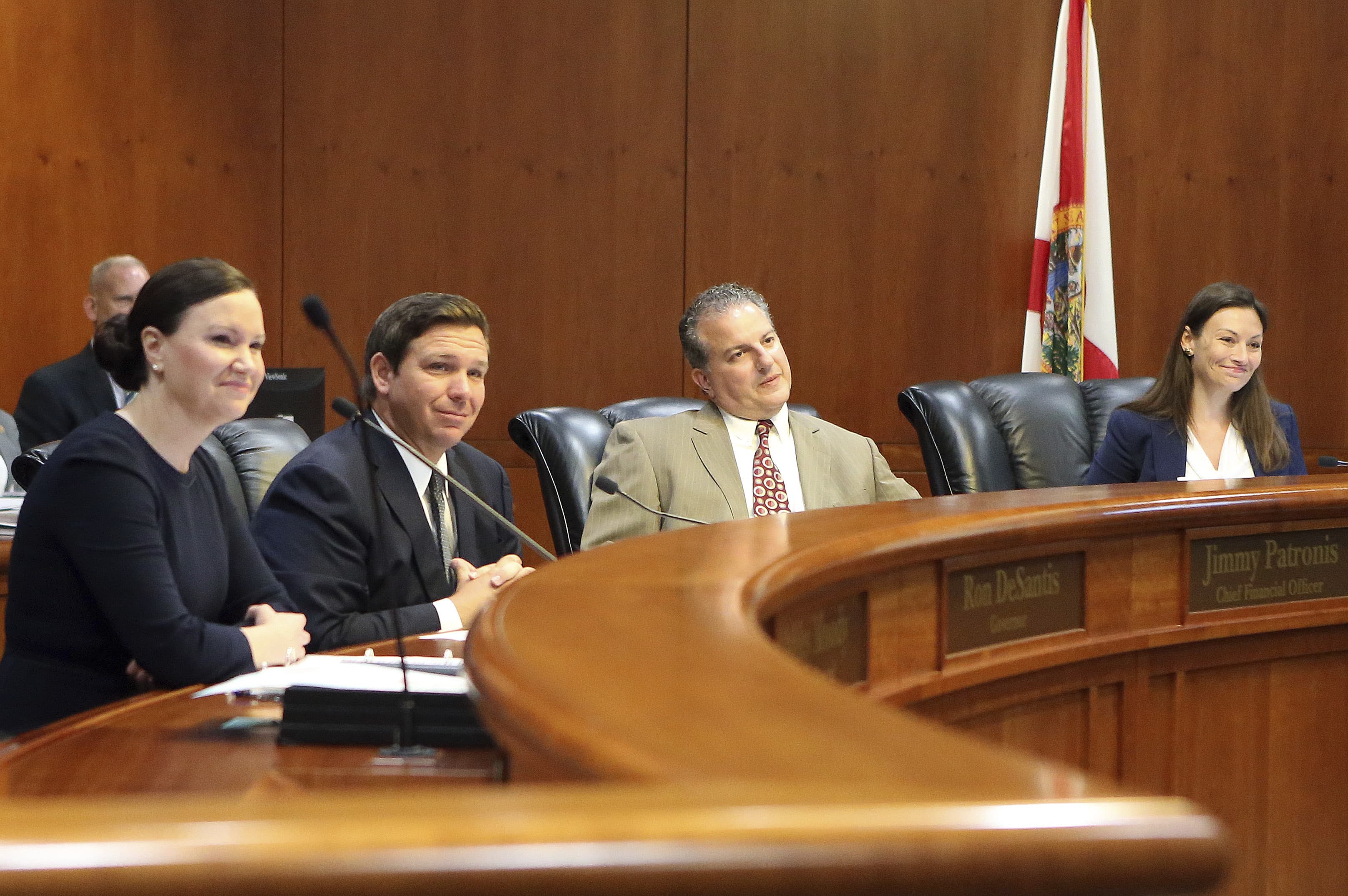 "Alex Andrade's bill would end mandatory sentences for nonviolent drug offenses" via Jim Lytle of the Pensacola News Journal — Currently, Florida law requires mandatory sentences for drug crimes no matter any mitigating circumstances in the case. Andrade's bill is a companion bill to a proposal by Sen. Rob Bradley. It aims at removing mandatory minimums for drug possession if the person convicted was not engaged in violence when they were arrested, and they're not already convicted felons. The bill also increases the amount of drugs a person must be found with for that person to be charged with drug trafficking rather than just possession. Andrade's bill also allows for a person with a mandatory sentence to ask the court to reconsider their original sentence under the new law.
"After cop handcuffed 6-year-olds at Orlando school, lawmaker seeks ban on arresting kids under 12" via Monivette Cordeiro of the Orlando Sentinel — Six-year-old Kaia Rolle still has nightmares more than a month after she was arrested at her school. Her grandmother Meralyn Kirkland said the first-grader has reverted to wetting the bed in the weeks since Orlando police Officer Dennis Turner handcuffed her and another 6-year-old at Lucious & Emma Nixon Academy Sept. 19. Kaia was taken to a juvenile jail on a battery charge for kicking and punching school employees during a tantrum, police said. During a Wednesday press conference at the Orange-Osceola State Attorney's Office, Kirkland said she was supporting SB 578, a bill filed by state Sen. Randolph Bracy Jr. that would prohibit children younger than 12 from being arrested, except for under extreme circumstances.
"'Safeguards' eyed for college athlete proposals" via the News Service of Florida — After scoring a victory when the NCAA governing board moved toward letting college athletes make endorsement money, Florida lawmakers are looking to add "safeguards" to legislative proposals filed for the 2020 session. Before the NCAA's announcement, four Florida lawmakers had filed bills aimed at allowing college athletes to cash in on their names, images and likenesses. One of the bill sponsors, Rep. Chip LaMarca, said he would look to add a financial-literacy education requirement, along with prohibitions on endorsements for recruiting and transfer advantages. "I am cautiously optimistic about this news from the NCAA," LaMarca said in a statement.
"Jackie Toledo asks fellow lawmakers for $1.5M for TBARTA" via Janelle Irwin Taylor of Florida Politics — Toledo filed HB 2483 this week along with an appropriations request for the funding. It would pay for a nearly $300,000 salary and benefits package for TBARTA Executive Director David Green. It also includes more than $987,000 for additional staff salaries and benefits, including technical support, financial administration and oversight, grants management and administration, marketing and public relations, project management and human resources administration. Another $213,214 would go to expenses for rent and utilities, phone and internet, travel and parking, training, printing and copying, office supplies, postage, office furniture and equipment and various other fees and expenses. The requested appropriation is for nonrecurring funds.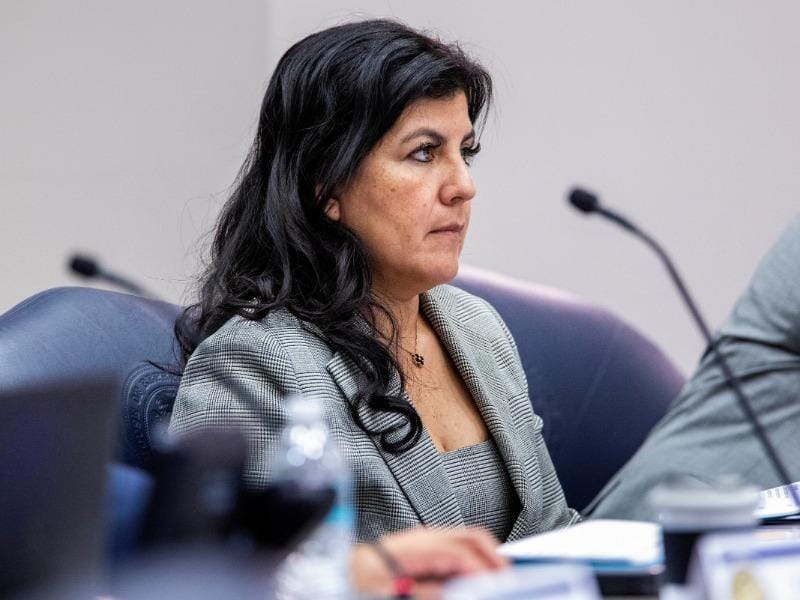 What Tim Stapleton is reading — Nurse practitioners renewing push for independence — The Florida Association of Nurse Practitioners will redouble its efforts to gain independence from physicians in the wake of Hurricane Michael, Alexandra Glorioso of POLITICO Florida reports. During a discussion at a state Medical Advisory Committee meeting, FANP Chair Stan Whittaker said the region had far fewer doctors today than when the Category 5 storm hit last year, leaving many patients without adequate access to health care. "It's an overwhelming obstacle," he said. "We're just not getting any options." However, he said allowing nurse practitioners to open solo practices could alleviate at least some of the burden.
— STATEWIDE —
"Consumer index reveals Florida residents feel concerned about U.S. economy" via WJCB — As the holiday shopping season approaches, some Florida residents are feeling more pessimistic about the economy. The University of Florida released its monthly consumer sentiment index is at 96.1, which is down half a point from a month ago. The index ranges from 2 to 150, and four out of the five categories that were gauged have lost ground. The study found that residents were concerned about the long-term health of the U.S. economy.
"Florida among worst states to survive a recession in 2020" via Brendan Ward of the Tampa Bay Business Journal — A recent report from FitSmallBusiness.com found Florida to be one of the worst states to survive a recession in 2020. The study used a variety of factors to create an overall score that was then used to create the rankings. Florida ranked as the eighth-worst state to survive a recession in 2020, coming in at No. 42. The Sunshine State managed a score of 26.025, compared to the top state, which scored 35.375. FitSmallBusiness.com ran a similar report in 2017, the last time the U.S. feared a looming recession. In that report, Florida ranked as the 14th best state to survive a recession. Now two years later, it dropped 28 spots.
"Florida students see drops in reading scores" via Jessica Bateman of WLRN — Across the country and throughout Florida, students performed worse on the 2019 National Assessment of Educational Progress (NAEP) than the same tests two years ago. The exams are given every other year to a representative sample of fourth and eighth-graders by the National Center for Education Statistics (NCES), a division of the U.S. Department of Education. Florida public schools saw significant drops in reading performance from 2017, a shift that was reflected nationwide. Students across the board saw decreases in reading performance, except for the very strongest readers, NCES reported.
Happening today — Florida Education Association President Fedrick Ingram will deliver a speech on student success at Hawthorne Middle-High School, 21403 SE 69th Ave., Hawthorne. The FEA visit to the school — part of its continuing statewide bus tour — will be 1:15 p.m.
"School on the day after Halloween? Boooooo, petitions say" via Austen Erblat of the South Florida Sun-Sentinel — More than 200,000 people from school districts across Florida — and more than a million people nationwide — have signed online petitions calling for no school on the day after Halloween. It's not clear how many of those who signed petitions are students, but "a lot" would be a good guess. "There's nothing scary about the fact that over 2,000 kids and teens have come to Change.org to say that they want the school day after Halloween off," said Michael Jones, managing director of campaigns at Change.org. "This is a major trend, and we hope schools listen and give students a treat. We encourage students to start their own petitions to make their voices heard in their own school districts."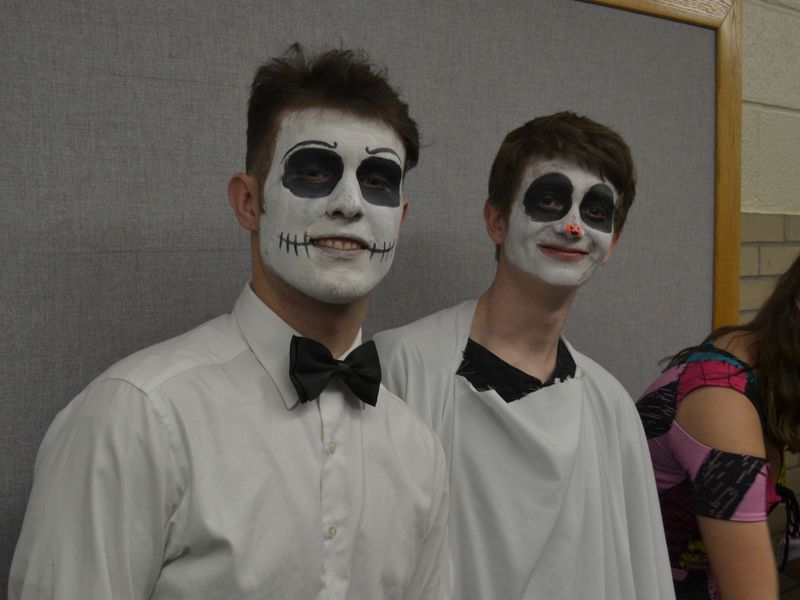 Nikki Fried announces $500,000 'Food Recovery Grant' legislation — The Agriculture Commissioner this week toured Pero Family Farms, a fifth-generation family farm, then announced new legislation creating a $500,000 grant program to "support and promote food recovery efforts between local farms and food banks,' a news release said. "By helping move leftover produce from fields to food banks, we can reduce food waste (and) break the cycle of food insecurity," she said. Farmworkers and local nonprofit volunteers often collect leftover produce from farm fields for distribution through food banks. Fried's legislation, to be filed in the 2020 Legislative Session, will help promote the food recovery program to more nonprofit organizations.
Trick or treating? FDLE has a few safety tips — The Florida Department of Law Enforcement wants kids to have a fun and safe Halloween, and it has a few tips for parents that could prevent something truly scary from happening while they're out collecting candy. FDLE says parents should have the names and contact info for all trick-or-treaters in their child's group. If a child gets lost, getting them home is a lot easier if they know to call 911 in an emergency and can recite their full name, address and telephone number — just make sure they know not to hand that information out to strangers. Kids should also be encouraged to use crosswalks and sidewalks. Finally, parents can download the FDLE app for up-to-date public safety information.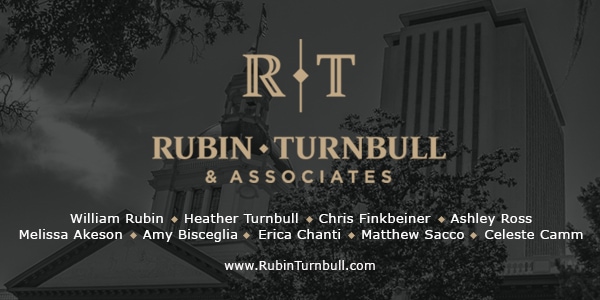 — TAXES ARE TRICKY — 
Is Halloween candy a trick or a treat? Both, if you're buying it in Florida! Groceries are generally exempt from the Florida sales tax, but candy can get confusing. Most of the candy that trick-or-treaters collect, and adults hand out (and eat), is subject to the 6 percent state sales tax and any applicable local option sales tax, so long as it costs at least ten cents. Other food items that are "similar to candy" are also taxable, including candy apples, chewing gum and breath mints (except those containing aspirin, laxative, or antacids), cotton candy, fruit-flavored sticks, jelly beans, licorice, and lollipops.
Then it gets tricky. Chocolate and glazed or sugarcoated fruit are taxable, but chocolate chips and glazed fruit are exempt when "advertised or normally sold for use in cooking or baking." Frosting, powdered sugar, and items used to decorate baked goods are also exempt.
One of these treats is a trick: marshmallow candy is taxable; marshmallows are exempt.
Ice cream and frozen yogurt are exempt if sold in containers larger than one pint, but it is taxable if sold in pints (sorry, Ben & Jerry) or smaller sizes. Popsicles, fudgsicles, frozen fruit bars, and other frozen novelties are taxable.
These goodies for trick-or-treaters are a real treat, as they are tax-free: cookies (even if chocolate-coated), nutrition bars, cracker jacks, fruit rollups, chips, cheese puffs, granola and cereal bars, nuts, and pretzels. All these treats can be covered in chocolate, candy, honey, or yogurt and remain tax-free.
If you want to celebrate Halloween with something truly scary, read the Florida Administrative Code concerning the taxation of groceries.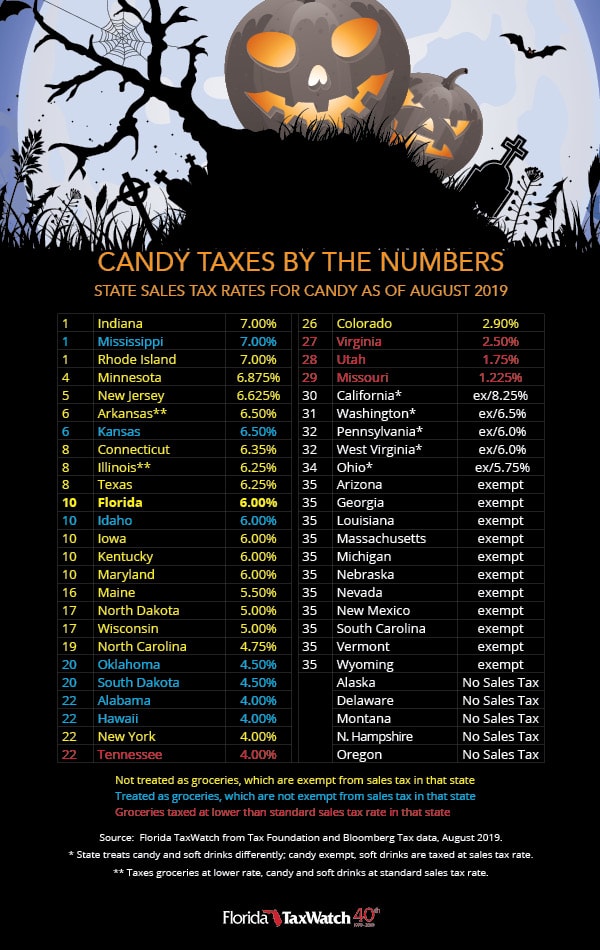 — MOTHER NATURE —
"Judge ready to wade into water war" via Jim Saunders of the News Service of Florida — Senior U.S. Circuit Court of Appeals Judge Paul J. Kelly, appointed as a special master by the U.S. Supreme Court, will weigh whether Georgia uses too much water from a river system that flows into Apalachicola Bay. Kelly's ultimate recommendation to the Supreme Court could help determine whether Florida will be successful in its attempt to get a cap on Georgia's water usage from the Apalachicola-Chattahoochee-Flint system. "As Georgia has drastically increased its consumption of upstream waters, especially along the Flint River for agricultural purposes, the amount of water flowing into the Apalachicola has shrunk dramatically. This has had the predictable effect: The Apalachicola has suffered, and its oyster fisheries, in particular, have collapsed," Florida's attorneys wrote.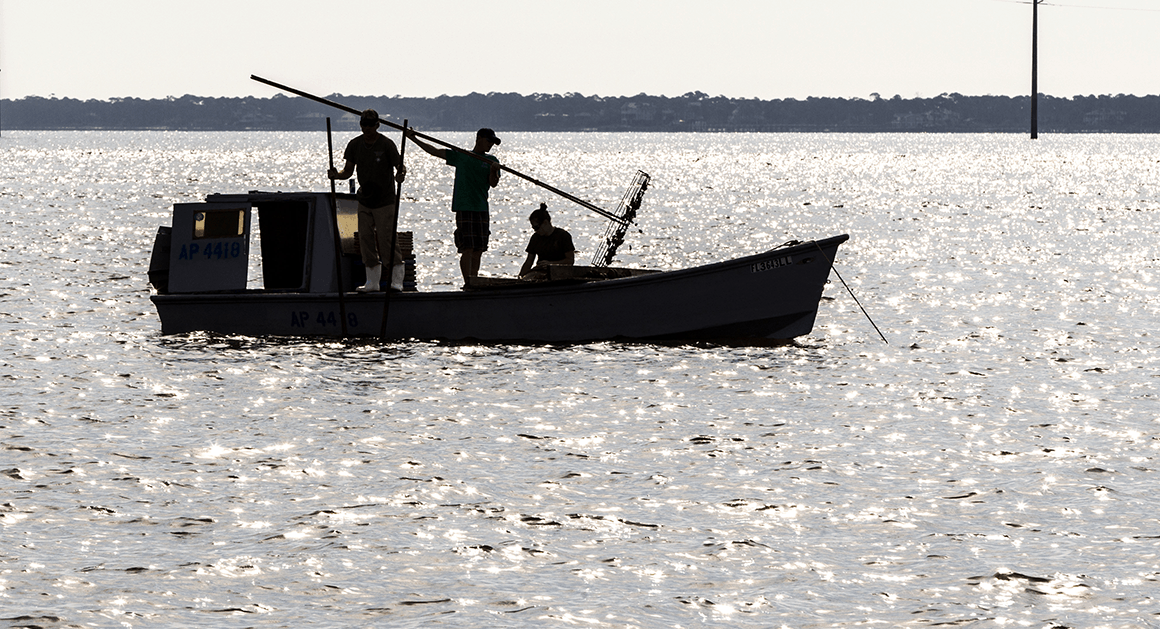 "Florida DEP issues notice of intent to allow exploratory drilling in Apalachicola River basin" via Jeff Schweers of the Tallahassee Democrat — Cholla Petroleum of Dallas applied for permission two months before Hurricane Michael to sink six exploratory wells between 13,600 feet and 14,200 feet between Dead Lakes and the Apalachicola River in Calhoun County. The exploratory drilling would punch into the Floridan aquifer, which environmentalists said could put the water supply for the Panhandle at risk of contamination. Alvaro Linero, the DEP's program administrator for Oil and Gas, sent an email to William Lawson, the oil company's vice president for land that it intends to publish a notice of intent to issue the permits.
"FWC is trying to keep 'zombie deer' out of Florida with new regulations" via Emma Green of WBBH — Chronic wasting disease affects the nervous system of deer, elk, moose, caribou and all other members of the deer family. The deadly disease is thought to spread through direct contact with bodily fluids or by drinking contaminated water, according to the CDC. There's a low risk of transmission to humans, but the CDC said the barrier between species might not fully protect hunters from contracting CWD. Because the disease has spread to 26 states, the FWC is trying to reduce the risk of it coming here. Under Executive Order 19-41, deer-family carcasses may not be imported into the state except for legally hunted white-tailed deer from Georgia or Alabama, unless CWD spreads to those states.
"Red Tide back but not as bad — so far" via Craig Pittman of the Tampa Bay Times — A Red Tide algae bloom that began off Collier County's beaches in late September has been inching its way up the coast during October, killing fish and choking beachgoers. On Wednesday, state scientists said the algae was detected in "very low concentrations" off of Pinellas County.
"Creepy and crawly creatures from under the sea: Researchers share Halloween favorites" via Charles Duncan of the Miami Herald — Researchers who have been diving down into the ocean's depths with the Office of Ocean Exploration at the National Oceanic and Atmospheric Administration shared some of their favorite Halloween photos. "Can't very well have a countdown to a Halloween start to an Okeanos mission without at least one creepy-crawly critter … like a sea spider! Despite their name, sea spiders (or pycnogonids) are not actually true spiders," the researchers said on Facebook, sharing a photo of a seemingly faceless creature that could star in a horror movie. Another post shows a deep-sea squid lurking above one of the team's remotely operated vehicles as it traverses the ocean floor.
—"Need a little Halloween scare? Here are 10 Florida creatures to send chills down your spine" via Amy Bennett Williams of the Fort Myers News-Press
Meanwhile … "Subtropical storm Rebekah forms in north Atlantic" via The Associated Press — Rebekah has formed in the north Atlantic but currently poses no threats to land. The U.S. National Hurricane Center says the storm was centered about 745 miles west of the Azores, a Portuguese island chain. Rebekah has maximum sustained winds of 45 mph and is moving east at 13 mph. Forecasters expect the storm to weaken to a post-tropical cyclone as it approaches the Azores on Thursday or Friday. There are no coastal watches or warnings in effect.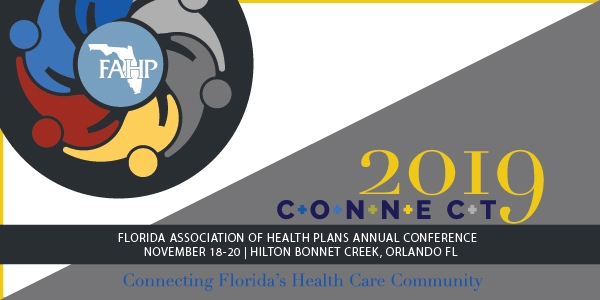 — PEACHY —
"Florida voters oppose impeaching and removing Donald Trump, but favor congressional impeachment investigation, poll shows" via Anthony Man of the South Florida Sun-Sentinel — The poll shows 53 percent of Florida voters oppose impeaching and removing Trump, with 42 percent supporting. The New York Times Upshot/Siena College poll also found 49 percent of Florida voters support the impeachment inquiry being conducted by the House, with 44 percent opposing the inquiry. Women are more supportive of impeachment and removal than men. Among men, it's 38 percent in support, and 57 percent opposed. Among women, 46 percent to 48 percent. Majorities of black and Hispanic voters support impeachment and removal. White voters are opposed. Among whites, 32 percent in support and 63 percent opposed. Among black voters, 67 percent are in favor, and 15 percent opposed. Among Hispanics, the split is 53 to 42 percent.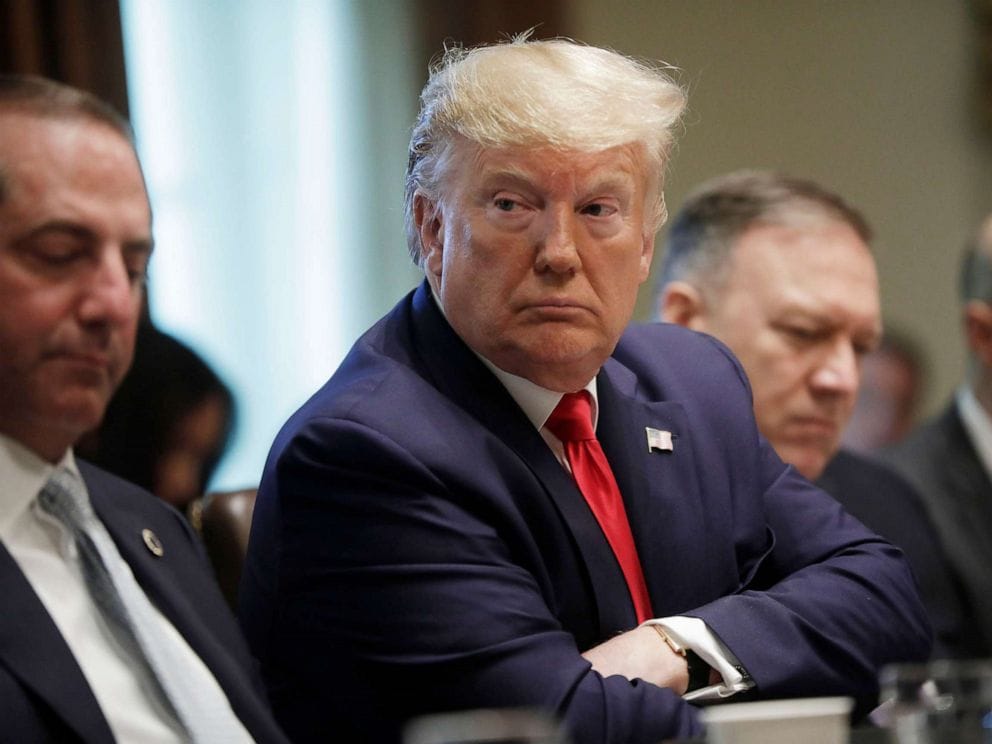 "House impeachment inquiry summons John Bolton, central figure in Ukraine drama" via Nicholas Fandos and Adam Goldman of the New York Times — Bolton's lawyer responded by saying that Bolton was "not willing to appear voluntarily," declining to specify what his client would do should he be subpoenaed. The possibility of Bolton's appearance set up what could be a marquee interview of the House's month-old impeachment inquiry, featuring a fiery foreign policy veteran who is said to have been deeply alarmed by what he saw unfolding around him concerning Ukraine. His deputies have testified that Bolton, who left the White House in September amid disagreements with the president, resisted Trump's attempts to pressure Ukraine into opening investigations of Democrats, and warned that Rudolph W. Giuliani, the president's personal lawyer, was a "hand grenade who's going to blow everybody up."
"Democrats, once wary of partisan impeachment inquiry vote, unite as politics shift" via Sheryl Gay Stolberg and Catie Edmondson of The New York Times — The striking turnabout reflects Democrats' growing confidence that the public is behind their fact-finding mission into Trump's dealings with Ukraine. It comes after weeks of bombshell revelations confirmed an anonymous whistle-blower's assertion that Trump withheld military aid from Ukraine as part of a pressure campaign to enlist the country to smear his political rivals. The shift also reflects Nancy Pelosi's close hold on and keen instincts about her fractious caucus, and the rapidly evolving politics of impeachment. The result is that Democrats appear ready to call the bluff of the White House and Republicans, who have clamored for a vote to authorize the impeachment process but now staunchly opposed to the Democrats' resolution laying out rules to govern it.
— D.C. MATTERS —
"Trump trolls the press corps aboard Air Force One with 'gross' Halloween lunch" via Elizabeth Vaughn of Red State — Journalists were stunned after being served their lunch and photos of the mystery meal went viral. ENM News reported that "No one has any idea what this "gross," Halloween-themed Air Force One press lunch is supposed to be." CNN correspondent Michelle Kosinski described the meal as "a stuffed orange bell pepper carved like a spooky jack o' lantern, with salad, tomatoes, and an unknown dish sitting in the corner of the tray." The Gateway Pundit's Jim Hoft wrote that "Air Force One serves them the garbage Halloween lunch they deserve!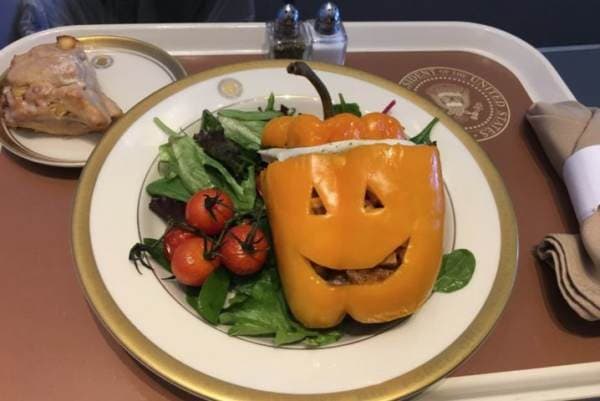 "Are Trump's policies causing kids in Miami to lose their health insurance?" via Ben Conarck of the Miami Herald — A national spike in children going without health insurance is especially bad in Florida and Miami-Dade County, partly because of a "chilling effect" for immigrant families who hesitate to enroll their children in public assistance programs because they worry about deportation, a new report found. That's one of three factors likely driving the rise in children without insurance in Miami-Dade, where 7 percent of children were uninsured in 2018, according to the report by the Georgetown University Center for Children and Families. About 41,500 kids are uninsured in Miami-Dade, which ranks ninth in the country for the total number of uninsured children by county, according to the report.
"Florida voted to end daylight saving time, but we're still falling back this weekend" via Kimberly Miller of the Palm Beach Post — Floridians will join most of the nation when they turn their clocks back an hour Sunday, despite legislative momentum to end the practice. While state lawmakers in Tallahassee approved a bill in 2018 that would allow Florida to remain on daylight saving time year-round, it only works if Congress amends U.S. code to enable it. Sens. Marco Rubio and Rick Scott reintroduced the so-called Sunshine Protection Act in March to end the twice-annual time changes and have picked up notable co-sponsors, including Tennessee Republican Lamar Alexander and Sen. Patty Murray of Washington. For now, the only power individual states have is to opt-out of daylight saving time, putting them on standard time permanently.
"Michael Waltz wants special U.S. visas for Kurdish fighters" via Scott Powers of Florida Politics — Waltz and Democratic U.S. Rep. Jason Crow of Colorado jointly sponsored a bill seeking to extend the Special Immigrant Visa program to Syrian Kurdish fighters who assisted in counter-ISIS operations in Syria, and who now are on the run after Trump pulled American forces and gave Turkey the green light to invade Kurdish areas in Syria. House Resolution 4873, the Syrian Partner Protection Act, would extend the Special Immigrant Visa program to Syrian Kurdish fighters who assisted in counter-ISIS operations. The bill is co-sponsored by Republican U.S. Rep. Don Bacon of Maine and Democratic U.S. Reps. Earl Blumenauer of Oregon, Jim Langevin of Rhode Island, and Seth Moulton of Massachusetts.
"Once a rising Democratic star, Debbie Wasserman Schultz eyes new leadership role" via Alex Daugherty and Emma Dumain of the Miami Herald — Wasserman Schultz is eyeing a return to Democratic Party leadership three years after intense criticism over her handling of the Democratic National Committee during the 2016 election cycle forced her to step down as head of the organization.
— 2020 —
"Twitter to stop accepting all political ads on the platform globally" via Sara Fisher of Axios — Twitter CEO Jack Dorsey said the tech giant would no longer accept political advertising of any kind on its platform. Tech companies have come under fire as of late for policies around how they police political ads. According to Dorsey, more specifics about the policy will be published by Twitter on Nov. 15. The policy will go into effect on Nov. 22. In his tweets, Dorsey said that the reasoning for the policy change is in part because Twitter acknowledges that a tech platform's unique ability to distribute ads in a highly targeted manner, and with easily tested and customizable messaging, is different from the advertising opportunity on broadcast TV.
>>>Trump campaign reacts: "Twitter just walked away from hundreds of millions of dollars of potential revenue, a very dumb decision for their stockholders. Will Twitter also be stopping ads from biased liberal media outlets who will now run unchecked as they buy obvious political content meant to attack Republicans? This is yet another attempt to silence conservatives since Twitter knows President Trump has the most sophisticated online program ever known." — Brad Parscale, Trump 2020 campaign manager
"Emails released between student body president and Donald Trump campaign official" via Alyssa Feliciano of the Florida Alligator — Emails show a Donald Trump re-election campaign official personally asked UF Student Body President Michael Murphy in September to bring Donald Trump Jr. and Kimberly Guilfoyle to campus the following month. Caroline Wren, the national financial consultant of Trump Victory, the president's 2020 re-election committee, said she was looking to bring Donald Trump Jr., Kimberly Guilfoyle and Republican National Committee Co-Chair Tommy Hicks to UF on either Oct. 9 or 10. "We met at my house on the 4th of July," Wren wrote in the Sept. 10 email. "I wanted to follow up with you regarding a speaking engagement at the University of Florida for Donald Trump Jr."
"Ex-Joe Biden aide forms Unite the Country super PAC" via Theodoric Meyer and Maggie Severns of POLITICO — A former Biden aide has filed paperwork to form a super PAC, called Unite the Country, that is set to boost the former vice president with millions of dollars in spending in the 2020 Democratic presidential primary. Larry Rasky, who worked on two of Biden's previous presidential bids, is listed as the treasurer for the new pro-Biden group. Several other high-profile Biden supporters — including Florida operative Steve Schale, a Barack Obama campaign alumnus who was involved in efforts to draft Biden into the 2016 presidential race; Mark Riddle, a Democratic operative; and Julianna Smoot, Obama's former national finance director — have also been in talks to lead the super PAC.
"Kamala Harris to slash staff, restructure campaign as she hemorrhages cash" via Christopher Cadelago and Scott Bland of POLITICO — Harris is dramatically restructuring her campaign by redeploying staffers to Iowa and laying off dozens of aides at her Baltimore headquarters as she struggles to resuscitate her beleaguered presidential bid. The moves come as Harris is hemorrhaging cash and in danger of lacking the resources to mount a competitive bid against better-funded rivals in Iowa. The overhaul will touch nearly every facet of Harris' operation, with layoffs or redeployments coming at headquarters, as well as in New Hampshire, Nevada, and her home state of California, a Super Tuesday prize that her advisers once viewed as a big asset.
"The surprise voting bloc Bernie Sanders is banking on to win the nomination" via Laura Barrón-López and Holly Otterbein of POLITICO — The fact that Biden is counting on strong support from African Americans is widely known. Less understood is the similar bet that Sanders is making on Latino voters: His campaign believes that by driving up turnout among Latinos, as well as young and working-class voters of all ethnicities, he can build out the electorate, bring new voters into the fold, and expand the 15 to 20 percent of Democratic voters who zealously support the democratic socialist. There's also the reality that Sanders probably can't win the Democratic nomination without Latinos, since his campaign is relying on a strong finish in states such as Nevada and California.
"Elizabeth Warren's note top-dollar fundraiser pledge includes big caveat" via Brian Slosysko and Will Weissert of The Associated Press — The Massachusetts Senator has become a leading Democratic presidential candidate in part because she has pledged to forgo events with high-dollar donors, which has resonated with progressives who believe wealthy donors have outsized political influence. But Warren has a notable exception for fundraisers that take in big money for her party, a practice she plans to continue if she becomes the Democratic nominee to take on Trump. Democratic leaders say Warren isn't honest about her fundraising plans if she were to become the nominee. They say she can't tell voters she is personally shunning big-dollar fundraisers while simultaneously headlining state and national party events at which she would raise millions of dollars from major donors supporting her bid.
"Democratic group targets local races in bid to beat Donald Trump" via Chad Day and Ken Thomas of the Wall Street Journal — The city council race in the beachfront town of Rockledge isn't typically on the target board for a major Democratic super PAC. But this fall, voters are seeing a raft of Facebook, YouTube and Hulu ads funded by the deep-pocketed Priorities USA. The ads are part of a $4 million strategy that Priorities USA hopes will help a Democratic challenger defeat Trump next year. They don't advocate for any candidate or political party or hot-button issue. They simply encourage eligible voters to check their registration and show up to the polls next week in local elections. The digital ads are targeting Democratic strongholds, where Trump won narrowly, like Pinellas County.

—FDP STAFFS UP —
The Florida Democratic Party is continuing to make staffing moves of the 2020 election with the hopes of avoiding the struggles the party faced back in 2018. The party earned just one statewide win last cycle to go with several other near misses in state legislative races.
"We know that in the past, we haven't invested in voter registration and field efforts early enough, and we are learning from that mistake by continuing to expand our field staff," FDP Chair Terrie Rizzo said in announcing the moves. The staff changes include a trio of promotions as well as new hires.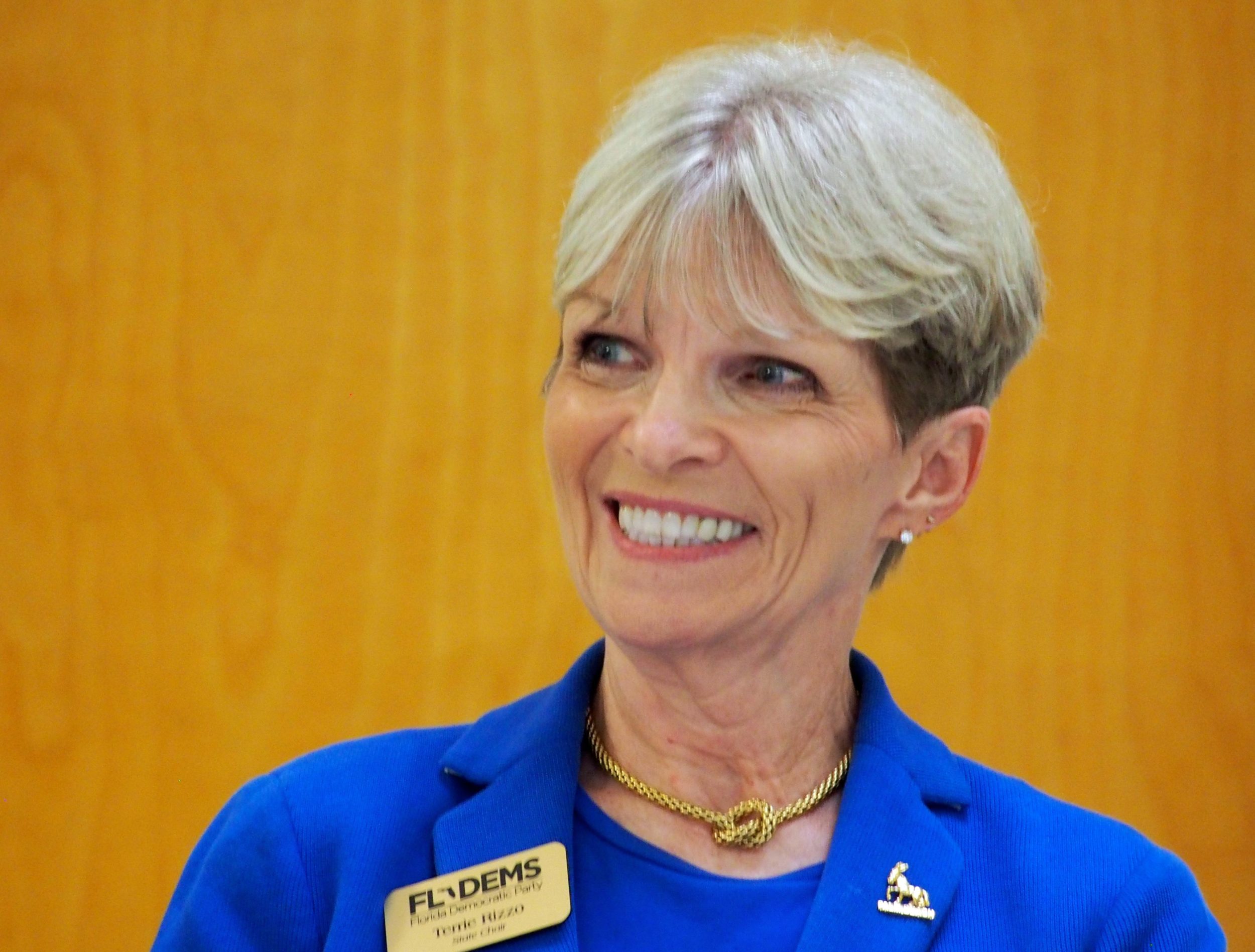 — Clifton Addison is leaving his post as FDP Deputy Political Director to move into a new role as the party's Coalitions Director. Addison is a former Chief Legislative Aide to state Sen. Geraldine Thompson.
— Ella Coffee will become the new Deputy Statewide Engagement Director for FDP. Coffee currently serves as one of eight Community Engagement Directors for the group. She formerly worked for the Hillsborough County Supervisor of Elections.
— Keith Hardy will be making an identical move, transitioning from a Community Engagement Director into sharing Deputy Statewide Engagement Director duties with Coffee. Hardy was hired by the party to work in Northwest Florida back in 2018.
— Onto the new hires, Jocelyn Mund Kelly is coming on as a Campus Organizing Director. She did fieldwork for the 2012 Barack Obama presidential campaign before taking on organizing efforts for the Democratic Congressional Campaign Committee, two Florida's governor's races, and other campaigns.
— Wendy Williams is being hired as the Deputy Director for Party Affairs. Williams has a background in business administration and marketing. She's also served as Chair of both the Florida Democratic Party's Small County Coalition and the Citrus County Democratic Executive
— Brendan Bargmann will take on the role of Deputy Finance Director for North and Central Florida. He previously served as Finance Director in the 2018 contest in New Jersey's 2nd Congressional District. That race saw Democratic candidate Jeff Van Drew flip a previously red seat by more than six percentage points.
— The party is also adding a trio of Regional Field Directors in Luis Zaldivar, Adrian Koster and Alejandro Levy. Zaldivar has worked on pushing public health programs in Latin America and Northeast Florida. Koster has served as a Field Director for U.S. Rep. Debbie Mucarsel-Powell of Florida's 26th Congressional District. Levy most recently worked as the Miami coach for Organizing Corps 2020.
The new hires add to dozens of field organizers already added throughout the year. FDP leadership is hoping these hires can propel Democrats in 2020. Reported dysfunction over at the Republican Party of Florida may give them hope. But with the 2018 results still fresh, Florida Democrats will need to prove it on the field.
— THE TRAIL —
"Federal prosecutors receive complaint of illegal canvassing in Florida" via Matt Dixon of POLITICO — Federal prosecutors have received information from a non-profit group that claims it has evidence of canvassers violating Florida law as they gather signatures for organizations seeking to put questions on the 2020 ballot. Florida's top elections office received video of the alleged wrongdoing from Keep Our Constitution Clean, a political committee pushing its own ballot initiative. The state last week turned the information over to the U.S. Attorney for the Northern District of Florida.
Save the date: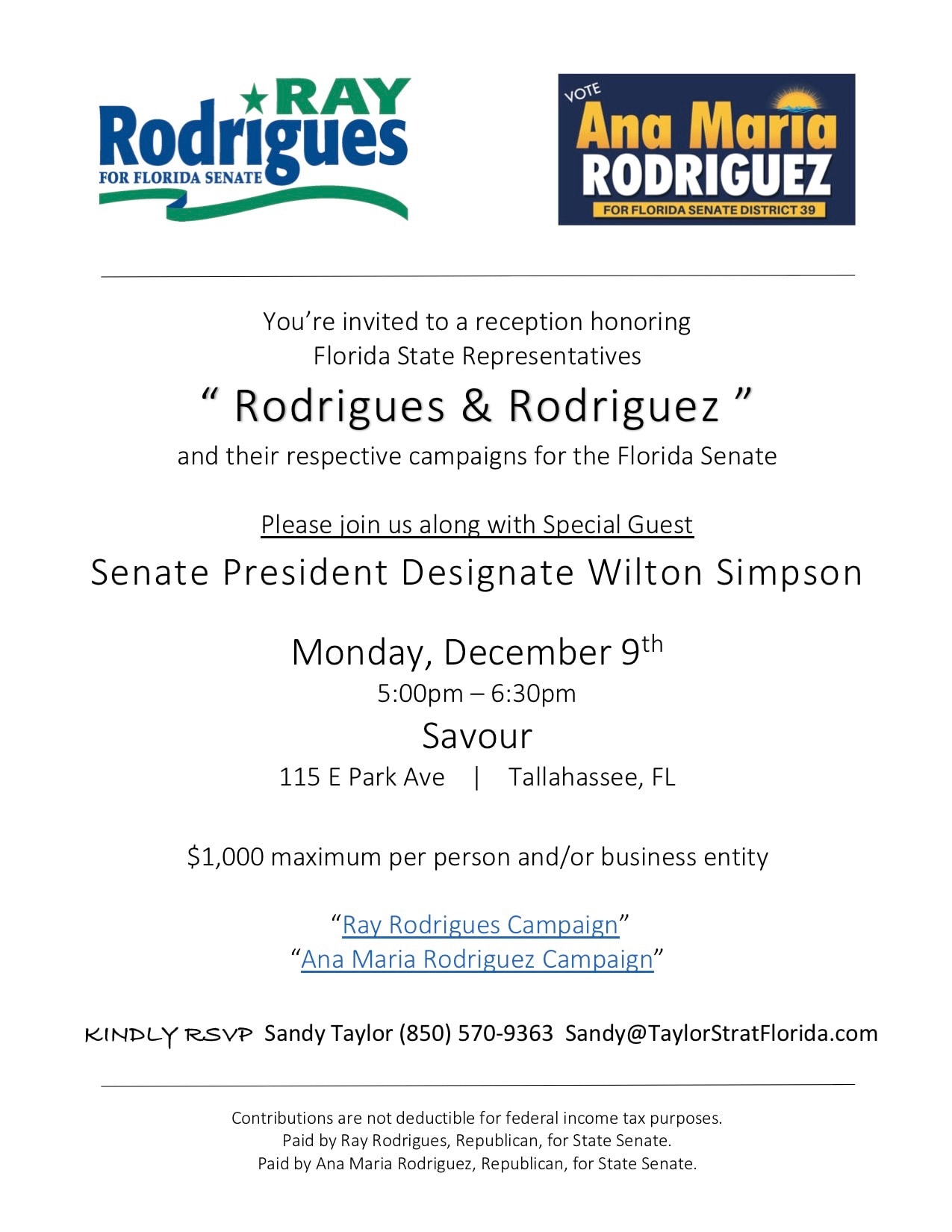 Levy firefighters endorse Joe Harding — The Levy County Firefighters endorsed Harding in the race to replace term-limited Rep. Charlie Stone. "Joe Harding cares deeply about the safety of our citizens in House District 22," said Katy Yanok, Union President for Levy Fire Rescue. "Joe will be fully engaged and do everything in his power to keep our streets safe and secure." Harding is running against Russ Randall in the Republican primary. Heading into October, Harding held the fundraising lead with $97,000 in the bank while Randall had about $80,000 on hand.
"Democratic candidate Ricky Junquera celebrates campaign kickoff in HD 118 race" via Ryan Nicol of Florida Politics — Junquera is celebrating the official launch of his House District 118 campaign after holding a campaign kickoff fundraiser in Miami. Junquera announced his desire to take on incumbent GOP state Rep. Anthony Rodriguez in early October. Rodriguez is a freshman in the House who flipped the seat from former Democratic state Rep. Robert Asencio. "In the Florida State House, we have an opportunity to show up for the working class, and I'll do just that," Junquera said. "From traffic to toll roads, and health care to wages, I will find ways to bring both sides together to fight for all of us." The event, which was held at Grubhouse Gastrobar & Grill in Miami, will aim to help Junquera make a splash in his first month of fundraising as a candidate.
"With latest endorsement, Robert Blackmon confronts pain of drug addicts" via Janelle Irwin Taylor of Florida Politics — St. Pete City Council candidate Blackmon is touting new endorsements from two former Tampa Bay Buccaneer players. In a video shared to Facebook, former defensemen Keith McCants and Stylez G. White offered their support for who they described as "one of the greatest guys" they know. McCants has led a troubled life since leaving the NFL after a six-season career. He has been arrested more than a dozen times, in the Tampa Bay area and in his home state of Alabama, for possession of crack cocaine. It seemed odd at first that Blackmon would publicly push an endorsement from a man with a criminal record, but McCants symbolizes the plight of many residents.
To watch the video, click on the image below:
"TV firebrand Jeanine Pirro to appear at Seminole GOP fundraiser" via the Orlando Sentinel — Pirro, a Fox News personality known for her fierce defense of Trump, is scheduled to appear next month at a fundraiser named for the president and held by the Seminole County Republican Party. She will join Republicans at the event on Nov. 12 at 6 p.m. at the Friendly Confines restaurant in the Altamonte Mall.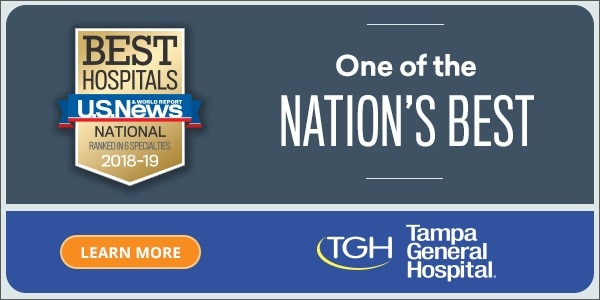 — LOCAL —
"Jeffrey Epstein's injuries look more like murder than suicide, noted pathologist says" via Julie Brown of the Miami Herald — A private forensic pathologist hired by Mark Epstein to oversee his brother's autopsy bolsters what conspiracy theorists have suggested for months: that the evidence does not support the finding that Jeffrey Epstein killed himself. Dr. Michael Baden, one of the world's leading forensic pathologists, viewed Jeffrey Epstein's body and was present at the autopsy, held Aug. 11 — the day after Epstein was found dead. Baden described Epstein's jail cell, the ligature he allegedly used to hang himself, and his own suspicions that federal authorities have not conducted a thorough probe into Epstein's cause and manner of death. "They rushed the body out of the jail, which they shouldn't do because that destroys the evidence,'' Baden told the Herald.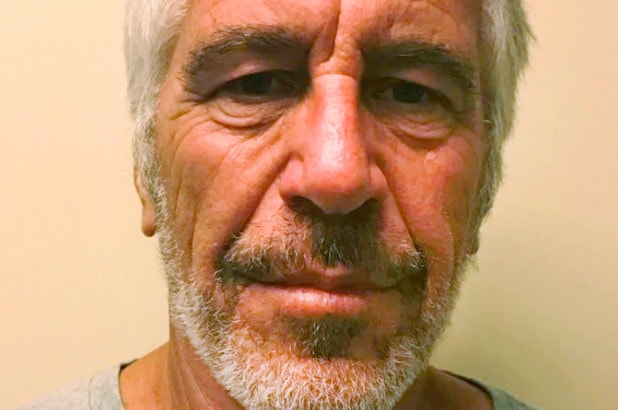 "Miami cops' overtime security jobs lead to rampant misconduct, city report" warns via Jerry Iannelli of the Miami New Times — For years, critics have warned that Miami-area cops continue to get into trouble while working security in bars and clubs in the Magic City's already chaotic night life scene. But the public has not quite known how frequently off-duty officers find themselves in trouble. In a scathing report, the City of Miami Civilian Investigative Panel (CIP), a board of Miami residents that investigates police issues, says it found at least 40 alleged misconduct incidents that occurred during off-duty assignments between 2017 and 2018. Among the incidents, the CIP found allegations of everything from poor record-keeping to cops arresting people who had pissed off bar owners — all the way to claims of excessive force and violence.
"Broward sheriff fires deputy accused of punching suspect handcuffed to a hospital bed" via David Neal and Devoun Cetoute of the Miami Herald — Broward Sheriff Gregory Tony said a 30-day suspension for Deputy Jorge Sobrino originally was recommended to him after an internal affairs investigation by the Professional Standard Commission, which is comprised of civilians, BSO union members and sheriff's office command staff. But after seeing the evidence, Tony decided that wouldn't do. The union that represents Broward deputies doesn't agree. "We are going to vigorously fight this," said Jeff Bell, president of the Broward Sheriff's Office Deputies Association. Bell says two captains, two lieutenants, and one sergeant gave sworn statements saying Sobrino was within the use-of-force guidelines. Sobrino, 24, also has been charged in Broward County criminal court with misdemeanor battery.
"John Thrasher addresses recent rash of crimes on FSU campus; says police patrols have been increased" via Byron Dobson of the Tallahassee Democrat — Florida State University police have beefed up patrols near residence halls following a rash of personal crimes on campus, FSU President Thrasher said in a campuswide email. Thrasher worked to reassure the campus community and parents student safety is a top priority. The email comes on the heels of an incident at 6:45 a.m. Monday, when a student was robbed near Gilchrist Hall, a residence hall on campus. FSUPD investigators charged Rodney Jermaine Joyner, 36, with robbery with a weapon, aggravated battery using a deadly weapon and attempted kidnapping in the commission of a felony. Joyner is not affiliated with the university, police said in a release.
"Florida fast train to connect Miami cruise port with Orlando" via The Associated Press — Brightline will build a station at PortMiami by 2020. The Virgin Trains will ultimately connect a crucial 170-mile stretch from West Palm Beach to Orlando and its theme parks. It's scheduled to open in 2022. Another station in Aventura has been approved, and the company is working with Boca Raton to add a station there. PortMiami is home to 22 cruise lines and served more than 5.5 million travelers last year.
"Bill Carlson wanted to go on international trade missions with agency he now wants to defund" via Charlie Frago of the Tampa Bay Times — Over a July lunch at the downtown University Club, Carlson told the Tampa Economic Development Council's chief executive he wanted to go on future international trade missions organized by the agency. According to Craig J. Richard, the agency's CEO, Carlson started by telling him there was a new City Council with new ideas. The council's new role included international travel, Richard said Carlson told him, and left the impression there would be negative consequences for the council's $538,000 annual contract with the city if those ideas weren't adopted. Carlson made it "crystal clear," Richard said. "Look there's going to be some changes. These are my ideas. Get with the program." Carlson said Richard is lying.
"Jacksonville Housing Authority board votes to fire CEO Fred McKinnies" via David Bauerlein of the Florida Times-Union — The Jacksonville Housing Authority board voted Wednesday afternoon to terminate McKinnies as the agency's president and CEO. The vote followed an Inspector General's report that found McKinnies had sexual relationships with two employees over a yearslong period while he had responsibility "directly or indirectly" for those employees' evaluations, salary increases and a promotion. The investigation determined that one of the sex acts between McKinnies and an employee occurred at the authority's main office during work hours.
"Pulse memorial and museum design announced" via Kate Santich of the Orlando Sentinel — Vowing to create a "sanctuary of hope and healing," the onePULSE Foundation announced Wednesday a design for the Pulse memorial that includes a tranquil reflecting pool and 49 trees encircling the remains of the club and a towering museum a half-mile away that "rises like a budding flower." "Together, we have an opportunity to reclaim a place from terror and darkness and create a new reality, one that brings people together in celebration of joy and love," said Thomas Coldefy, principal of Coldefy & Associates, the French urban architectural firm that teamed with Orlando-based HHCP Architects and a group of planners, designers and artists for the winning concept.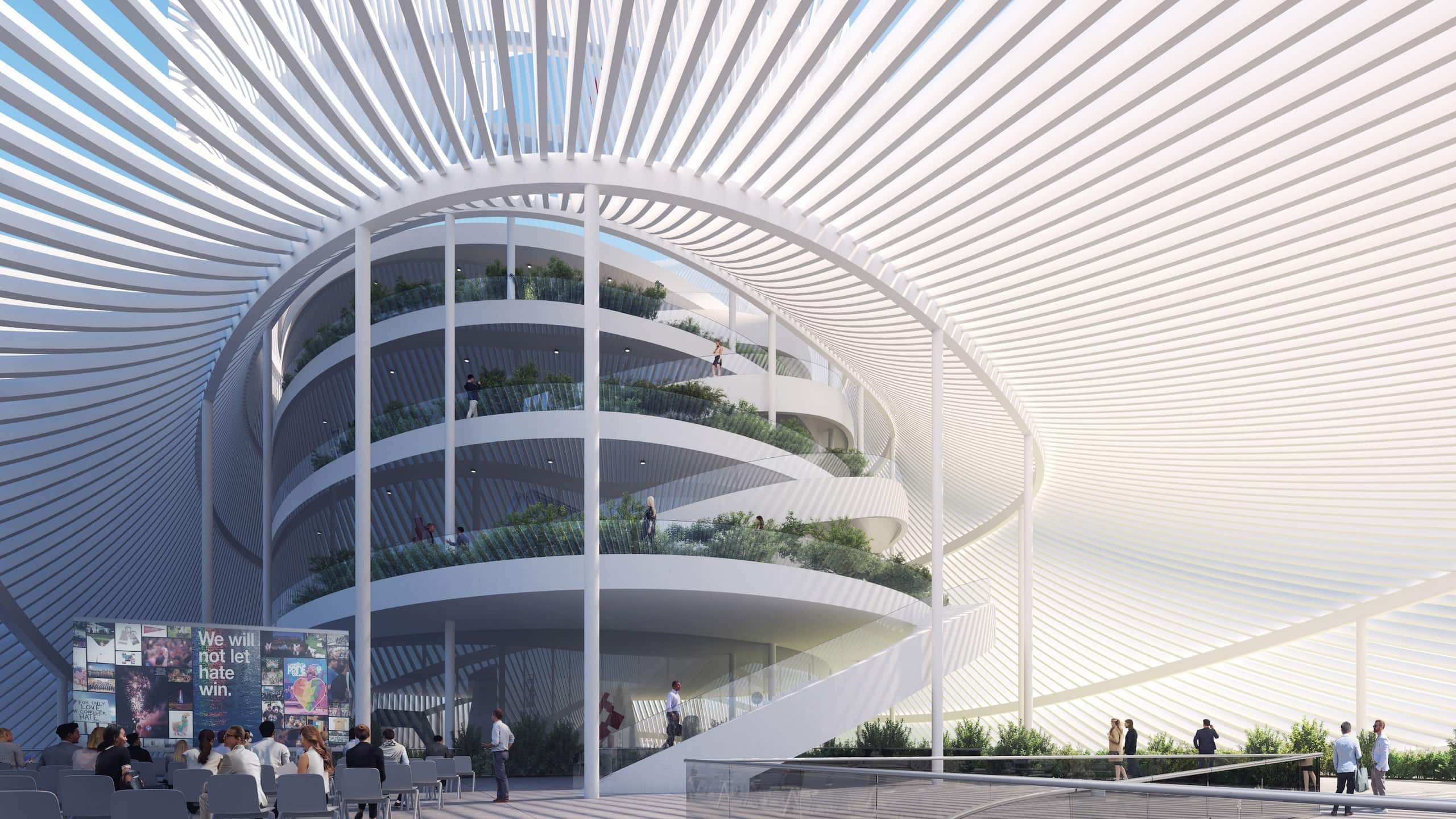 "Seminole Tax Collector Joel Greenberg launches tirade against County Chairman Brenda Carey, county attorney" via Martin Comas of the Orlando Sentinel — Greenberg unleashed an early-morning attack against Carey on Facebook, accusing her of spending more time living in North Carolina than in Seminole. He thereby accused Carey of not only violating the state's homestead exemption law but also making her ineligible to serve on the County Commission, alleging her home in Seminole is not her permanent legal home for most months of the year. Carey and her husband, Fairley, also have a home in Caswell County, N.C., according to state records. Seminole Property Appraiser David Johnson said he checked out Carey's homestead exemption and determined she can legally claim her Seminole home as her primary residence.
"Spanish River High principal whose Holocaust remarks ignited furor fired" via Andrew Marra of the Palm Beach Post — Palm Beach County public schools fired former Spanish River High School Principal William Latson, four months after comments he made about the Holocaust prompted a national outcry. By a 5-2 vote, county school board members approved the veteran principal's termination Wednesday on the grounds that he violated the school district's code of ethics and the state's code of professional conduct for school principals. But the official justification for Latson's termination was not the explosive comments that drew international attention but his failure to return messages from district officials in the days after his comments became public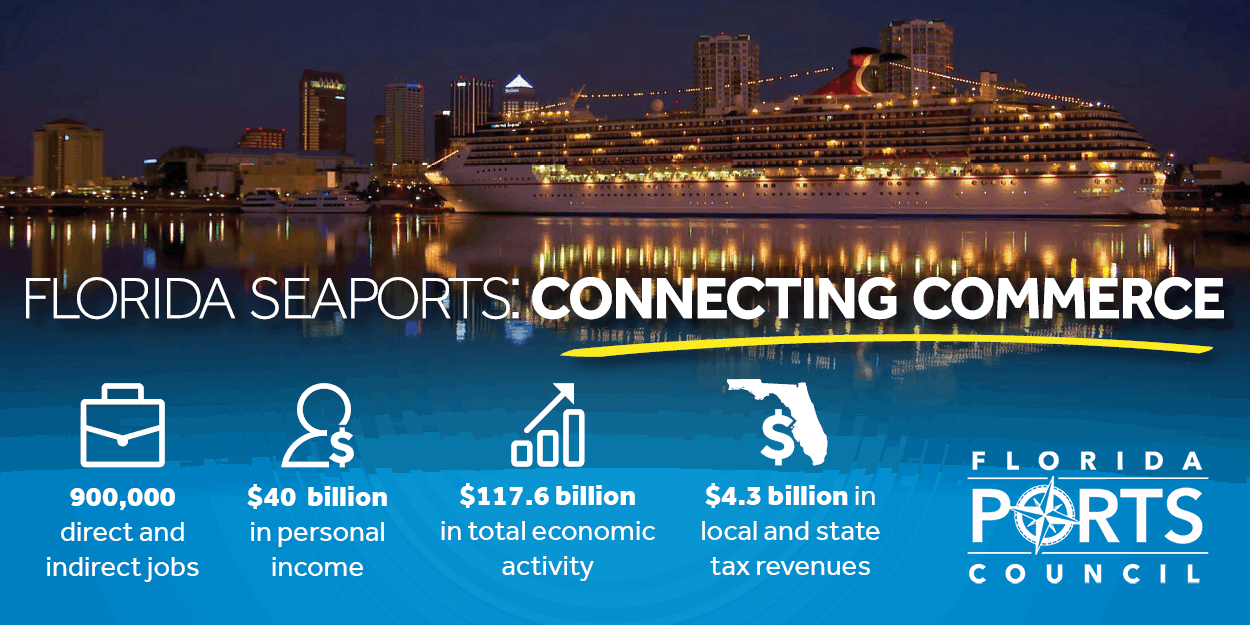 — MORE LOCAL —
"Here's why Halloween is the deadliest day of the year for child pedestrians" via Christopher Ingraham of the Washington Post — The real threat to kids on Oct. 31 is much more mundane: traffic. Children are three times more likely to be struck and killed by a car on the holiday than any other day of the year. A Washington Post analysis found that 54 pedestrians younger than 18 were struck and killed by an automobile on Halloween from 2004 through 2018. That compares with 16 on a typical day. In absolute terms, the likelihood of a child being killed by a car on Halloween is still extremely low, given the hundreds of millions of trick-or-treaters who went out during the period analyzed. But the holiday nonetheless stands out sharply when charted against every other day.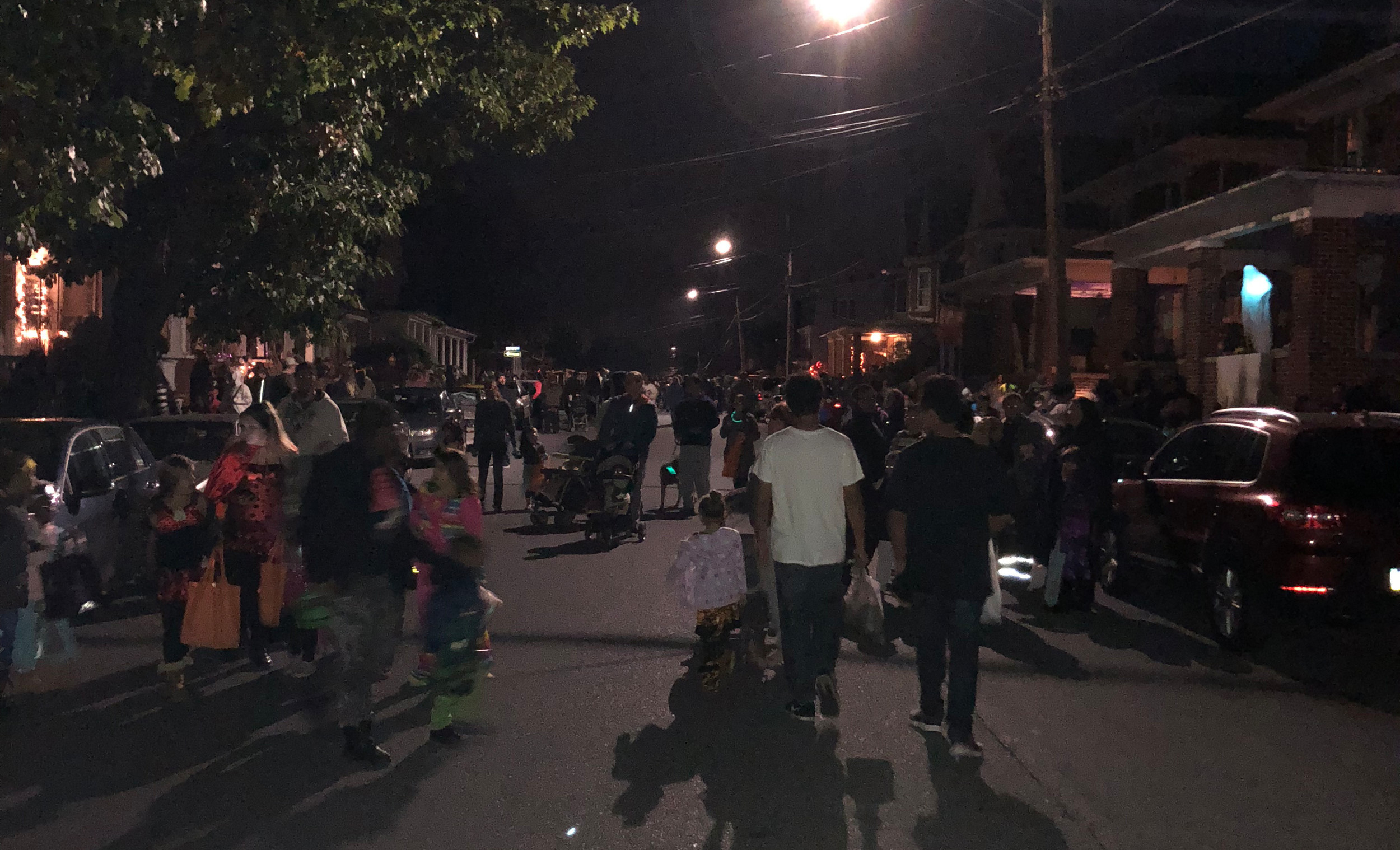 "Haunted Florida: These 5 cemeteries are worth the trip" via Laura Jazmin Tolliver of GateHouse Florida — The Devil's Chair at the Lake Helen-Cassadaga Cemetery, located in a town known for psychics and spiritualists, is said to belong to the devil. Tolomato Cemetery, a haunted burial ground built on an ancient Native Indian village in St. Augustine, may give you a glimpse of the Ghost Bride — buried in her wedding gown. Orlando is known for theme park goers, but if you're looking for a free scare, pull up to the Greenwood Cemetery. The Key West Cemetery, in a 19-acre area, was built in its current location in 1847 after an 1846 hurricane washed dead bodies from the former beachside burial ground out of the coastal dunes on Whitehead Point near the West Martello Towers.
Someone after my own heart — "This Scenic Hills house has 1,200 pumpkin decorations on display in the front yard" via Annie Blanks of the Pensacola News Journal — It's a rainy, windy day before Halloween at Teresa Nelson's house in Scenic Hills, but the full-time massage therapist, wife and mother of three is outside in her front yard placing pumpkin plates on a wooden shelf. Cars drive by slowly, one after the other, stopping momentarily to reach out the window and take pictures. Donning an orange pumpkin costume (complete with a stem and leaf hat), Nelson doesn't mind. "We realized a long time ago we don't need a speed bump on this road, 'cause everyone slows down to look at our house and take pictures," Nelson said, waving at passersby.
"Hillsborough Sheriff issues Halloween warning to sex offenders" via Daniel Figueroa of the Tampa Bay Times — Sheriff Chad Chronister and deputies are going door-to-door, visiting the homes of registered sex offenders to make sure they understand the rules and comply. Registered sex offenders are not allowed to hand out candy or decorate for Halloween and must turn porch lights off. "If a porch light is not on," Chronister said in a video posted to YouTube, "don't go knocking at that door." Chronister offered additional trick-or-treat tips in his PSA video. Chronister said parents should stay with younger children or have older children travel in groups and know the route. He also said children should wear bright and reflective items with comfortable shoes. Masks should not block their eyesight.
To view the video, click on the image below:
 —"Halloween 2019: Everything you need to know about trick-or-treating, haunted houses and all Halloween happenings in Brevard" via FLORIDA TODAY
—"Halloween freebies and deals: plenty of treats around Orlando" via Trevor Frazier of the Orlando Sentinel
—"These are the safest and most dangerous cities to trick or treat. And Miami's rank …" via Howard Cohen of the Miami Herald
—"South Florida's Halloween weather will be warm but not spooky" via Austen Erblat of the South Florida Sun-Sentinel
—"Halloween forecast for Tallahassee: it may be a dark and stormy night for trick or treating" via Alicia Devine and Randi Atwood of the Tallahassee Democrat
—"Halloween 2019: from trick-or-treating to haunted hikes, everything you want to know about Halloween on the Treasure Coast" via TC Palm
—"'I love to scare people': West Palm's spookiest Halloween house will frighten even the most stouthearted" via Larry Keller of the Palm Beach Post
—"How to keep your dog safe and calm on Halloween night" via the South Florida Sun-Sentinel
Spotted — St. Pete Beach's venerable Don CeSar Hotel on The Washington Post list of 13 haunted hotels across the U.S.: "The Don CeSar … proves that lovers parted by life can come together in death. Thomas Rowe, who built the Pink Palace, fell hard for a Spanish opera star during a trip to London. However, her parents disapproved of the couple and whisked Lucinda back to Spain. In the hotel lobby, Rowe built a replica courtyard and fountain of their rendezvous spot. The distinguished couple — he in a white suit and Panama hat, she in a Spanish peasant dress — often promenade hand-and-hand around the property before disappearing … Rowe lived on the fifth floor, a hotbed of activity including swinging doors and mysterious knocks."
—"Hit the Halloween wall? Here's when Christmas celebrations kick in at the theme parks" via Dewayne Bevil of the Orlando Sentinel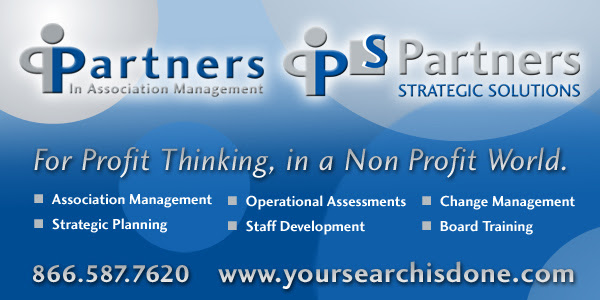 — OPINIONS —
"Cuban democratic socialists: AOC-backed group is actually a communist 'impostor'" via Giancarlo Sopo for The Blaze — A group of Cuban democratic socialists have a message for their American counterparts: You are either secret communists, or you are profoundly ignorant. In an open letter, nine democratic socialists on the island blasted the Democratic Socialists of America, the U.S. group that counts Reps. Alexandria Ocasio-Cortez (D-N.Y.) and Rashida Tlaib (D-Mich.) among its members, for supporting the island's Communist government.
"A $15 minimum wage for Florida? You're darn right you deserve a vote" via Scott Maxwell of the Orlando Sentinel — Next year, Floridians will likely vote on whether to raise the minimum wage to $15. I'm not here to tell you how to vote. Support higher wages if you want. Or blast the proposal to smithereens. All I want to say is that assuming enough citizens sign valid petitions to get this on the ballot, you absolutely deserve the chance to vote on it. And don't you dare let any politician tell you otherwise.
"Lawmakers should spend money to protect land as voters intended" via Aliki Moncrief for the Tampa Bay Times — On Nov. 4, as we celebrate the five-year anniversary of the Water and Land Conservation Amendment, we also reiterate the same message voters sent to lawmakers five years ago: seize this opportunity to fully fund Florida Forever. The Water and Land Conservation Amendment was intended to create a baseline for funding for programs like Florida Forever — a floor, not a ceiling. Our state budget should reflect voters' values and priorities, and by approving Amendment 1, we hoped that we would clear a path for our lawmakers to shoot for the stars. Unfortunately, five years later, we are still waiting on a Florida Forever budget that simply meets the historical baseline.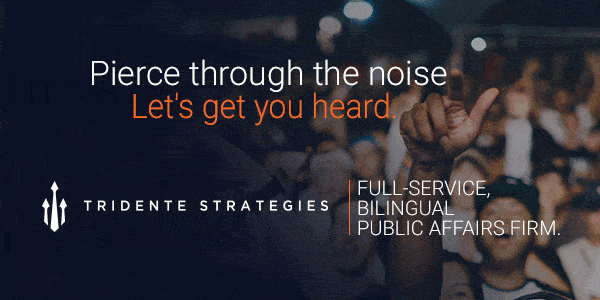 — INFLUENCE —
Gunster named top corporate law firm by Forbes — The firm, one of Florida's oldest and largest full-service business law firms, was named to the Forbes list of "America's Top Corporate Law Firms 2019." This year, Forbes and Statista selected firms based on an independent survey from a large sample of lawyers and legal professionals. Out of the thousands of corporate law firms in the United States, Gunster was one of only 243 recognized. Gunster's Real Estate practice was the most recommended.
New and renewed lobbying registrations:
Alexandria Bickley: Department of Environmental Protection
Thomas Hobbs, Ramba Consulting Group: City of Holmes Beach
Lauren Jackson, Ericks Consultants: JM Family Enterprises
Robert Schenck, The Legis Group: TBV
— ALOE —
"A Samsung flip phone-style foldable device is looking more and more likely" via Patrick Holland of CNET — At the 2019 Samsung Developer Conference in San Jose, there was nary a word about the Fold — until the keynote turned to One UI 2, a software overlay for the company's phones, tablets and smartwatches. When showing off One UI 2, Samsung showed a mock-up of a phone that folded in half horizontally, kind of like a flip phone. This wasn't a formal announcement of a new Galaxy Fold 2 or a Galaxy Fold Square. But it does validate a story claiming that Samsung's next foldable phone would fold inward to become a compact square. The graphic on the screen showed what for all intents and purposes is a 2019 take on what a flip phone would look like.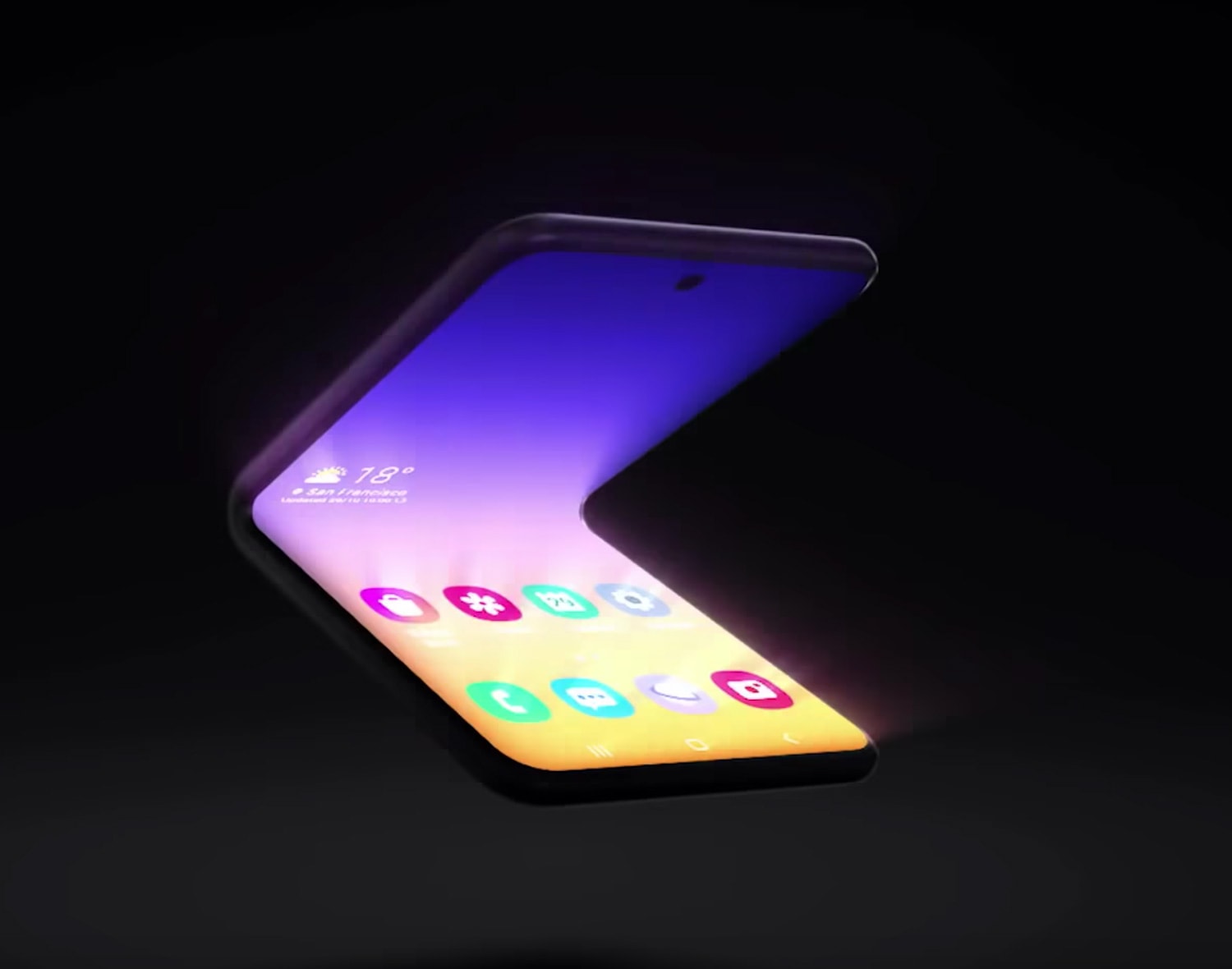 "HBO announces new 'Game of Thrones' prequel, 'House of the Dragon'" via Sophie Lewis of CBS News — "House of the Dragon," will be set 300 years before the events of the original show and tell the story of House Targaryen. It features the tagline "Fire will Reign," and will be based on George R.R. Martin's book "Fire & Blood." The show, which has been ordered straight to series, will be written by Ryan Condal. Martin, who wrote the books on which "Game of Thrones" is based, is set to co-executive produce. Ten episodes have been ordered for the series so far. Miguel Sapochnik, who won an Emmy for directing the "Battle of the Bastards" episode, will be a co-showrunner, and will also direct the pilot and other episodes. Vince Gerardis will join Spochnik, Condal, and Martin as an executive producer.
— TRICK OR TREAT —
"A brief Halloween history of pets in costumes" via Jen Miller of Vox — Of the $9 billion Americans are expected to spend on Halloween this year, $480 million of that is on our pets, according to the National Retail Foundation. That's up from $5.8 billion total and $220 million on pets in 2010 … The greyhound of Louis XI, king of France from 1423 to 1483, wore a red velvet collar with 20 pearls and 11 rubies, and Louis's successor, Charles VIII, had robes made for his dog and marmot, according to Medieval Pets. Queen Victoria dressed her dog in a "scarlet jacket and blue trousers" … In the 1910s, Harry Whittier Frees took pictures of cats getting married, cats at a picnic, a dog watering flowers, and a dog sewing pants that were used in postcards, kids' books, and magazines. From 1929 to 1931, MGM made "All Barkie" Dogville Comedies that featured dogs doing very human things like dancing and going to war. The National Retail Federation predicts that the most popular costumes this year for cats and dogs will be pumpkin, hot dog, bumblebee, devil, cat, dog, lion, Star Wars characters, superhero, and ghost.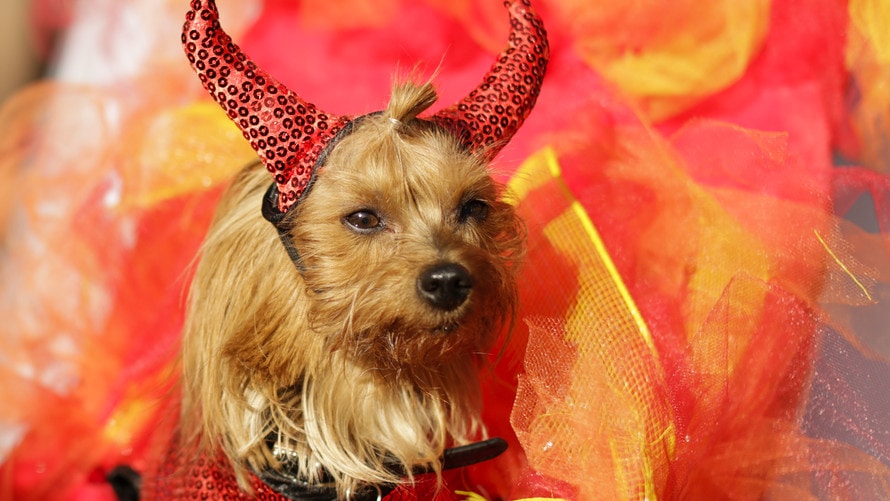 "Google predicts the most popular Halloween costumes. And Florida may surprise you" via Howard Cohen of the Miami Herald — For Halloween, half the fun in picking a costume is going out as something you are not. Maybe this is why the angel costume is going to be Florida's most popular costume choice, according to Google Trends data curated by AT&T. The survey looked at 2018's top Halloween costumes — the "Baywatch" lifeguard look was deemed Florida's pick last year, perhaps owing to the proximity of the made in Miami Beach movie version of the TV series — and the 2019 Google data on trending costumes. But Florida Man's going to be an angel this year? That's, uh, inspired. That's how it goes with these surveys, though.
"How much candy would it take to kill you? About 262 Halloween treats, scientists say" via Donovan Harrell of McClatchy — Scientists developed a test called the LD50 to determine the strength of potentially deadly substances … "It stands for lethal dose 50 percent," toxicologist Hans Plugge told The Wall Street Journal. "You take 10 rats, feed them a dose, and if five of them die, you've determined the LD50. It's pretty straightforward." When it comes to candy, a typical "fun-sized" treat contains about 9.3 grams of sugar … The average adult would have to eat around 5.4 pounds of sugar — at one time — for it to be potentially deadly, according to the ACS. That would translate to about 262 pieces of "fun size" candy, according to the video. As for the kids celebrating Halloween, it's unlikely that the average American child around the age of 10 could eat a lethal amount of candy, Plugge told The Wall Street Journal. "More than likely, they'd throw up before reaching the lethal dose," Plugge said.
"Teal pumpkins make Halloween less tricky for kids with food allergies" via Tove Danovich of NPR — Having a teal pumpkin on the doorstep (teal being the color of food allergy awareness) is a way to signal to people with food allergies that this is a safe home for trick-or-treating, says Jennifer Norris, president of the Food Allergy Community of East Tennessee (FACET), which started the project. In addition to handing out candy, houses that display teal pumpkins also have bowls of nonfood items such as glow sticks, stickers or Dracula teeth. "We don't want to be the Grinch of Halloween at all," says Norris. "We don't want to take candy away from the people who can have it."
— HAPPY BIRTHDAY —
Happy birthday to the incredibly talented, always-awesome-to-work-with Allison Aubuchon, Step Up For Students' Jon East, Public Service Commissioner Andrew Fay, former U.S. Rep. David Jolly, our favorite writer at POLITICO, Michael Kruse, and our old friend Harold Hedrick.
___
Sunburn is authored and assembled by Peter Schorsch, Phil Ammann, Jim Rosica, and Drew Wilson.